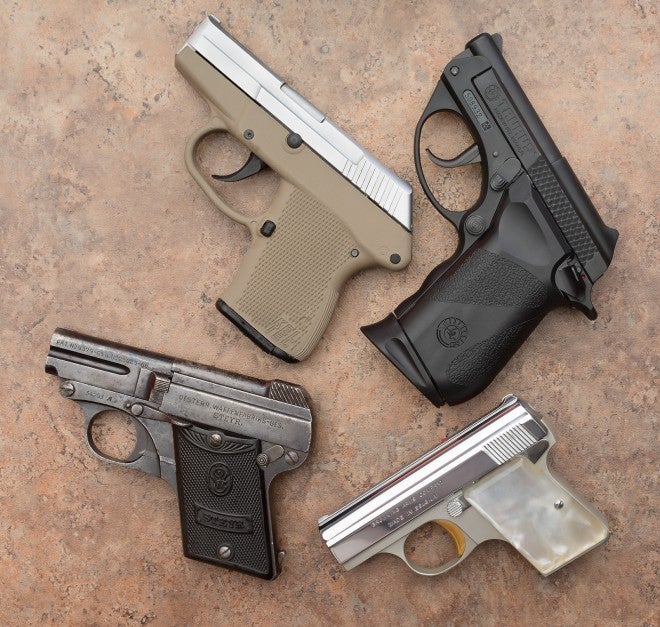 A tiny handgun is great for concealment and comfort, but is your carry pistol too small to control?
Individuals that choose to carry a concealed handgun are increasing in numbers. With all the unsettledness of the world we live in these days, people are simply more afraid of being out in public without self-protection. Sales of classic carry handguns have skyrocketed in the past year, training courses for concealed carry are full, and applications for concealed carry permits/licenses have also increased dramatically.
Pistol manufacturers have answered the demand for small compact and super (sub) compact carry pistols as well. The market is now saturated with so many choices of pocket pistols that it is tough to choose among so many good options. While caliber choices are many as well, the 9mm still dominates the market, while the 380 ACP is strong as are other choices including the 32 ACP. Even the 22 Magnum receives token interest. Some bold and more confident shooters are even packing a 45 ACP on a daily basis.
So as not to ignore the revolver too, there are also available a good selection of quality revolvers designed for personal concealed carry protection. Most of these guns carry either five or six shot cylinders of the swing out type. Learning to shoot a revolver well also takes adequate training, but many find them easier to load, manipulate, and shoot. So, revolvers are still a carry option for many.
The downside? The individuals who opt for a compact or sub-contact semi-auto pistol for self-defense often find out too late just how challenging they can be to shoot well. A small compact 9mm handgun like a SIG 365 or Springfield Armory Hellcat for example can be quite a handful when it comes to actually putting them into shooting action at the range or on the street. This takes some good training and plenty of time on the range to master shooting such guns well.
This is not meant to deter a consumer from acquiring such a self-protection handgun, but to give ample warning about the realities of shooting such a small firearm. Before making a purchase, ask yourself: Is this carry pistol too small for my hands and abilities? A small lightweight pistol may be a dream to carry all day inside the waistband or behind the hip in a suitable holster, but shooting it accurately is another matter altogether.
It is widely reported that most self-defense encounters occur within ranges of less than seven feet, often as close as three feet. One would think a human-sized target at such short ranges would be easy to hit, but that is the fallacy of the thinking.
A peppy 9mm self-defense round can be difficult to control if you find yourself with a carry pistol too small for you. This is where the training becomes mandatory if you sincerely want effective self-protection.