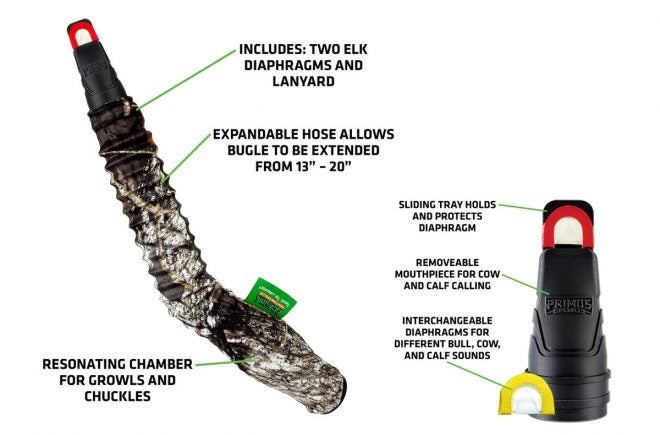 Primos Slide Bugle Elk Call (Photo © Primos)
For 2021, hunting gear giant Primos is rolling out a series of new products to help hunters get what they go after, and among those selections is this cool new Slide Bugle elk call which allows you to sound like a bull, a cow, and/or a calf. Brilliant!
When the mouthpiece is attached to the expandable tube, this call lets a hunter imitate a bull elk's bugling and growls, or you can pull it apart to use the mouthpiece separately to make more bull sounds or to sound like a cow or calf. Changing the diaphragm in the mouthpiece alters the sound of the call, which adds greatly to its flexibility.
Enough from me. Here's what Primos has to say about it:
Primos Slide Bugle Elk Call
A must-have item for any elk hunter, the new Primos Slide Bugle Elk Call allows for easy control with minimal air to produce growls and high-pitched bugles. Simply apply more pressure with lip to increase pitch. Hunters can remove the mouthpiece and interchange the diaphragm to produce additional bull, cow, and calf calls.
Model: PS932
Sliding tray holds and protects diaphragm
Easy lip alignment on mouthpiece allows for proper airflow and control
Retract the slide to protect the diaphragm when not in use
Remove the mouthpiece for cow and calf calling
Expandable hose allows bugle to be extended from 13" – 20"
Resonating chamber for growls and chuckles
Interchangeable diaphragms for different bull, cow, and calf sounds
INCLUDES: Mouthpiece w/ protective slide plate, two elk diaphragms, Bugle Hose, and lanyard
MSRP: $38.99
The Primos Slide Bugle Elk Call sure packs in a lot of flexibility, and if I were fortunate enough to go on an elk hunt I think I'd want one in my pack. How about you?