Squirrel Hunting With the Henry AR-7 Survival Rifle
Russ Chastain 01.21.21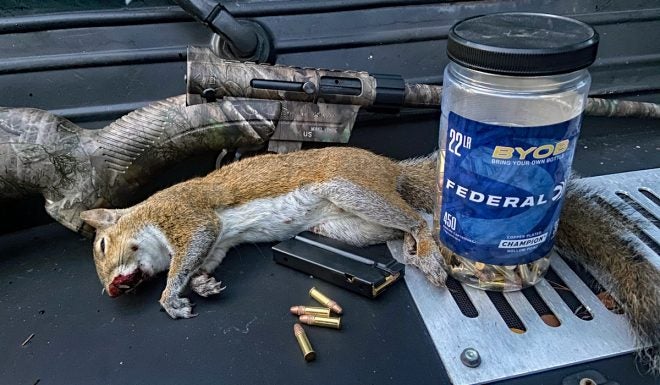 First hunt, first kill while squirrel hunting with Henry AR-7 Survival Rifle. (Photo © Russ Chastain)
Time really does fly, and now that I'm in my sixth decade of earthly existence, I find it goes by faster all the time. It's hard to believe it's been six months since I first posted here about the cool little Henry U.S. Survival AR-7 22 rifle I'd just received. This handy little odd-looking rifle has been exercised on several ranges with a variety of ammo and has always done well so I decided to tote the little guy to the squirrel woods when small game season opened earlier this month.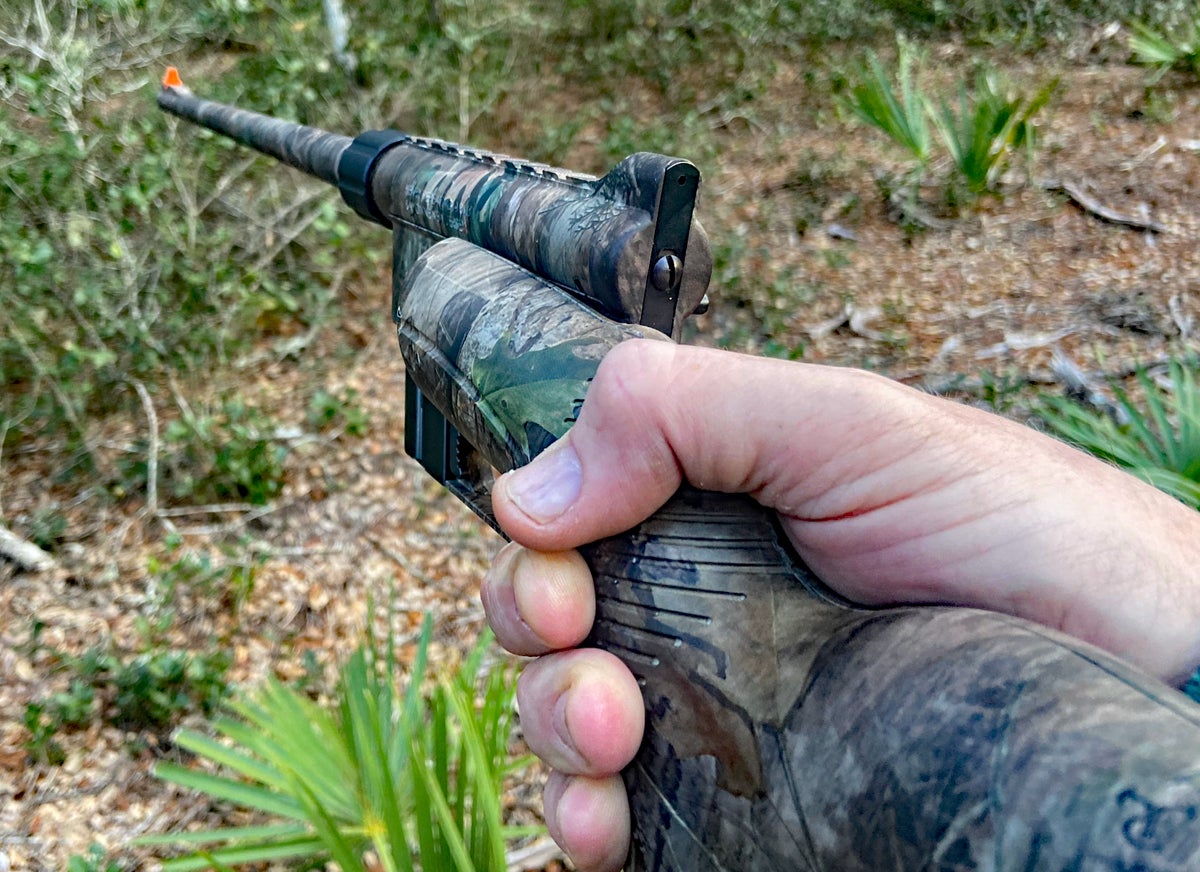 Heading afield to hunt with the Henry for the first time. (Photo © Russ Chastain)
At a weight of just 3.5 pounds and not quite a yard long, the Henry U.S. Survival AR-7 is a handy gun to carry. Despite its unusual appearance, it's comfortable and quite accurate. The wide wrist and butt provide comfortable purchase on the rifle, and the peep sight, though admittedly crude, is quite functional and accurate.
After stoking up the two included 8-shot magazines with Federal BYOB 36-grain Champion hollowpoint ammo, I parked the old Jeep and slipped off into the woods. My first opportunity came swiftly, and I managed a clean miss from about 15 yards. Dang squirrels ain't big!
After I moved on down the trail a ways and encountered several sprinting black bears, I hunkered on my uncle's old folding stool to wait out the rodents. And less than an hour after walking away from Black Betty the Jeep, I'd bagged my first Henry squirrel; an offhand head shot at 25 yards! I'll take it. The critter's body looked about as wide as the AR-7's front sight.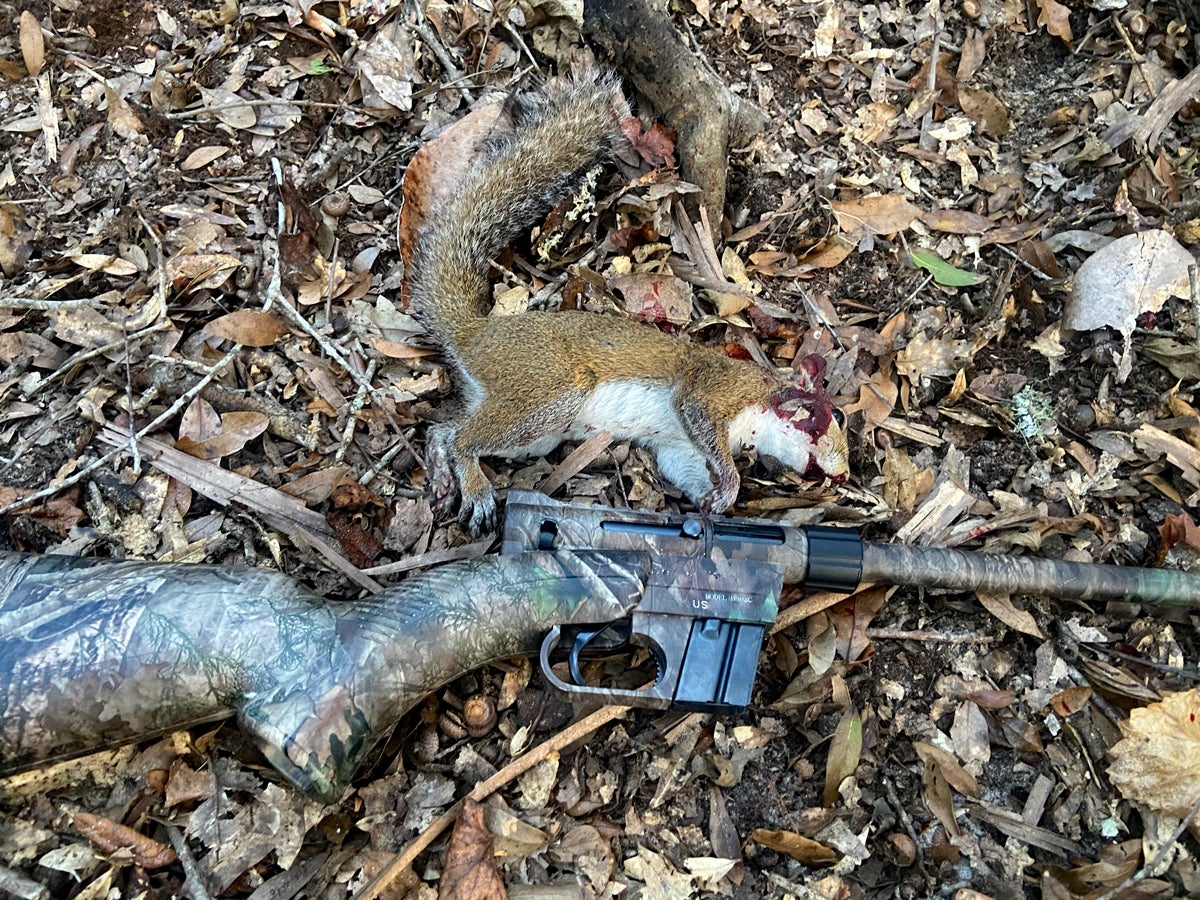 I bagged this young & tender squirrel with a 25-yard head shot. (Photo © Russ Chastain)
That was all I bagged on that outing, and a visit from yet another bear made it official: I'd seen more bears than squirrels!
Next morning, I headed to another spot where I'd had good luck in the past, which also has plenty of bear (you cannot get away from them in the Ocala forest) but which doesn't seem to be quite as overrun with them. I didn't have to wait long to start seeing squirrels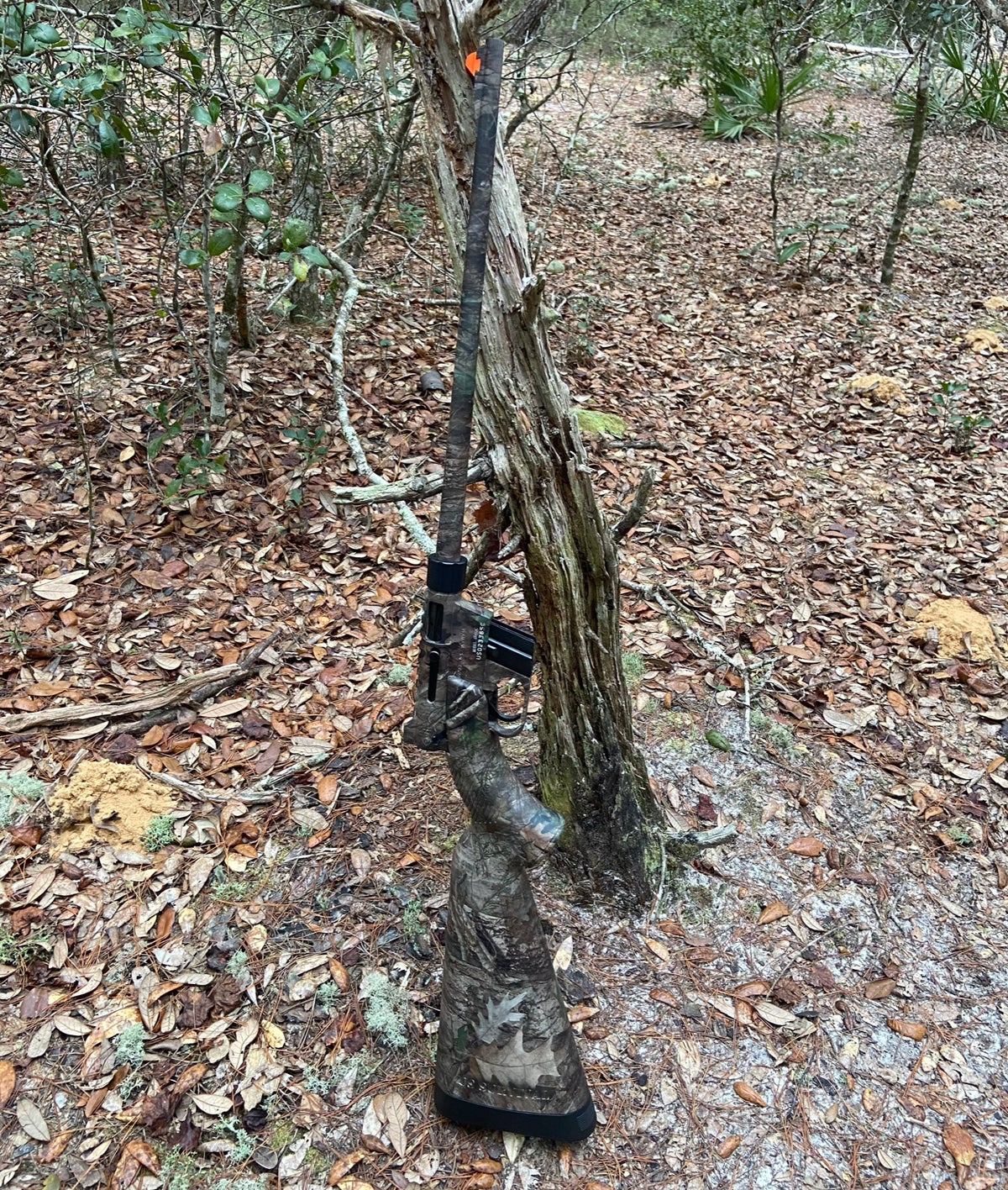 The Henry AR-7 Survival Rifle makes a good woods companion. (Photo © Russ Chastain)
Before long, the chances were coming fast and often, and unlike the previous evening, I couldn't hit a dang thing! Heck, one particular squirrel gave me two or three different chances within a few minutes and I failed to connect every time. It finally got so bad that I tried the sights on an old Pepsi can and confirmed the rifle & ammo were just fine; the problem was all me.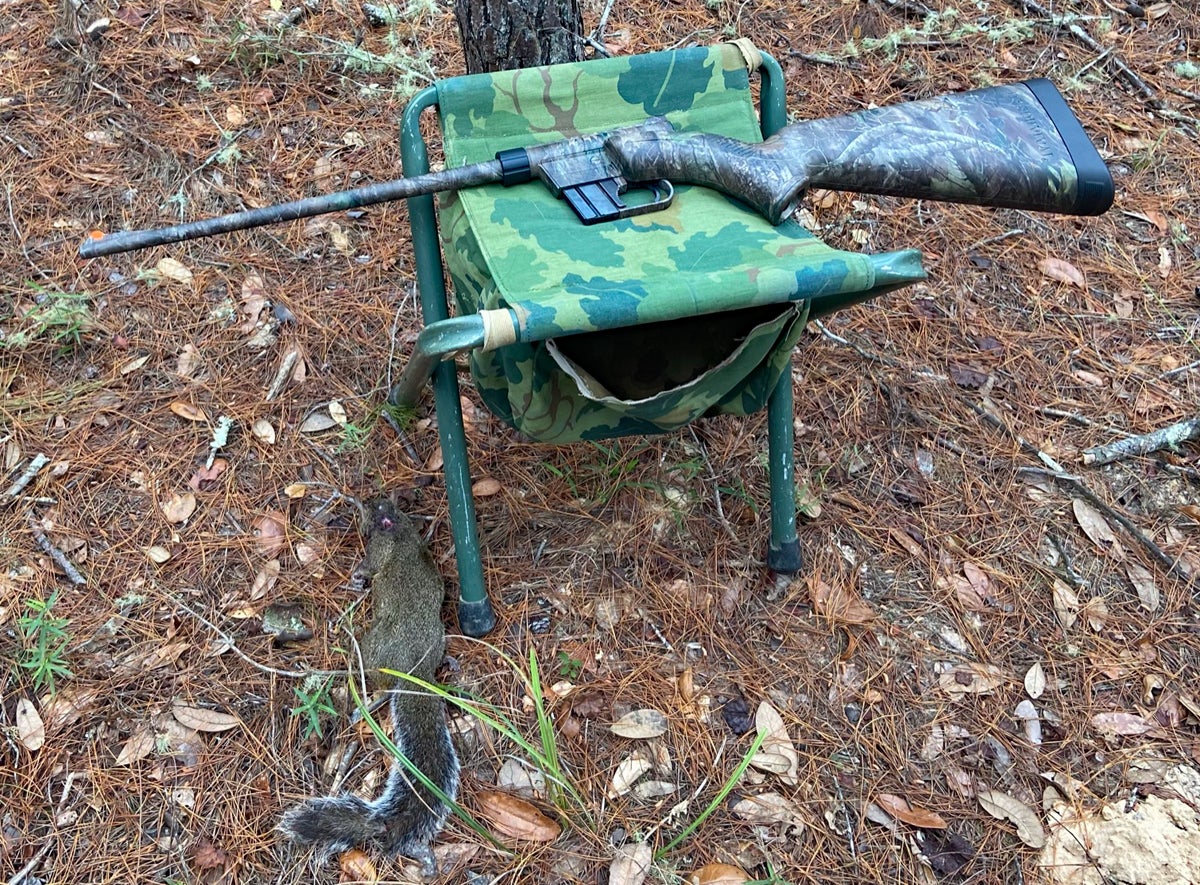 I saw several squirrels, but only bagged one that morning. (Photo © Russ Chastain)
The overcast of the day helped keep the critters out a little later than usual, which is good because I needed to redeem myself. When I finally did find another squirrel that would hold still, I clobbered him with a shot through the neck. That would be my last squirrel hunting opportunity of the day.
The AR-7's peep sight works well, and a peep or aperture sight really is the fastest & most accurate type of "iron sight" you can get.
I'm not gonna lie; I don't usually hunt squirrels with a 22 LR rifle. I am usually a good shot, but getting a tree rat to hold still while I get steady can be tough — and unless it's a good head/vitals hit, it's easy for the little rascals to crawl up under a palmetto or hide in a hollow stump. But if you are a better squirrel shooter than I am, I don't think you will be disappointed with the handy little Henry AR-7 Survival Rifle. And it's so accurate, I think it would be well worth mounting a scope on the built-in picatinny rail for some good old-fashioned squirrel sniping.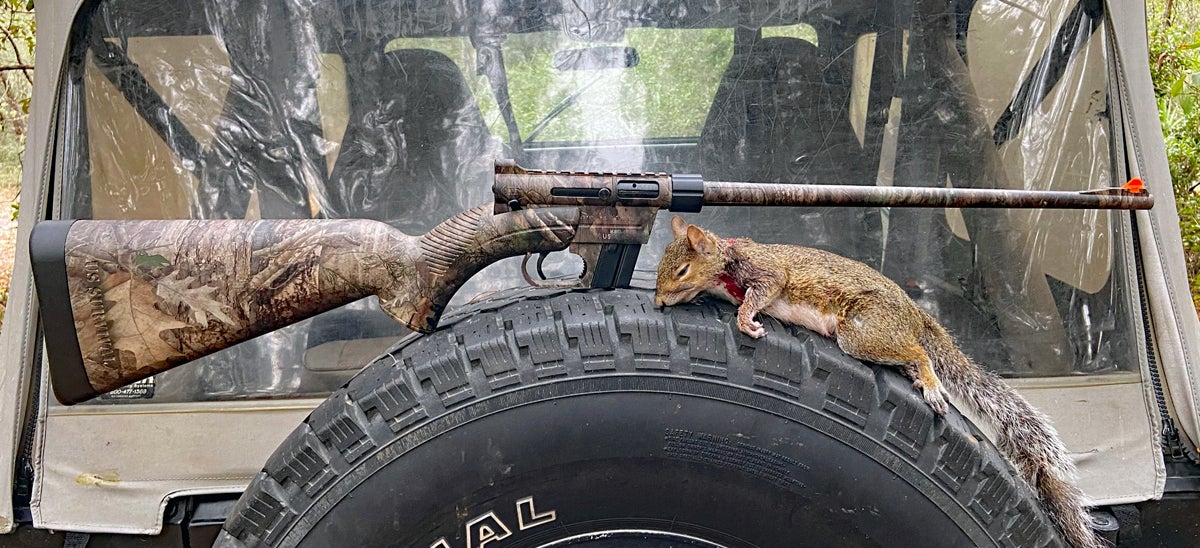 If you can shoot, the Henry Survival makes a good squirrel hunting rifle. (Photo © Russ Chastain)
Happy squirrel hunting!