Portable Gun Rack? Gripper Caddy Goes Where You Go
Russ Chastain 01.22.21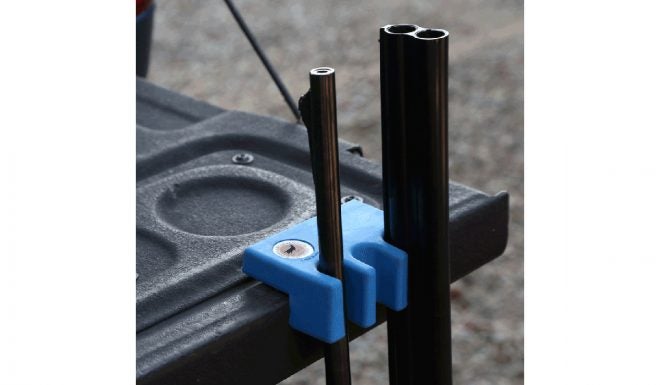 The Gripper Caddy can be a great portable gun rack. (Image © Gripper by Bauer)
Sometimes during a flurry of new product announcements and introductions, a good product that's been around for years will pop up. That's what happened to me recently, when I ran across a social media post for the Gripper Caddy, which is more or less a portable gun rack or fishing rod rack made by a small business called 'Gripper by Bauer' right here in the good ol' USA. This is exactly the type of product I love to discover at the SHOT Show, which is of course cancelled this year.
When I say it's a portable gun rack, I don't mean it entails everything you need to securely store a firearm. But you can give yourself a safe place to lean a long gun or fishing pole just by plopping this little thing on the tailgate of your truck or UTV, the edge of a table or shooting bench, a short wall or guard rail, or just about any horizontal surface that's about 2.5-3 feet above the ground or floor.
The Gripper Caddy is made of a soft, flexible material that's also tacky, so it tends to grab whatever surface you put it on. This also means it won't damage your guns or fishing poles, nor will it hurt the surface you're putting it on. It just clings to provide a steady spot to prop up your long guns.
There's a metal counterweight inside the portion of the Gripper Caddy that sits on table or tailgate, and if you want to permanently mount a Gripper Caddy to a hunting blind or shooting bench, you can just drill through the metal. Heck, they say the metal is even thick enough that you can tap threads into it!
Gripper Caddy Original 3 and Original 5 models. (Image © Gripper by Bauer)
Here are some highlights from the website:
EASY TO USE: Just set it down and it is ready to use, while the high friction material clings to most surfaces.
PORTABLE: Less than one pound makes this light enough to carry around.
SOFT AND FLEXIBLE: The soft flexible material allows the Caddy to hold items without nicking or marking objects. It also allows for larger objects to spread apart the fingers and still hold the item upright.
PERMANENTLY MOUNTABLE: The metal bar that is used for counterbalance can be drilled and, if desired, tapped so the Caddy can be screwed or bolted permanently to a surface.
VERY VERSATILE: Holds most rod or stick shaped objects.
EASY TO CLEAN: Just wipe clean with a damp cloth.
MADE BY A SMALL BUSINESS IN THE UNITED STATES OF AMERICA
THIS THING IS TACKY! I don't mean it has no class, I mean the high friction material this Caddy is made out of has a lot of tack to it.
Here's a nice short video demonstrating the Gripper Caddy:
Gripper Caddy offers quite a few products, but for the whole "portable gun rack" idea, these are probably the best choices — and they're available in many colors:
I'm only guessing here, but I would imagine the Original would have the best spacing for firearms.
I hope to have the chance to try these for myself so I can do a proper review for y'all. In the meantime, take a look at their website and place an order if you feel the urge; it never hurts to buy American, especially now when so many small businesses are struggling. I think I need one or two of these for my office as well as my portable shooting bench…