Taurus Raises the Bar with NEW TX22 Competition 22 Long Rifle
Adam Scepaniak 01.27.21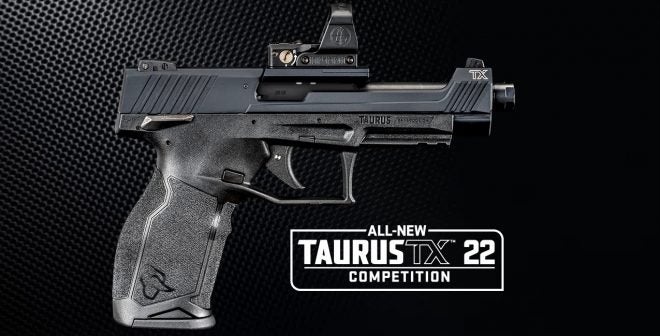 Taurus has stepped up big in the world of rimfire pistols in the last few years by making a departure from the diminutive PT-22 handgun and delivering the TX22, which boasts a surprising magazine capacity of 16 rounds. Now Taurus has kicked it up to another level by creating the TX22 Competition with even more features for all the serious target shooters out there. Taurus expounds on their freshly upgrade TX22 Competition below:
"Meet the all-new Taurus TX 22 Competition—a custom-tuned mod of our award-winning polymer sporting pistol. This full-size, semi-auto rimfire is painstakingly re-engineered to meet your most rigorous performance demands. The upgraded, red dot optics-ready slide and 5" threaded Bull Barrel assembly brings match-grade accuracy and versatility to any shooting discipline. Giving today's competitive shooters the unique opportunity to shatter records without breaking the bank."
The MSRP for the new TX22 Competition is benchmarked at $484.35 for the high-capacity (16-Round) or low-capacity (10-round) versions. As always, peace of mind comes standard with Taurus' Limited Lifetime Warranty and industry leading customer service as well. The complete listing of its specifications can be read below as presented by Taurus:
Caliber: 22 LR
Magazines: 3 – 16 Round or 3 – 10 Round
Firing System: Striker-Fire, Single Action Only
Sights: Fixed White Dot Front & Fully Adjustable White Dot Rear
Safeties: Striker-Block, Manual Safety, Trigger Safety
Grip Material: Polymer
Slide: High Grade Aluminum w/ Hard Anodize Finish
Overall Dimensions: Length 8.15″ | Width 1.25″ | Height 5.44″ | Weight 23 Oz.
Additional Features: Picatinny Rail (Mil-STD 1913), Threaded Competition-Grade Barrel, 4 Different Mounting Options, Signature Indexing and Recoil Management Pad
With the ability to mount nearly all of today's most popular micro red dots and an improved Competition-Grade barrel, the Taurus TX22 Competition makes a strong case to be everybody's newest league or target pistol. I personally have not shot one, but who has in the reading audience? What were your experiences with them? As always, let us know all of your thoughts in the Comments below! We always appreciate your feedback.