Homemade Corndogs: Make Your Own Cowboy 'Dogs
Russ Chastain 01.29.21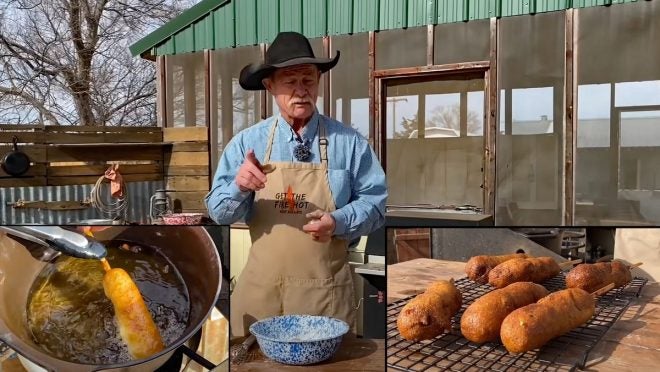 (Image: Screenshots from homemade corndogs video)
So you love eating corn dogs but you don't want to wait for the [probably cancelled] state fair? Or maybe you need something to do during yet another round of COVID-19 shutdowns. Or heck, maybe you just want to make some homemade corndogs at hunt camp or the bugout cabin. Either way, this ought to help you out.
Cowboy cook Kent Rollins has a great personality for hosting videos, and he really knows his way around a camp kitchen. Who better to inform us on how to make our own corn dogs?
I confess I hold zero affection for corn dogs; they just don't do it for me… possibly because the corn breading is somewhat sweet. But they wouldn't be a thing if millions of folks didn't love 'em!
I do like Kent's addition of garlic; that makes just about everything better. It's when he adds sugar that he loses me! No thanks. Make mine salty, not sweet. For that reason, I'd also pass on the honey he adds.
His ingredients include:
Beef hot dogs
Wooden sticks
Yellow corn meal
All-purpose flour
Garlic powder
Baking powder
Brown sugar
Seasoning of choice
Large egg
Avocado oil
Buttermilk
Honey
Grated white onion drained
Grated jalapeno
Peanut oil for frying
Want the recipe? Just click here to visit Kent's website that has instructions and a printable recipe for these homemade corndogs.
What do you think about these DIY homemade corndogs? I think I'd rather have skillet-fried "cheesy dogs" like Mama used to make; split a hot dog lengthwise — almost split it like a hot dog bun, so you can open it up and scorch it some in a skillet, then melt some sliced cheese on top. Oh my oh my oh my! That is some hot dog goodness right there.
But if you prefer your wiener deep-fried and sweet, check out the video below. And enjoy your camp cookery.