AllOutdoor Review: Athlon Optics Midas MG31 Magnifier
Sam.S 02.09.21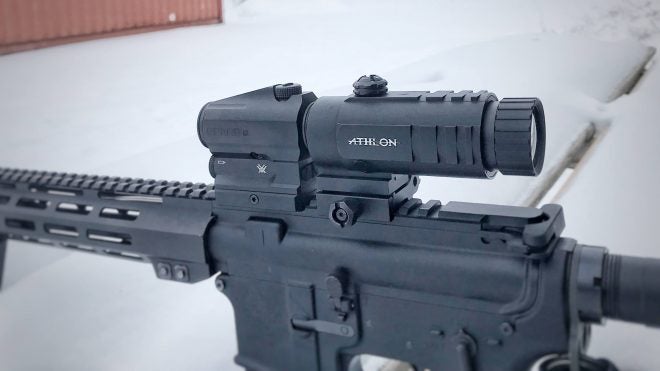 Anyone who knows me personally is well aware that I am not the tactical type at all. I always tend to lean more towards the old and obsolete. This does not mean that I do not appreciate or even take for granted modern firearm possibilities. Having built my own AR15 platform a few years back I paired it with a quality red dot and called it good.
I have always found the lack of magnification making it feel incomplete and had looked into magnifiers before with curiosity. Stumbling across Athlon's impressive and competitive optics I saw they offered one. Recently I had the opportunity to review their Midas MG31. Let's dive right into the Athlon Midas MG31!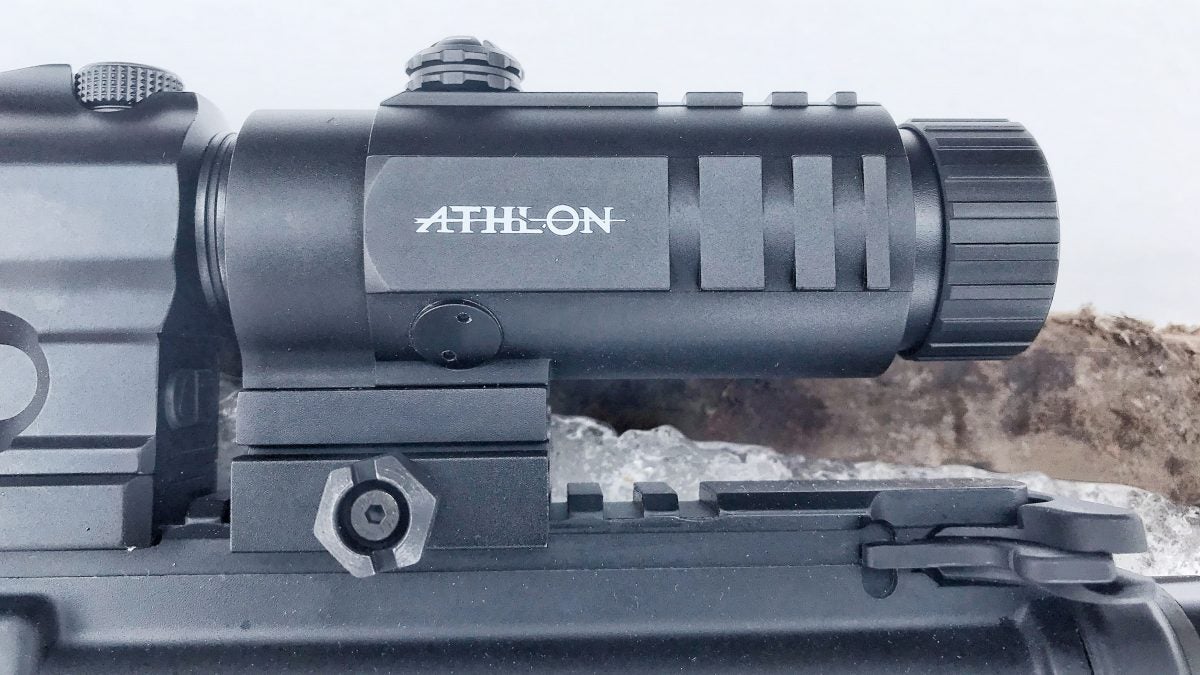 Specifications: Athlon Optics Midas MG31 Magnifier
Having been working at a gun shop for the past three years I have been exposed to all sorts of neat optics and the idea of a magnifier was always tempting to me. I realize you could roll with a 1-8x illuminated scope of some sort, but it does not quite feel as handy to me.
It is one of those things where I really think it is up to preference. Red dot sights are not perfect instruments of precision. For example, I know that if I put a soda can at 50-75 yards and put my dot on it, I know I will hit it, but I will not know where. Having added magnification gives you some more confidence in your accuracy. I worked with the 3x Magnifier, but Athlon also offers a 5x Magnifier. Specs for the Midas MG31 Magnifier are below:
Magnification: 3x
Objective Lens Diameter: 27.5 mm
Field of View Feet at 100yds: 38.2 ft
Turret Style: Internal
Eye Relief: 2.8″
Adjustment Range (MOA):  ≥±40
Center Height: 0.9 inches
Unit Size (LxWxH): 4.2″x2.0″x2.1″
Unit Weight: 9.5 oz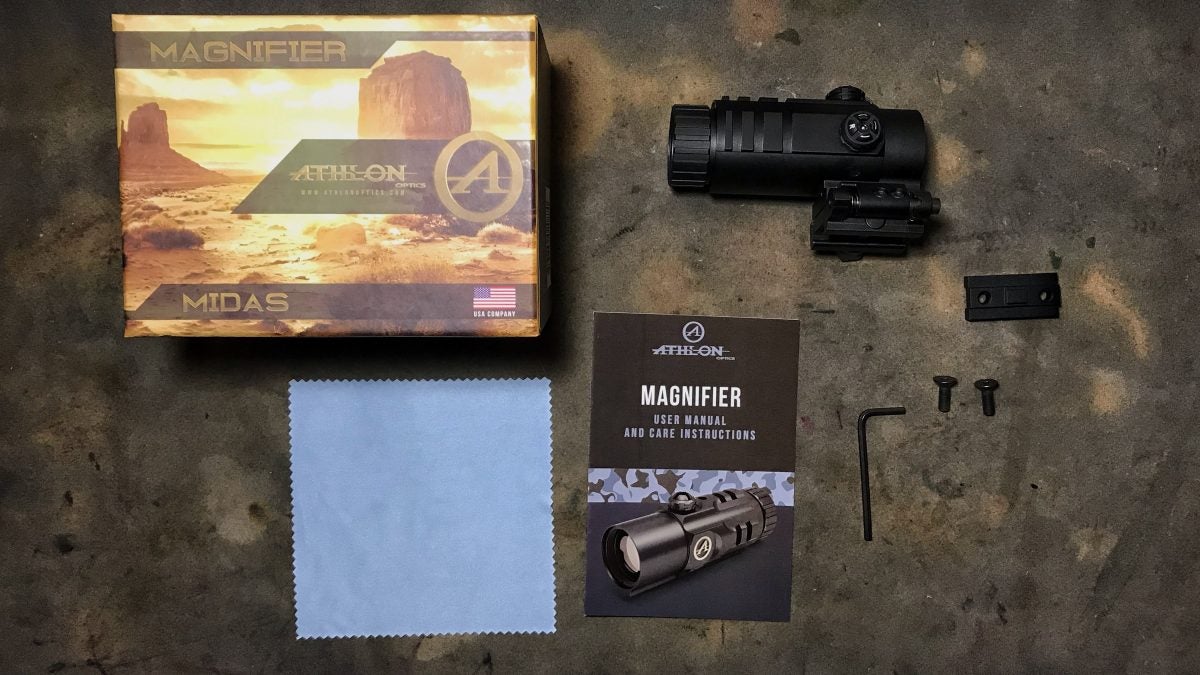 Inside the Athlon Midas MG31 box is everything needed to properly mount and maintain the magnifier. This includes a lens cleaning cloth, manual, Allen wrench, a riser for the magnifier, and two sets of screws (one set is longer to be paired with a riser). The manual was brief, but informative.
The Midas MG31 is set up to be flipped to the right when not in use and I mounted it in a way to flip to the left at one point just to test that out. To actuate the mechanism that lets you rock it to the side you need to pull towards you and rock it. If flipped as I tested you would have to pull forward which is not only uncomfortable, but it also may hit your red dot. The manual does not go over this, but more or less makes it seem like it is only meant to flip to the right.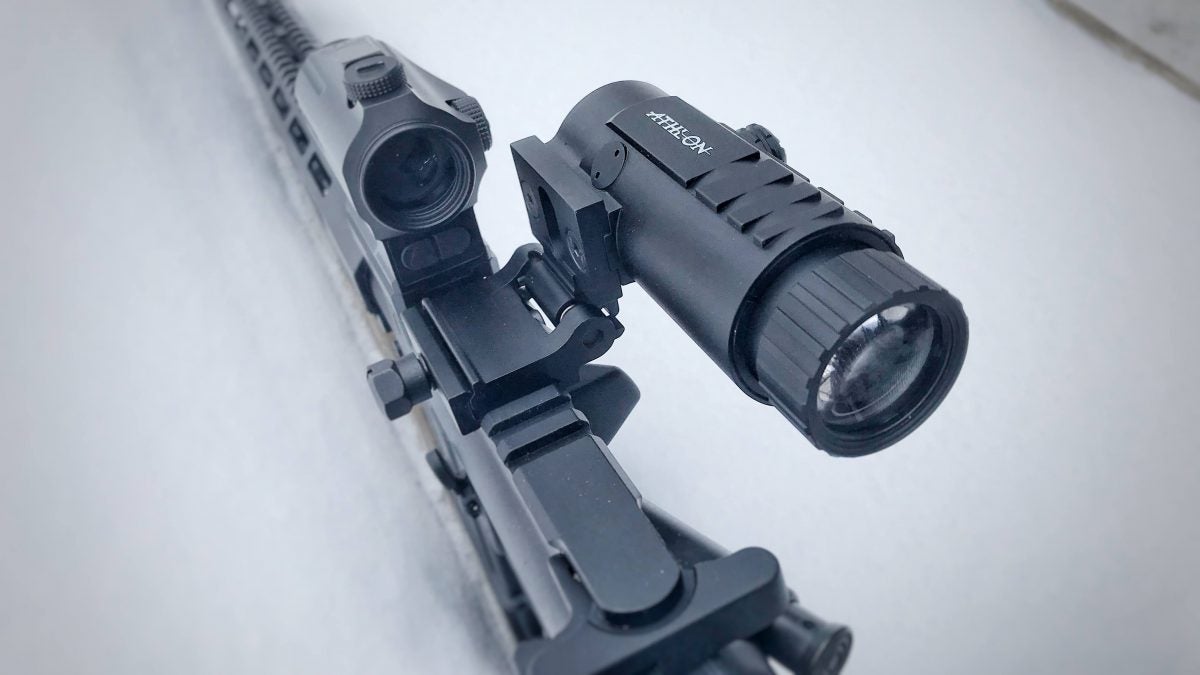 The MSRP of the Athlon Midas MG31 stands tall at $299. I am no expert, but I feel like that price point puts it in the low-middle tier as far as magnifiers go. That is not a bad thing by any means. I think that price is fair for the value received. Especially with their lifetime warranty that is basically no questions asked. If you break it in any way that is not deliberate it is covered! I think that in itself makes this optic more worthwhile. I think Athlon demonstrates their thoughtfulness put into their products with a sample quote from their website below:
"Many times when in the field or during competitions you need to transition between no magnification for speed at close-range and magnification for precision shooting as the situation dictates. The Athlon 3-power magnifier mounts behind a traditional red-dot sight to provide magnification when needed. The mount has the ability to swing out of the way when not in use, but can quickly be placed behind the red dot to increase the magnification for longer mid-range shots. Featuring multi-coated lenses and 30mm tube for excellent light transmission. Nitrogen purged, shockproof, waterproof, and fogproof."
Notable Features: Athlon Optics Midas MG31 Magnifier
The Athlon Midas MG31 Magnifier comes with a riser that came in handy when pairing it with my generation one Vortex Sparc AR red dot. It was effortless to dial in the dot to the center of the magnifier with the easily adjustable windage and elevation knobs. There was not a time where it was necessary, but if need be the Midas MG31 features a quick-adjust focus ring at the rear.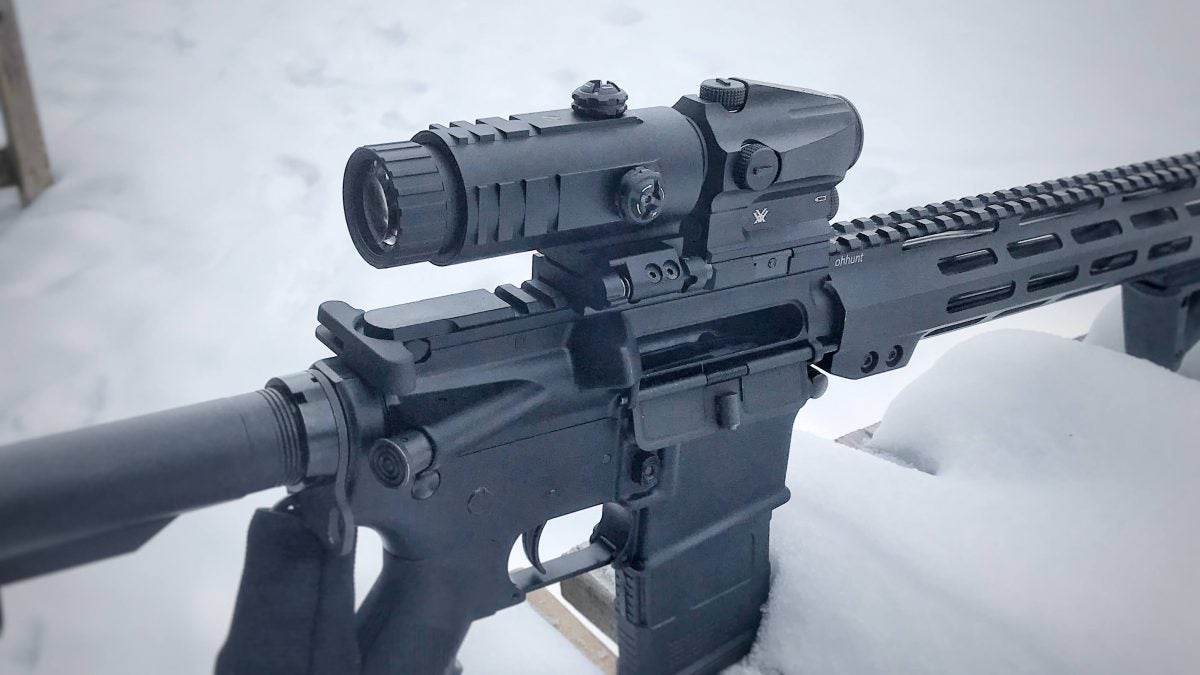 Mounting: Athlon Optics Midas MG31 Magnifier
Mounting the Athlon Midas MG31 to my AR15 was a breeze. At first, you should ensure your optic that will be magnified is forward far enough for the magnifier to be mounted behind it. Simply loosen the mounting screw till the Midas MG31 can be rocked onto your Picatinny rail.
The manual was fairly vague about some aspects such as the proper Inch-Pounds to tighten the mount to, but that may have been left out purposely in favor of you tightening it as much as you could with your hands for quick removal. Most optic mounts will recommend 20 to 30 Inch-Pounds (for the mount part only; not rings). Athlon recommends taking it to a gunsmith for proper install if you are not comfortable yourself. They shared this excerpt from the manual below:
"To achieve the best performance from your firearm and your Athlon Magnifier, your magnifier must be mounted properly. If you are unfamiliar with proper procedures to mount a sighting device, we highly recommend having the magnifier mounted by a qualified gunsmith."
Range Time: Athlon Optics Midas MG31 Magnifier
Progress is progress. That is how I felt leaving the range with the Midas MG31. I am no expert marksman and if you think putting a red dot on your gun will make you a sniper I am sorry, but you are mistaken. To me, red dots are just a fun thing and it has never been about being accurate. I had to re-sight in my red dot after moving it forward and after that, I took a couple 5 shot groups at 50 yards and was surprised and pleased with my results.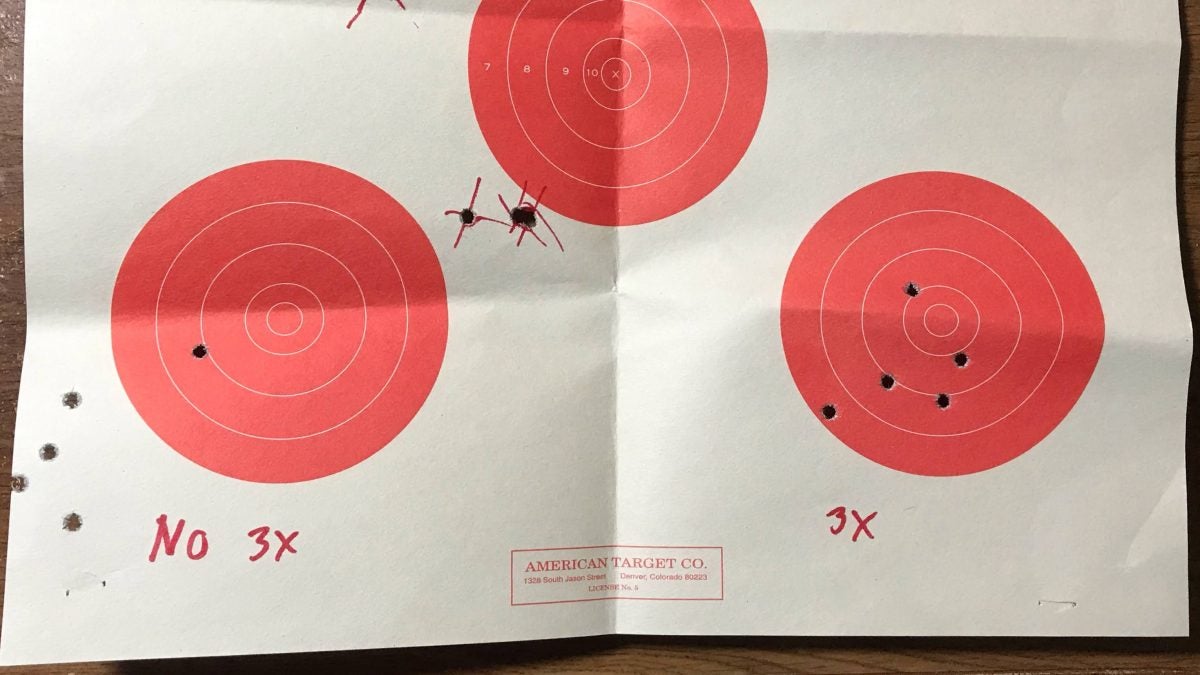 As you can see from the picture above the magnifier really did help! I had no clue how far off I was without it and with it, I definitely knew I was close. Felt like a world of difference when I walked up to that target. I did try my best to showcase the magnification with a picture, but take it from me that in-person everything is a whole lot clearer and smoother.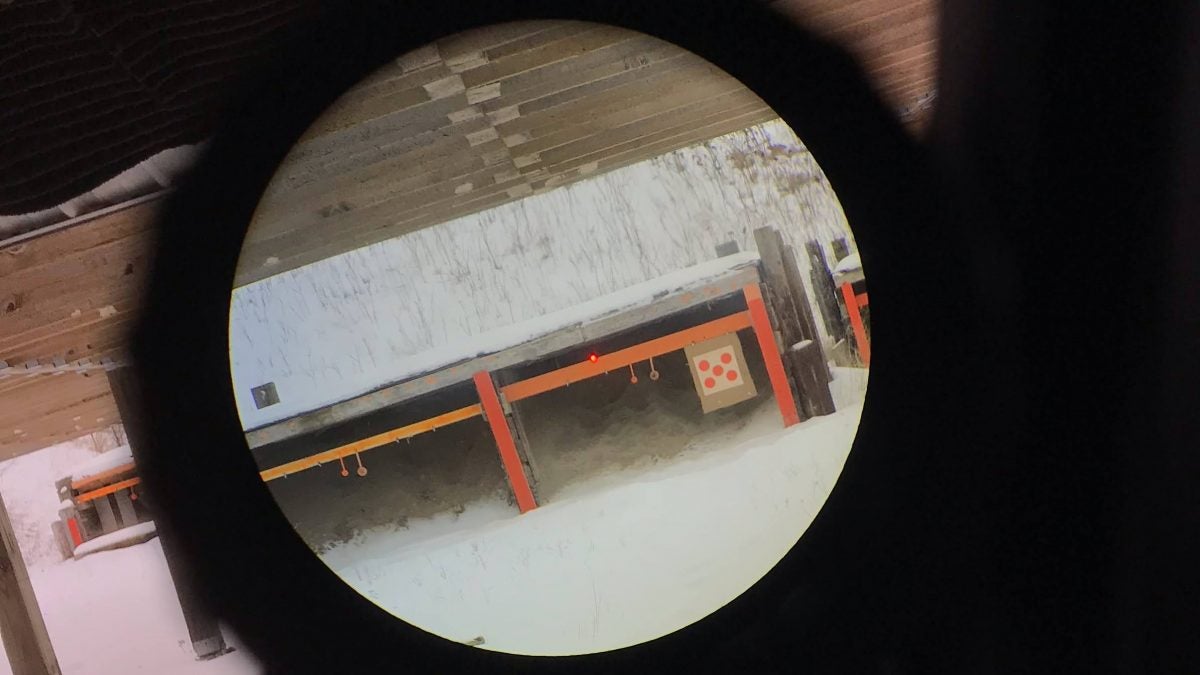 Final Thoughts: Athlon Optics Midas MG31 Magnifier
It is hard to explain, but I plain and simply do not want to take the Midas MG31 off my gun. It is super easy to use and operate. I never felt like it was in the way even though it rocks to the right side of the gun instead of the left. It not only helped me sight in my gun, but it also improved my accuracy. It just completes the set up for me and that is super cool. I would highly recommend looking into this magnifier if one is on your list!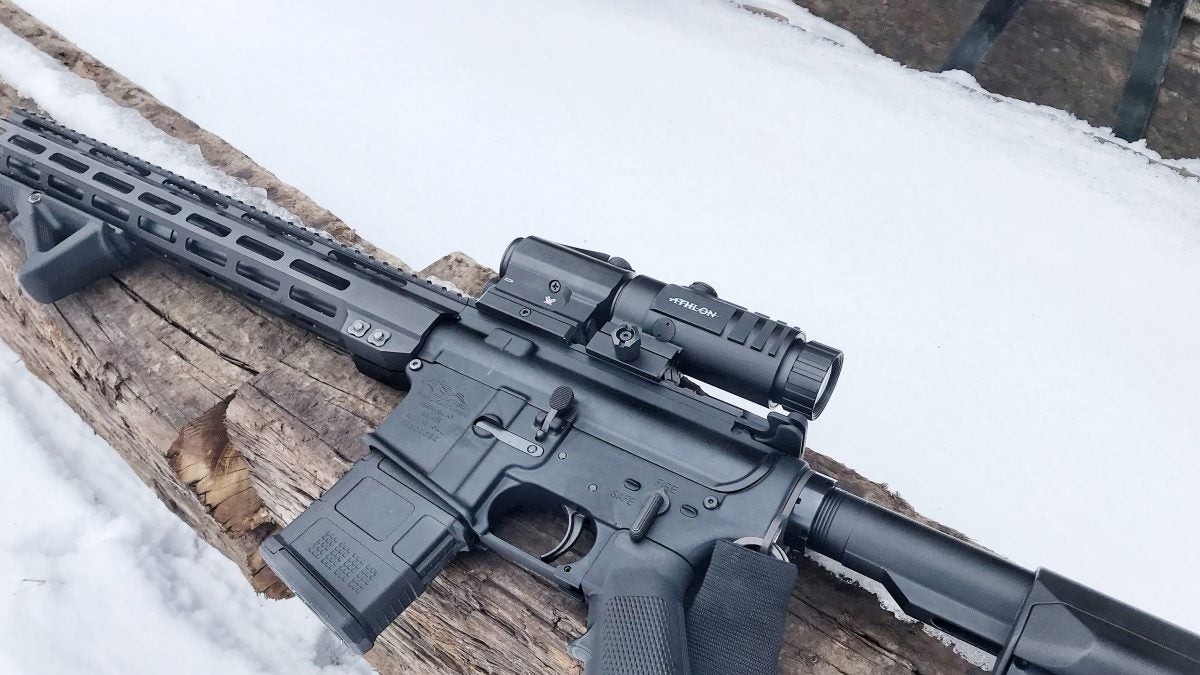 In closing, I want to say thank you to Athlon Optics for allowing AllOutdoor and myself the opportunity to try out their Athlon Optics Midas MG31 Magnifier. That is always greatly appreciated. Also, we would like to know what all of you guys and gals think?
Do you believe that the Athlon Optics Midas MG31 Magnifier is something worth spending your money on? Would you run to the range with it? Use it on an AR build? Let us know all of your thoughts in the Comments below! We always appreciate your feedback.