Curious Relics #006: The M1917 Bayonet – An Extra 17″ in the Trenches!
Sam.S 02.10.21

Welcome to our recurring series of "Curious Relics." Here, we want to share all of our experiences, knowledge, misadventures, and passion for older firearms that one might categorize as a Curio & Relic  – any firearm that is at least 50 years old according to the ATF.
Hopefully along the way you can garner a greater appreciation for older firearms like we do, and simultaneously you can teach us things as well through sharing your own expertise and thoughts in the Comments. Understanding the firearms of old, their importance, and their development which lead to many of the arms we now cherish today is incredibly fascinating and we hope you enjoy what we have to share, too!
Here we go again, ladies and gentlemen. Changing it up a bit in this week's article with the infamous M1917 Bayonet. This tool was present in the world of warfare years before the US began to use it. That may sound like it does not make sense, but I promise it will soon. I am sure having an extra 17 inches between a World War 1 soldier and his enemy was a welcomed instance. You should know the drill by now, over the top we go!
History Abridged: M1917 Bayonet
On April 6th, 1917, the United States declared war on Germany and thus entered World War I. The US was arguably late to the party, but this was all due to a policy of neutrality that was slowly worn away as events such as the reported mistreatment of Belgian citizens during the German occupation of 1914 or the German U-boats sinking of the RMS Lusitania in 1915.
As time went on the average citizen of the United States saw Germany specifically as an agitator and aggressor. Even though the United States had been neutral they still were producing arms, ammunition, and the accessories to go with it for allied countries such as Britain and Russia.
One such military implement that the United States had been manufacturing and selling to the British was their standard issue rifle, the P14; otherwise known as the Pattern 1914 Enfield chambered in .303 British. In a vastly evolving front on which warfare was trialed and changed swords and cavalry turned quickly to tanks and bayonets. The British P14 rifle was paired with its P13 Bayonet. Both items were being manufactured by American companies such as Winchester and Remington (also Eddystone which was a subdivision of Remington).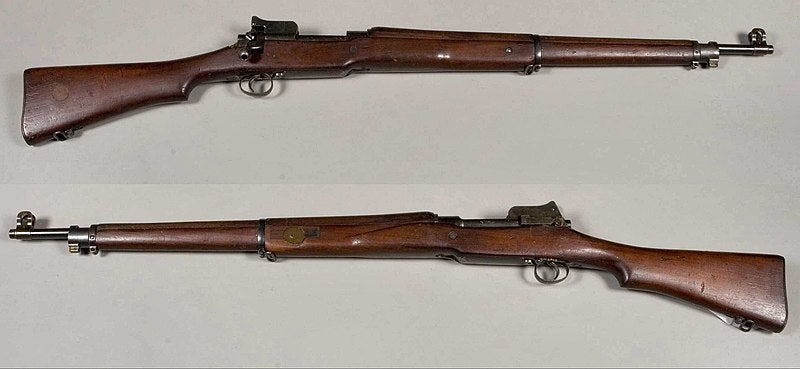 The United States' sudden entry into the war produced a disheartening realization. The US had been producing arms for foreign militaries this whole time and did not have enough standard-issue rifles of their own to supply troops as they went overseas. Since the US was already making P14s, this resulted in the adoption of the U.S. Rifle .30 Caliber Model of 1917 which, in a very brief overview, was a P14 rifle chambered in 30-06 Springfield. With that being adopted the US also needed a bayonet – enter the M1917 Bayonet!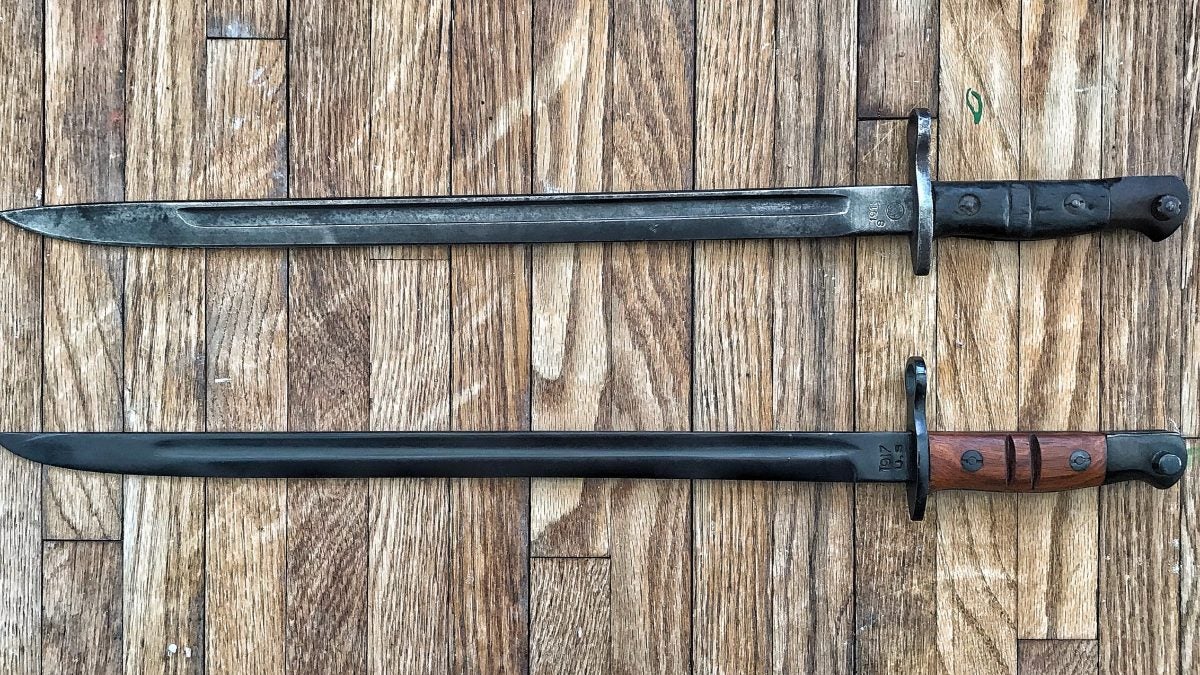 The M1917 Bayonet was a P13 Bayonet at its core and went through an evolution of its own throughout its service life. Initially, P13 Bayonets that were available British backstock were "converted" to the US M1917 by just crossing out or dimpling British marks and restamped "US" and "1917" in some cases.
The Scabbard that the British used was a leather sheath with a metal opening and protected point. For British troops, it was attached to them via a webbed belt loop. The US changed the loop to their M1910 hook style that was used for attaching gear like a holster to their belts. Even the scabbards slowly changed over time and I will go over that in the Variants section.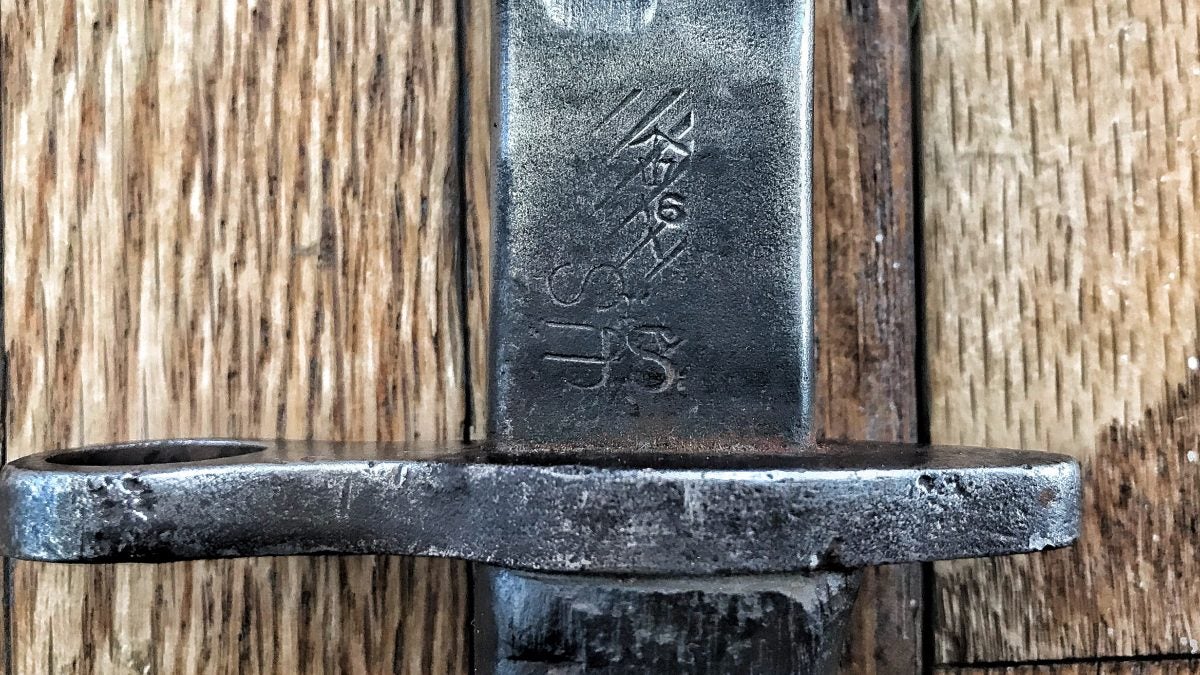 Note: A common misconception is that the P13 and M1917 Bayonets were not interchangeable and that the two grip grooves were added to the handle to prevent mix-ups. This is false! The grooves were added to the P13 to prevent a mix up with the SMLE 1907 bayonet. The M1917 has the same exact grooves and they are interchangeable.
Variants: M1917 Bayonet
The M1917 went through quite a lifetime of changes in a short amount of time. It was interchangeable between the P14 and M1917 Enfield, but it also found a partner in the many US trench style shotguns like the Winchester M97 and Remington Model 12. The M1917 rifle and trench shotguns would see future use all the way up through the 1960s and the M1917 Bayonet followed them all the way. As I previously mentioned even the scabbards experienced changes in their life as well! Check it out below:
British Contract/US M1917 Bayonet: Initial M1917 Bayonets were P13 Bayonets with the British markings crossed out or dimpled and US ones added. "1913" is usually visible. These have a Remington stamp (most commonly found today) or Winchester (more collectible). Most of my photos are featuring an exact example of this first iteration.
Early WWI US M1917 Bayonet: Produced with the foreknowledge and intention to be used by the US. Will have "1917" on them along with "US." These have a Remington stamp or Winchester. The Winchester ones featured an additional flaming bomb stamp.
Improved WWI US M1917 Bayonet: Same as the early WWI pattern except it featured a hole drilled just above the button on the handle as an improved method of cleaning out the guideway where the lug would be inserted.
M1918 Bayonet: A short run of M1917 Bayonets where Remington started to stamp "1918" (because at this time it was 1918) before the US military told them to change it back to "1917" because it was still the Model 1917 Bayonet. Remington mistakenly thought the governments wanted the year of manufacture.
Post WWII M1917 Bayonet: The M1917 Bayonet would be used all the way up until the early 2000s, but in this gap between 1946 and 2000, there were only very tiny known differences. During the 1960s some M1917s had checkered black grips similar to the then standard modern bayonets.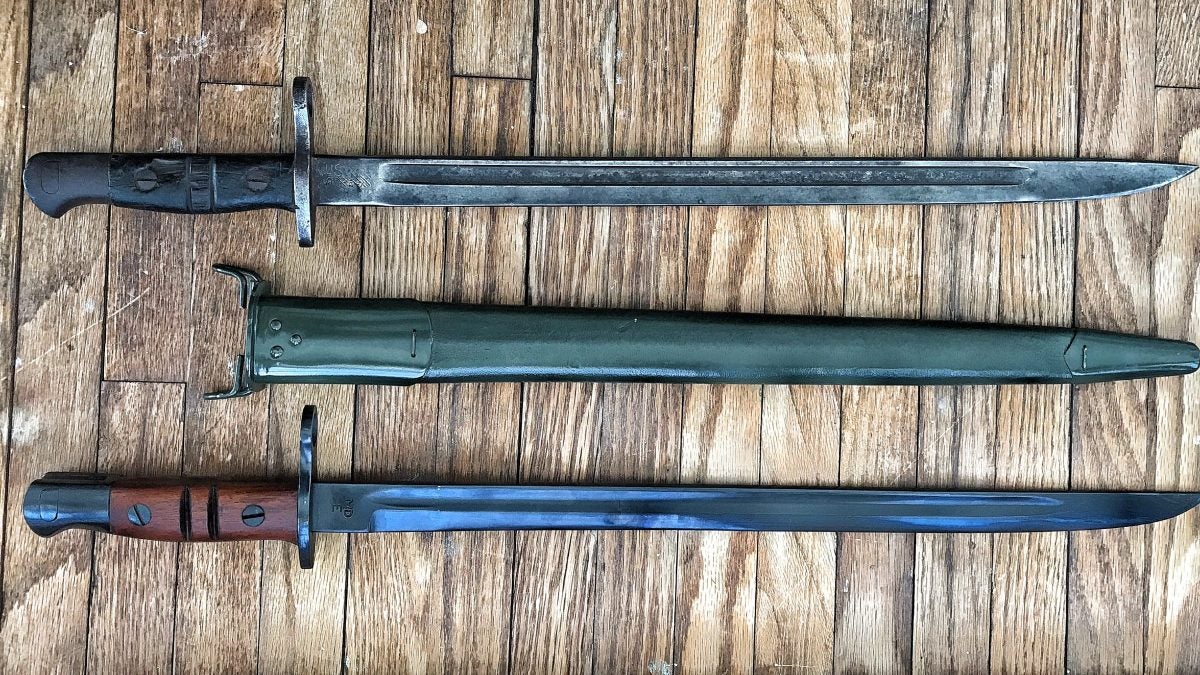 1st Model Scabbard: Very early design that probably lasted less than a year. Blued sheet metal opening and tip on an olive drab painted leather body. Attach point was a leather chunk with M1910 style hooks. The leather attach point was prone to wear and would rip and tear off.
2nd Model Scabbard: Used for the rest of World War I. Blued sheet metal opening and tip on an olive drab painted leather body. M1910 hooks were now built into the metal opening.
3rd Model Scabbard: World War II improvement to the body of the scabbard being fiberglass. Still featured sheet metal opening, M1910 attach point, and tip, albeit the overall shape of the body was flatter and less round. This scabbard would be the last model in the M1917 service life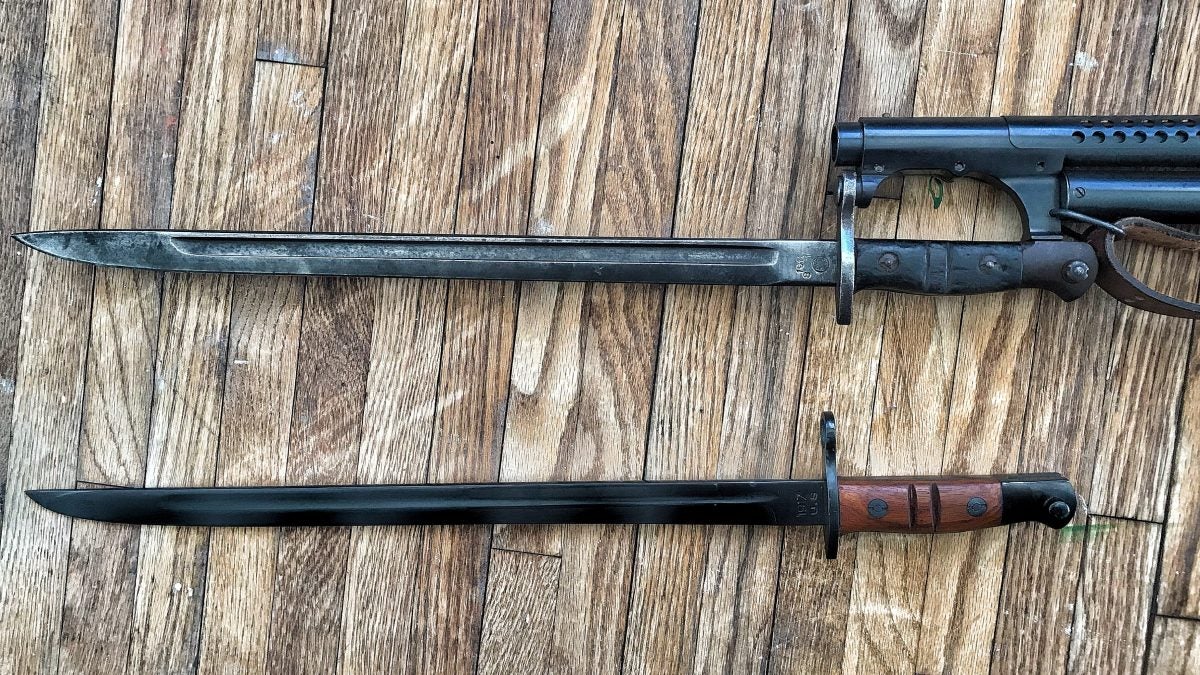 Specifications: M1917 Bayonet
The M1917 Bayonet is a sword-style bayonet featuring a 17-inch blade that commands considerable added length to the weapon it is attached to. Compensating for the weight of such a large blade a "Fuller" sometimes referred to as a blood groove is present down the blade. This is comparable to fluting on a barrel. It is a long-standing inaccuracy that the "blood groove" is there to release any vacuum created by a plunging blade and thus release the flow of blood. I did attempt to look into the type of steel that these were made of to no avail. The general specs list is below:
Blade Length: 17 inches
Overall Length: 21.5 inches
Weight: 1 lb. 2 oz
Grips: Wood
Blade Type: Non-Serrated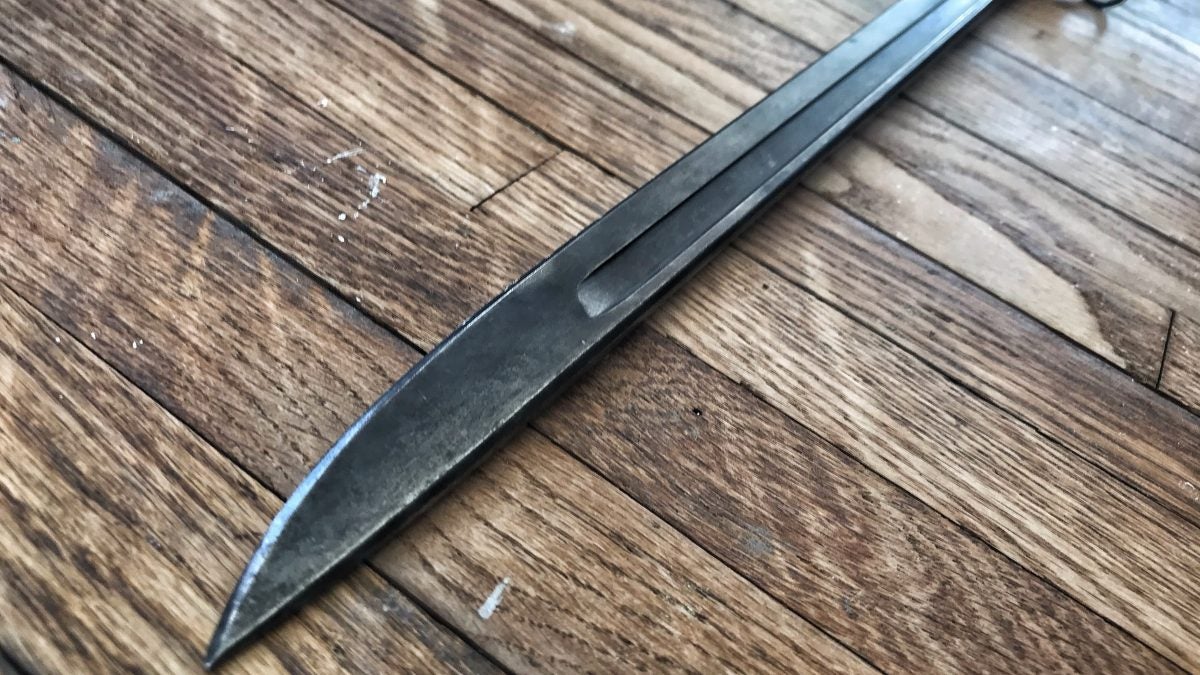 After Market Parts and Reproductions:
As far as parts and pieces go for the M1917 Bayonet, there is little out there. Numrich has some screw nuts for the M1917 and Liberty Tree Collectors has some wood grip panels. Parts and original bayonets are probably best found on ebay or gun auction sites like Gunbroker. Gun shows are also a good resource for old bayonets, but sellers often know what they have and demand a premium for it.
As seen in some of my photos I do have a reproduction M1917 Bayonet and scabbard present and the link to the one I had bought long ago is here. Reproductions can be found with a simple google search, but be sure to see what they come with and if it is actually worth what is asked.
Final Thoughts: M1917 Bayonet
I had bought a reproduction M1917 Bayonet a long time ago to pair with my reproduction M97 trench gun. At some point between then and now I happened upon an original M1917 Bayonet and a very early one at that. I am an avid World War I student and learning about all these little differences and intricacies is just a joy I wanted to share. I hope the information I presented above is helpful to anyone out there not entirely sure what they have. Sometimes thinking of it as a piece of history is good enough.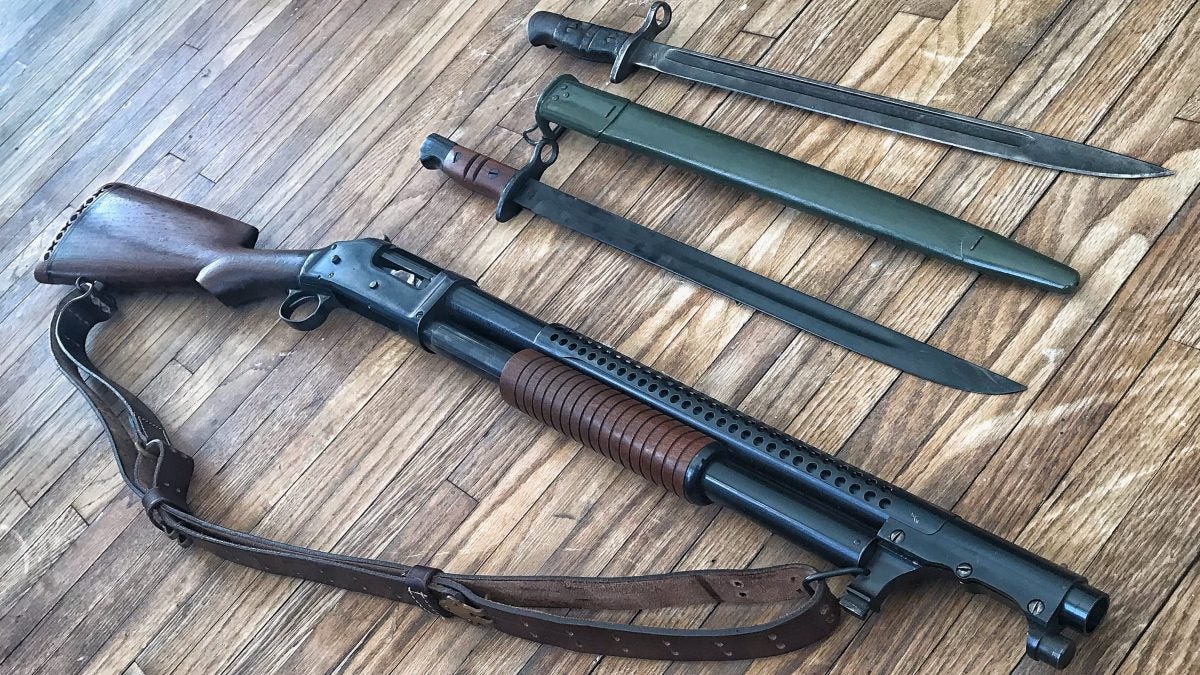 In closing, I hope our Curious Relics segment informed as well as entertained. This all was written in hopes of continued firearm appreciation and preservation. We did not just realize how guns were supposed to look and function. It was a long and tedious process that has shaped the world we live in. So I put it to you! Is there a firearm out there that you feel does not get much notoriety?  What should our next Curious Relics topic cover? As always, let us know all of your thoughts in the Comments below! We always appreciate your feedback.