NEW Winchester Silvertip Defense Ammunition in Rimfire and Centerfire
Terry Nelson 02.18.21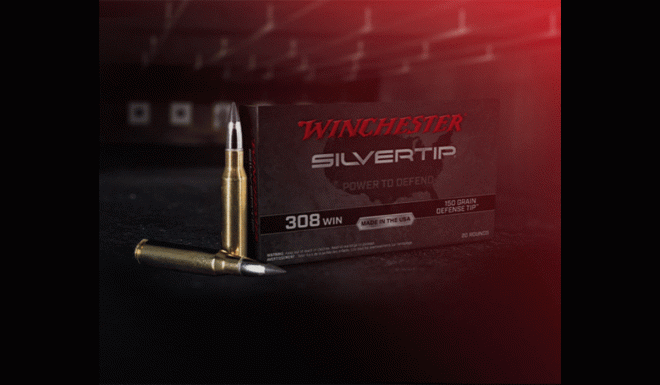 When it comes to rifle ammunition most of us think of full metal jacket for training or some type of soft point or hollow point for hunting or shooting match applications, but what about defensive ammo for your favorite carbine and even .22 Long Rifle firearm?
Winchester has just released a new product line of ammunition dedicated to defensive purposes. Winchester Silvertip Defense Ammunition is now available in .223, .300 Blackout, .308 Win, and 22 LR. The following press release from Winchester gives all the details about the new Silvertip Defense ammunition.
"In that critical moment when home, safety, and lives can be on the line, Winchester Silvertip defense ammunition gives maximum terminal ballistics for the Power to Defend.

New Silvertip defense centerfire rifle offerings feature a large-diameter Defense Tip. This sets up accelerated expansion, transmitting massive stopping power for defense situations. An alloyed lead core optimizes energy transfer and makes for consistent penetration every time. The nickel-plated bullet jacket provides both corrosion resistance and, most importantly, trusted feeding in a variety of firearm types and conditions.

A new Silvertip defense rimfire offering delivers the Power to Defend in the small yet mighty 22 long rifle cartridge. Loaded with a 37-grain hollow-point bullet that is designed to segment into three pieces upon impact. The 22 cartridge delivers maximum energy transfer from small-platform handguns. This 22 long rifle silvertip cartridge provides 12-inch penetration out of short barrels and is available in 50-round plastic packs."
Winchester Silver Tip Defense Centerfire Rifle – Features
Defense Tip, large diameter polymer tip accelerates expansion, resulting in massive stopping power for defense situations
Alloyed Lead Core, optimizes energy transfer and consistent penetration
Nickle Plated Jacket, provides corrosion resistance and reliable feeding in a variety of firearm types
Winchester Silvertip Defense .22 Long Rifle – Features
Segmenting Hollow Point, achieves devastating energy transfer by splitting into four pieces upon impact, while the bullet base still achieves deep penetration.
Optimized for Short Barrels, powder is tailored for common personal defense firearms to deliver the velocity required to initiate segmentation upon impact.
Plated Bullet, provides corrosion resistance and reliable feeding in a variety of firearm types.
For additional information on this new product from Winchester and other new ammunition offerings, check their website at winchester.com. Also. let us know what you think of this new assortment of ammunition from Winchester in the Comments below.