AO Review: Sitka Dew Point Waterproof Jacket & Pant in Subalpine Camo
Adam Scepaniak 02.22.21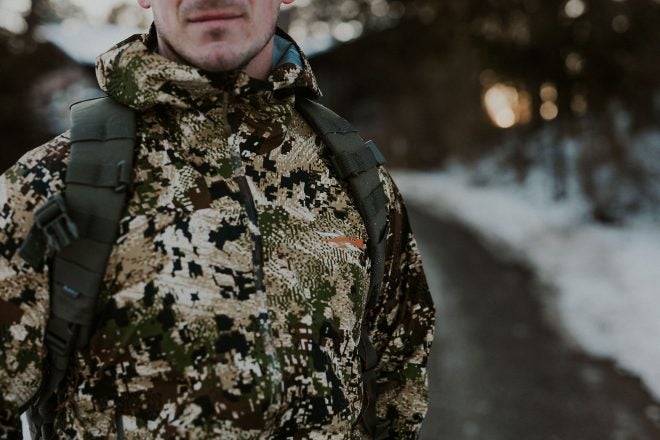 We can rarely predict the weather with 100% certainty, but our preparation and response to it can mean everything. This is true in our daily lives when we rush out the door to work with or without an umbrella, and the platitude remains true when we venture out into the wilderness hunting, camping, and/or exploring the great unknown around us.
Very little can ruin a day faster than soaked clothing that has you chilled to the bone and has got your demeanor plummeting down to the forest floor. To ward against that an authentically field-tested set of rain gear can be invaluable to keep you in the hunt, at your campsite with family and friends, or out exploring until the sun finally sets.
For all those reasons, hearing that the prominent outdoor clothing leader – Sitka Gear –  has reinvented their Dew Point series of waterpoof clothing is welcomed news. In this AllOutdoor Review, we will take a look at the Sitka Gear Dew Point series Waterproof Jacket and Pant in Subalpine camouflage. Let's dive on in!
Specifications: Sitka Dew Point Waterproof Jacket & Pant in Subalpine Camo
By Sitka taking their Dew Point series and genuinely reinventing it, it is now their lightest three layer waterproof rain jacket and pant system ever designed. When you are hiking, camping, hunting, or weekend adventuring you are likely carrying innumerable different gear items that are already weighing down.
So, it is comforting knowing that the waterproof rain jacket and pant system you might deploy is not also holding you back from the potential mileage you might trek. A better explanation of the Sitka Dew Point Waterproof Jacket and Pant in Subalpine Camo that we tested can be read below as presented by Sitka Gear:
What is it for? Originally developed for backcountry big game hunting, the Dew Point system is the minimum effective dose of waterproof protection for any backcountry traveler. Primary use cases are in spring and fall big game seasons where hunters are covering many miles per day, while solid Everyday colorways are perfect for other outdoor activities or as a daily insurance policy against flash storms.
So how much does it weigh? 23oz. for the set. Jacket is 12.5oz.
Colors: Open Country, Subalpine, Pyrite, Black, Deepwater
Jacket MSRP: $329
Pant MSRP: $299
My main purpose for this clothing will be to hunt dry and avoid succumbing to damp clothing that makes you want to end your day early. It is offered in Sitka's popular Open Country and Subalpine camouflage patterns, but you can also get it in more subtle tones of Pyrite, Black, and Deepwater Blue if it is for daily use at work or home. Sitka shares these words to further explain their Dew Point Waterproof Jacket and Pant system:
"Backcountry weather can be dynamic and threaten your trip if you're not prepared. We redesigned a lightweight/waterproof system for extended trips, where every cubic inch of your pack is accounted for. Our waterproof Dew Point System is equally balanced in three categories: weight, durability and comfort. The 3-layer GORE-TEX 20-denier nylon ripstop fabric is pliant and packable, holds up to rugged terrain and offers peace of mind whether you're deep in the mountains chasing bugles or chasing lines."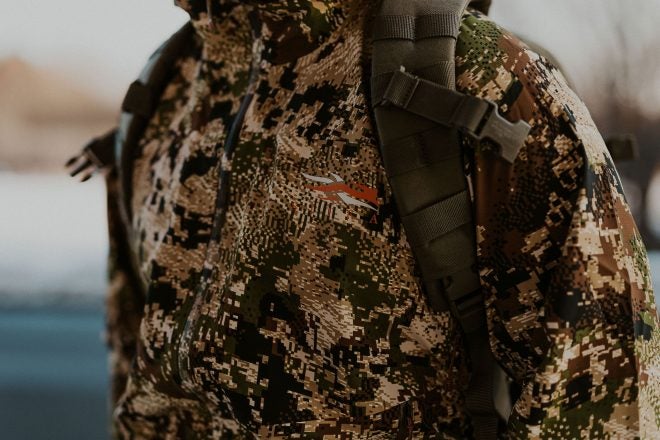 Time in the Field: Sitka Dew Point Waterproof Jacket & Pant in Subalpine Camo
The weather in Minnesota in February is as tumultuous as one could ever dream of. It is akin to someone shaking a snowglobe at random – one day it might be 40°F with a possibility of sleeting rain and the next it could be -10°F with blizzard warnings.
Because of the manic tendencies of Mother Nature in my home state, it offers the perfect proving ground for gear and clothing that needs to be tested by the elements. Sitka was gracious enough to allow AllOutdoor the opportunity to test their Dew Point series of clothing before its launch today and we gladly did just that.
As far as fit goes, the Dew Point series is on par with all of the other clothing products from Sitka's portfolio. They range in sizes from Medium – 3XL with "Tall" (longer options) for many of the sizes for the best fit possible.
This clothing is very conforming which I appreciated because no one wants baggy rain gear that could create additional noise when you are out hunting game with either a bow, firearm, or camera.
Simultaneously, you will want to account for the snug fitment of the clothes because this impressively thin waterproof system will likely be an outerwear layer – you will want to wear additional clothing underneath it for warmth.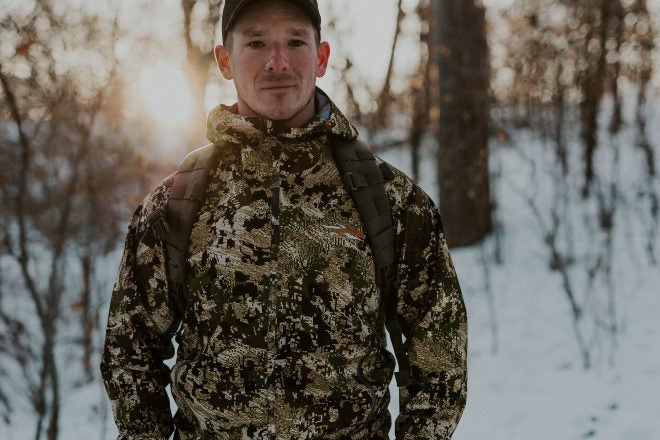 The couple opportunities I had to suit up in the Dew Point series were on warmer days in Minnesota where it peaked around 20°F during the day only to drop to 0°F or colder at night. I wore only a simple pair of pants and a T-shirt underneath the Dew Point clothing and I stayed plenty warm to tire my dogs out on morning walks on several occasions, and also to hike for 2 hours through Theodore Wirth Regional Park in Minneapolis, MN.
These exploits took me through knee-deep snow and slushy-sloppy paths that sprayed water and snow onto the Dew Point pants. The pants never absorbed any of the snow or slush and it could simply be wiped off.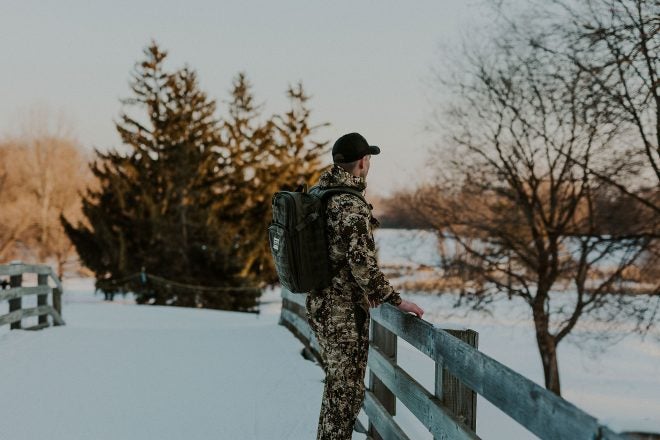 A small, but valuable feature of the jacket that likely played a large role in keeping me warm with so little clothing underneath the Dew Point system was the velcro cuffs on the sleeves.
I could easily fasten the wrist area of the jacket tighter to keep in my body heat, but also ensure I am unencumbered while working. Albeit, using my watch for navigation, reaching into my backpack for additional supplies, or ensuring a glove can sit over the top of the jacket's cuff to likewise ensure I remain warm.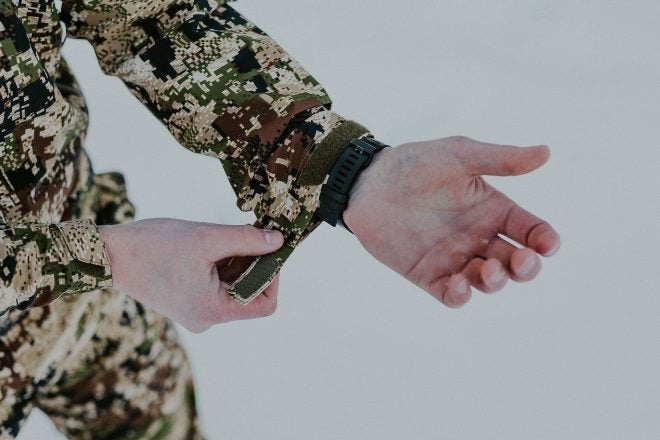 More often than not the devil is in the details and another supremely appreciated aspect of the Dew Point system was pocket access points. The Dew Point pant did not have traditional side pockets, but it had zippered access points to the pockets of your pants you will presumably wear underneath. I liked the design of this because it keeps your valuables such as a wallet, cell phone, or car keys closer and safer to your body yet still within reach.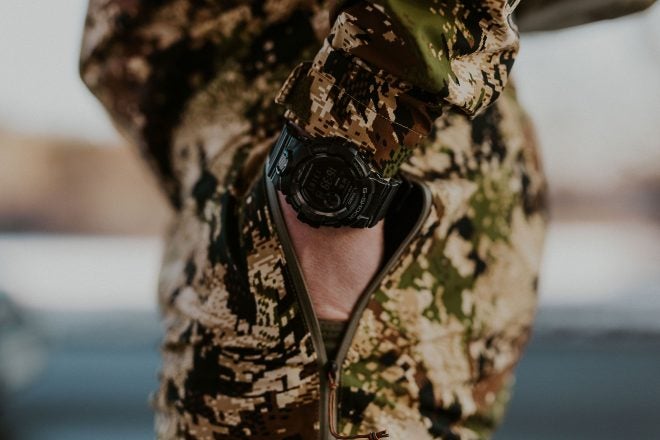 The final element that I learned to appreciate was the Subalpine camouflage pattern. The topography and climate of Minnesota does not lend itself anywhere close to what one might deem Subalpine, but it still blended in with the hibernating landscape of oaks and flourishing pine trees magnificently. The camouflage looks a bit arid in nature where it would be well-suited for western big-game hunting, but it matched the tundra of Minnesota surprisingly well, too.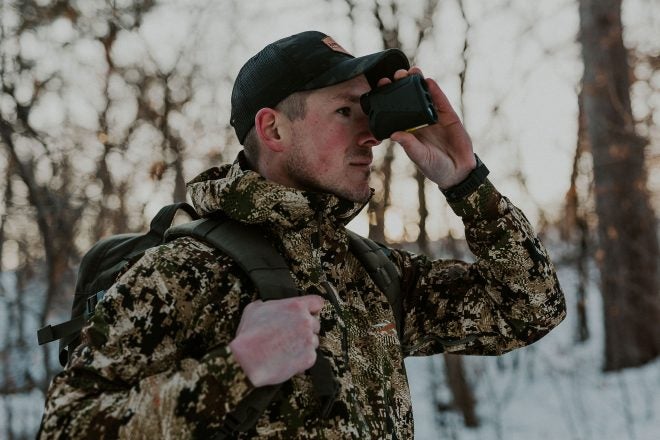 Final Thoughts: Sitka Dew Point Waterproof Jacket & Pant in Subalpine Camo
So, how did the Sitka Dew Point Waterproof Jacket and Pant in Subalpine Camouflage fair in the snowglobe, tundra of Minnesota? In all seriousness, I believe very well. It kept me dry at all times which is exactly what you would hope and expect of a rain gear system.
The fit and sizing was superb for the Dew Point series, but you will want to likely go one size larger than you normally do since you will be wearing additional clothing underneath it for warmth. Its paper-thin design has the trade off of you needing to plan other clothes into your outfit which is not necessarily a negative, but something to bear in mind. Also, you might not want to be as brazen as myself by only wearing a T-shirt underneath when the temps are in single digits.
A sweater or even a light coat underneath the Dew Point system would ensure a 12+ hour day of activities and warmth. At the moderate price-points of $329 and $299 for the Dew Point Jacket and Pant respectively, I believe this attire is worth the asking price if you are in need of waterproof clothing.
In closing, I want to say thank you to Sitka Gear for allowing AllOutdoor and myself the opportunity to try out their Sitka Dew Point Waterproof Jacket and Pant in Subalpine Camouflage. That is greatly appreciated.
Also, we would like to know what all of you guys and gals think? Do you believe that the Sitka Dew Point Waterproof Jacket and Pant in Subalpine Camouflage is something worth spending your money on? Would you wear it on your next big-game hunt? Archery season? Firearm? Muzzleloader? Camping? Hiking? All of the above? As always, let us know all of your thoughts in the Comments below! We always appreciate your feedback.
---
Wardrobe, Video, and Photography
All of the quality photography for this review was completed by the accomplished and wonderful Savannah Pierson of Savvy Photage while the video work was achieved by the versatile and without ceasing Jens Kallgren of High Shine Media. All of the clothing and gear items from this editorial review can be found through their associated links below: