SIG Sauer Introduces the Competition Ready SIG P320MAX
Luke Cuenco 02.26.21

The SIG P320MAX has finally arrived. Working off of the X-Carry style grip but with added weight and newer slide features, the SIG P320MAX is intended for those with a competition mindset.  The pistol also features an updated slide, flared magazine well, and will include 4 steel magazines as part of the package as well as an included SIG Romeo3MAX red dot optic.
SIG Sauer Introduces the Competition Ready SIG P320MAX
The SIG SAUER P320MAX is a 9mm striker-fired pistol optimized for competition at the highest levels, specifically in the Carry Optics division.  The pistol is built around the TXG tungsten infused heavy XFULL grip module with a flat skeletonized trigger.  The SIG Custom Works P320MAX slide was completely redesigned with custom wrap-around serrations for ideal side and top manipulation and is fit with a 5" match grade bull barrel, one-piece stainless steel guide rod, and both a 14lb. and 12lb. 1911-style recoil spring, allowing for an easily customized shooting experience.  The pistol comes standard with a SIG SAUER Electro-Optics 6MOA ROMEO3MAX, and (4) 21rd Steel Magazines…enough for any competition set-up.

TXG Tungsten Infused Heavy Grip Module
Custom Works slide with official Max Michel logo and custom serrations
Romeo3MAX 6MOA optic direct-mounted to slide
5" Match Grade Bull Barrel
Solid one-piece guide rod compatible with 1911 recoil springs
(4) 21rd Steel Magazines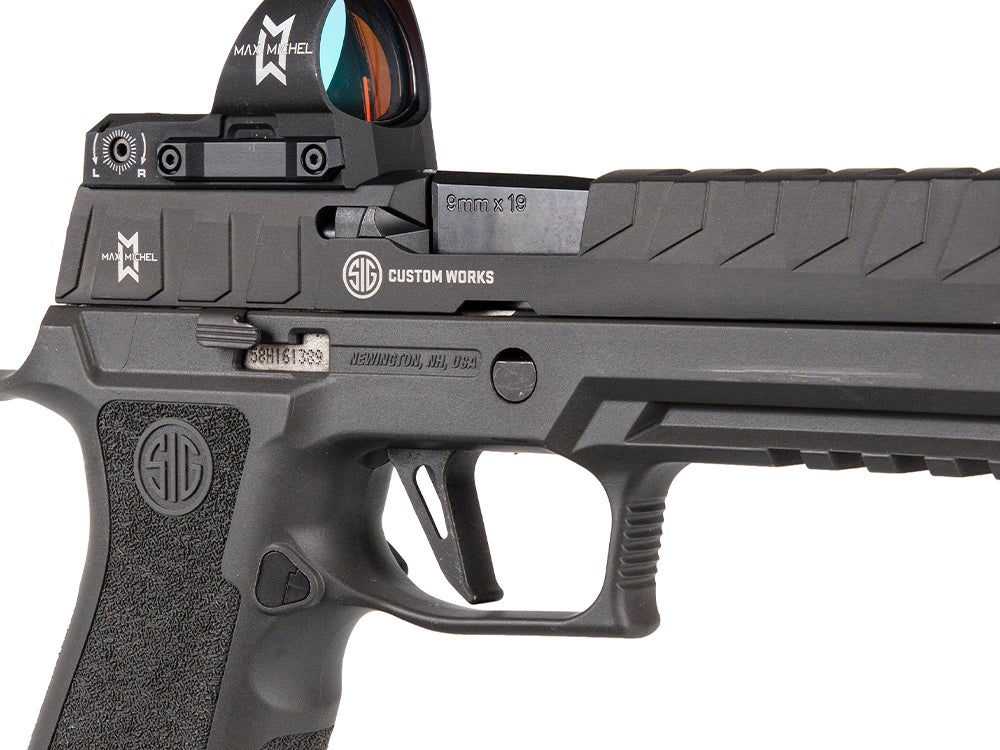 I have yet to break into the carry optics division of competition, but right off the bat the pistol already has everything you'd need to compete with one major exception – flared magazine wells are not allowed in the USPSA carry optics division. However, the pistol would be sure to find itself right at home in the Open division. Aside from that, the Heavy grip module will drastically reduce your felt recoil and help keep you on target, and the redesigned slide looks as if it will provide great purchase no matter where it is grabbed which is great for tactical reloads or clearing out malfunctions.