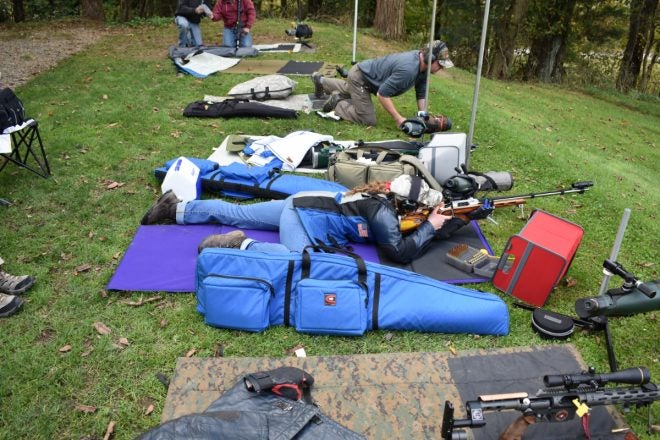 I always thought a shooting mat was just to provide a little extra cushion and stability, something to keep you off the wet ground. When I began shooting, my dad and I used a piece of leftover foam. It curled at the edges and had thick gouges where it had been unceremoniously nicked and damaged from shooting sticks, gun cases, and boots.
I have learned over time that a mat can actually make a big difference in performance depending upon the type of shooting you are doing. I was in for quite the surprise when I transitioned from shooting a .223 service rifle to a .308 Palma rifle. I love my Creedmoor Sports roll up shooting mat. It isn't terribly thick and I would almost call it flexible. It performs well for service rifle and any other type of light shooting. It provides substantial comfort from the ground or concrete and stows away nicely. It is this very feature that I so loved for service rifle that made it a terrible long-range mat.
Out with the Old, In with the New – Creedmoor Quad Fold Shooting Mat
Picture an inch-worm cartoon. It bends its body into almost alternating "w" and "m" shapes as it works its way across the ground. When shooting from the prone position with a sling, you want to be stable. You do not want your position to move. The recoil of the .308 was pushing me backwards little by little with every shot. The mat began moving underneath me and my position began shifting, my elbows moving closer and closer to my knees, resulting in worse and worse shots. I knew something was wrong, but it took my coach watching from the side to diagnose the problem.
I turned again to Creedmoor Sports for a solution. They are a premier shooting equipment vendor, especially popular among service rifle shooters, with some of, if not the best customer service I have ever seen. The Creedmoor Quad Folding Shooting Mat is worlds different from the roll-up mat I have used for years.
It is extremely thick and in combination with its quad fold design, does not move underneath me as I shoot. It has two layers of half inch polyethylene foam inside the first quad and one layer on the remaining three sections.
The double foam on the first section is so that there is extra support for your elbows, but there is a zipper on the side of this section, allowing you to add or remove foam. Rubber extends the full width of the mat, completely covering the first panel and part of the second. Whether or not you are wearing a shooting coat, it locks your position in place without leaving dimples on your arms.
My biggest complaint with a loaner mat I was using was the quality of rubber. Shooting in the hot sun bonded the rubber to my coat. Some say this is good as you literally "stick" to the mat. Not only was the rubber on my coat, but on my sling, and anything else that had rested on it for too long. Shooting without a jacket on the mat was uncomfortable as the tiny triangles of rubber that had not been melted and smashed down dug into my elbows.
First-Hand Experiences – Creedmoor Quad Fold Shooting Mat
Compared to the previous "tar pit" I was using in the interim, the Creedmoor Quad Mat felt like lying on a firm mattress. If I wanted to, I could fall asleep on it. Nothing stuck to my elbows, I didn't have to peel rubber off my gear by the end of the match, and most importantly, it didn't bunch up.
The thicker and stable mat remained flat underneath me over dozens of shots. It is wider that the mat I had previously used, but allowed me more freedom in finding a spot to put my elbows. The waterproof vinyl bottom is another huge plus for me.
While it is part of the adventure, I don't know anyone who enjoys lying on a thoroughly soaked mat. It may not even be raining, but you still have to throw your mat down on that puddle on that firing point you are assigned to. The water does not soak through the mat and is easily wiped off before you fold the mat to transport home from the range.
I originally thought the Creedmoor roll-up shooting mat was all I would ever need, and I did a lot of research in selecting my service rifle mat. Though it is still my preferred mat for that discipline, for shooting longer ranges and larger caliber guns, I choose the Quad mat.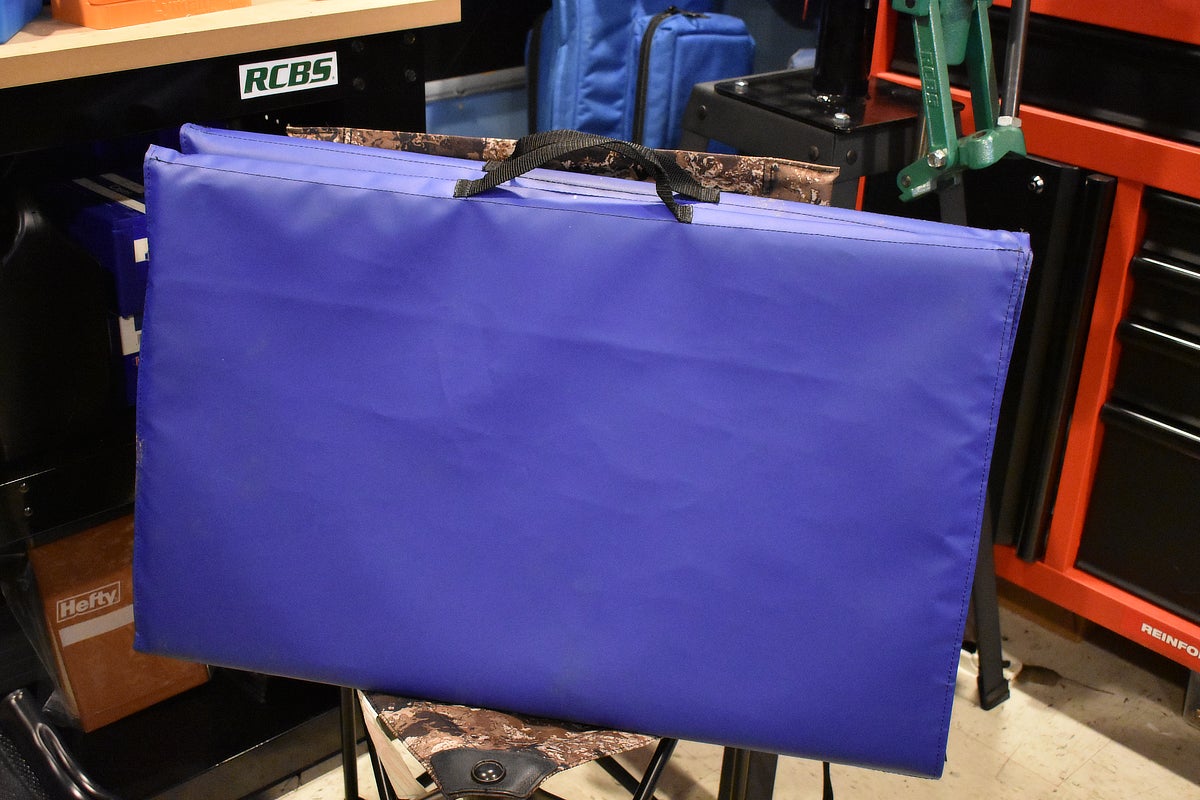 Final Thoughts – Creedmoor Quad Fold Shooting Mat
Though designed with competitive shooters in mind, even casual shooters have something to gain from this product compared to others. Most mats are incredibly thin. This is what makes them inexpensive and small to store, but it is also what makes them bunch up underneath you, wear faster, and feel every bump on the ground.
In my experience, most shooting mats do not do much of anything except prevent you from lying directly on the ground. Creedmoor really put thought into this product. It is great for people who want more support under their body and do not want to feel the bumpy ground. I haven't taken the mat camping yet, but I imagine it would be a fantastic alternative to laying a sleeping bag directly on a tent floor. It folds up into a 2 ½" x 19" x 29" cushion that can be brought on picnics or other outdoor adventures. It also has two handles for easy carry and to toss gear between for quick and simple transport.