NEW Primos Bow, Rifle, and Shotgun Cases for 2021
Russ Chastain 03.08.21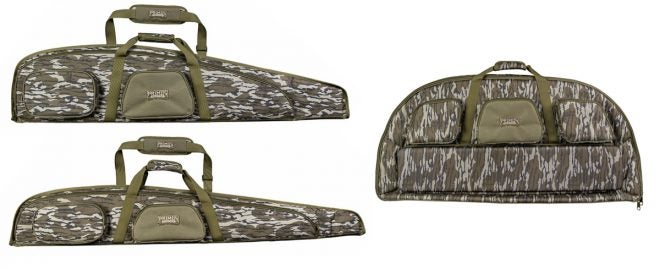 Primos continues to expand its influence in the hunting gear world, this time by offering some new Primos gun and bow cases for 2021. These three cases are for rifles, shotguns, and bows – and they are anything, but plain. All three are being made in Mossy Oak® Bottomland camo and they're all feature-rich. Here's a rundown on the new cases.
New Primos Scoped Rifle Case
Primos' new Scoped Rifle Case is made of 600D polyester and is loaded with extras such as pockets for just about everything including cleaning rods, D rings for attaching or hanging, removeable shoulder strap, and MOLLE webbing for attaching shooting sticks or bipods. Here's a list of features:
Re-designed to fit modern day rifles and scopes
Removeable Shoulder Strap
Added webbing to hold and carry Trigger Stick & Scabbard
Extra pockets to carry extra gear including cleaning rods
D rings for Multiple Attachment methods
48″ Length x 11″ Width
Item no. 65635
MSRP $74.99
"Redesigned to fit all new scope and rifle configurations that have exploded onto the market, the 600D polyester Primos rifle case features multiple pockets on the front to carry a variety of gear and ammunition. A long pocket that runs directly behind them gives hunters the ability to carry cleaning rods or any other longer gear that otherwise gets left behind. Additional webbing on the back makes it easy to carry both a Primos Trigger Stick and Trigger Stick Scabbard (not included)."
New Primos Shotgun Case
The Primos shotgun case is also made of 600D polyester and is just as loaded with features as the rifle case, with pockets for ammo, cleaning rods, and choke tubes as well as MOLLE webbing and shoulder strap. Features include:
Multiple pockets to carry all of your gear
Long pocket to carry cleaning rods
Added webbing to hold Trigger Stick Scabbard
Removable shoulder strap
D-rings for multiple attachment methods
52″ Length x 9″ Width
Item no. 65636
MSRP $74.99
"The new Primos shotgun case is also made from durable 600D polyester and has multiple pockets on the front with choke tube holders hidden on the inside for extra security. Like the rifle case, it has the long pocket, additional webbing on the back, removeable shoulder strap and D rings."
Here's a short video showing the new Primos rifle and shotgun cases.
New Primos Soft-Side Bow Case
Primos' new soft bow case is even more packed with features than their new gun cases. The exterior of the case has three large pockets for just about anything PLUS a large hardshell compartment for arrows that's accessible from inside or outside of the case. Stowable backpack straps make it easy for hunters to tote this whole rig into the woods and D rings allow you to hang the case on the wall or ATV. Inside are even more pockets, plus a neoprene area to offer extra protection for strings and cams and a MOLLE setup so you can custom-arrange velcro ties to fit your particular bow. Here's their feature list for the new soft bow case:
Molded quiver pocket for extra durability
Built-In Neoprene String & Cam Cover
Adjustable straps to secure your bow
4 Internal pockets give more space for your gear
Backpack straps for easier carrying
D Rings for multiple attachment methods
One size fits most bows on market
Item no. 65634
MSRP $109.99
Here's a video demonstrating all the extras in this new bow case. It's really impressive and almost makes me wish I was a bowhunter.