AllOutdoor Review: Gripper by Bauer Gun Caddy Portable Gun Rack
Russ Chastain 03.11.21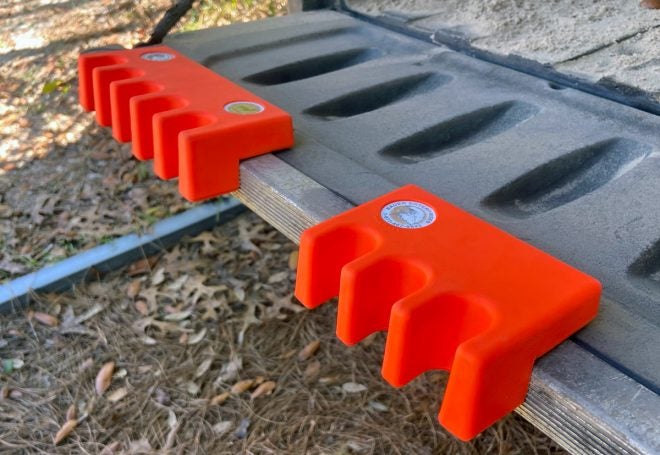 I recently discovered the Gun Caddy, a kind of portable rack that you can place on most any horizontal surface to create a place to prop up a firearm. The company which makes the Gun Caddy is called Gripper by Bauer, and it's an all-American small business that got started making products for pool cues (that's "billiards" for you fancy folks). Once someone discovered the Gripper Caddy could also be used for things like fishing rods and firearms, the Gun Caddy was born. This review is going to be a lot like the Gun Caddy: Simple and to the point.
What is the Gun Caddy?
The Gun Caddy is simply a molded piece of rubbery material with a steel plate inside the portion which sits on the edge of whatever horizontal surface you choose. The steel acts as a counterweight to keep it in place, and can even be drilled and tapped for permanent mounting. Each caddy or rack has either 3 or 5 notches which measure about 7/8-inch wide and and a smidge more than 1 inch deep.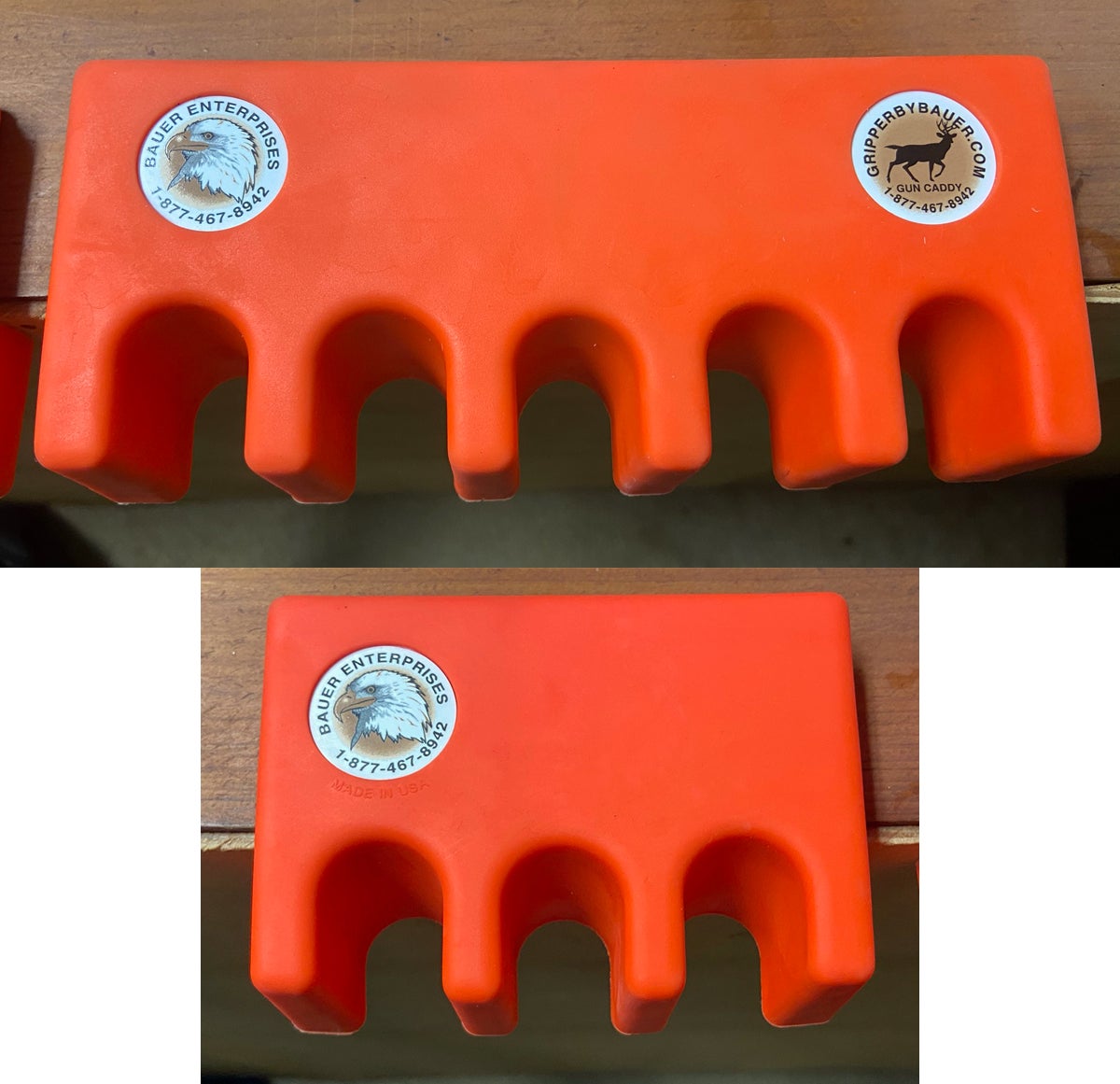 The portion which lies on and "grips" the horizontal surface is about 1-7/8″ deep, and on the 5-notch caddy it's about one inch thick; the 3-notch version is 13/16″ thick. The notched portion is about 1-3/4″ top-to-bottom. The 3-notch model weighs 0.93 pounds (14.8 ounces) and measures about 4-1/2″ by 3-1/4″ while the 5-notch caddy tips the scales at 1.6 pounds, or 25.6 ounces, and is 7-3/4″ wide and 3-1/4″ deep. If you flip over a Gun Caddy, you'll find it to be curved. This is no doubt due to the original purpose of resting it on the edge of a pool table to prop up cues.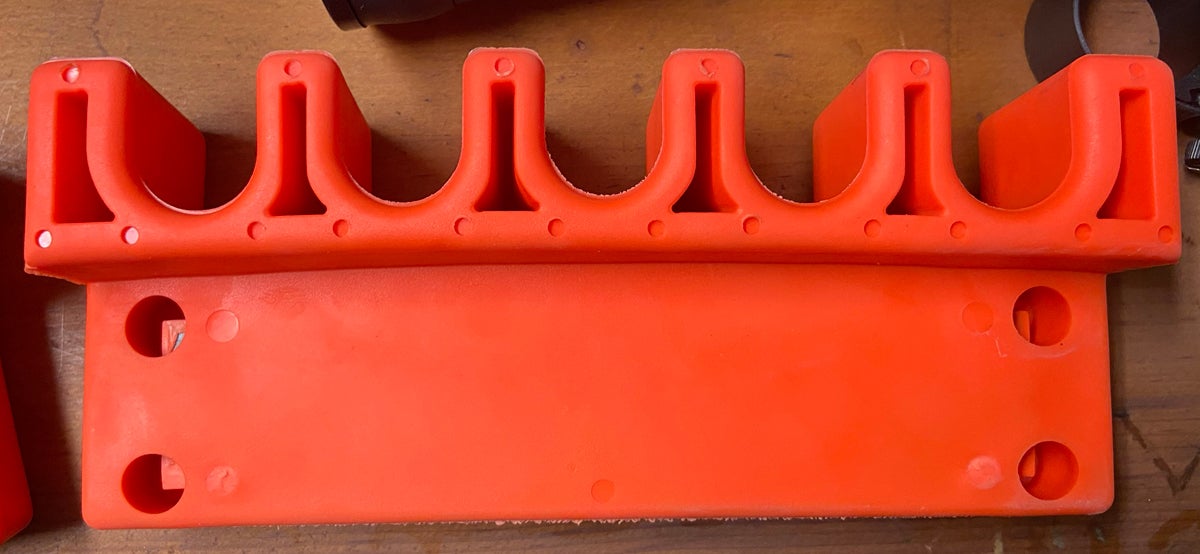 You may be wondering why I refer to the Gun Caddy as "3-notch" instead of "3-gun." Well, that's because the spacing of the notches is a little close. You can probably prop one gun in each notch of a Gun Caddy, but the firearms would be touching one another, which is less than ideal. Most of the time, you want to avoid gun-on-gun contact to avoid damage to the finish of the rifle or shotgun.
As you can see, the notches are sized pretty well for most long guns. In the photo from left to right there's a bolt-action .308 Win rifle, Over/Under 12 Gauge shotgun, Side-by-Side 12 Gauge shotgun, sporterized Mauser bolt-action rifle, and a 12 Gauge pump-action shotgun. Each notch is plenty wide enough for a 12 Gauge barrel. Another bonus is the soft rubbery material, which won't harm the finish of your firearms.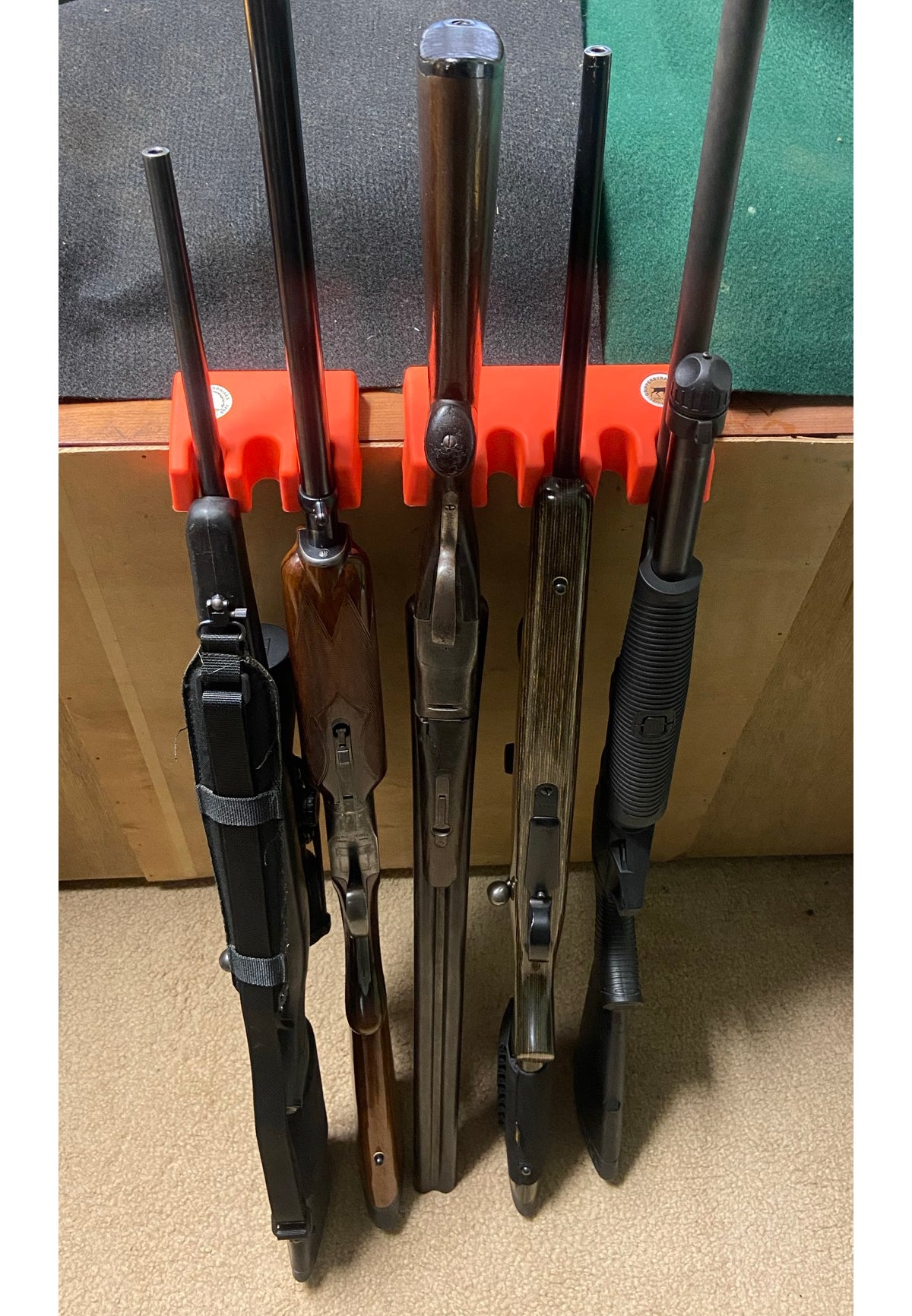 Gun Caddy on Tailgates
Keeping one of these in the truck or UTV is an obvious idea because long guns propped up against tailgates have a tendency to slide and fall over, but not all tailgates are created equal. The tailgate of my 2001 Chevy truck won't let the Gun Caddy sit level, and it wouldn't take much to tip the caddy right off the edge. The bed liner tailgate protector also interferes with it. This is a case where the gun rack would probably be more stable with a gun or two propped up against it.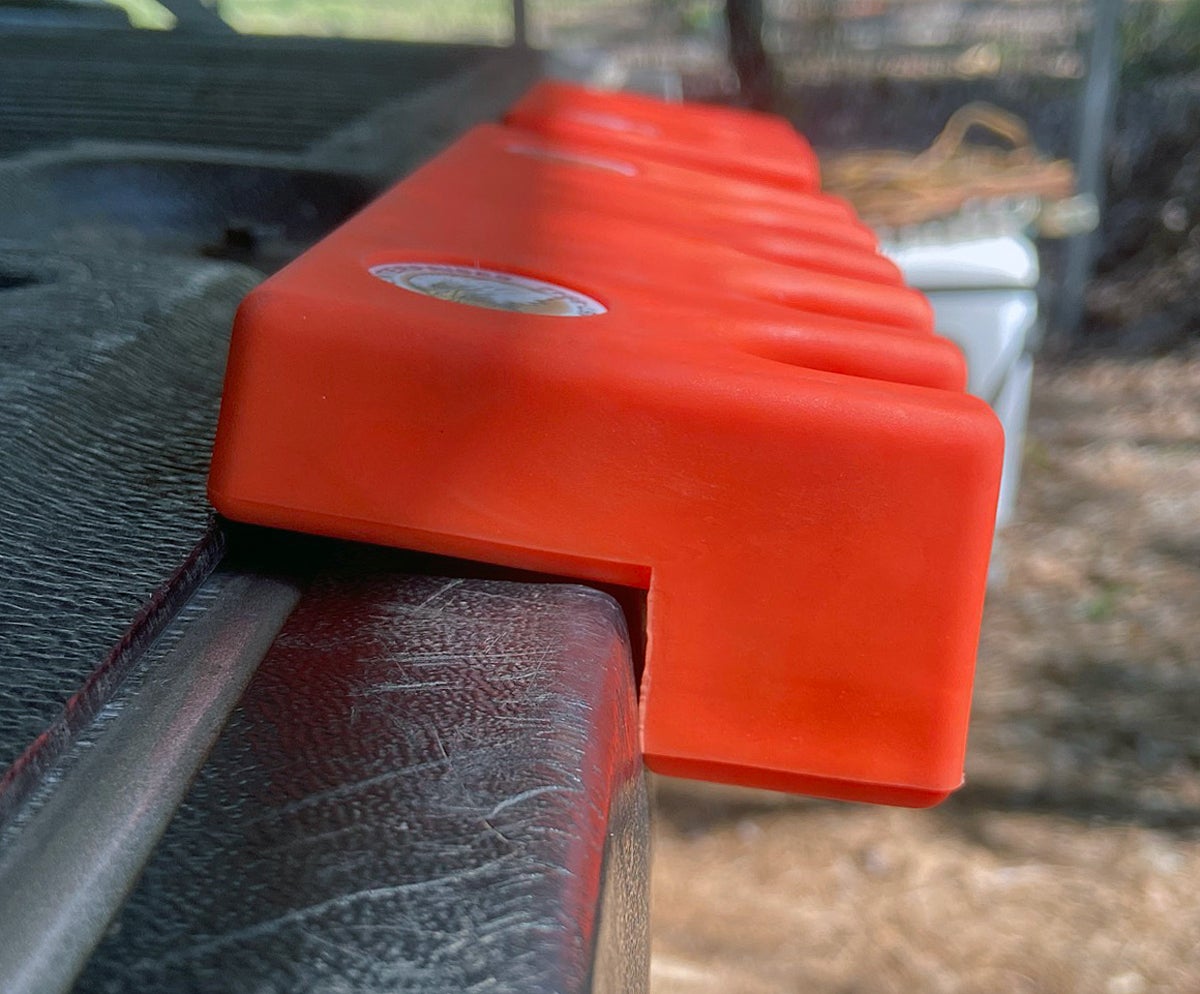 Gun Caddy works great on the tailgate of the 4×4 EZ-GO UTV I use around my property, sitting securely on the edge without feeling "tippy" at all. So, your experience may vary with the Gun Caddy on your vehicle's tailgate or bumper.
The two I have tested are the "Original" version which has quite a pronounced step at the bottom rear of the notched portion. This is fine, but it also adds weight which makes it more likely to tip off of the surface on which it's placed. Bauer also offers Slim versions in 2-, 3-, and 5-notch models. I originally thought the "slim" designation meant the notches were skinnier, but instead it means the notches aren't quite as tall, so the Slim models may be a bit more stable in some applications, and Slim models are priced the same as Original.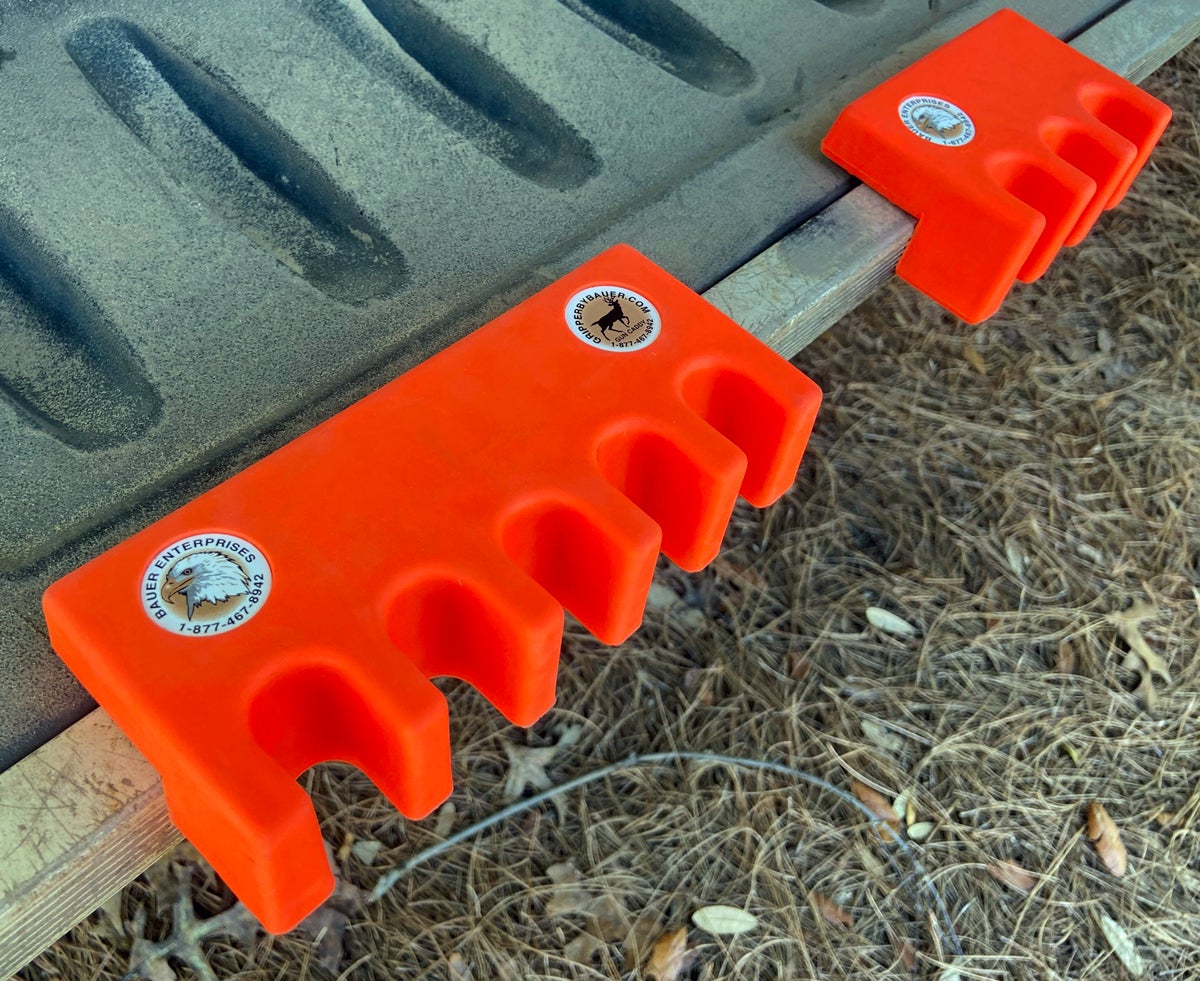 Final Thoughts on the Gun Caddy
The Gun Caddy is a simple product that works, and that's exactly why I like it. The two I have are not quite as "grippy" or tacky as I expected, but that should mean they'll attract less dirt as I use them in the field and at the range. The material is tough and durable, and I can't imagine them ever wearing out.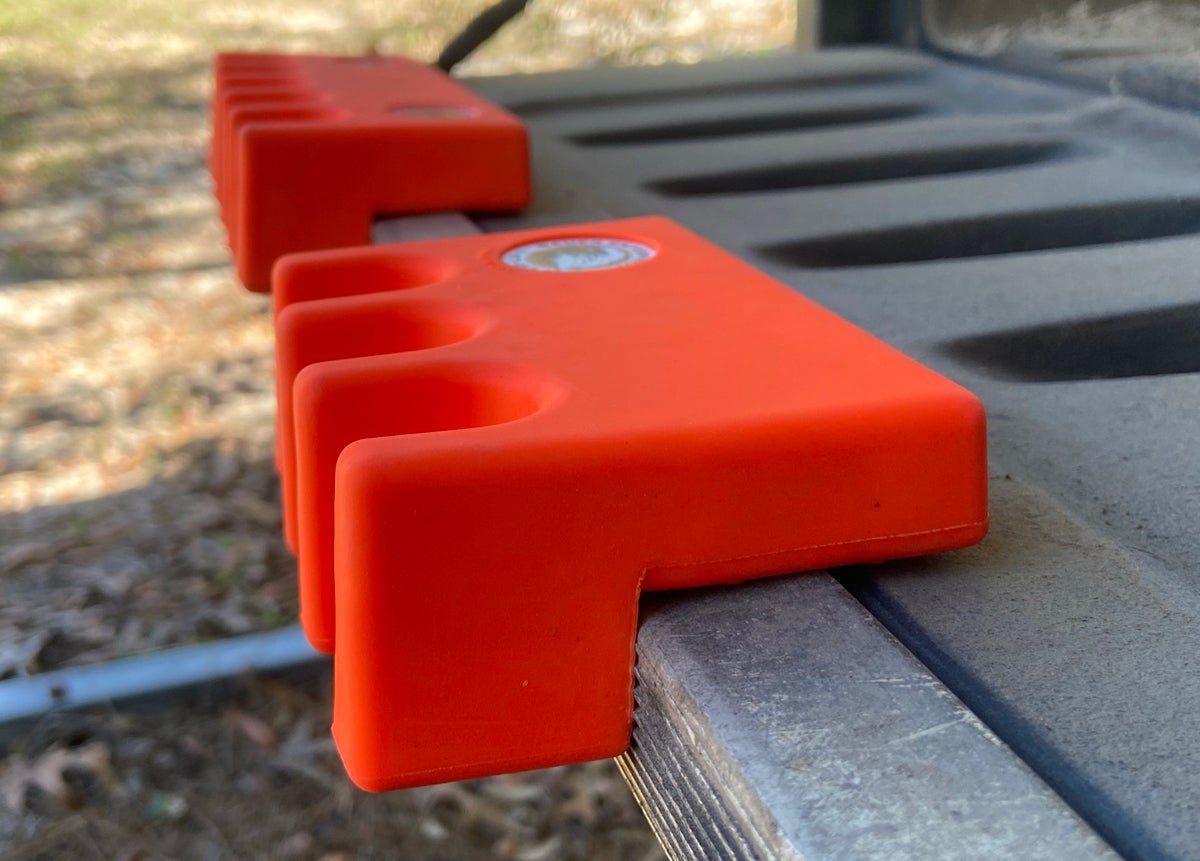 The 3-notch Original Gun Caddy is priced at $21.95 and the 5-notch Original runs $24.95. Each are available in black, blue, green, orange, pink, purple, or red, and either should last just about forever while providing better gun storage options than propping your precious popper on a vehicle's bumper or tire.