AllOutdoor Review: Pelican 1535 Air Hard Sided Rolling Carry-On Case
Russ Chastain 03.12.21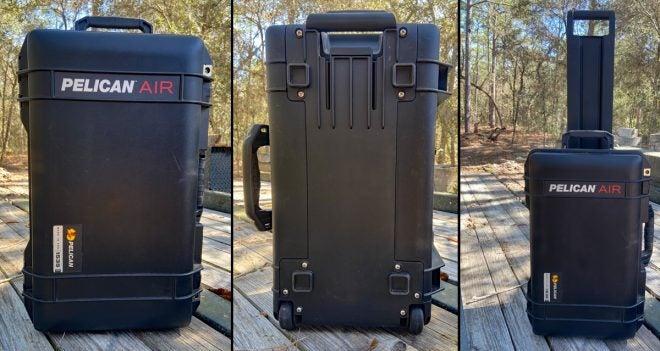 Pelican cases are known for their ruggedness and durability which is why I trusted Pelican with the transport of my valuable rifles when I flew to Colorado for an elk hunt. Aside from dedicated gun cases, Pelican also makes travel cases known as their Air line which they say are "up to 40% lighter than other polymer cases." I have had the pleasure of testing a Pelican 1535 Air case, and it's done a great job for me. Here are some specs for the Pelican 1535 case:
Exterior: 22″ x 14″ x 9″**
Interior: 20.4″ x 11.2″ x 7.2″
Weight with foam: 10 pounds
Lid depth: 2″
Super-light proprietary HPX²™ Polymer
Quiet Rolling Stainless-Steel Bearing Wheels (2)
Business card holder
Retractable extension handle (approx. 16.5″)
Automatic Purge Valve keeps water and dust out while balancing air pressure
90-degree stay-open hinges
Two metal-reinforced padlock holes (5/16″ diameter)
**They say the 1535 is sized at "maximum airline carry on size," but recommend you "check with your airline for exact measurement requirements."
The case I tested is the 1535WF (With Foam) in black which at press time is priced at $237.95 at the Pelican website and at Amazon. As advertised, it's a rugged case, and a simple one which is helpful in ensuring long life. Speaking of that, Pelican does back up all their injection molded cases with a lifetime warranty against breakage or defects in workmanship.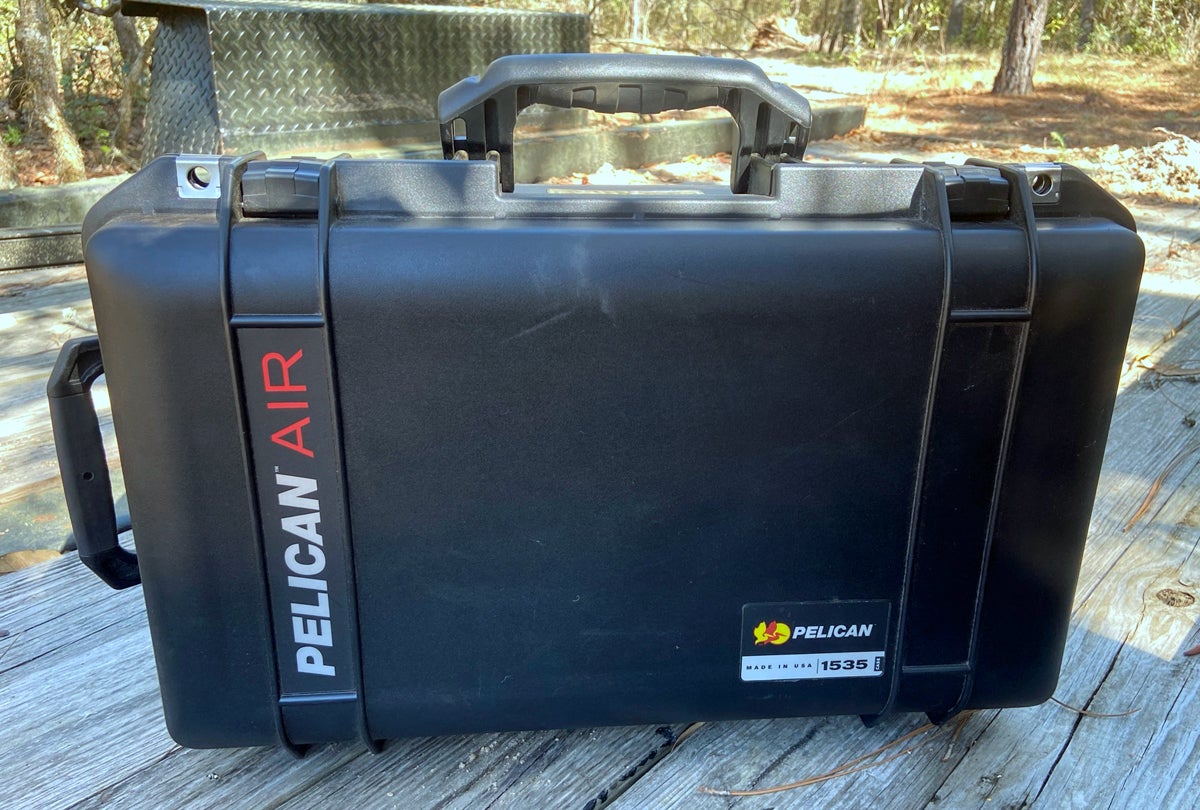 The Pelican 1535 has two folding handles in addition to the retractable extension handle for using the case as a roller. The side handle is wide and beefy filling my large hands well. The inside portion is rubberized and notched for extra grip, and a tensioner in the hinge holds it flat against the case when you fold it out of the way. While in use, a detent in the hinge prevents the handle from folding to pinch your fingers. The business card holder can be left on the side as shown, or moved to the top/end of the case.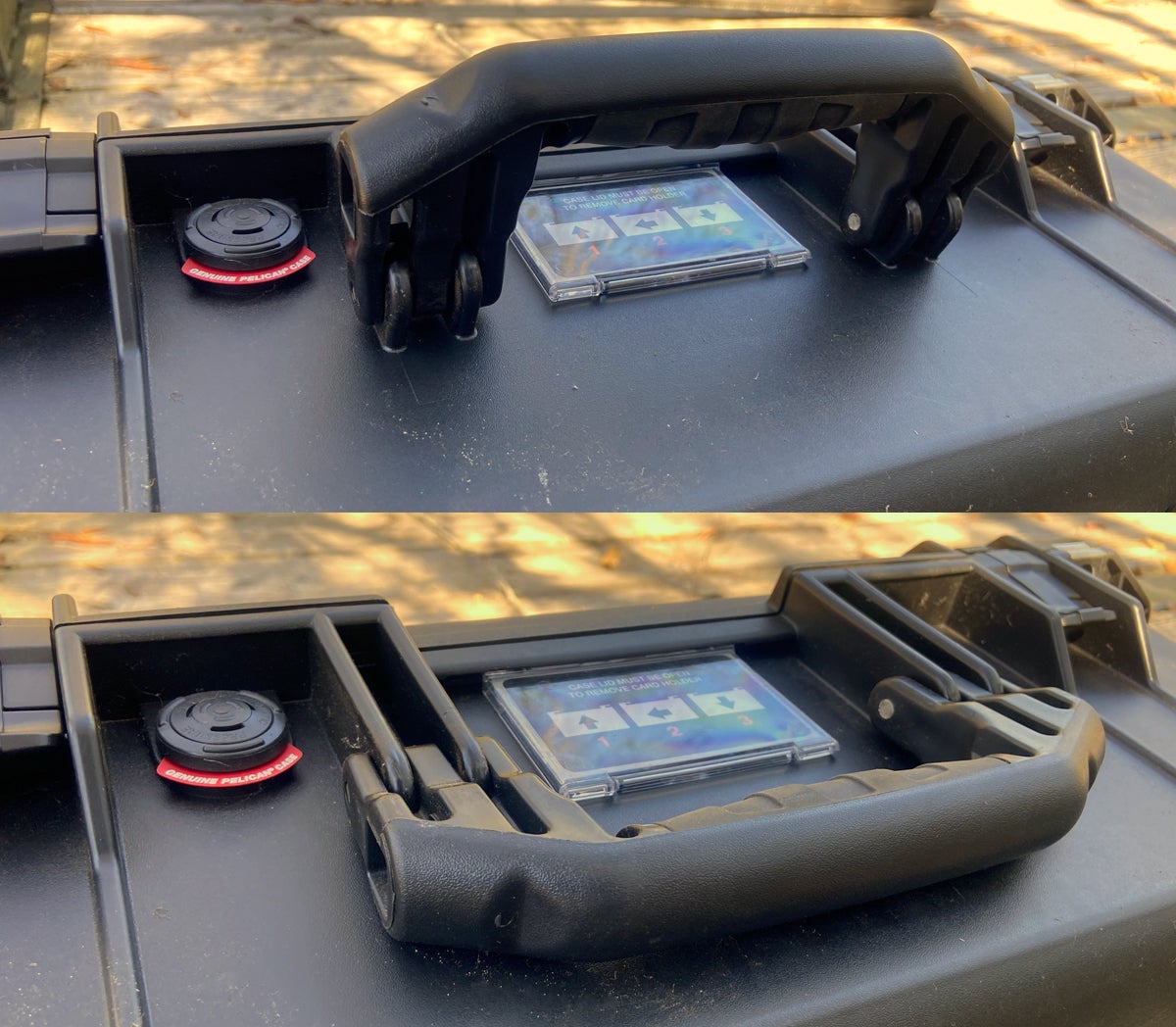 The end handle is slimmer, but located in a good place so the case stays plumb when you lift it. This handle also folds flat against the case and has a detent to keep it there. A rubber overmold with small notches adds some cushion and grip.
For rolling the Pelican 1535 Air case on the two uni-directional wheels, there's a retractable handle which slides out of the end. A simple plastic flap latch retains the handle either closed or fully extended – there are no in-between settings. Just pry the latch out to extend or retract the handle which is about 16.5 inches long. The top of the extended handle is about 38 inches above the floor when the case is standing upright. This is long enough for me at 6′ 1″.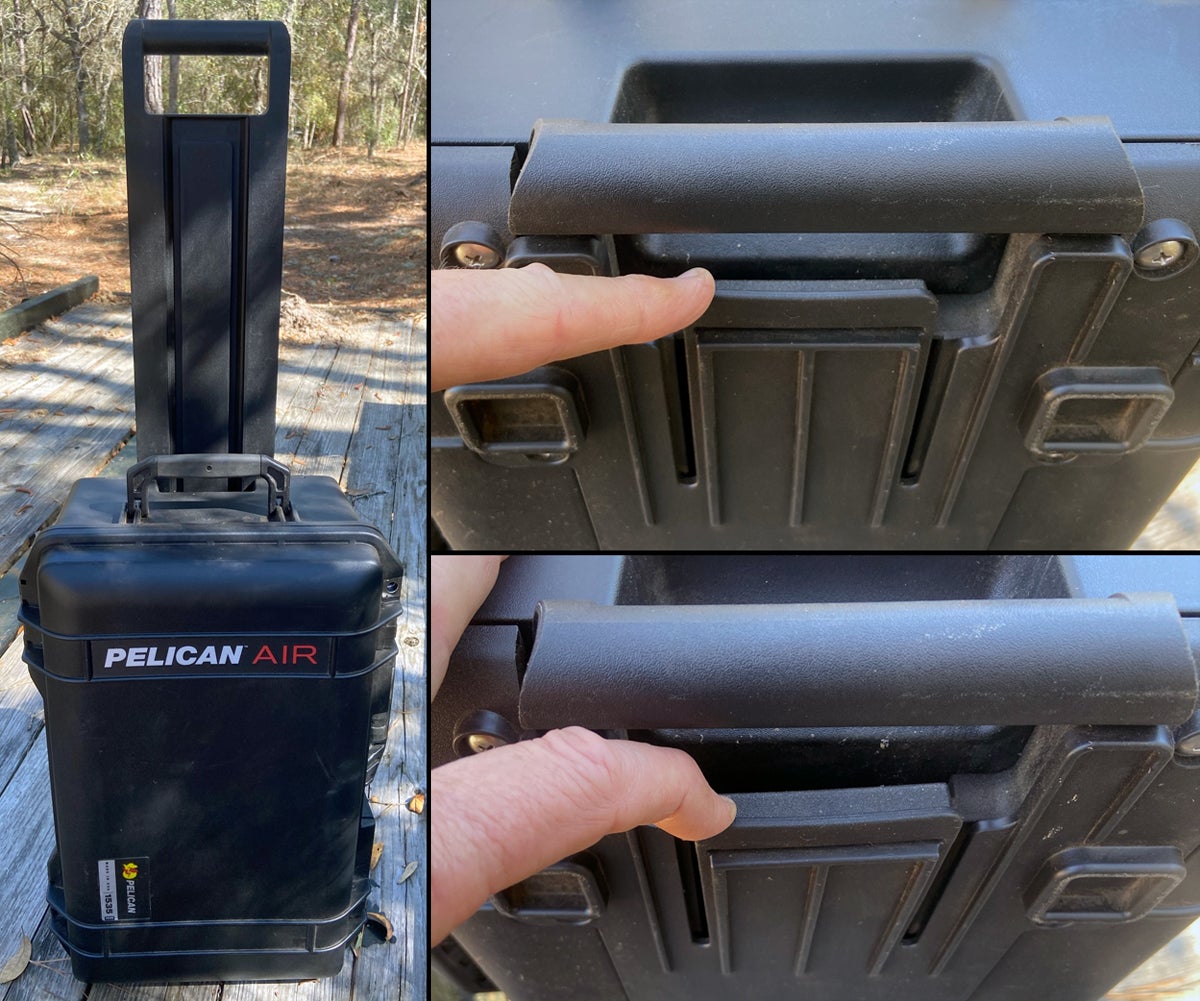 When the retractable handle is stowed the latch pops into place well away from the exterior surface of the case so you don't have to worry about it getting snagged on other bags or objects.
One thing I don't love about Pelican cases is that the central lever in the latch has a bit of slack or "slop" which allows it to freely move back and forth, and at its farthest point out, it protrudes slightly past the side "wings" which otherwise protect the latch. In the photo below, I am exerting no pressure on the latch to hold the center handle out. The latches do hold the case tightly shut, and they are not difficult to operate.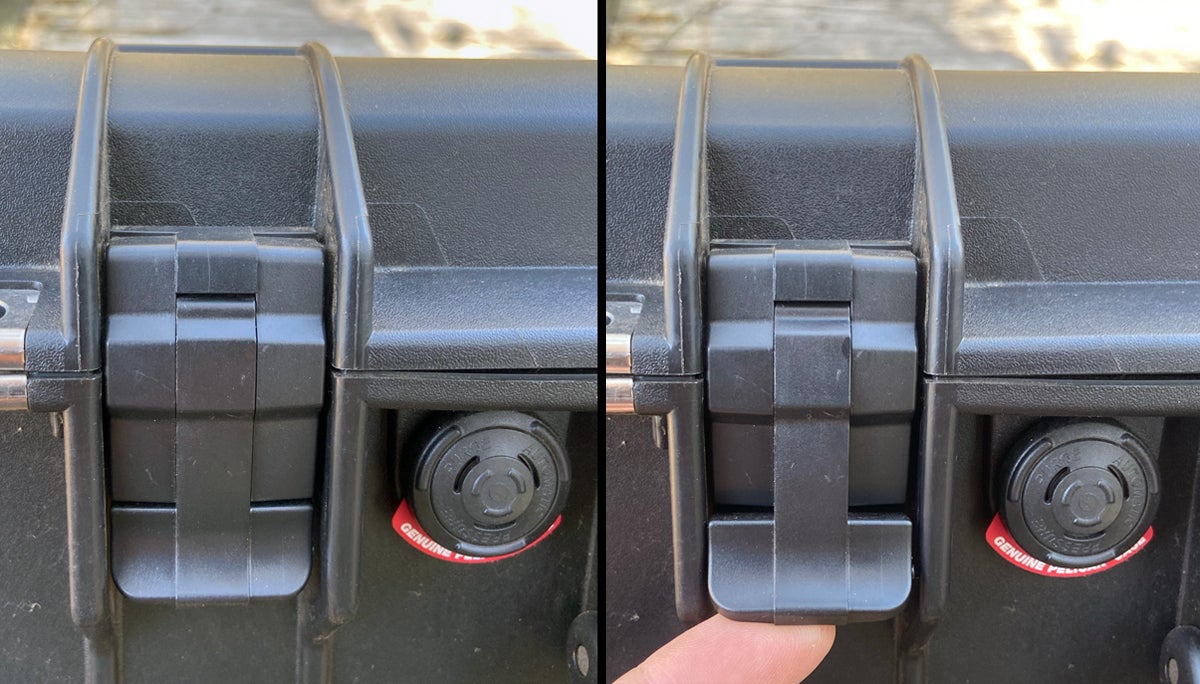 The case's interior is plain, but it doesn't have to be. Pelican offers a wide array of accessories for the 1535 Air case including dividers, pickable foam, custom foam you design via their website, desiccant, and even a MOLLE panel that quickly attaches inside the lid. In my case, this foam serves me well.
The interior foam is not glued in place. The corrugated, plastic-reinforced foam around the perimeter (top right) lifts out to allow access to the bottom foam (bottom right) and the foam inside the lid (top left) also pulls out easily. This makes it easy to make more room in the case if you need it.
Final Thoughts – Pelican 1535 Air Case
The Pelican 1535 Air case is tough just like everything I've ever seen from Pelican, and it should do a great job protecting your gear from everything around it. Toss it in a truck bed or trust it to airline baggage handlers (if you don't want to carry it on), and it should come through just fine. I definitely recommend padlocks if the case is going to be out of your control though because of the possibility that a latch could come undone during handling. This has happened on my Pelican rifle case before. If you want the toughest case that can be carried or rolled onto a plane as carry-on luggage, I think it would be tough to beat the Pelican 1535 Air.