ATN and Mossy Oak Partnership: A Collaboration Worth Looking Into
Adam Scepaniak 03.23.21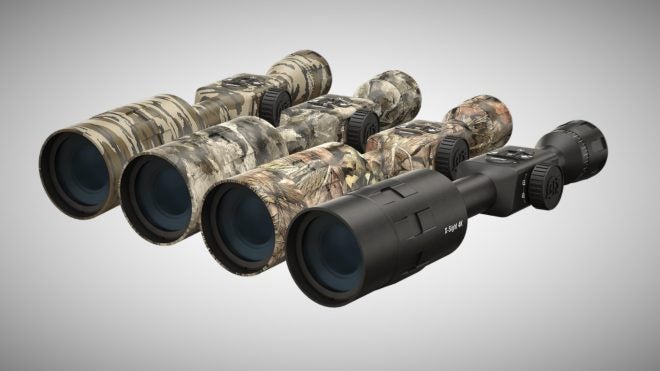 The thought of night vision and thermal in today's world is becoming more commonplace everyday. Shooters are utilizing advanced technologies to spot, hunt, and recover game in ways that sounded futuristically impossible a few decades ago. Whether it is recovering a downed, prize elk in the Rockies or preparing to put the smackdown on some rampant hogs, night vision and thermal products are wondrous tools in the field. The only thing that could potentially improve these optics and handhelds is a fitting camouflage coverage based on the environment or climate you are in. ATN Corp has already thought of this and has struck a partnership with long-time, camouflage innovator Mossy Oak.
ATN has taken some of their most popular optics and handhelds and given them a Mossy Oak camouflage coverage in some of Mossy Oak's most popular patterns at NO extra charge to the consumer. Frankly, that is phenomenal! You have your choice of Mossy Oak Elements Terra, Mossy Oak Bottomland, and Mossy Oak Break-Up Country on the X-Sight 4K Pro Series, ThOR 4 Series, ThOR LT Series and ABL Series of products. The complete Press Release from ATN can be read below on this partnership with Mossy Oak:
"ATN is always making efforts to bring to market the most feature rich rifle scopes, and the latest effort to this end is evident in its partnership with Mossy Oak. Mossy Oak is a top brand that develops and creates camouflage technologies for use by hunting enthusiasts. These innovations add to the effectiveness of the existing solutions that include camouflage clothes, guns, and other various hunting accessories.

A coupling of Mossy Oak's camo technology with ATN's advanced rifle scopes makes for a totally new kind of user experience that will completely have the hunter blend in with nature. Also, the good thing with Mossy Oak's camo tech is that it's specialized. Users can choose their favorite camo pattern suitable for their environment. The patterns include Mossy Oak Elements Terra, Mossy Oak Bottomland, and Mossy Oak Break-Up Country.  Typically products with premium camo patterns cost extra.  Although ATN could charge a premium for this option, we are not. That's right ATN is offering premium Mossy Oak camo options absolutely Free, when purchasing select models: X-Sight 4K Pro Series, ThOR 4 Series, ThOR LT Series and ABL Series of products."

When people think of camouflage clothing and stunning patterns, they think of Mossy Oak. When people think of night vision and thermal, they think of ATN. This partnership makes tremendous sense and now hunters can couple their hunting clothing, gear, firearms, and night vision/thermal products all with the same camo coverage. I have been tremendously impressed with the quality of ATN's products and have been using Mossy Oak clothing since I was a kid, but we always what to know what you think? Let us know all of your thoughts in the Comments below! We always appreciate your feedback.
---
ATN Optics
ATN prides itself in the development of advanced electro-optics with high tech features  suitable for day and night hunting activities.  Creating  dependable quality products is particularly important as it connects with the deepest desires of most hunting enthusiasts.
To add to the impressive lineup, ATN rifle scopes have simple user controls and a host of Smart features. Most models allow users to record video footage of their hunting experience. Some of the most popular rifle scopes from ATN include the high-tech X-Sight 4k Pro Series, ThOR 4 Series, ThOR LT Series, and the ABL Series. These boast the most advanced digital optics, night vision, and thermal imaging technology of the 21st century.
window.criteo_q = window.criteo_q || [];
var deviceType = /iPad/.test(navigator.userAgent) ? "t" : /Mobile|iP(hone|od)|Android|BlackBerry|IEMobile|Silk/.test(navigator.userAgent) ? "m" : "d";
window.criteo_q.push(
{ event: "setAccount", account: 37329 },
{ event: "setEmail", email: "##Email Address##", hash_method: "##Hash Method##" },
{ event: "setSiteType", type: deviceType},
{ event: "setZipcode", zipcode: "##Zip Code##" },
{ event: "viewHome" }
);