POTD: John Moses Browning Admiring the 1918 BAR
Sam.S 03.31.21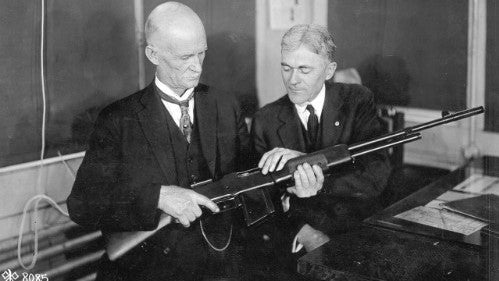 Welcome to today's POTD (Photo of the Day)! Today we have a picture of the great grandfather of modern firearms himself: John Moses Browning. More importantly, Mr. Browning is holding his Browning Automatic Rifle, the 1918 BAR. This beast of a machine gun was invented and developed in an incredibly short amount of time in order to stumble upon no man's land.
The 1918 BAR was a short iteration of the BAR that came later in WW2. It was aggressive, to say the least. It had a high rate of fire and paired with its heavy cartridge the 15 pounds of gun was no match for the excessive recoil. This gun was made to sweep no man's land and keep the enemies' heads down while soldiers advanced in walking fire. Today we know this to be suicide and if ever attempted it would not really work. The US government went as far as making leather cups that sat vertically on a belt and the BAR stock would be inserted to help with walking fire and maintaining some control of the recoil. The BAR would go on to be used by gangsters, government agencies, and future soldiers.
"Model 1918 BAR." Browning.com, R. Stitt., 2016, www.browning.com/news/articles/brief-history-of-the-browning-bar.html.