1-Year AllOutdoor Review: Kore Essentials X2 Tactical Black Gun Belt
Adam Scepaniak 04.05.21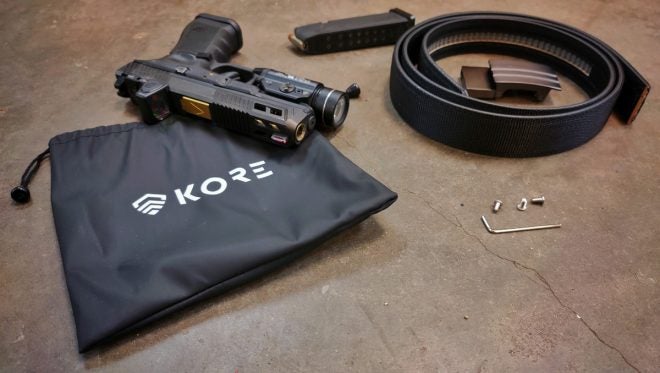 When it comes to your everyday carry (EDC) loadout there is no end to the amount of options we have with firearms and holsters. The firearm industry has no limit to the amount of reviews, opinions, and knowledge we are willing to impart on handguns and their associated holsters as well as what is the best, and simultaneously, what is the worst. A necessary, but often overlooked accoutrement is a sturdy, reliable belt to support your sidearm and the holster that houses it. That is why today we will look at a gun belt that I deployed for almost a full year in everyday carry and recreation – the Kore Essentials X2 Tactical Black Gun Belt. Let's dive in!
Specifications – Kore Essentials X2 Tactical Black Gun Belt
I am one of those long-tenured, concealed carry practitioners who got by for countless years using a less than adequate belt for my gun. My indistinct belts would sag, my holster would tip, and I would constantly be re-adjusting throughout the day like somebody who has "ants in their pants." I knew there had to be a better way, but I did not know where to go or where to start.
So when Kore Essentials reached out to AllOutdoor to check out one of their dedicated gun belts I leapt at the chance to try one. The Kore Essentials X2 Tactical Black Gun Belt includes their X2 Style Gun Buckle and Black Tactical Reinforced Belt plus one Belt Keeper, Hex Wrench, and Set Screws. The rest of the specifications are as follows:
KORE Tactical belts are constructed to support small to full-size firearms, magazines and additional gear. Tactical belts are 2X's as stiff as our leather gun belts.
Best fitting, most durable tactical belt you'll ever wear. Precise, secure fit provides a smooth, fast draw every time.
NO Belt Holes. Instead Kore concealed carry belts use a hidden track with 40+ sizing points, to adjust ¼" at a time. Result = 800% more adjustable vs. traditional gun belt.
Nylon Web outer layer, Super-Fiber inner lining with proprietary Reinforced Power-Core™ center (Rated to 500 lbs.). Belts are very durable & stiff enough to support small to heavy weight holsters, firearms, magazines, etc. (8 lbs. max). Classic buckle designs available, because no one needs to know you're carrying.
Tactical Belts are 1.5″ wide and One-Size to fit any waist from 24" up to 54″.
Belt is secured to buckle using large teeth clamp & 2 set screws with hex wrench (included).
Includes matching Velcro Belt Keeper to keep the tip of your belt secure against your waist.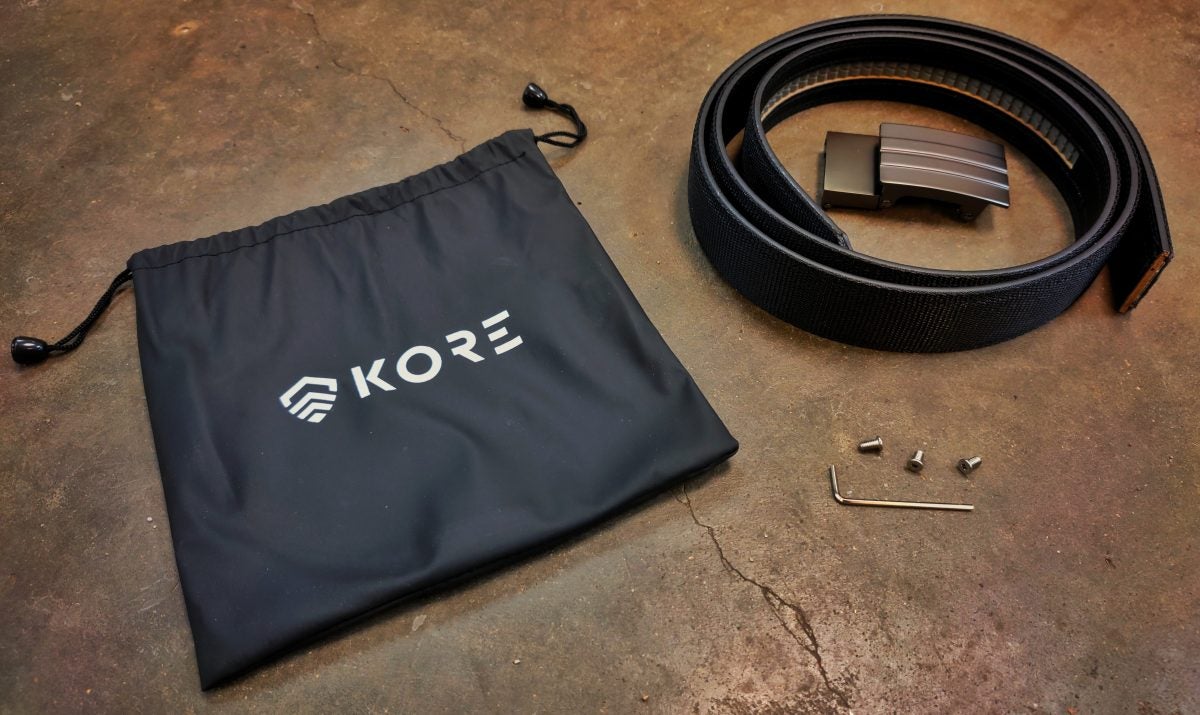 The Kore Essentials X2 Tactical Black Gun Belt features a 30-Day Money-Back Guarantee and is also backed by a 1-Year Warranty with their Patented technology. Also, the Kore Essentials X2 Tactical Black Gun Belt is interchangeable with all Kore X-series gun belts and buckles (not with their fashion belts). An even more in-depth explanation of the Kore Essentials X2 Tactical Black Gun Belt can be read below as presented by Kore Essentials:
ENGINEERED BETTER
All of our unique ratchet belts use our patented, spring-loaded mechanism. It's durable, reliable and rock solid when it comes to holding your belt in place. We pride ourselves in blending innovation with quality to create superior products. As a result we hold a total of 8 U.S. patents and 4 Trademarks.

GUARANTEE & WARRANTY
If you don't love your new item, just ship it back to us within 30 days (original condition) and get a full refund. All Kore products carry a 1-Year Warranty against defects, premature wear and/or breakage.

KORE DIFFERENCE
In 2013 we set out to redefine men's accessories. Our simple approach >> blend innovation with superior materials to create unique, more exciting products that exceed expectations. Thanks for your support.
Assembly – Kore Essentials X2 Tactical Black Gun Belt
With the Kore Essentials X2 Tactical Black Gun Belt you not only have infinite adjustability with 40+ sizing points, but you also have the ability to tailor it to your exact waist size from Day 1. The way you do this is you take a box cutter or knife, and cut the belt to a length that is an inch or two longer than your actual waist size. There is a numbering system on the inside of the belt labeling the length for you so you do not need to bust out a tape measure. When you make your cut ensure that it is as straight and clean as possible because this is where your buckle will soon go.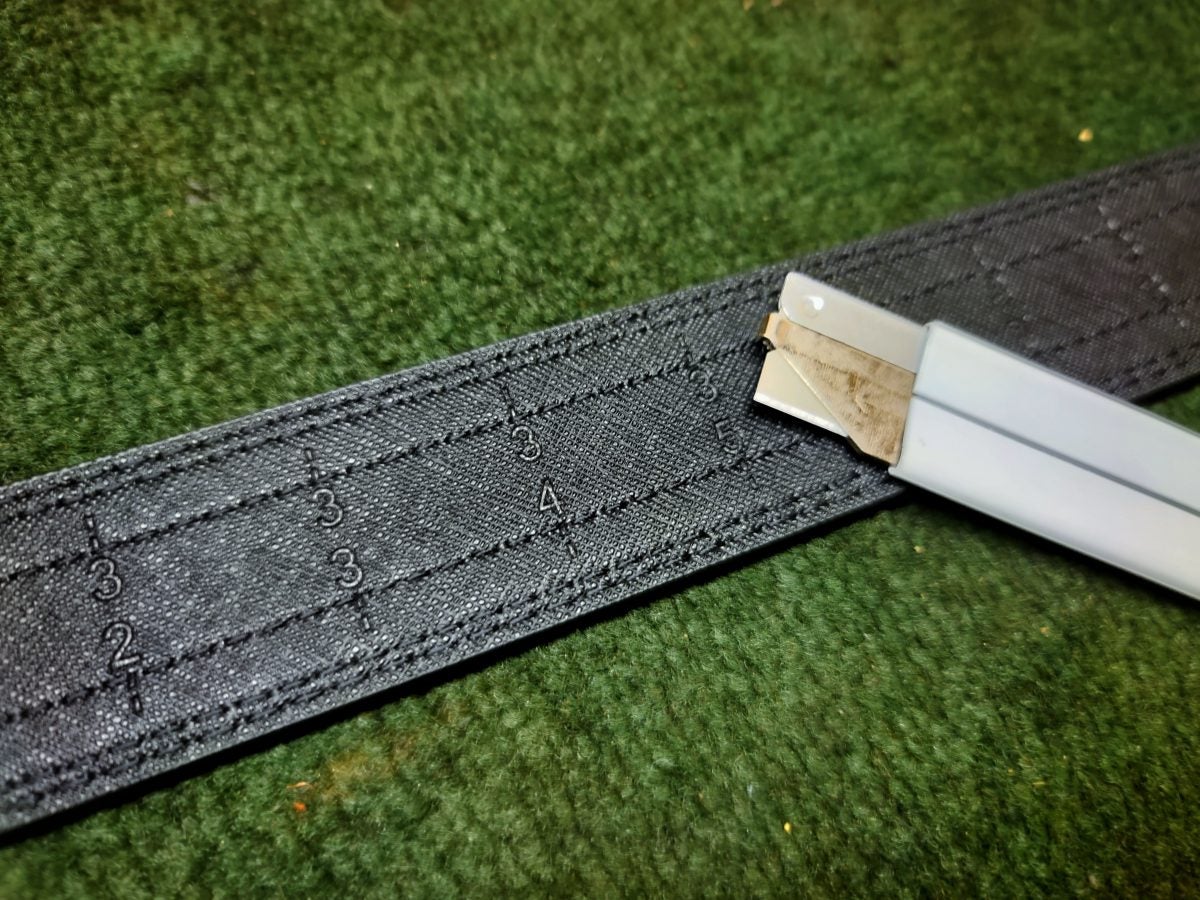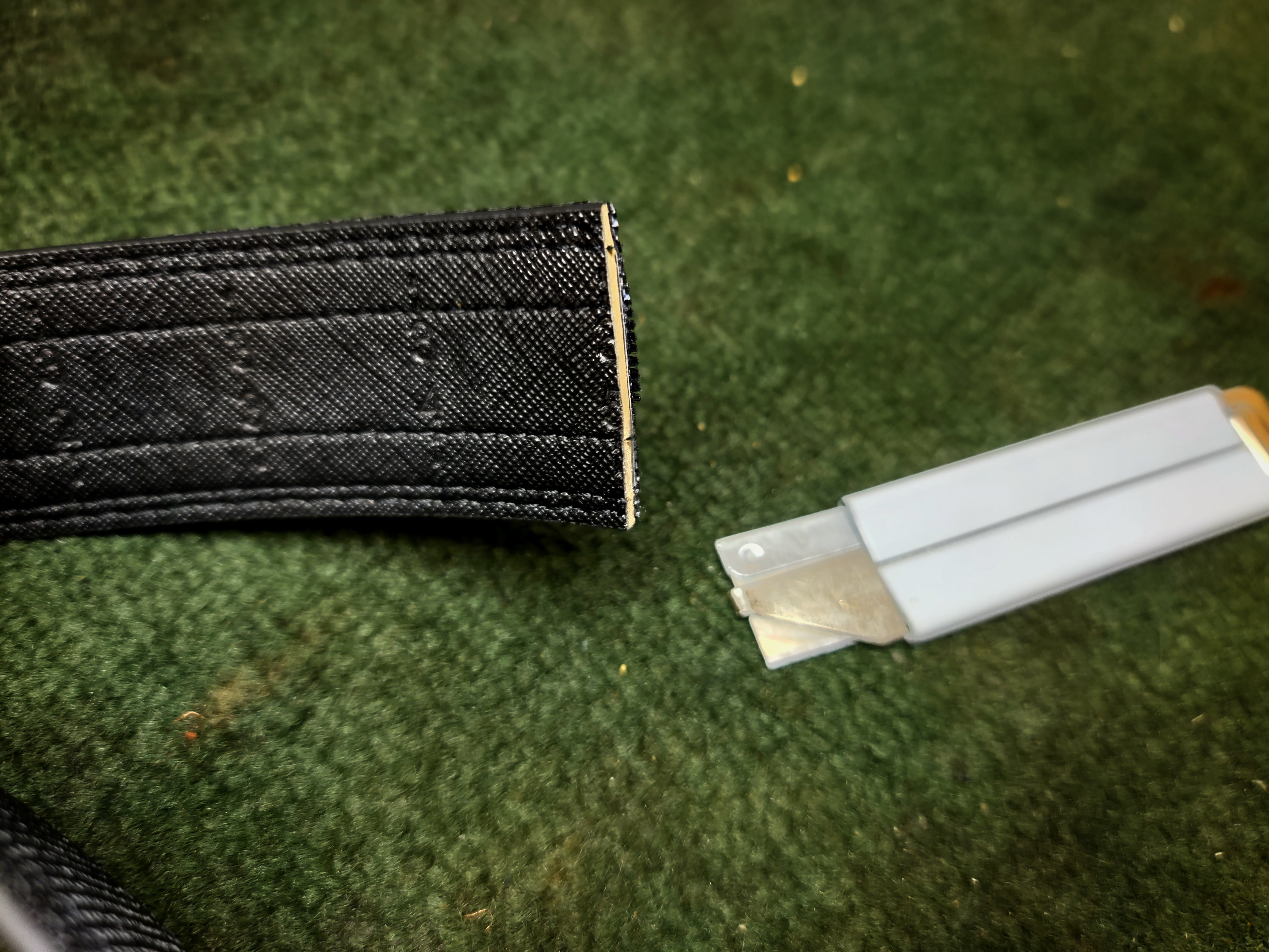 Once this is done you will want to begin to work with all of the hardware that came with the belt: the belt keeper (buckle), hex wrench, and set screws. With the spiked latch left flipped open (as seen below) you can insert the cut end of your belt into the belt keeper. As you hinge and close the spiked latch onto your belt it will want to push or drift the belt out of the belt keeper minimally (like 1/16″ or 1/8″). To fight against this, push your belt strongly into the belt keeper as you close the spiked latch.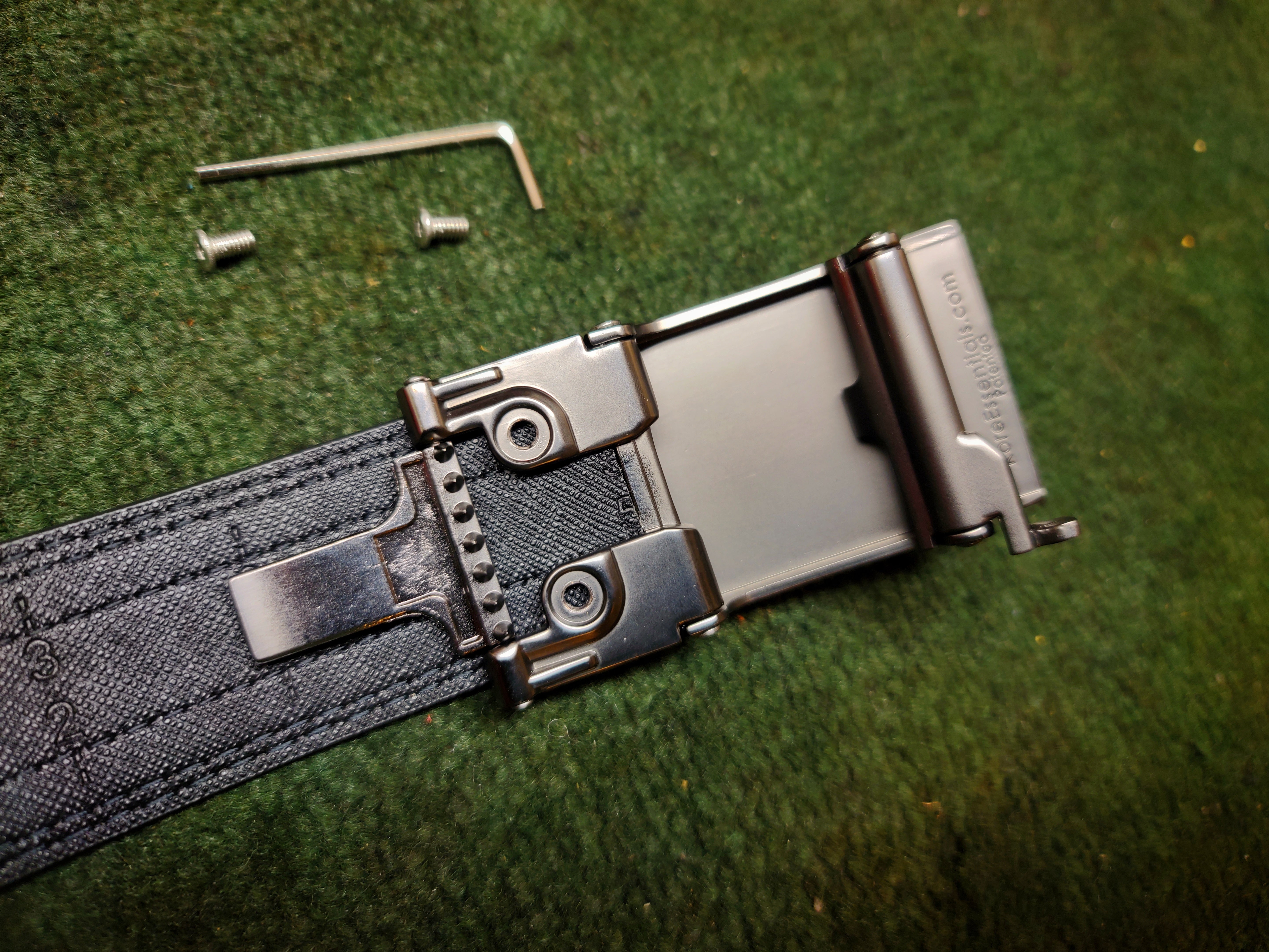 While the spiked latch feels very sturdy by itself, there are also 2 set screws to also ensure your belt remains sturdy and strong during use. Those can be simply screwed in until they bottom out, but be careful to not over-tighten them. If you have concerns that the set screws might back out you can always add a dab of Loc-Tite to the screws when you screw them in. I opted to not additionally do that because the metal hardware felt tight and crisp by itself.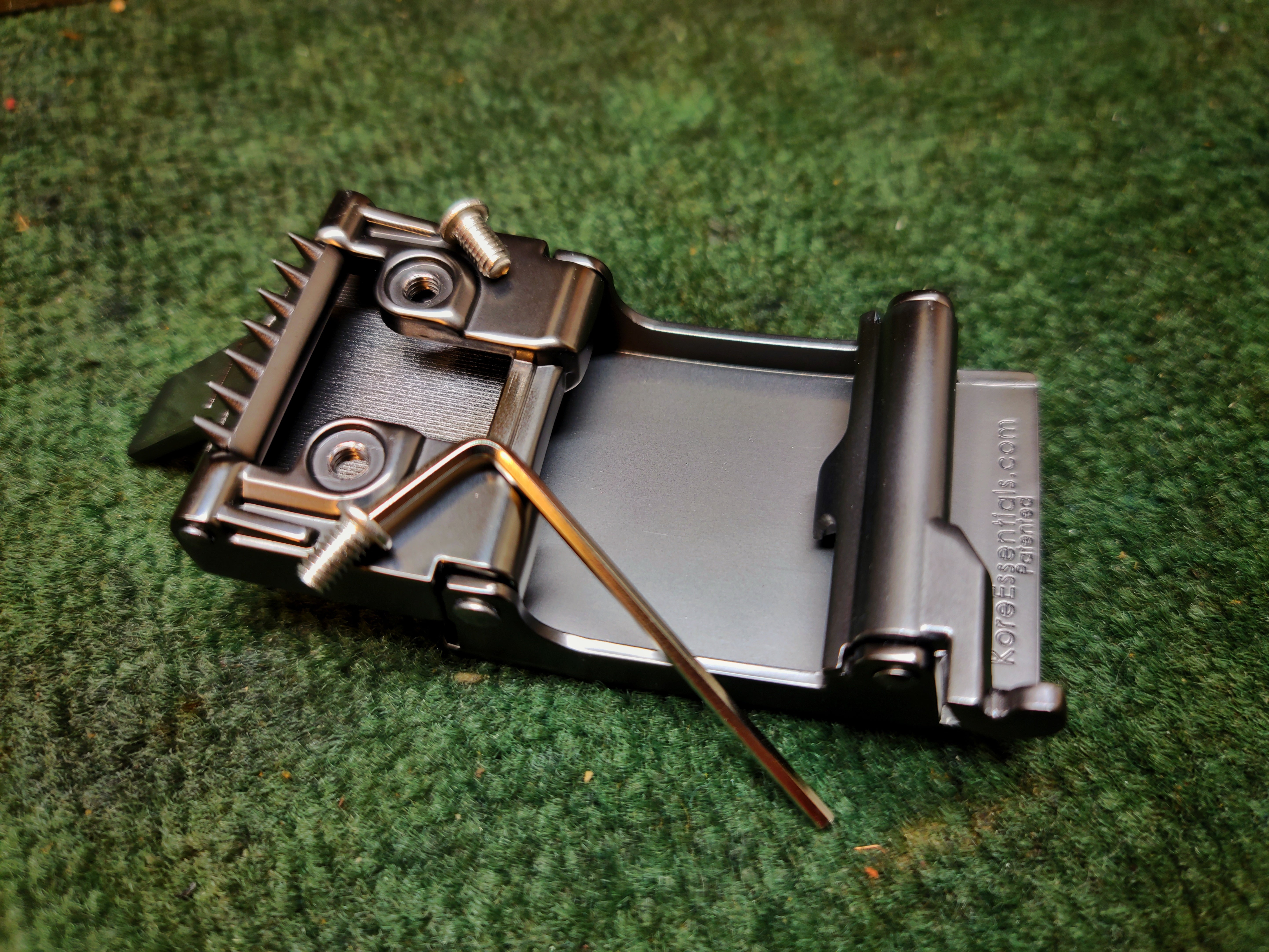 Everyday Carry (EDC) Use – Kore Essentials X2 Tactical Black Gun Belt
When it came to actually putting the Kore Essentials X2 Tactical Black Gun Belt to use I was very pleased with the results. My traditional belt I used to use for everyday carry (EDC) was just a normal leather dress belt. It stretched, my holster was floppy all over my waistline, and I was constantly re-adjusting my belt and pulling up my pants as if I ironically wasn't wearing a belt at all.
Once I began to use the Kore Essentials X2 Tactical Black Gun Belt my perspective on the importance of a dedicated gun belt changed. The belt over the course of 1 year has not warped, become slack, or stretched at all. It has remained stiff enough to always properly support and carry my firearm and holster while also remaining pliable enough to feed into as well as out of the belt loops of my pants.
One difficulty many concealed carriers face is going to the restroom. Without getting too detailed, I can easily use a urinal by opening the belt keeper (buckle) to do my business. Also, if I need to go in a stall the belt plus my holster is stiff enough where I can be seated and the entire rig will remain upright when resting on the floor (still looped into my pants).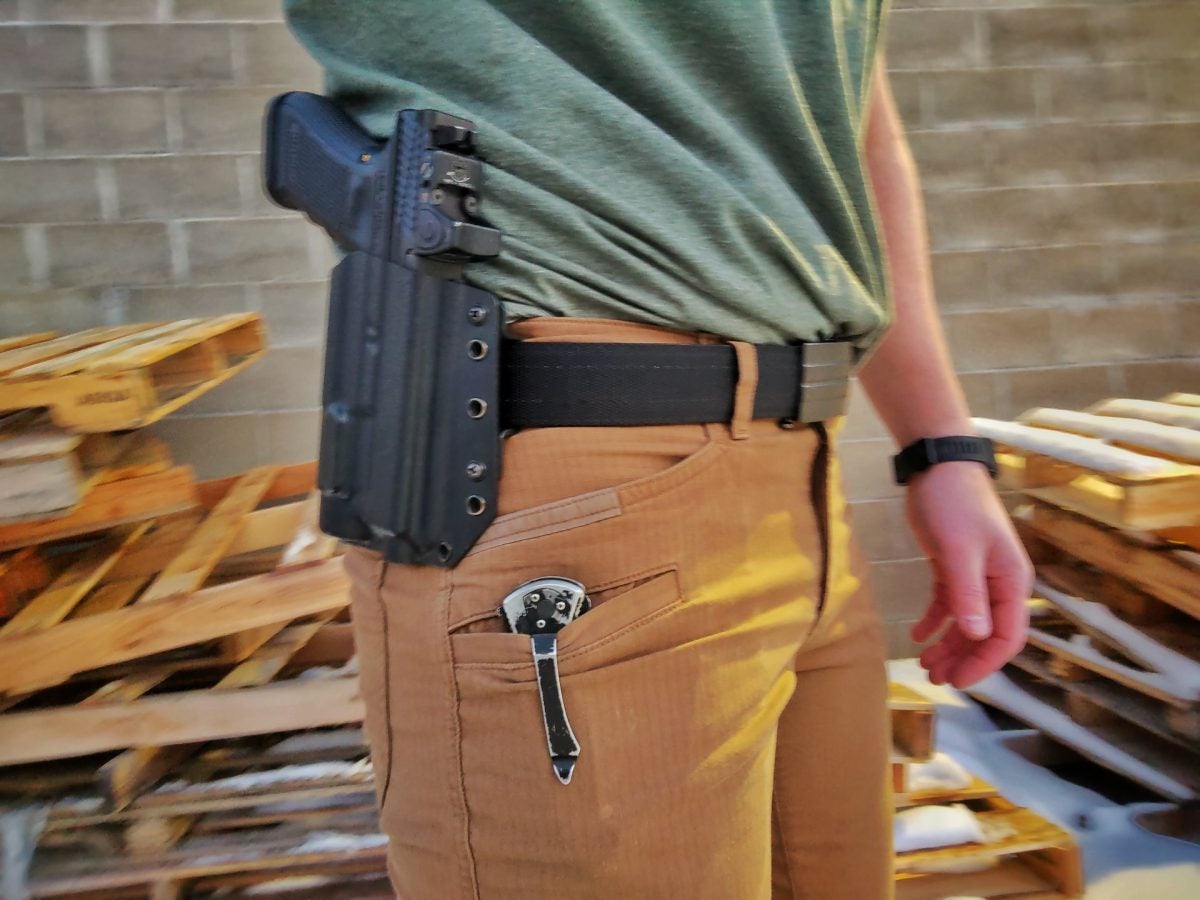 Living in Minnesota, I used this belt from varying temperatures of 100°F to -40°F and I noticed no change in the rigidity or performance of the belt. Typically when it gets comically cold in Minnesota I begin to see a lot of gear fail, but whether I was carrying at my family's gun store, checking cattle, getting gas for my truck, or hunting this belt did what it was supposed to do and did not waver.
Final Thoughts – Kore Essentials X2 Tactical Black Gun Belt
So, what are my final thoughts after a year of using the Kore Essentials X2 Tactical Black Gun Belt? Overall, my expectations were met and then some. I had never known how important an actual, dedicated gun belt was until I began to use the Kore Essentials X2 Tactical Black Gun Belt. It held my firearm and holster more securely, carrying became more of an after-thought as opposed to a constant concern that required re-adjusting, and this belt setup is stylish as well! I enjoy wearing this belt for nearly all occasions because the buckle is clean, attractive, and matches nearly anything that I wear. For the $59.95 asking price, I definitely think the Kore Essentials X2 Tactical Black Gun Belt is worth it.
In closing, I want to say thank you to Kore Essentials for allowing AllOutdoor and myself the opportunity to try out their Kore Essentials X2 Tactical Black Gun Belt with a GunMetal buckle. That is greatly appreciated. Also, we would like to know what all of you guys and gals think? Do you believe that the Kore Essentials X2 Tactical Black Gun Belt with a GunMetal buckle is something worth spending your money on? Would you wear it as an everyday carry (EDC) belt? Would you utilize it while hunting? Use it as an everyday use belt? All of the above? As always, let us know all of your thoughts in the Comments below! We always appreciate your feedback.