The Path Less Traveled #007 – LITHIC One-Person Tent Review
Andrew D 04.05.21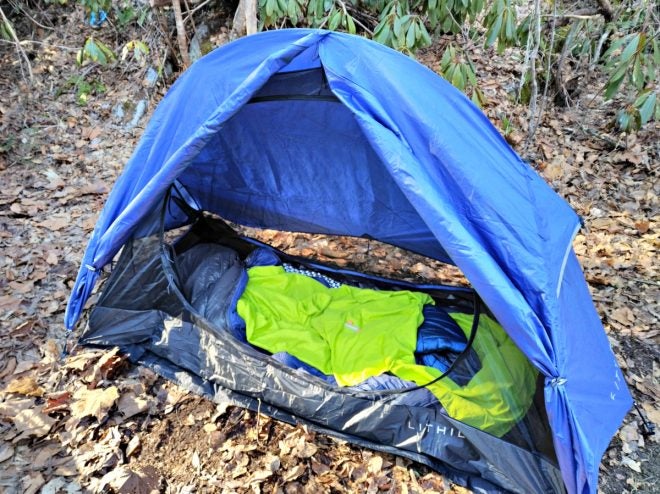 Champagne Tent on a Beer Budget or Lipstick on a Pig?
Do you ever hesitate on buying something expensive long enough to determine you didn't actually need it in the first place? I'm that way with Gucci camp gear, ultimately choosing cost-performance outliers that compete against bigger names. The LITHIC One-Person Tent from Moosejaw / Walmart fits this bill.
---
Welcome to our recurring series of "The Path Less Traveled." In this series, we want to take you along for our exploits out in the wilderness while hiking, camping, exploring, and general adventuring. This will include our small daily victories, foibles, tips, tricks, and reviews of gear we authentically appreciate and frequently utilize. While a well-worn trail can often be the pathway to a leisurely day, the paths less traveled can often spur on some of the greatest memories, misadventures, and fun we could imagine. Join us in the Comments as we share our travels and hopefully, we can all come together for a greater appreciation of the outdoors.
---
Company Info
Walmart is the multinational conglomerate started by Sam Walton in the summer of '69. In 2017, Michigan-based outdoor recreation retailer Moosejaw was purchased (to bolster WM's premium street cred). In May 2020, Walmart and Moosejaw released a sub-brand of backpacking gear under the LITHIC name (in addition to Allforth Clothing). Not much has been heard from either company about the future of LITHIC since, but I remain hopeful.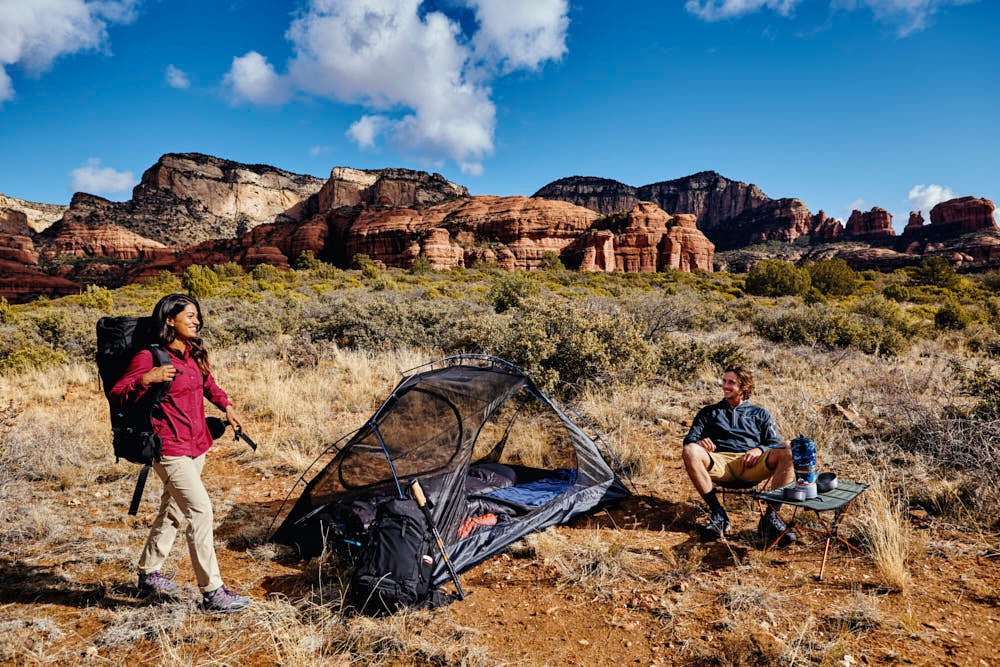 Product Info – LITHIC One-Person Tent
The LITHIC One-Person three-season Tent weighs 1660–1360g (3.66–3 Lbs) depending on setup. The tent consists of a low height (4″ – 5″) 2,000mm PU waterproofed bathtub floor with the rest of the 'inner' consisting of no-see-um mesh that attaches to poles with plastic buckles.
The rainfly has a 2,000mm waterproof barrier and made from 68D Ripstop. Poles are your standard-fare modern 7001 aluminum, but thinner (7.9mm) than my patience with USB plugs after trying two times; all shock-corded for easy setup. The tent comes with an abundance of stakes (10 stakes!) in its own bag, as do the poles. The entire tent has a drawstring bag with buckles to cinch/compress once packed. The tent also includes a ground cloth at no additional cost (included in weight).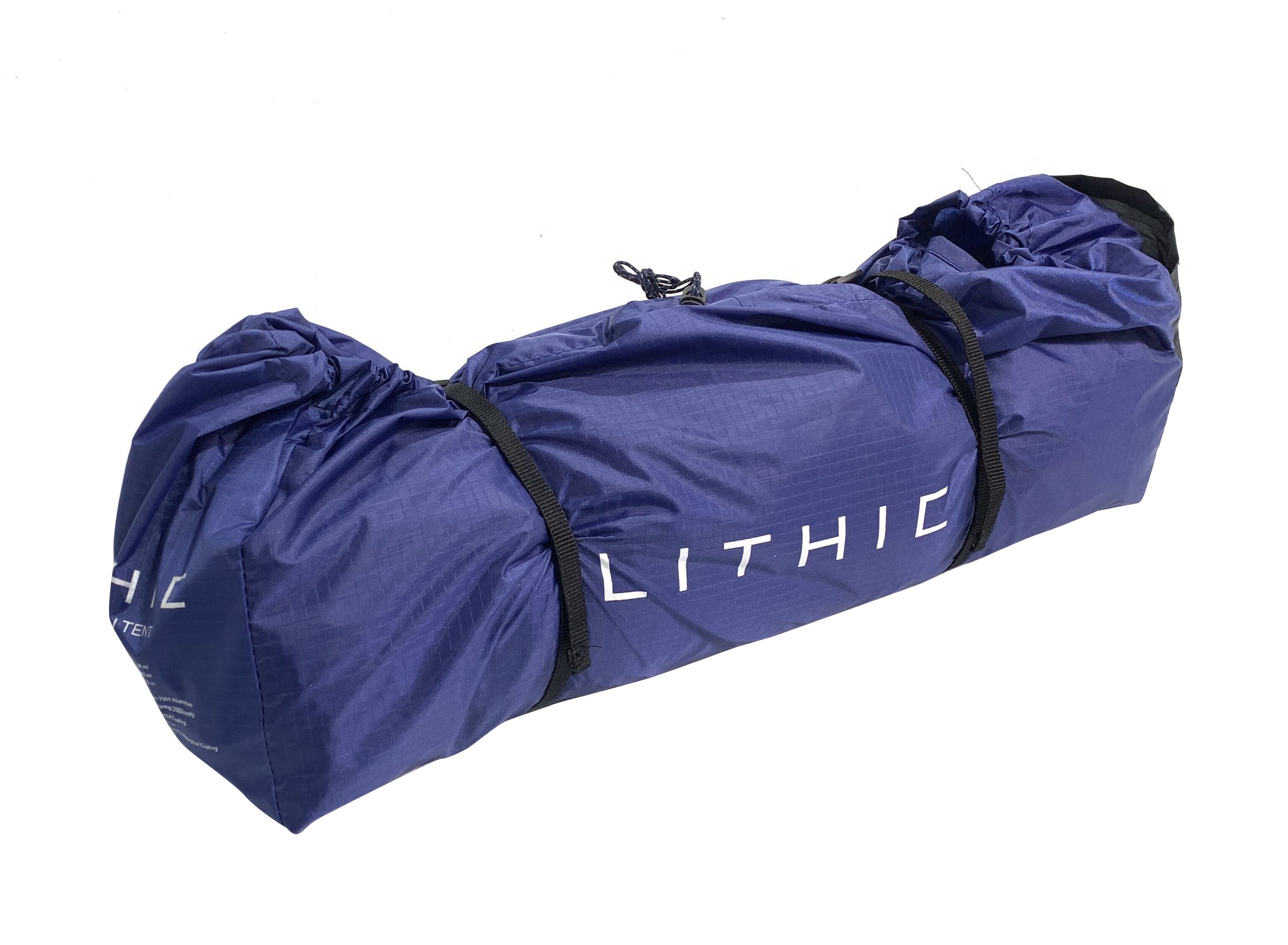 The LITHIC One-Person Tent has a 20.55 ft² floor area. When searching for tents with the same or similar dimensions, MANY generic-named tents of the same shape pop up; this was likely a name-badged product… not indicating this is a bad product. Remember, other companies may-or-may-not have the same QC levels as others.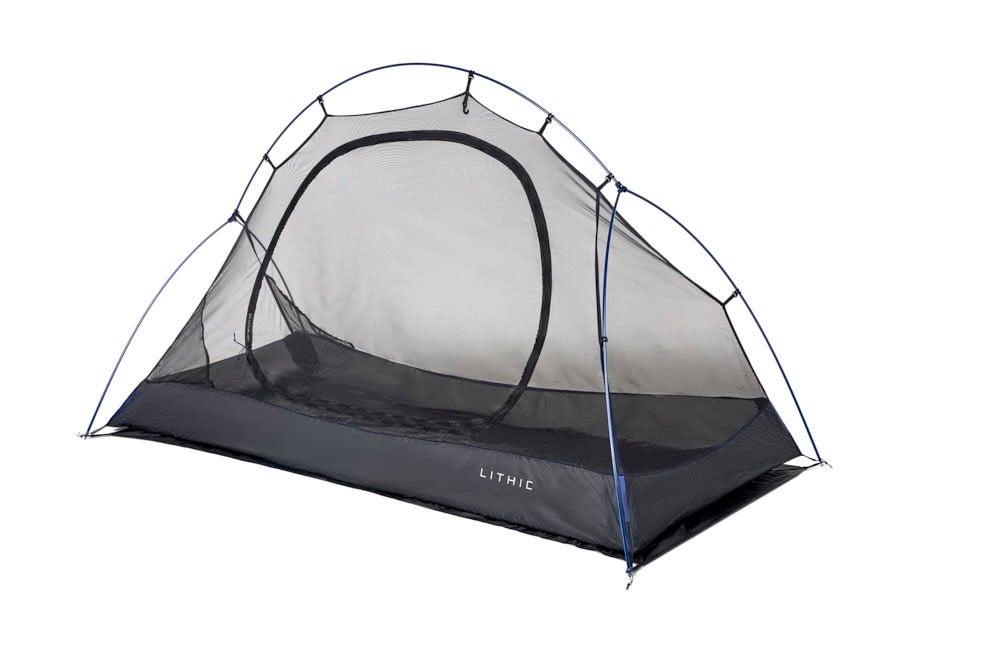 Observations
I love to give "Big-Box Stores" the grief they (occasionally) deserve for selling awkward or shoddy things when there are so many good-to-great products being made. Walmart/Moosejaw corporate buyers knew what they're doing when sourcing the LITHIC brand products. This tent can be found under other brand names, all ranging around 4+ stars online. The durability of this tent is still TBD. Keep this tent on your Brickseek notification list to see if it ever drops in price, if so – buy quicker than those diamond-handed apes did with GameStop stonks a few months ago.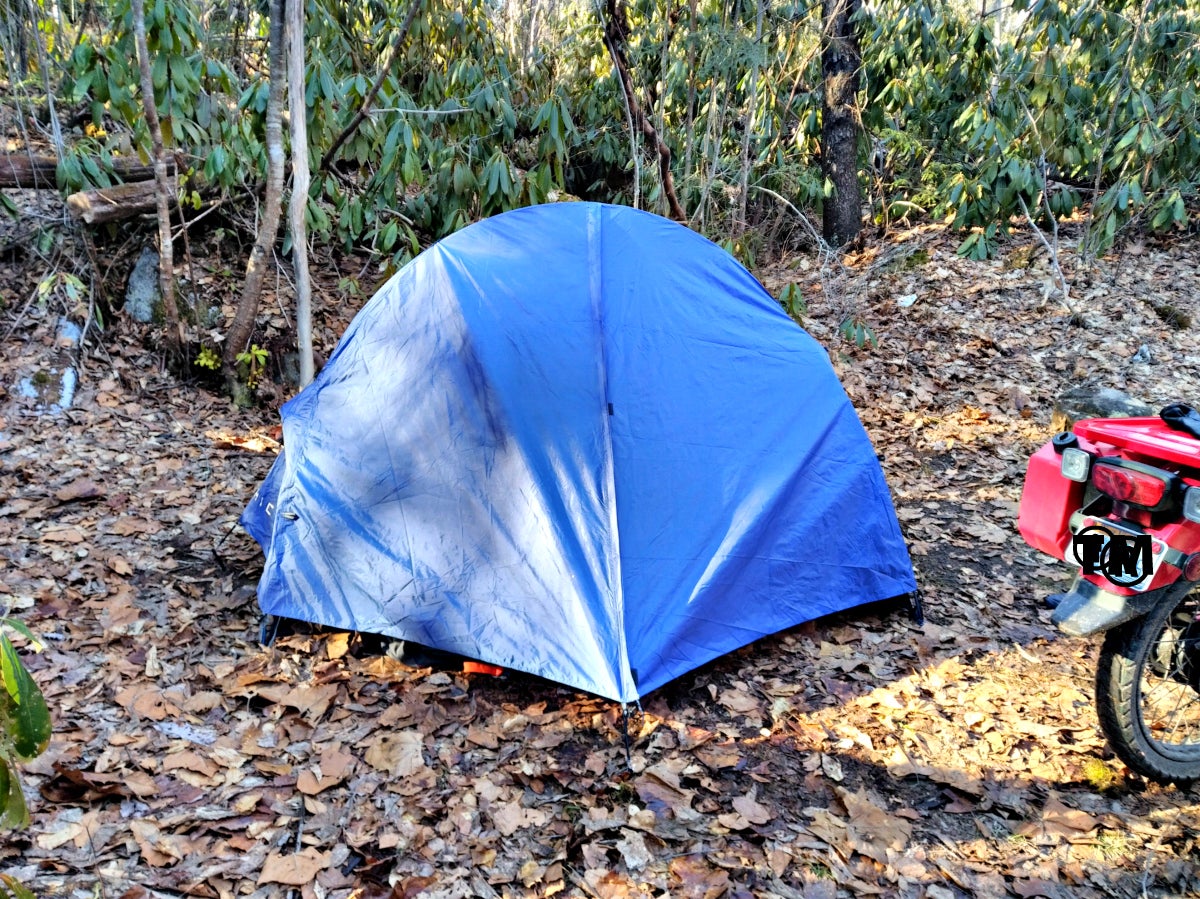 The LITHIC One-Person Tent has one entrance and two vestibules with one only accessible from the outside. When I tested this tent, I don't think I ended up using the inaccessible vestibule. Entrance into the tent is more than adequate, zipper ran well on the inside tent; there's even a mesh pocket for the door if unzipped entirely!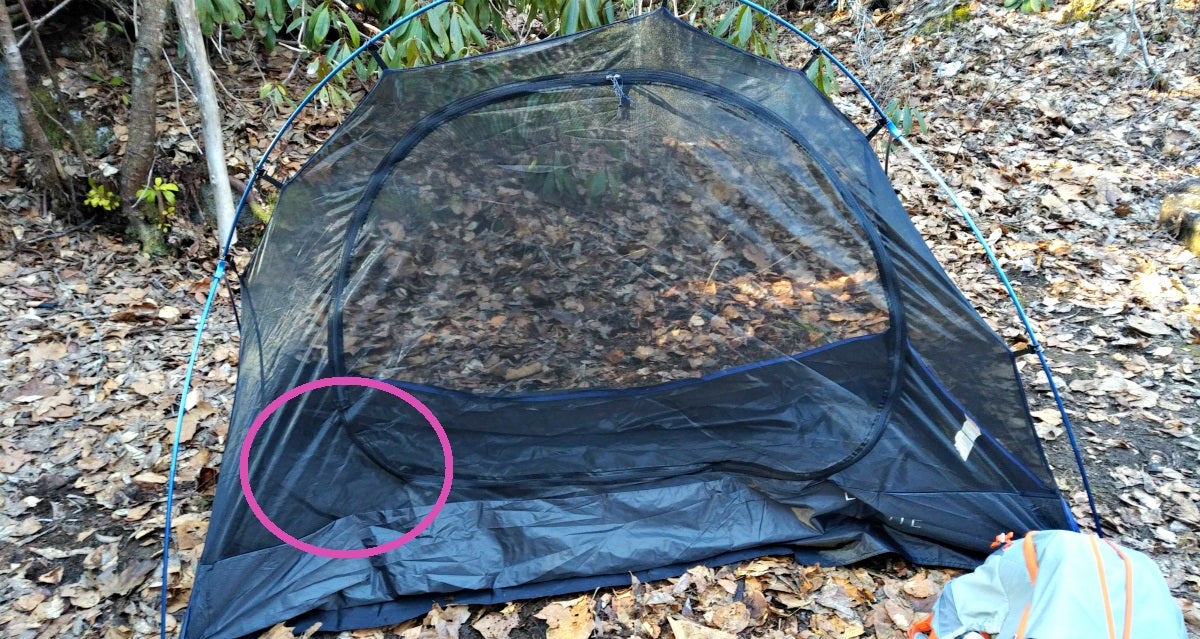 Setup of the tent is easy, as long as you pay attention. One side of the pole legs is longer than the other. This does matter. Yeah, I didn't find out until near-finishing attaching tent clips to poles and couldn't figure out why the last two were uncooperative. Additionally, there is a neat connection system where the ground cloth, tent body and rainfly all connect onto the tent legs for convenience and freestanding capability. While provided with ten stakes, you could get away with four at minimum.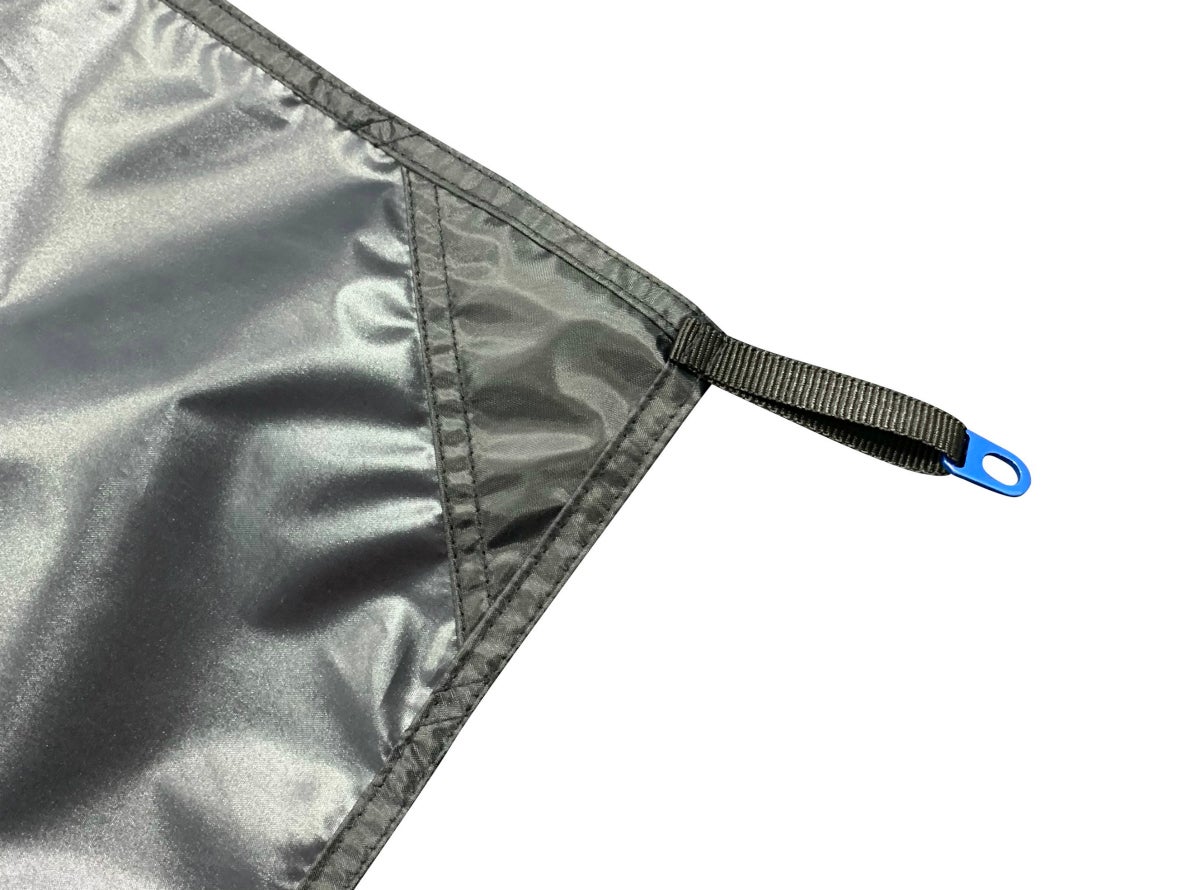 The rainfly is heavy. That's all I can say about it other than it having fantastic seam-taping. It has two vents that can be opened, but I question their effectiveness.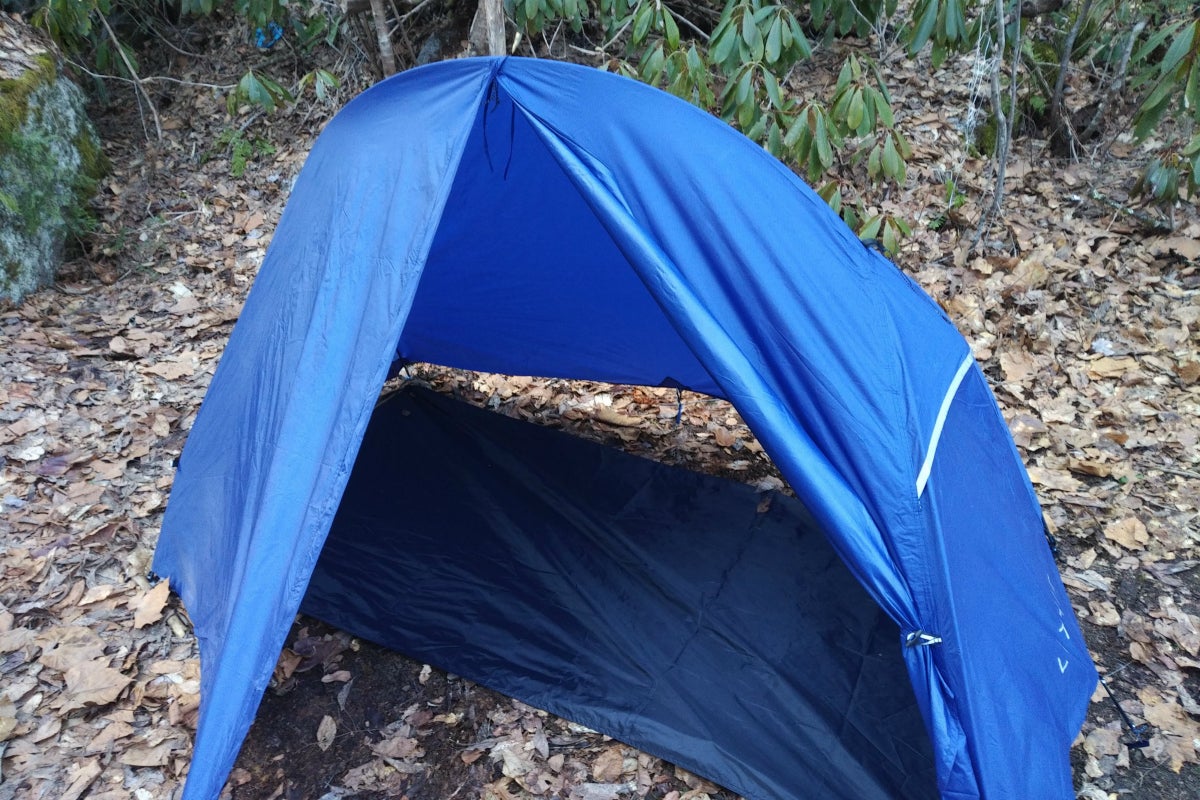 The temperature dropped to about 30°F on test night and it fared well. With my standard sleep system, the shelter variable held its own, no problemo ?. Condensation occurred, but dissipated quickly after waking as one accessible vestibule flap remained open by the provided toggles all night. Space inside the tent is limited to just for sleeping if you're over 2m (6'0"), vestibule area held a 40L backpack, moto helmet, and boots with no problem. I was able to cook breakfast inside the halfway opened vestibule with ease.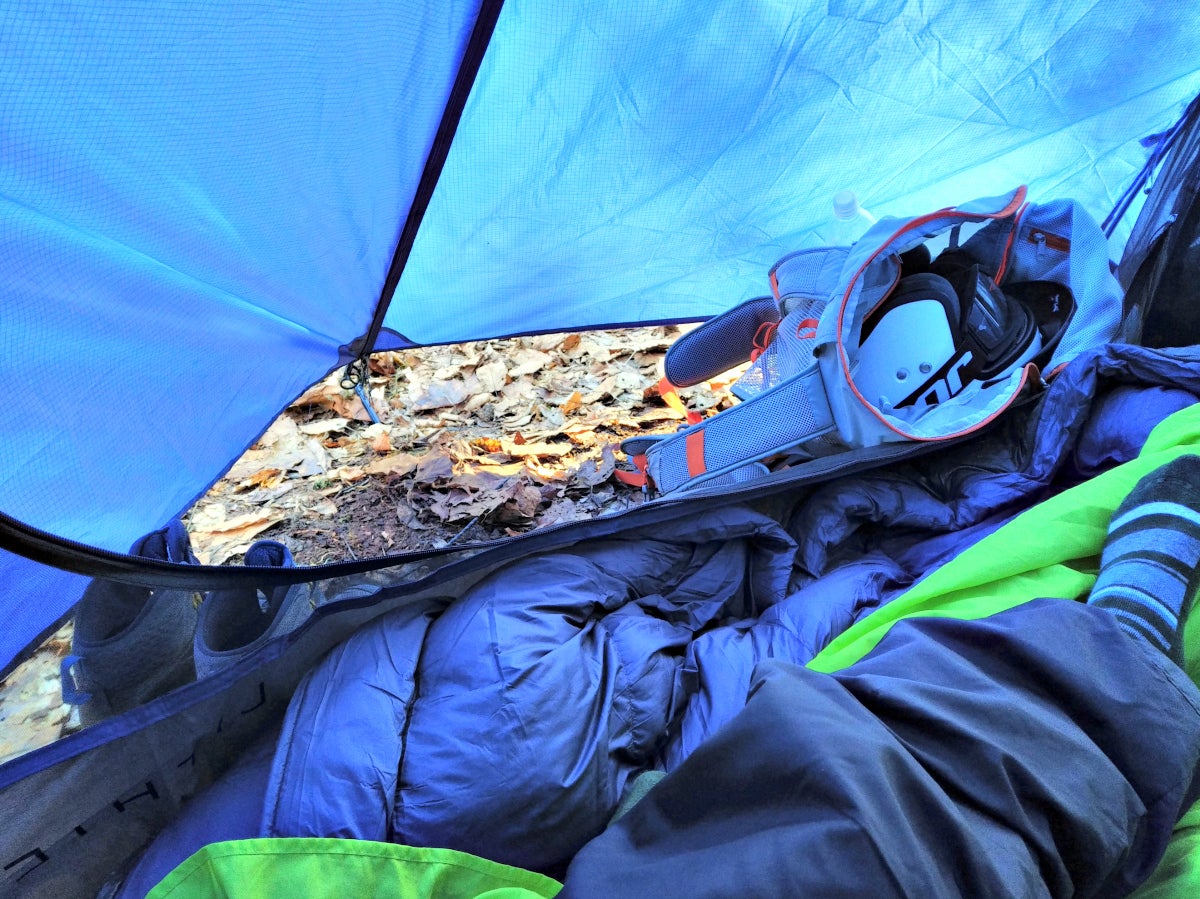 When weighing tent components on my own, I had to double-check weights with a different scale. The variance was less than 10g between the two scales, but nearly 450g lighter than advertised! Having a Cost-Per-Gram of $0.08 places this tent in the BUY category for me.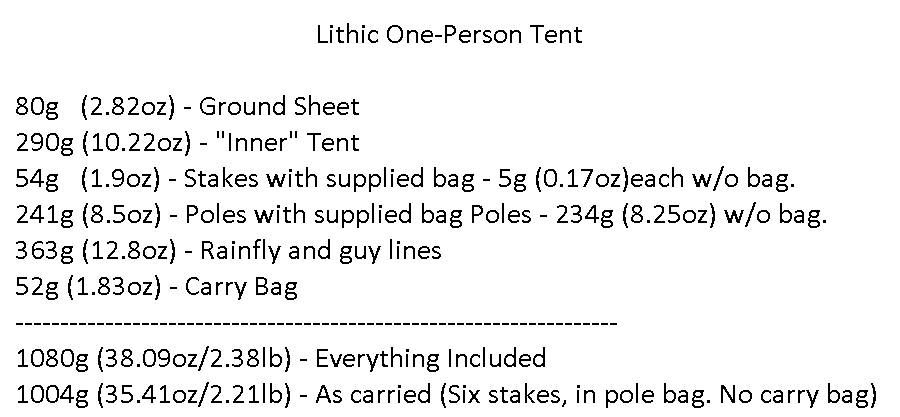 Comparison
As stated earlier, the LITHIC One-Person Tent's same-shaped brethren can be found elsewhere with similar pricing. What makes this tent valuable is the one-year warranty, knowing Walmart/Moosejaw will oblige. At $88, this tent really does beat other tents in its range, but here is a list of comparable goods: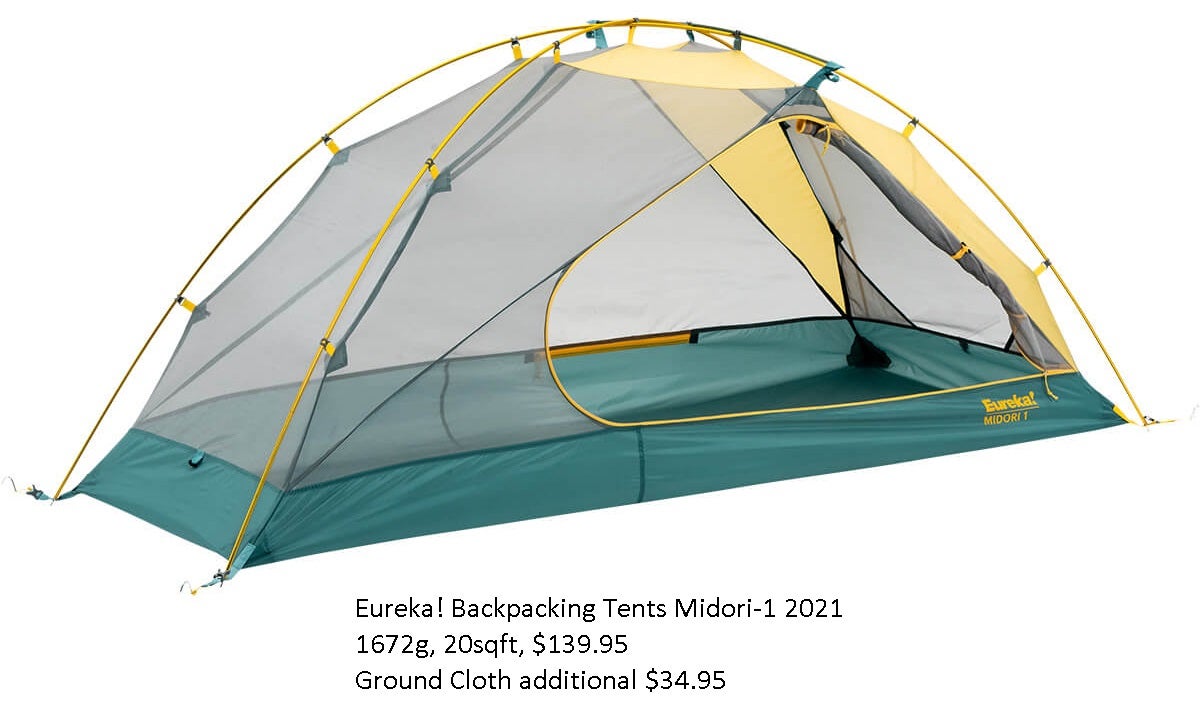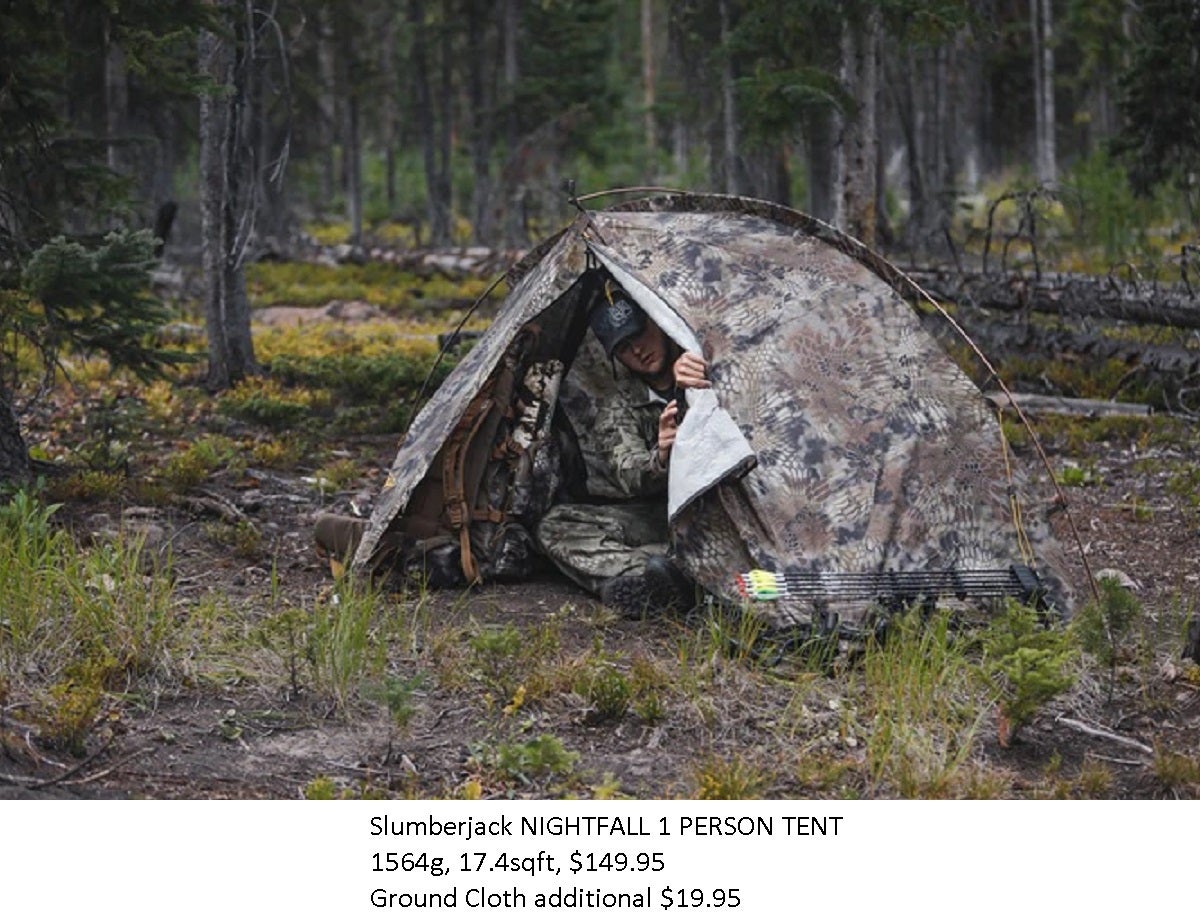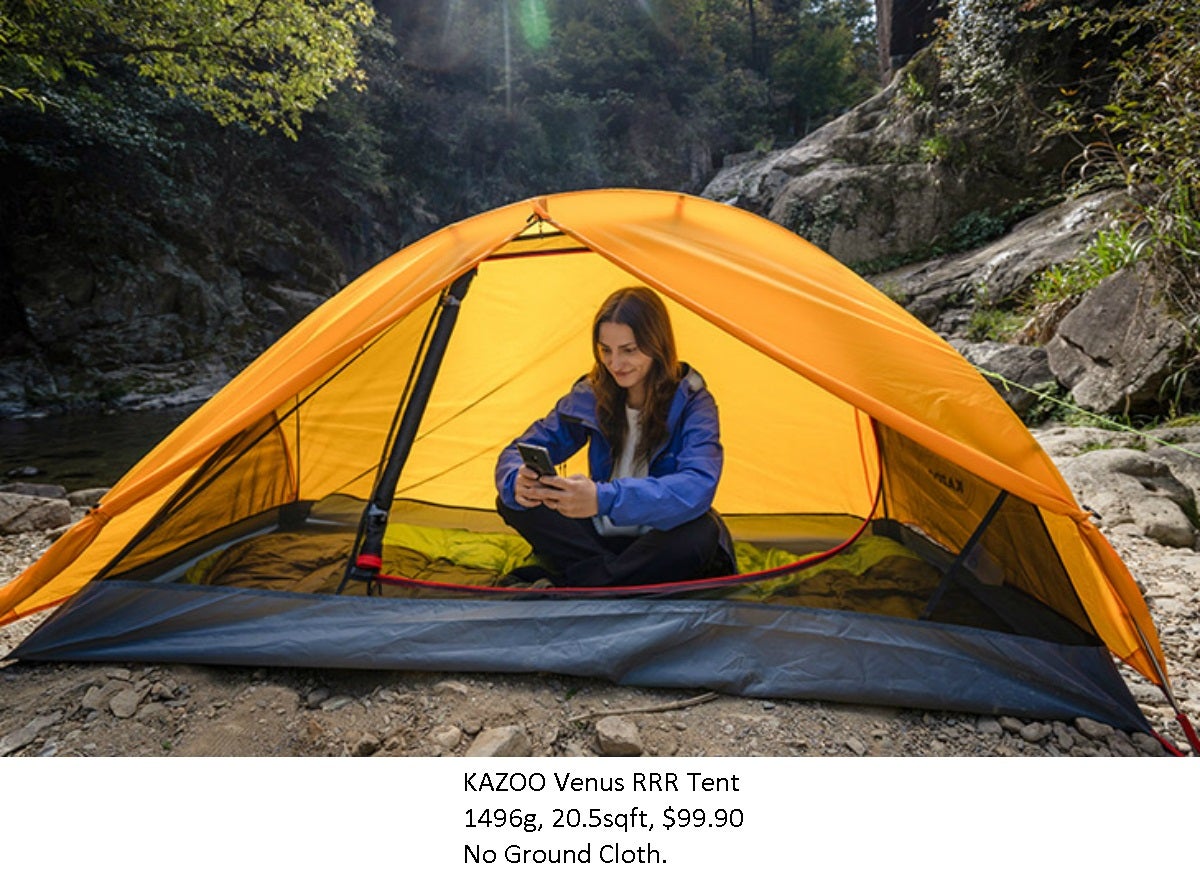 Specifications
Price $88.00 as per March 21, 2021
AS PER COMPANY SITE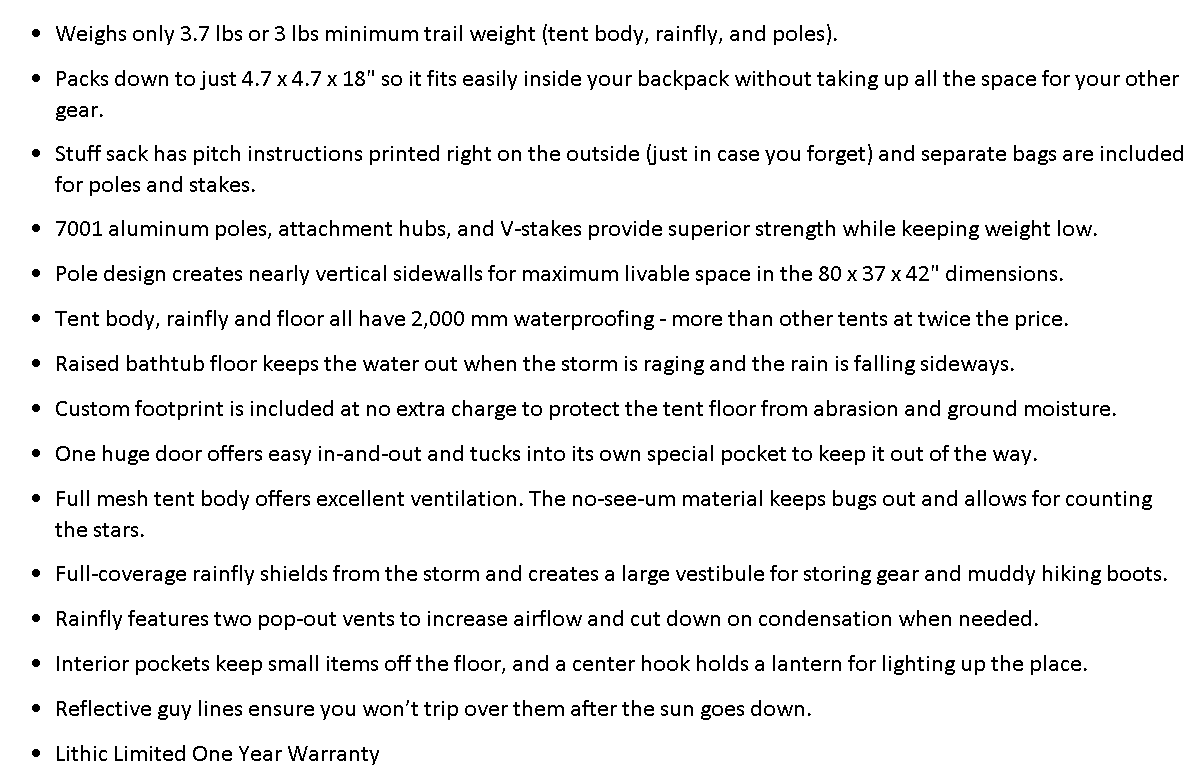 Specifications