Checking Out Gear and Gun Storage Options from Plano
Eve Flanigan 04.16.21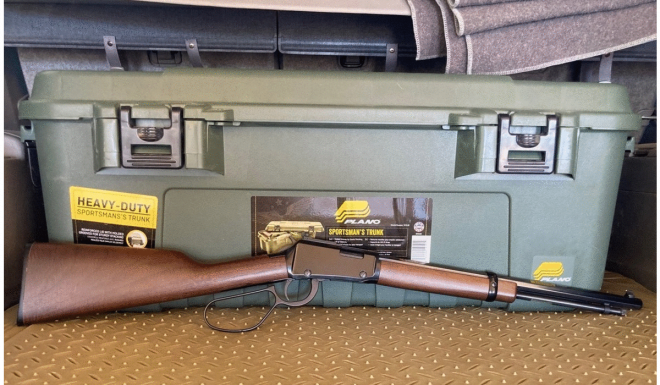 If there's one thing that's a sure bet, it's that being an outdoors enthusiast will entail the accumulation of a lot of STUFF. Whether it's to accommodate the changing seasons, exploring different ecosystems, dressing and packing various game, or just wanting not to be the victim of happenstance while driving across the country, "stuff" happens. We all need a place to put it when it's not in use and that is where storage comes in.
Plano, the American molded plastics company first and best known for its tackle boxes, now has a wide selection of storage options made with outdoorspeople in mind. I checked out a couple of their new wares in preparation for upcoming travel, hiking, and hunting adventures.
Storage – Plano Large Sportsman's Trunk
If you like big trunks and cannot lie, this one will make you holler. The largest of Plano's three Sportsman's Trunks has a capacity of 108 quarts. It's shaped to be stackable with others of its size.
Two low-profile wheels and a molded-in grab handle make this trunk movable by the average person. Plano would do well to offer optional rope handles, but it does okay without.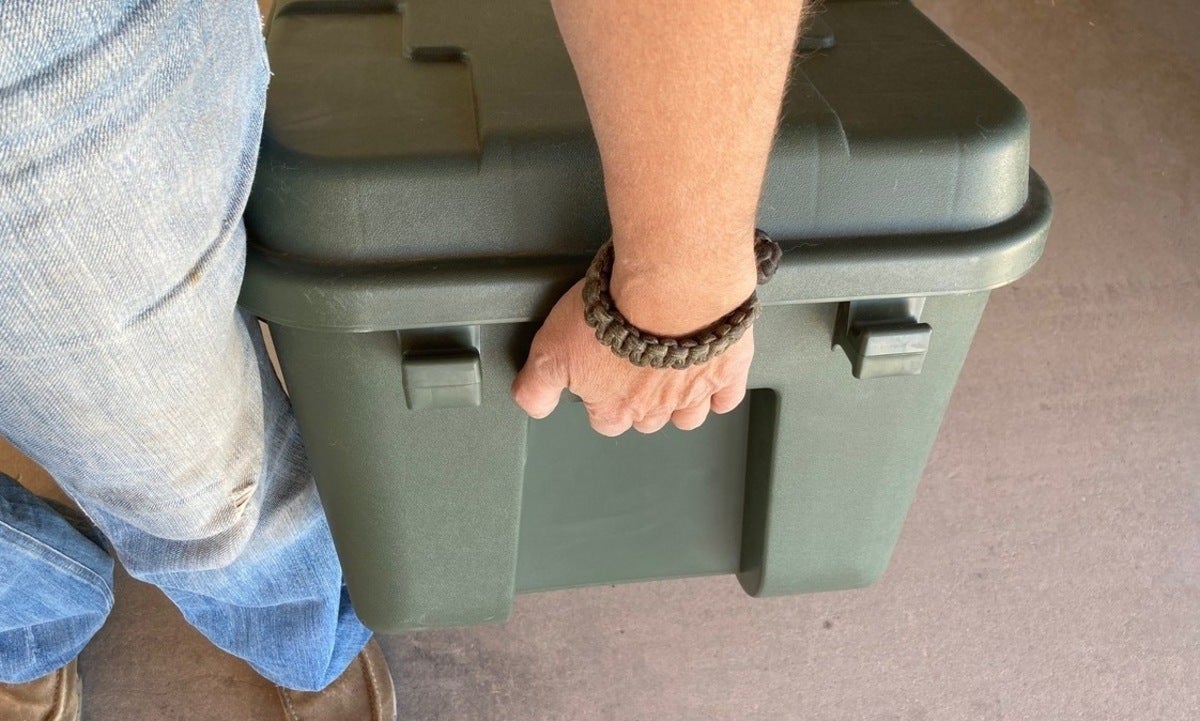 The lid secures with four sturdy latches. Inside, the lid is slightly domed to make the most of the interior space. There's a lot of it! In preparation for a four-day road trip, I put into the trunk pretty much every bit of emergency equipment I'd need for a personal, mechanical, or weather-related emergency. To my surprise, there was still room for a gratuitous Pendleton blanket and Henry 22 WMR carbine on top.
Making the most of storage space does translate to thin, flexible walls, but the Sportsman's Trunk is tough where it counts. The bottom corners, wheels, and lid are all reinforced for strength. Reinforced attachment points near the latches make it possible to both lock the trunk and tie it down for rooftop or pickup bed/trailer transport.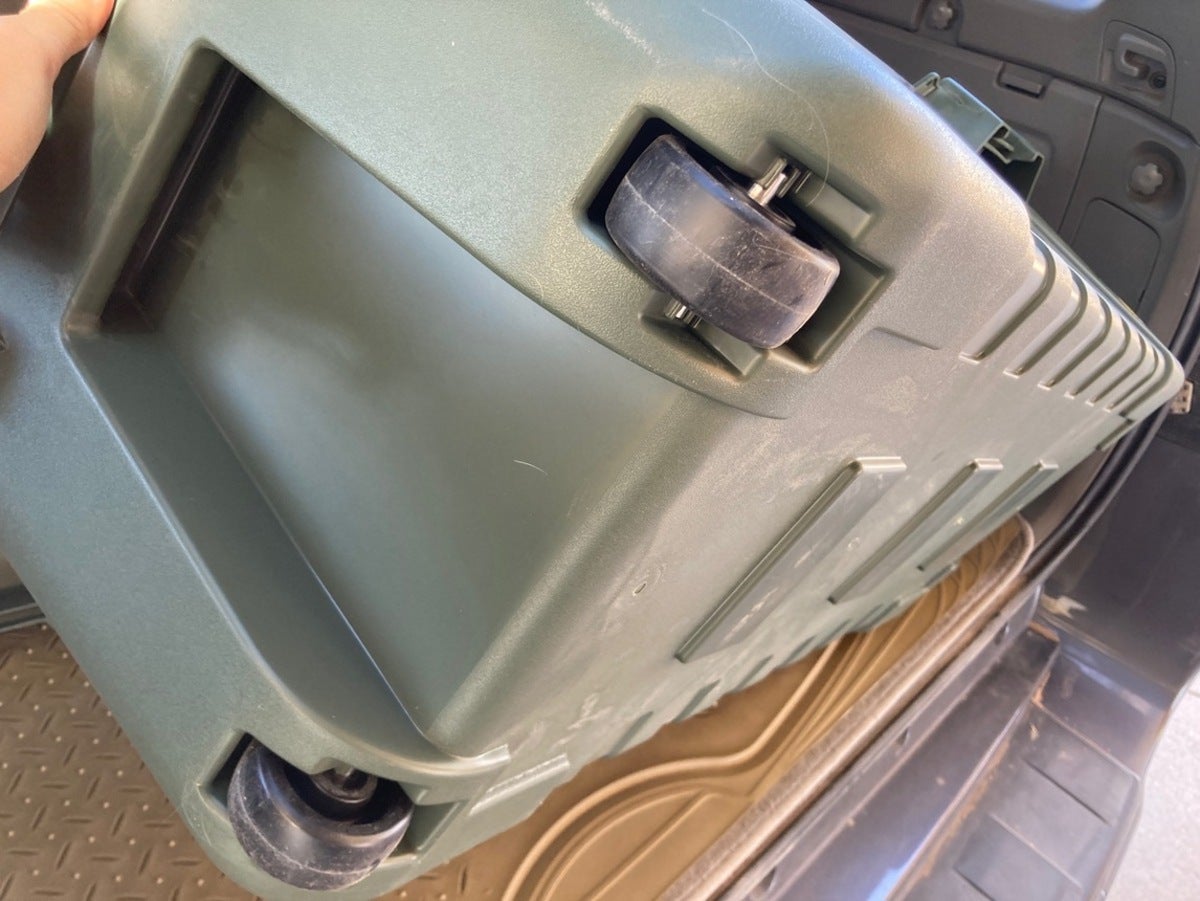 It's not a complaint per se that I have about the trunk so much as an admonition; since the lid isn't hinged, removing it does require pulling the trunk entirely out of whatever low-ceiling location it's stored in, in order to get to the contents. Of course, latches are more durable than hinges so in that way it's good this trunk has no hinges.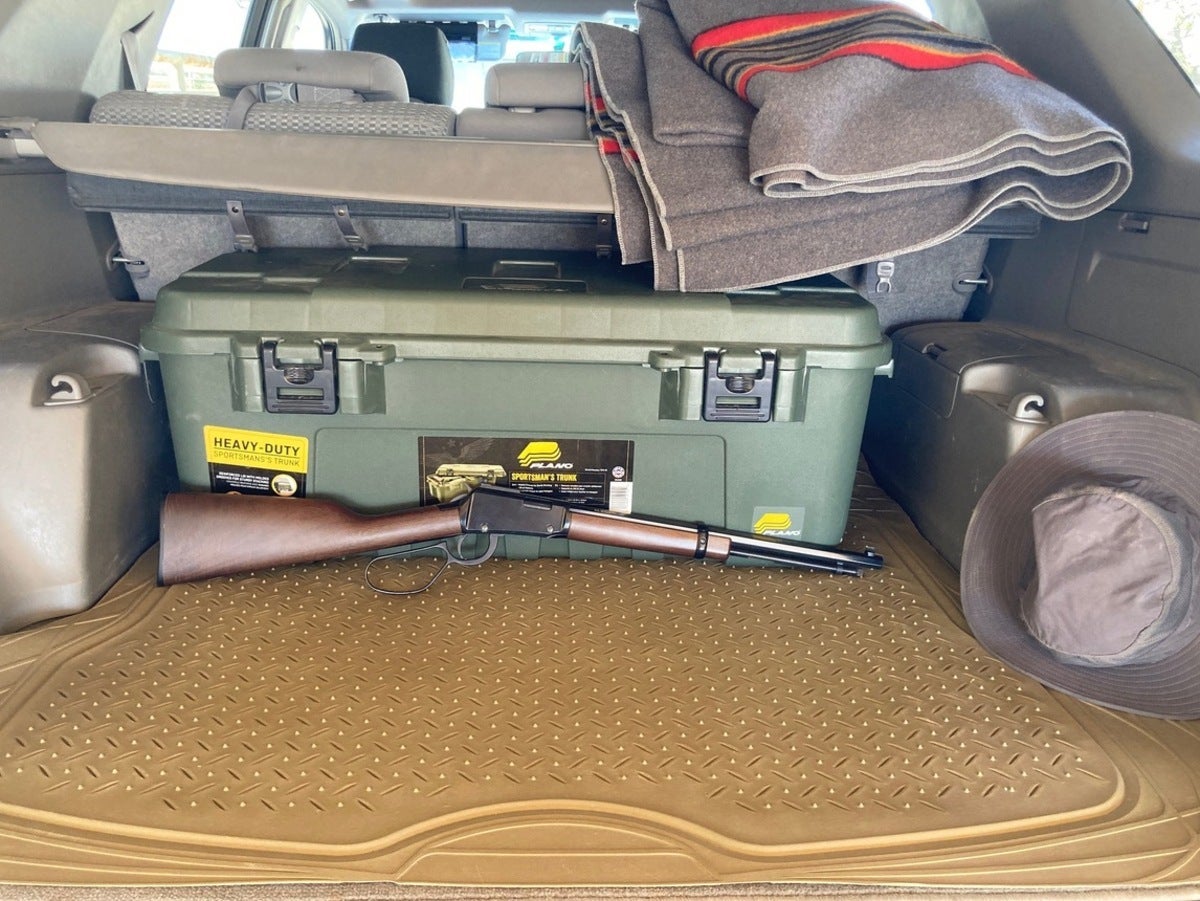 Hunters will be pleased to hear there's no smell that emanates from the materials this box is made from. Your stalking game is safe with Plano. These trunks are available in OD Green and Black. Order direct from Plano Molding or find them at a number of sports gear suppliers for around $49.99.
Storage – Plano Field Locker "Element" Single Gun Case
The Element Series of Field Lockers is new for 2021. I got to try out one of the long gun cases–the single-gun model, to be exact.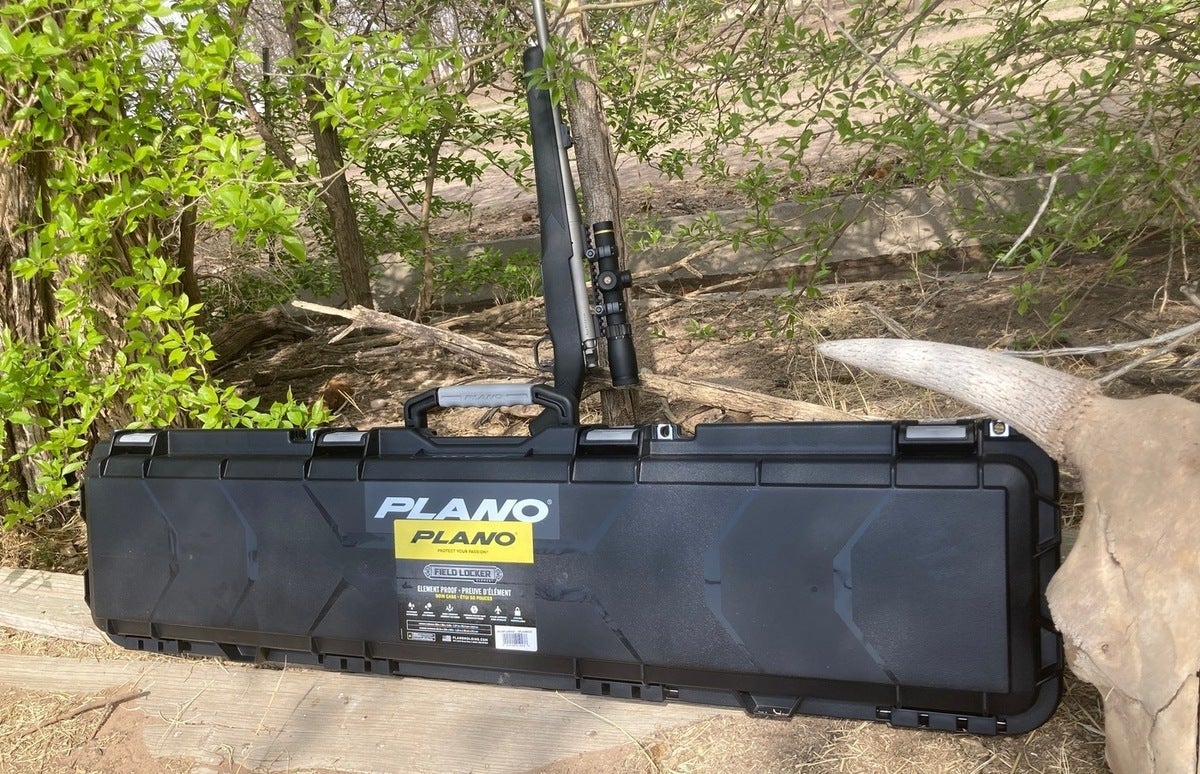 Having compared the Field Locker to Plano's other, substantial-looking long gun cases on the company website, I was expecting a lightweight, flexible case. When I met the product in person, I knew I'd been mistaken. My mental picture had been more "field" than "locker."
This 19-pound case is not easily flexed. Its lockable buckles are best operated using two hands; they latch down hard and fast. The handle is cushioned and ergonomic, and folds flat for storage.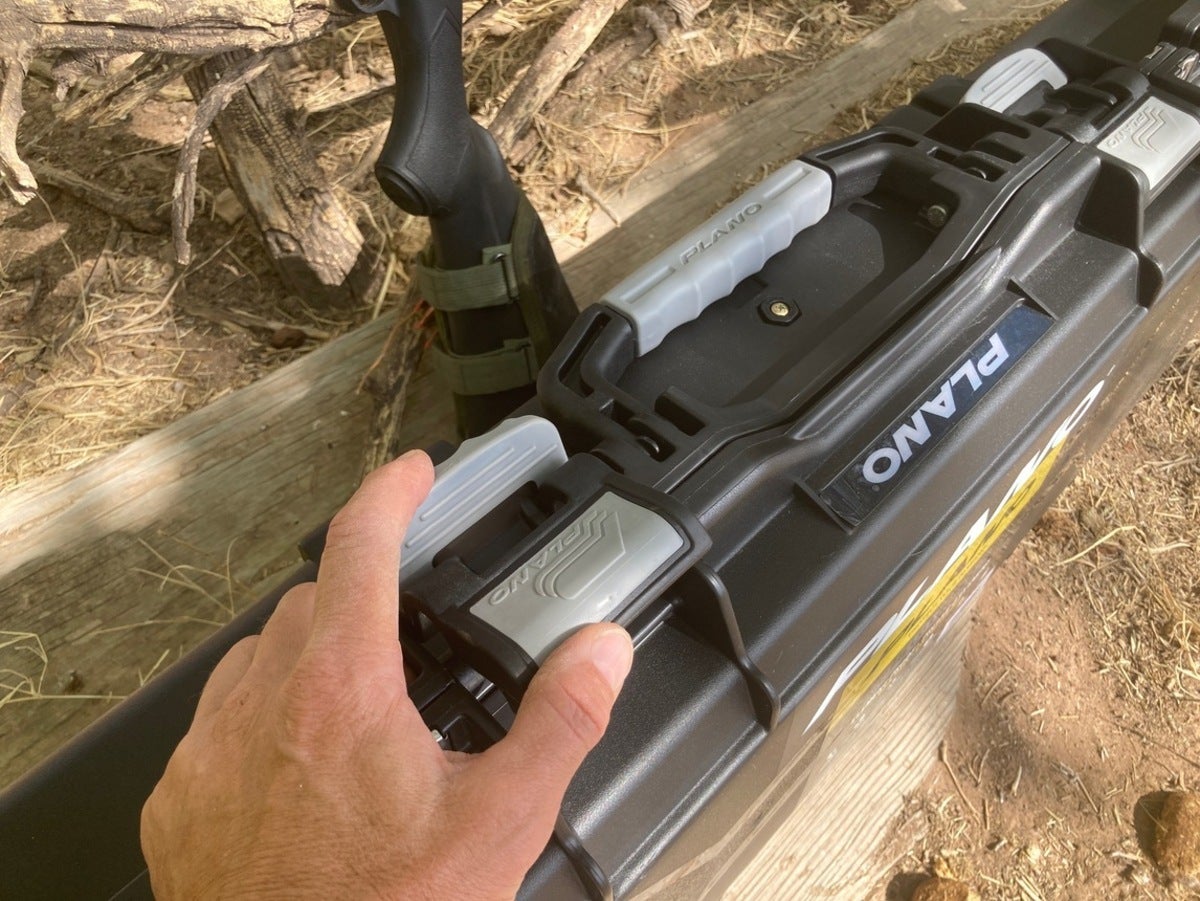 Foam padding is abundant with two plain foam pads and one egg carton style liner. The middle pad is made to be cut to fit the profile of gun, optic, and any other gear like ammo boxes. Exterior dimensions are 52 x 12 x 6.75 inches. Inside, it is 50 x 10 x 5.88 inches. That's not quite enough for my largest precision rifle, but just right for the Mossberg Patriot we used in this test. It wears a hunting scope on a medium-height mount and is 43 inches in overall length. The Field Locker is TSA-compliant when the user adds the correct locks.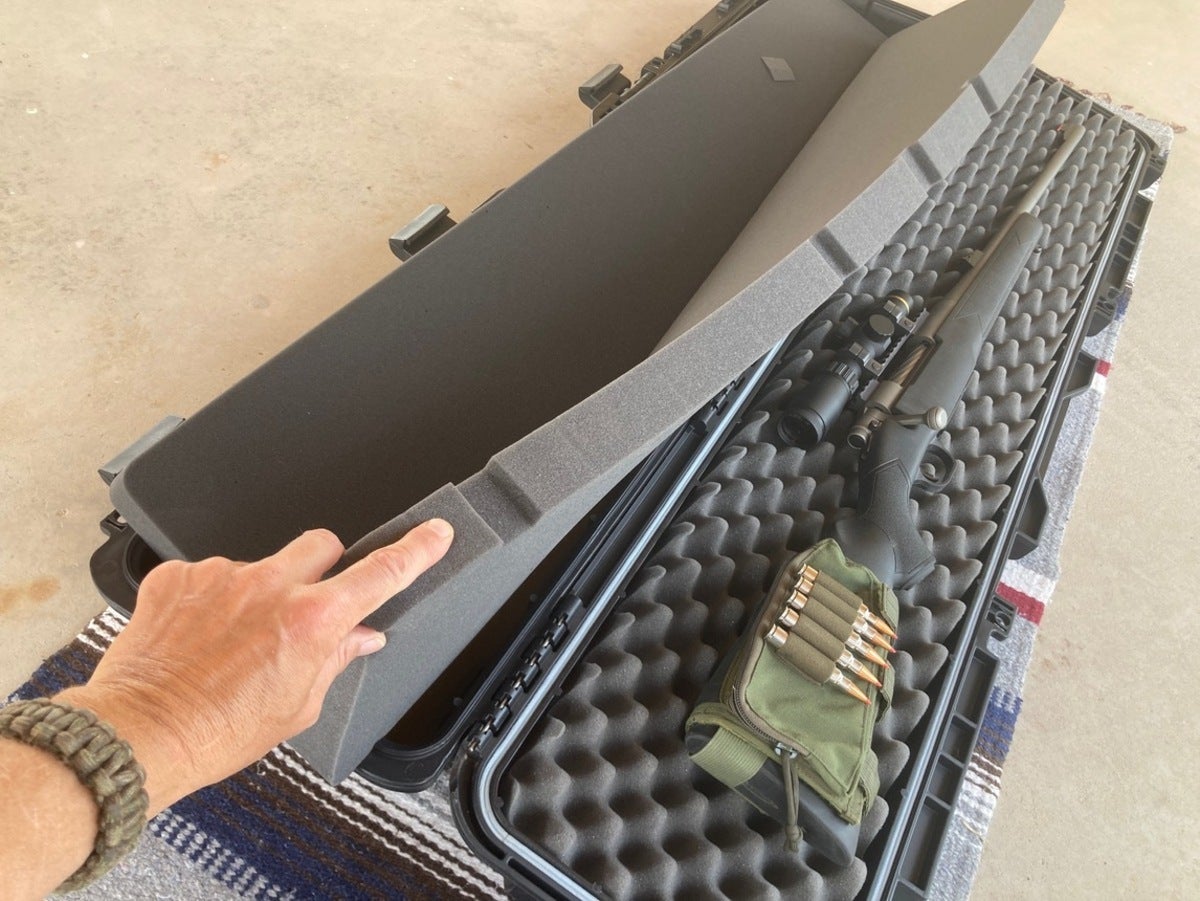 This Field Locker Element, as well as others in the series, is waterproof. Its extreme protective qualities include an airlock gasket and pressure release valve. These protect the gun and other contents from atmospheric pressure changes such as those that occur during air travel. In addition, the gun and optics stay perfectly shielded on dusty, bumpy, off-road excursions. Field Locker cases meet military specifications for small arms storage and transport. What peace of mind for that special hunting trip!
As shown, the Field Locker Element Single Gun Case is $199.99 by direct order. Other sizes, from a case that holds two long guns to small handgun cases, are also offered. All are black.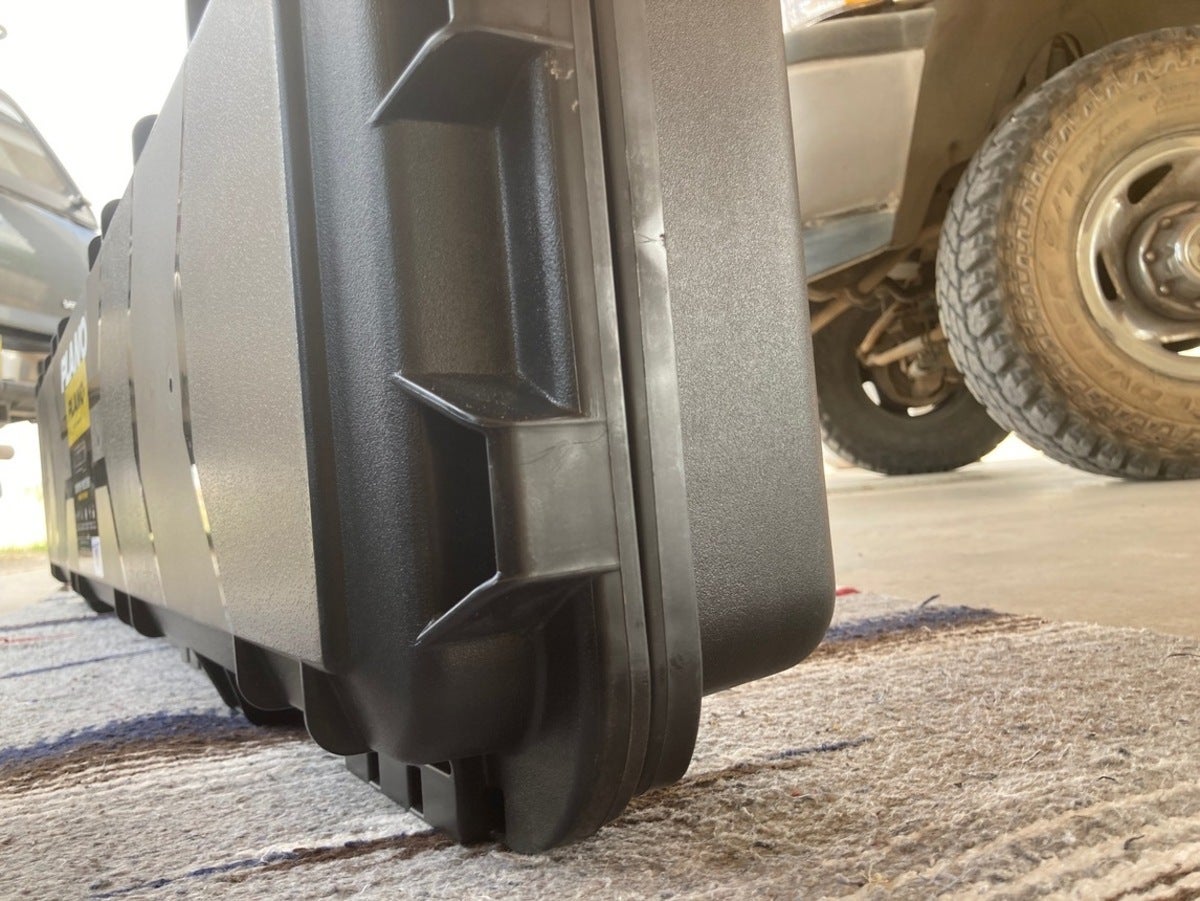 Plano Molding offers free shipping on orders over $75.00. Whether you order direct or find their wares at one of the many sporting goods retailers that carry them, it's good to know you're buying American from a company that was founded to fulfill the needs of outdoorspeople.