New From Gamakatsu For 2021 – the Under Head Spin
Terry Nelson 04.26.21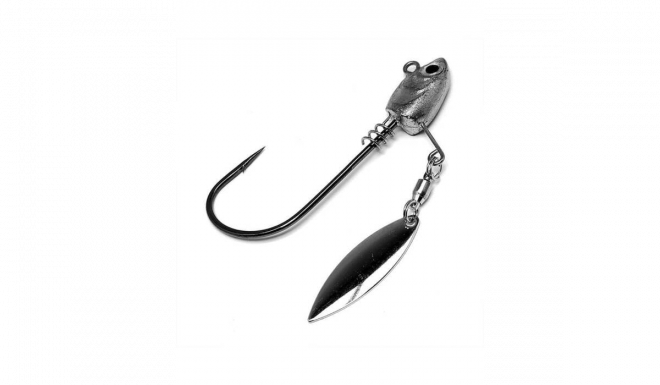 If you have been a serious fisherperson over the years, you are already very familiar with Gamakatsu. The company started producing hooks in 1955 which are the cornerstone of their production today. I have personally used Gamakatsu hooks for years on regional bass tournament circuits and have never been disappointed in their performance. New from Gamakatsu for 2021, the Under Head Spin, ideal for getting fish out of thick cover without risking bending the hook. Read all the details on the Under Spin Head direct from the following Gamakatsu press release:

Tacoma, Washington – Gamakatsu has put a different spin on the new Under Spin Head which is similar to their extremely popular Swim Bait Head.

The Under Spin Head has what serious anglers look for in a hook. The hook is ideal for winching magnum-sized bucketmouths out of heavy cover and is ideal when you want to apply maximum pressure without fear of bending out the hook. The premium Gamakatsu Heavy Cover, 60-degree hook on the Under Spin Head is just what the doctor ordered for a heavy braid or fluorocarbon line and can stand up to anything you can dish out. The head profile is streamlined to glide through heavy cover. A Spring Lock holds swim baits and other plastics gently but firmly and keeps them straight on the hook.

Attention-getting, recessed eyes on the Under Spin Eye provide a focal point for predators and the small, chrome Willow Leaf blade is a subtle trigger. Hung from a quality ball-bearing swivel, the blade spins freely at even the slowest retrieves to simulate baitfish.
Features – Gamakatsu Under Spin Head
60-degree Heavy Cover hook
Chrome willow leaf blade
Ball bearing swivel
Spring Lock holds plastic secure
Size: 4/0 hook in sizes 3/16, ¼, 3/8, and ½ ounce
Color: Plain Lead
Qty/Pack: 1
Put your secret soft plastic swim bait on this new product and give it a hard work out on your favorite lake this spring. For more information visit www.gamakatsu.com.