AllOutdoor Review: Smith & Wesson SW22 Victory Performance Center
Sam.S 04.27.21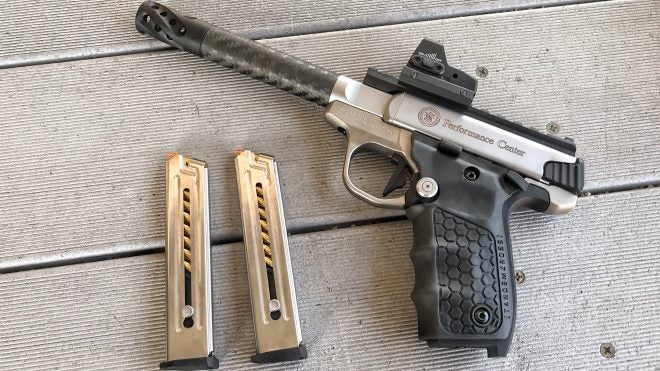 For many of us gun guys and gals, a simple plinking trip can easily become mundane or boring with the same repetitive reciprocation every time. This is why things like the Smith and Wesson SW22 Victory Performance Center exist. Pre-modified plinkers for sale courtesy of Smith and Wesson's custom shop. So, let us just dive right into a rather lengthy look at the SW22 Victory Performance Center!
Specifications: Smith & Wesson SW22 Victory Performance Center
Right off the bat, we should go over a small change in the SW22 Victory Performance Center that took place in the time it/they were in my possession to review. Initially, I was given the SKU listed below, but it was back when they all came with a Vortex Viper red dot sight. This is why the pictures will sort of be a mix of old and new. I ended up requiring a replacement SW22 Victory Performance Center for reasons I will go over more in-depth later.
The "new" SW22 Victory Performance Center I was given had a Crimson Trace red dot and their website has since updated featuring images with this dot. My pure speculation (I did not ask) is that given the times of COVID-19, the Crimson Trace was either easier to get (lots of optics are made overseas so importation is difficult) or it was simply more affordable. I want to make it clear I did not find the Crimson Trace any less likable!
Caliber: .22 Long Rifle
Capacity: 10+1
Optics: Crimson Trace 6 MOA and previously Vortex Viper Red Dot (no longer offered)
Safety: Steel Reinforced Polymer Thumb Safety
Length: 11.25″
Rear Sight: Red Dot Sight – 6 MOA Dot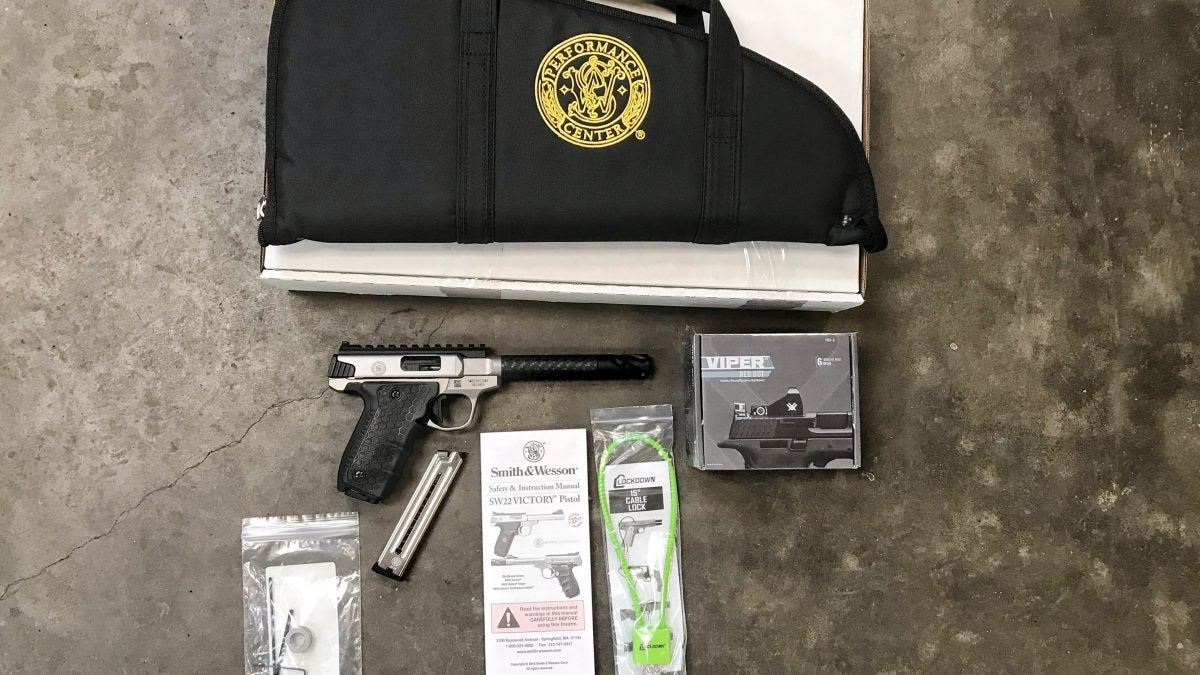 Action: Single-Action
Grip: Tandemkross "HiveGrips" with Target Thumb Rest
Barrel Material: Stainless Steel/Carbon Fiber
Frame Material: Stainless Steel
Barrel Length: 6″ (15.2 cm)
Weight: 33.0 oz.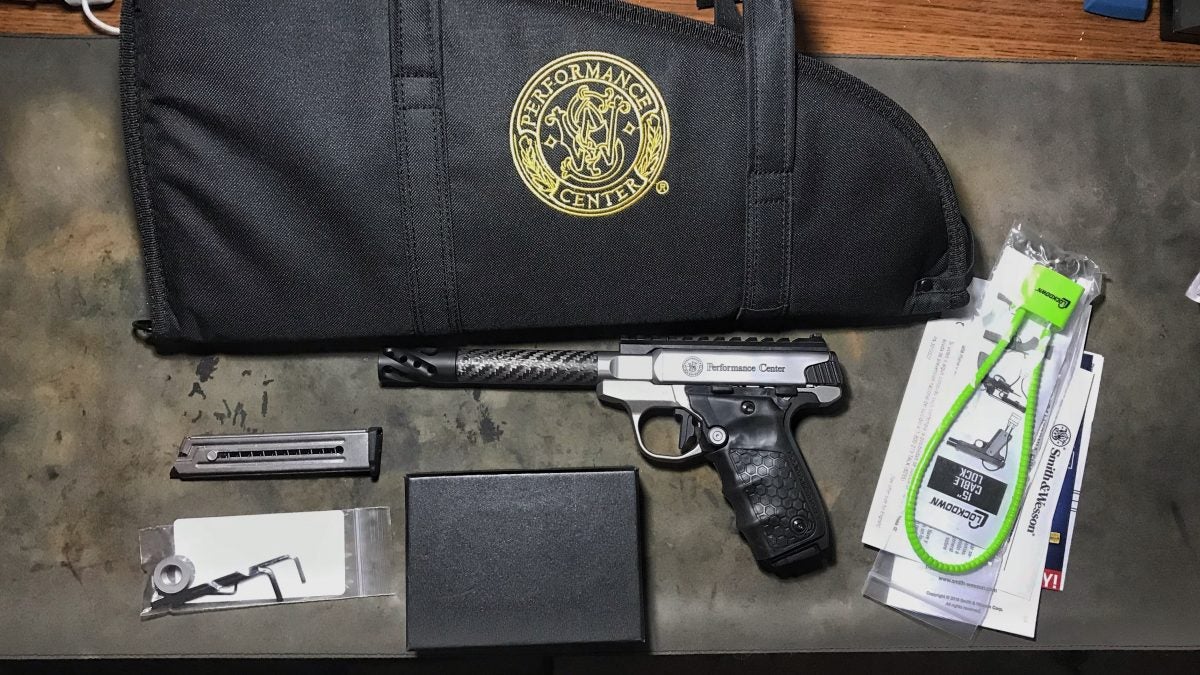 The MSRP of the SW22 Victory Performance Center with the carbon fiber barrel and red dot currently is at $905. Although, this may seem pretty spendy for a rimfire target pistol, in actuality it is pretty reasonable given what it is on a deeper level. The Performance Center guns take a short trip through Smith and Wesson's custom shop, come with a great red dot sight, are made in America, and have a lifetime warranty. Smith and Wesson goes into a little more detail below:
"The Performance Center SW22 Victory Target pistols are chambered in .22LR and are designed specifically for target shooting competitions. These pistols feature 6-inch target barrels, muzzle brakes, and Tandemkross hiveGrips. The Performance Center SW22 Victory Target pistols ship with two 10-round magazines, and are available with either a 6-inch Fluted or 6-inch Carbon Fiber barrel. Each Performance Center SW22 Victory Target pistol ships with a picatinny-style rail for the quick mounting of an optic and is available both with and without a Red Dot Sight.

The pistol's high-end features, modern styling and enriched functionality place the SW22 Victory in a category of its own with an affordable price to match."
Explanation/Important Information: Smith & Wesson SW22 Victory Performance Center
So, as I had alluded to earlier I did in fact need a replacement review gun. Initially, when I received my first sample it came looking slightly peculiar in that it still had what looked like machining residue/metal dust in the action. For all I know, this is some fancy graphite-based lube or something, but it gave me a bad feeling that this gun was going to have an issue. I
n the first range session, I had numerous failures to eject and subsequent failures to feed. Pretty much every other round. I tried everything I could like using four different grain weights and velocities of ammunition, and even took off the compensator and put my Dead Air Mask silencer on it and tried all the different ammo again to no avail.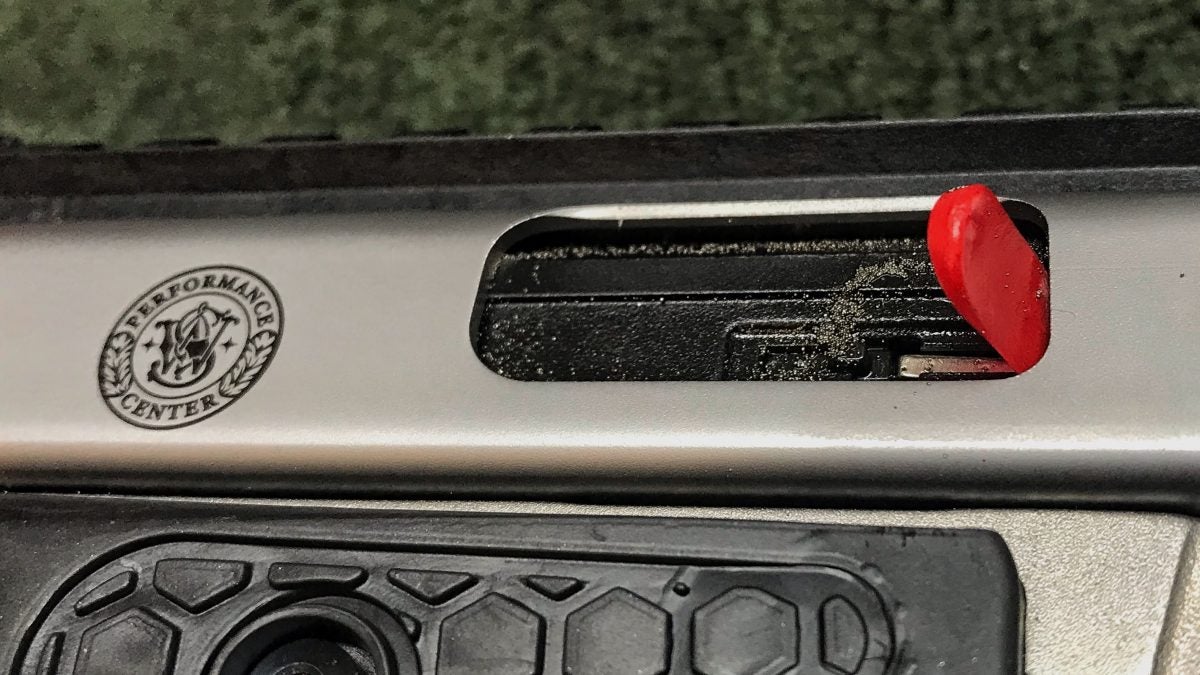 After this first initial range session, I went through and cleaned the SW22 Victory Performance Center as the manual instructed and paid special attention to the dusty material. The second range session started out promising with a full 10 rounds down range with no malfunctions! But unfortunately, every magazine after produced the same results as the previous range session.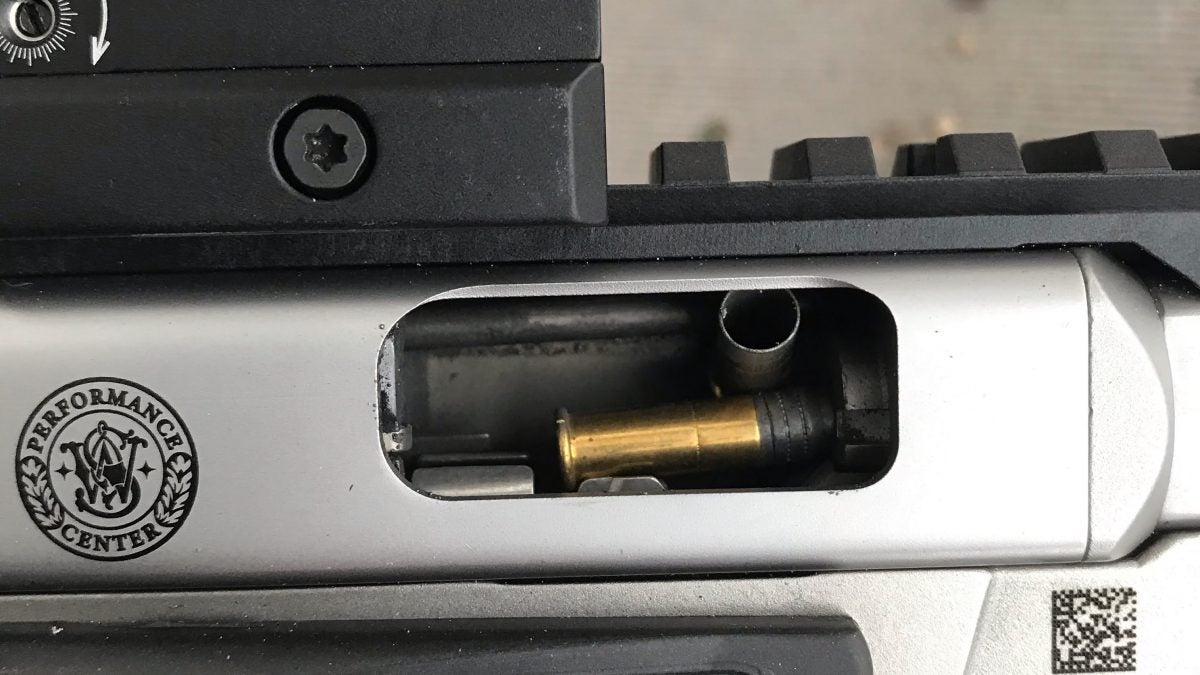 This is where the real important part comes in! If you are at all interested in an SW22 Victory Performance Center I beg you to pay attention. Smith and Wesson has the best customer service I have ever dealt with in the firearms industry. I am not talking about just in this instance either because my day job is working at a gun shop and having to deal with this kind of stuff all the time for various different firearms and companies.
I knew that this first sample was not a fair representation of what I know Smith and Wesson firearms to be. So, I politely asked if I could send it back to be looked at, repaired, or a replacement be given to properly do this review. They happily and kindly obliged. The 2nd sample I was given arrived with the same sort of peculiar dusty residue all over the bolt and action which I promptly cleaned up and went to the range.
Note: Smith & Wesson's warranty policies can be looked at here. Items sent in for warranty are looked over and evaluated before any repair or replacement of faulty product takes place. My T&E (test and Evaluate) sample replacement was expedited due to this review getting done in a timely manner and also the samples would be returned. There is no set amount of time items can be with their product service department.
Range Time: Smith & Wesson SW22 Victory Performance Center
Ah yes, now we come to the most recent range trip. It is hard to build up a ton of suspense so I will outright say it: This gun functioned a ton better than the previous at the range. I will not lie it had a few failures to eject and feed sometimes, but a moderate and forgivable amount given the gun was brand new and required a "break-in" period like most guns do out-of-the-box. The bottom line is that this one functioned as intended and I was very happy with it.
The Tandemkross parts were an interesting part of working with this gun. The Hive grip was comfortable and sometimes sticky feeling. The adjustable trigger was cool to work with and try out! The exaggerated magazine release button was something I both loved and loathed. It was extremely easy and fast to eject a magazine and insert a fresh one. Especially when I would set the gun down on the left-hand side and listen to the magazine burst out. It is really just a funny tidbit and did not take much getting used to.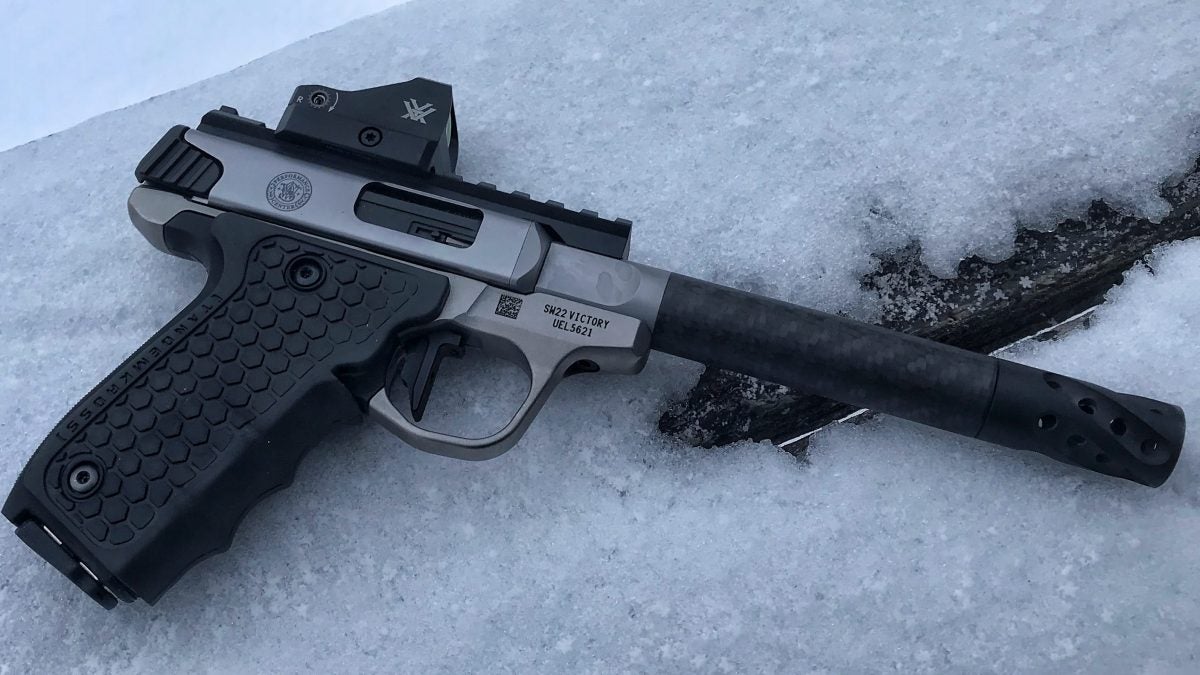 As far as accuracy goes I apologize I did not take a photo of my target. I had to put quite a few rounds down range in order to get the dot properly sighted in (boresighters can only do so much). My groups after the fact were about the size of a US half dollar coin at 10 yards. IF I bought this gun hoping to enhance my plinking experience I would be very happy with it!
Final Thoughts: Smith & Wesson SW22 Victory Performance Center
So, the main thing I want you to understand about this whole review is not the initial malfunctions and pain, but the company that stood behind their product and made it right without making me feel like I was the problem. I think that speaks leagues about a company.
The SW22 Victory Performance Center was a ton of fun to work with once everything worked out, got up, and running. I think it is, in fact, a quality gun even though it has the price tag to go with it. I think it is justified by everything I have gone over today and if I was in the market for a target pistol that was not some sort of modified monstrosity I would definitely roll with the SW22 Victory Performance Center!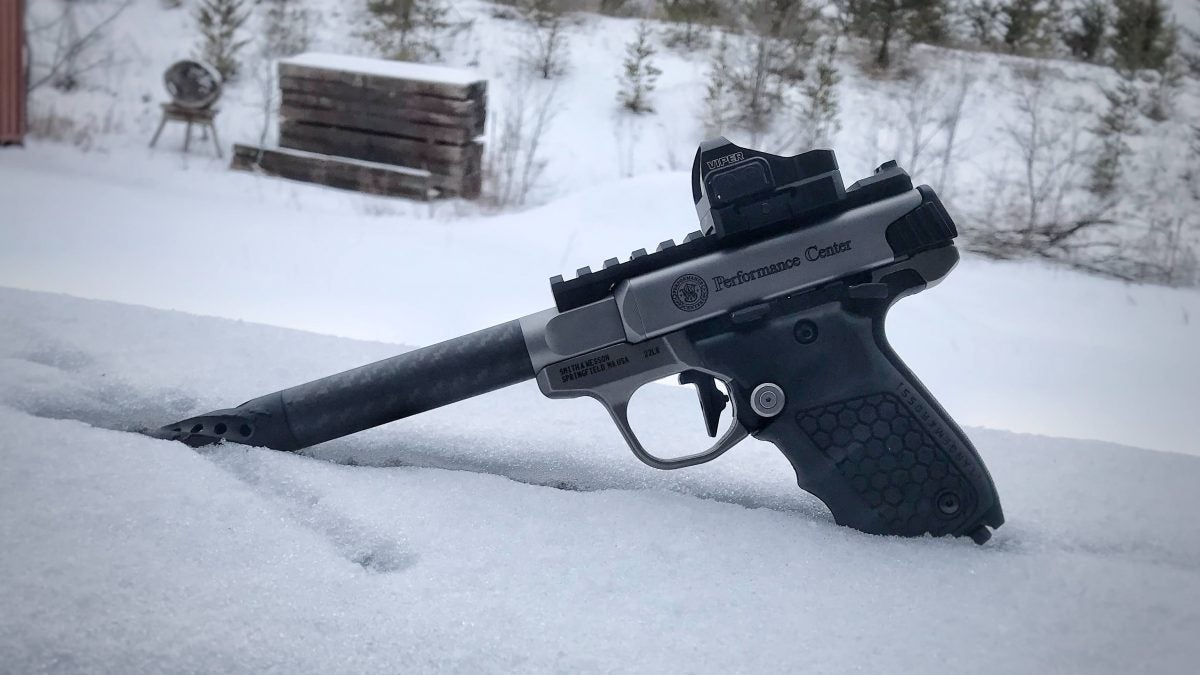 In closing, I want to say thank you to Smith and Wesson for allowing AllOutdoor and myself the opportunity to try out their SW22 Victory Performance Center. That is greatly appreciated. Also, we would like to know what all of you guys and gals think? Do you believe that this high-quality target 22 is worth spending your money on? Would you take this out to the range? Would this be your go-to 22 pistol? Let us know all of your thoughts in the Comments below! We always appreciate your feedback.