New Single Action Revolver Holster from 1791 Gunleather
Luke Cuenco 04.28.21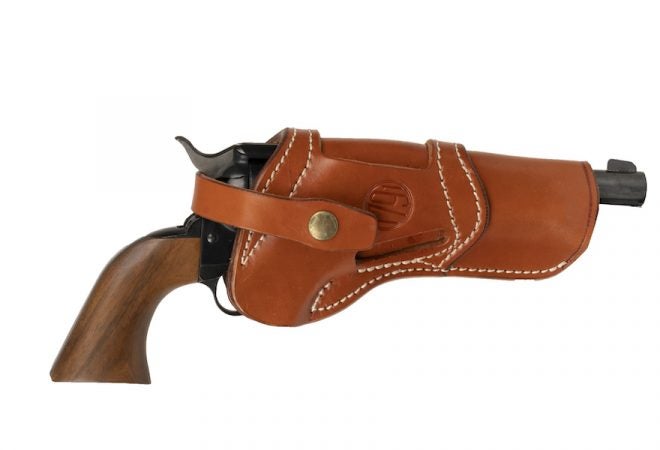 There is a new Single-Action Revolver Holster in town and it's set to redefine the scene. 1791 Gunleather is proud to introduce their offering to the single-action revolver market with their 100% American Steer Hide single-action revolver holster. The holster will be made for both strong-side and cross-draw styles and for both 5.5″ and 6.5″ lengths to accommodate different types of single-action revolvers. For added safety, the thumb strap clasps over the rear of the hammer ensuring it cannot be cocked from the holster.
Introducing the 1791 Gunleather Single Action Revolver Holster
Miami, FL – For the last few years, no name has made a bigger impact in the holster and leather goods industry than 1791 Gunleather. A focus on premium quality products, service that's second to none, and an innovative lineup of holsters at an affordable price point, 1791 Gunleather continues to challenge the status quo in the holster industry.

Single Action Revolver Holster

New in the lineup of 1791 holsters is the Single Action Revolver holster. Designed to be fully ambidextrous, the Single Action Revolver holster works great in both cross draw and strong side carry positions. Available in 5.5" and 6.5" configurations, this holster comes equipped with a multi-position safety strap that will keep your revolver firmly in place. As with all 1791 Gunleather products, the Single Action Revolver holster is made using 100% American certified steer hide leather. The construction of this piece blends modern production techniques with old world leather craftsmanship making it worthy of your favorite revolver. See for yourself how the Single Action Revolver holster from 1791 Gunleather offers a timeless look with unmatched comfort and quality.
Although I've never personally carried a single-action revolver, I have seen quite a few Single-Action Shooting Society (SASS) members use them as part of their gear requirement and it is a completely different world compared to semi-auto or even modern double-action revolvers. 1791 Gunleather has a reputation for very high-quality leather holsters and their single-action revolver hoster should be no different. At the time of writing, there is no further information on the release date or pricing for the 1791 Gunleather Single Action revolver holster.