The Path Less Traveled #010 – Ozark Trail 30L Hiking Backpack Review
Andrew D 05.03.21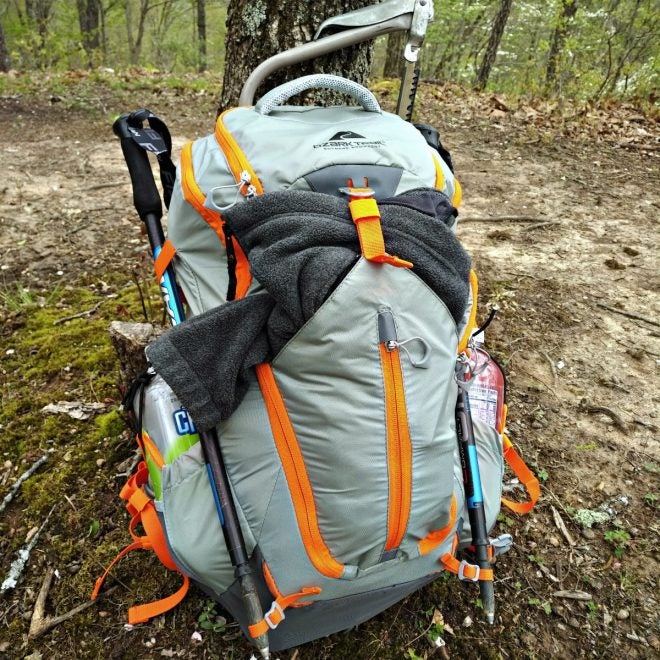 A backpack from Walmart/Ozark Trail (widely available) that is comfortable, light, cheap, and durable? I'd hike bike five miles uphill, both ways in the snow, barefoot to buy this backpack.
---
Welcome to our recurring series of "The Path Less Traveled." In this series, we want to take you along for our exploits out in the wilderness while hiking, camping, exploring, and general adventuring. This will include our small daily victories, foibles, tips, tricks, and reviews of gear we authentically appreciate and frequently utilize. While a well-worn trail can often be the pathway to a leisurely day, the paths less traveled can often spur on some of the greatest memories, misadventures, and fun we could imagine. Join us in the Comments as we share our travels, and hopefully, we can all come together for a greater appreciation of the outdoors.
---
Company Info
Ozark Trail is one of Walmart's in-house sub-brands. The Ozark Trail line ranges from knives, tents, shoes, and fishing gear. They source products from a variety of suppliers overseas which sometimes results in products manufactured by the same companies that produce items for 5.11, Academy, Nite-Ize, etc. It's easy to think of the Ozark Trail brand as a casual box-store brand, but a few items really do shine.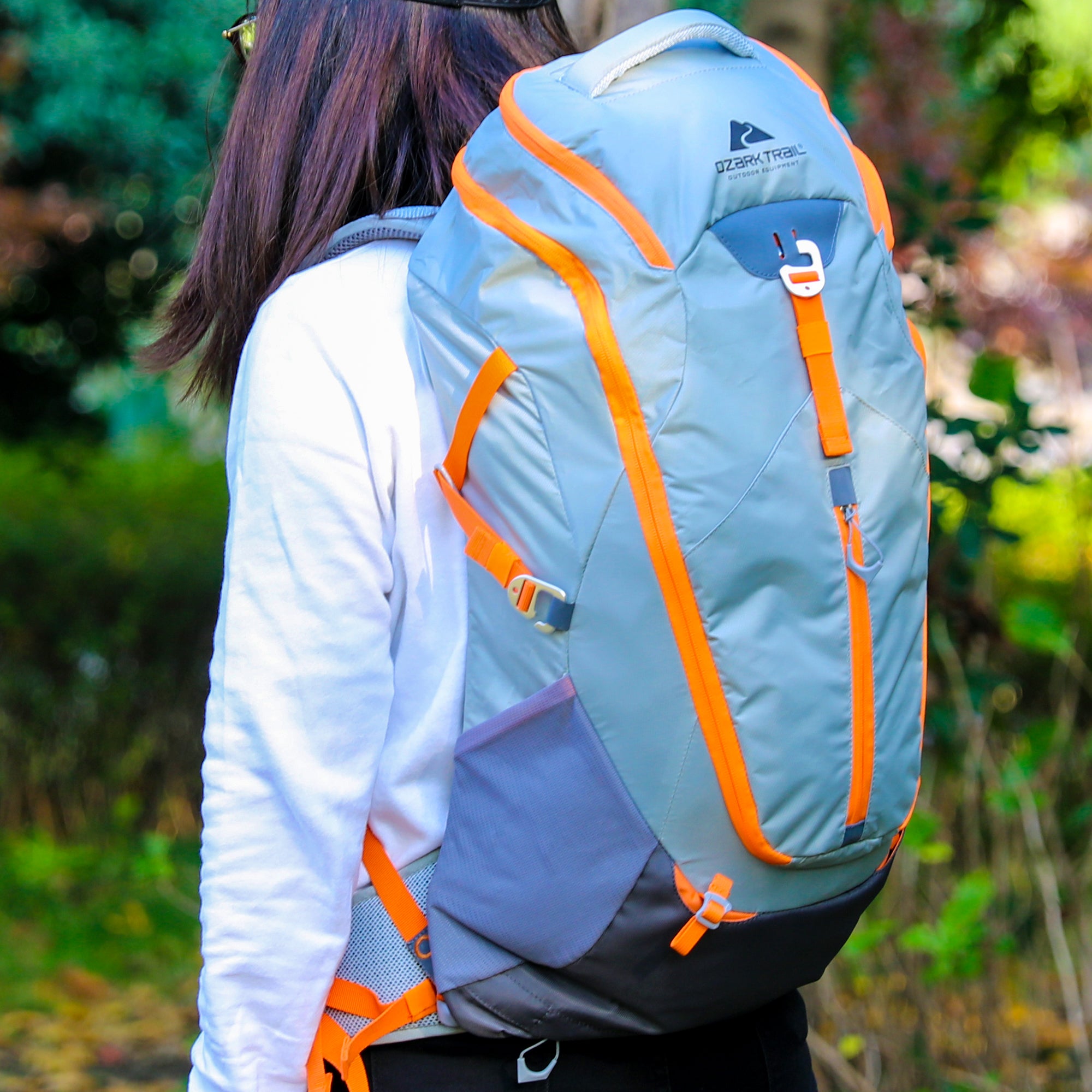 Product Info – Ozark Trail 30L Lightweight Hiking Backpack
The Ozark Trail 30L Lightweight Hiking Backpack came across my radar in early 2017 by means of its 40L brethren (which has been my go-to backpack for two years) that has shown its worth. (40L iteration is no longer being produced; being sold on the used market for MSRP [or more]). Ozark Trail's 30L Lightweight Hiking Backpack is still sold on Walmart.com as of April 2021. Pack weight "off the shelf" is 1,030g (2.27 Lbs).
This backpack's main zippered area houses the majority of the 30L volume. Two zipper pulls run the edge of the backpack in a tongue fashion. Inside the main area are two zippered mesh pouches, a pocket akin to somewhere to put a laptop hydration bladder, and a zippered entrance into the internal frame.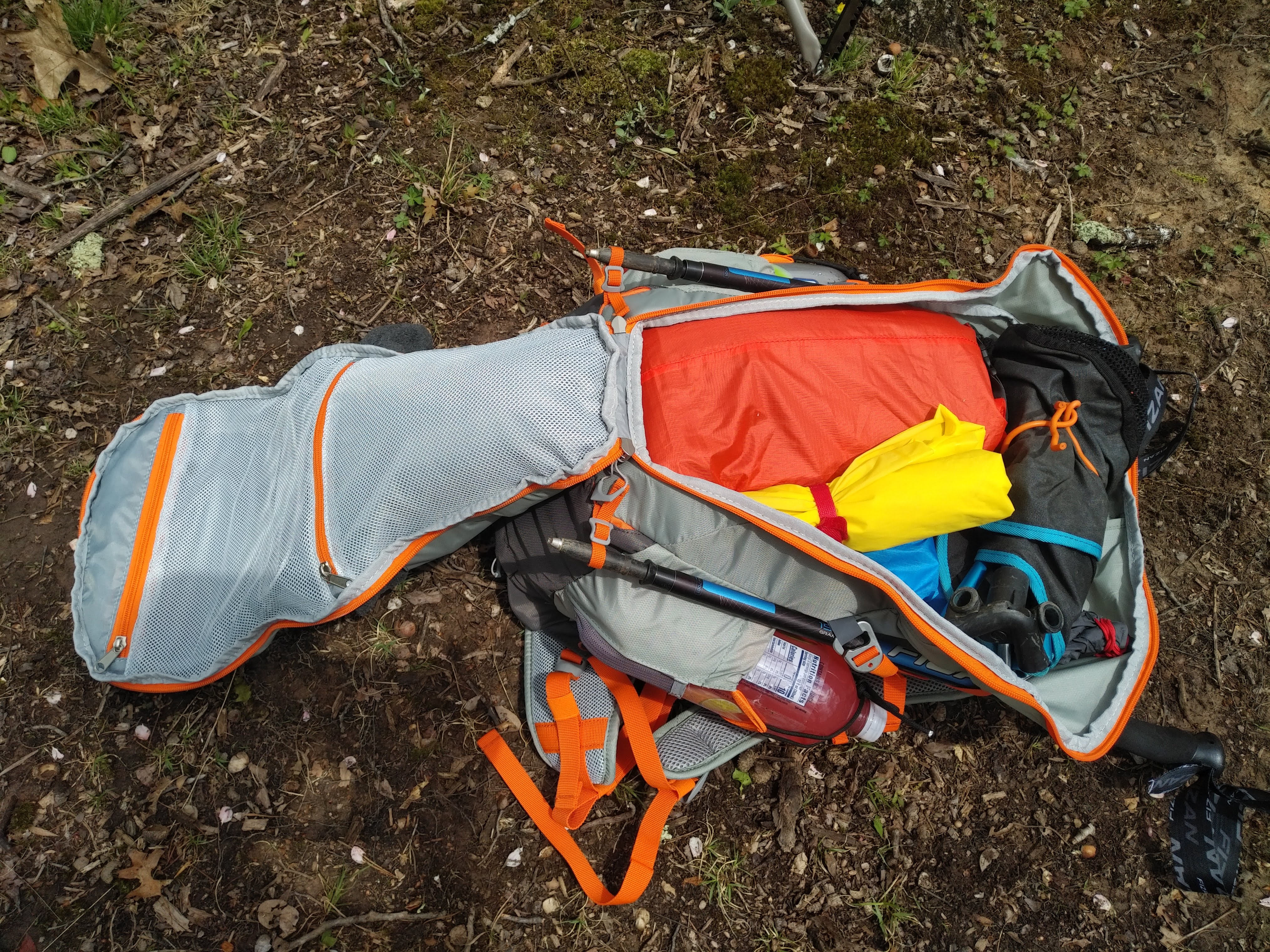 On the outside of the pack, a zippable mesh accessory pocket for things like tools and snacks. Continuing on the exterior, there's a grab-handle, 1.5L stash pocket (ideal for an article of clothing), and a vertical zippered area I could live without.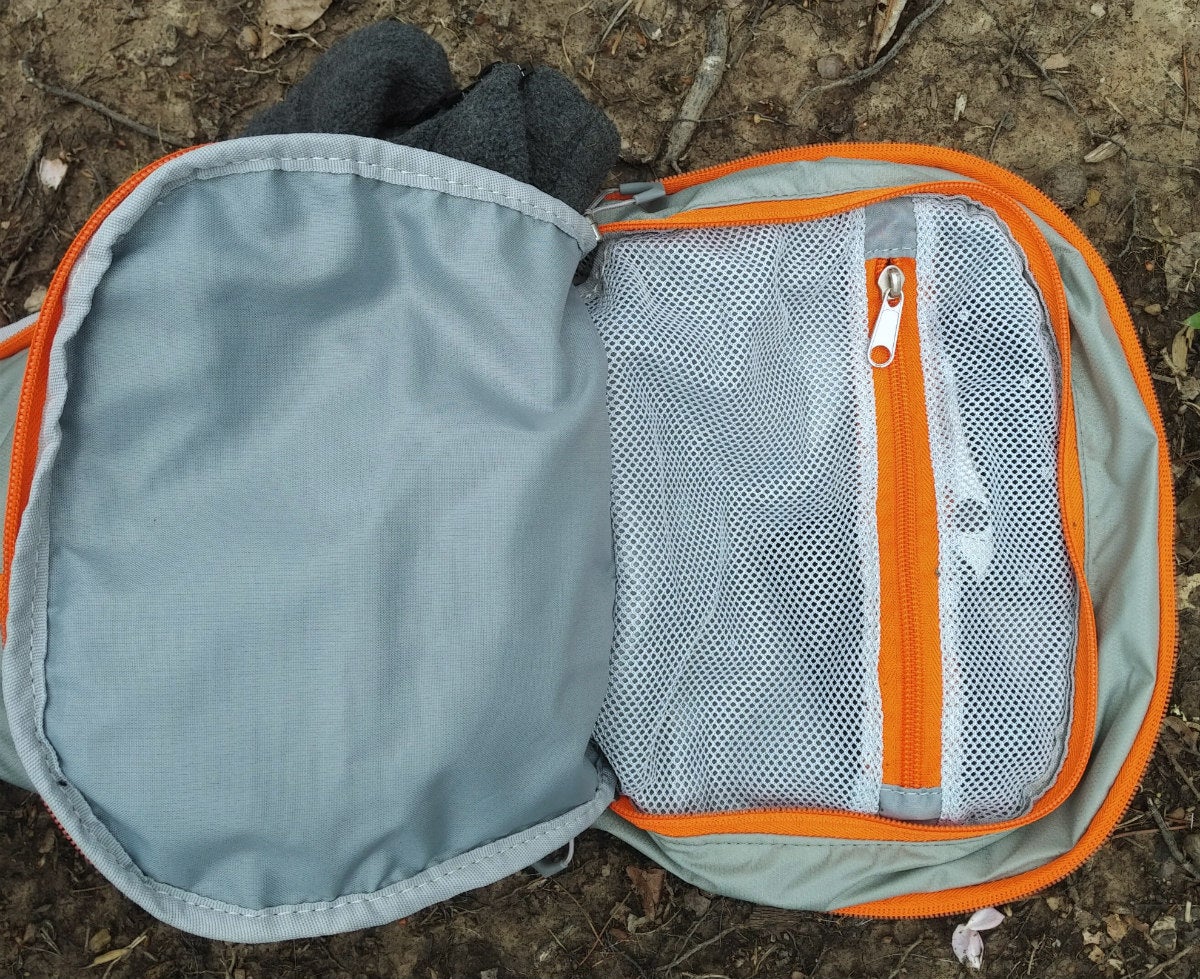 Cinch straps, bottle holders with elastic tie-downs (which required modification to securely hold anything larger than a soda can…), and pole-tip holders sit on each side. Webbing bands for the pole-tip holders are stiff; would have much preferred elastic, but these will stand the test of time.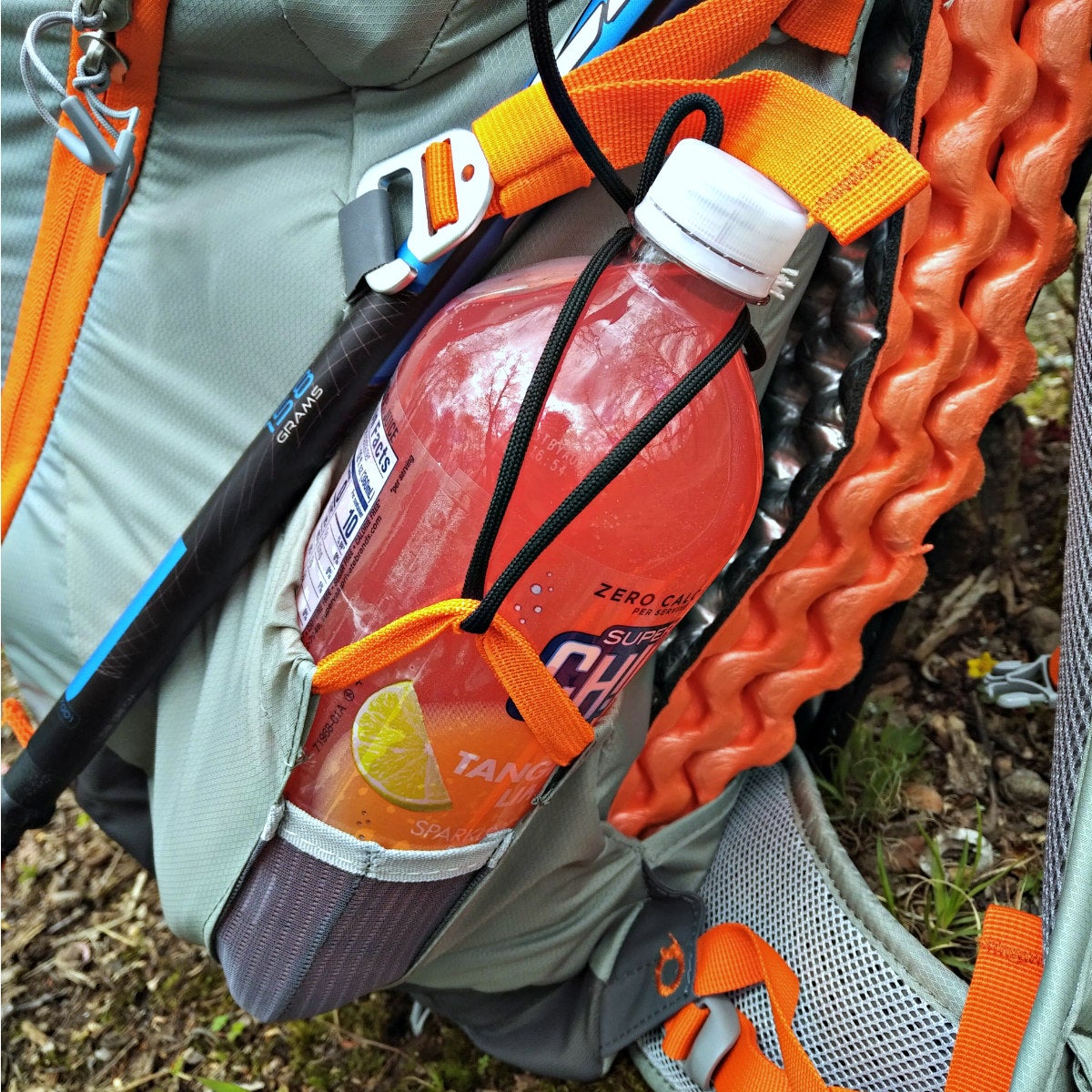 The underside of the backpack has a heavier material to survive abrasions. There's also a zippered pocket for the pack's supplied black rain cover; it weighs 70g (2.46 Oz), is water-treated, but not silicone/PU coated. Honestly, I've never used it.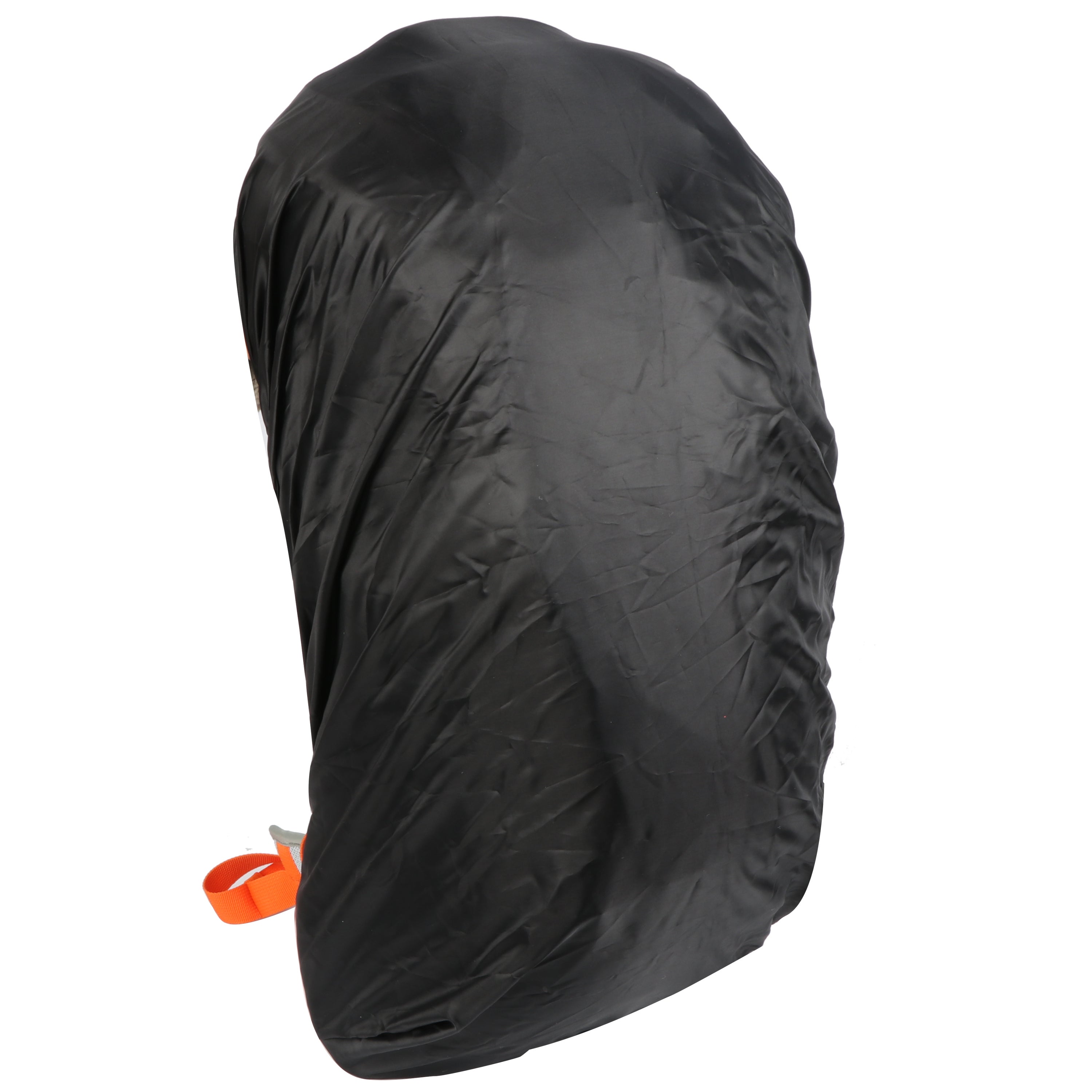 The removable internal frame is made from aluminum, bent into an ergonomic shape, and weighs 170g by itself. This is housed between the main compartment and mesh backing, creating an airy space between parts of your back and the backpack. Yay, cooling opportunities!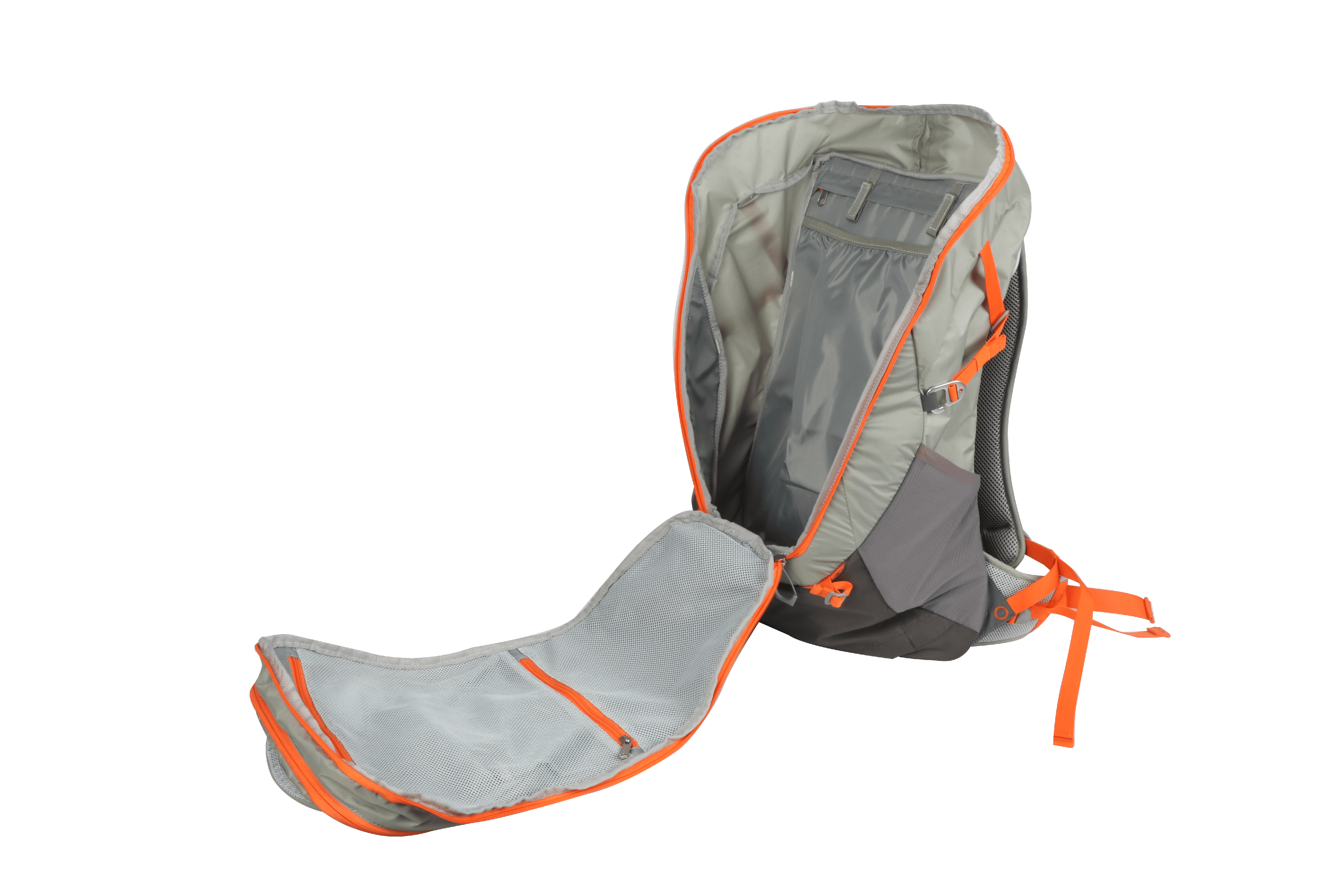 Shoulder straps are adjustable like a typical backpack, but not adjustable from the top for torso-sizing. The sternum strap and hip-belt have multiple points of adjustment to ensure the backpack is suited to many body types. Hip-belt is minimally padded, no external pockets, having a plethora of strap and excess webbing material with elastic rings to help manage them from flailing about. A brave person would cut/melt them to their desired length.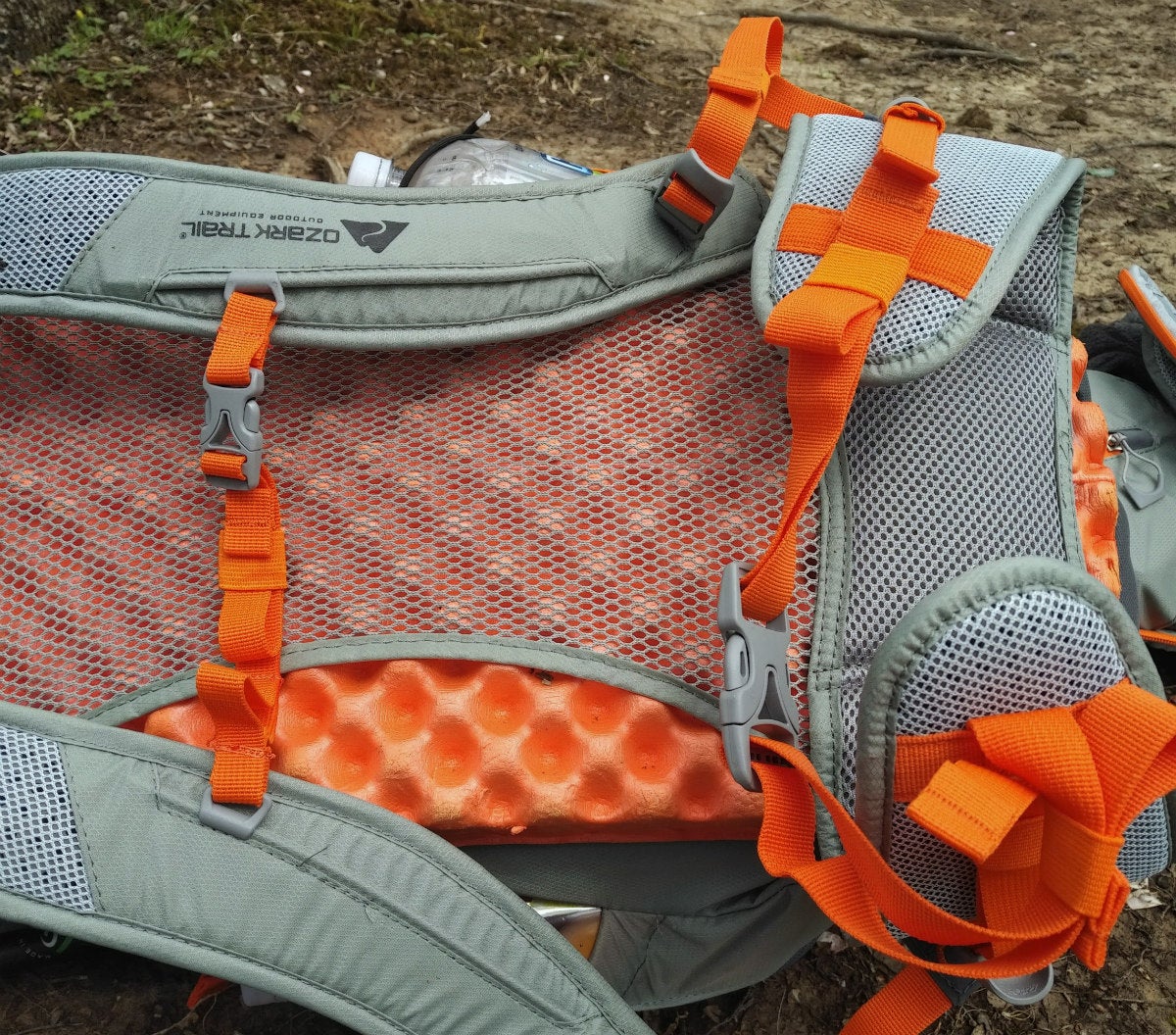 Observations
On occasion, Walmart puts out some sleeper hits. Packs like these have little tricks up their sleeves; if the internal frame pack and rain cover are removed, the total weight comes in at 790g (1.74 Lbs)! This places it into a lightweight, nearly ultralight backpack option. If the internal frame is replaced with a folding foam sleeping pad, it becomes a fantasy to use in terms of comfort, stability, and utility.
The options of adjusting the shoulder straps, sternum straps, and hip belt for this backpack can ideally fit individuals within a range of 5'4″ – 6'2″ as a great 2-3 day pack. It's a backpacking bag that hovers in the day-pack weight class.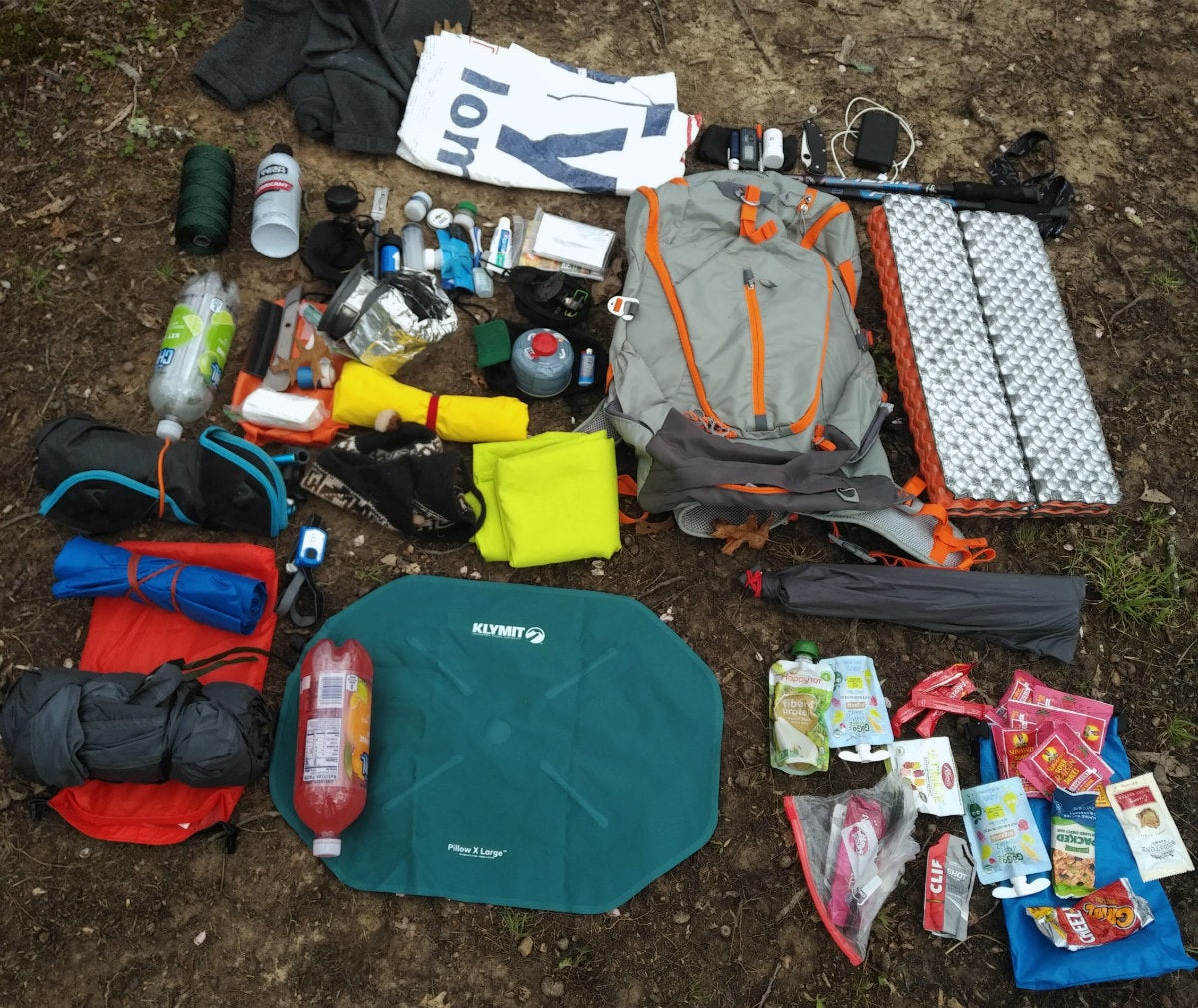 Zippers have not been a concern with this backpack or its 40L brethren. I lay the pack down on its shoulder straps to open the main compartment all the way to access items, as compared to a top-loading only pack. While the top-loading ones feel more reliable due to fewer things to fail, having to dig all the way to the bottom for something forces you to think more about what goes where when loading. Having a fully opening backpack doesn't make me consider keeping the pack shut and gnawing on some tree-bark granola bars instead of pulling out cooking gear for lunch.
There are two downsides to this pack, preventing it from being phenomenal.
The water bottle pockets sit too low, requiring modification to securely hold taller bottles. I'm hoping this is just my bag. (An elastic hairband looped into a cow hitch works well). Second – the useless vertical zippered pocket on the front; difficult to fit anything, but keys (or my glucometer) if the stash pocket is full.
Overall Rating: 🎒🎒🎒 / 4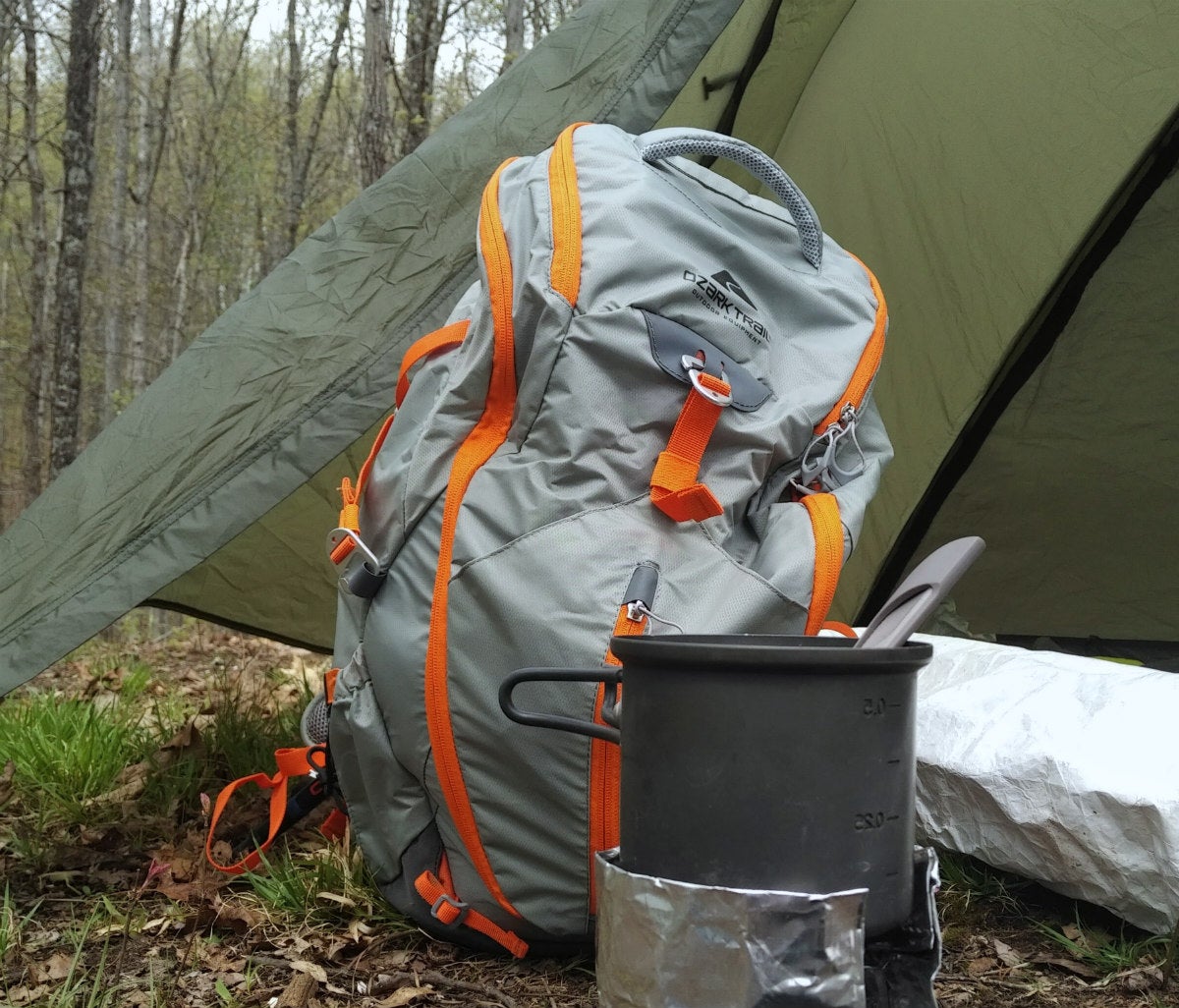 Comparison
Price and availability are key points for choosing this pack. When comparing with other backpacks in the same size, weight, and feature range, here is what I found: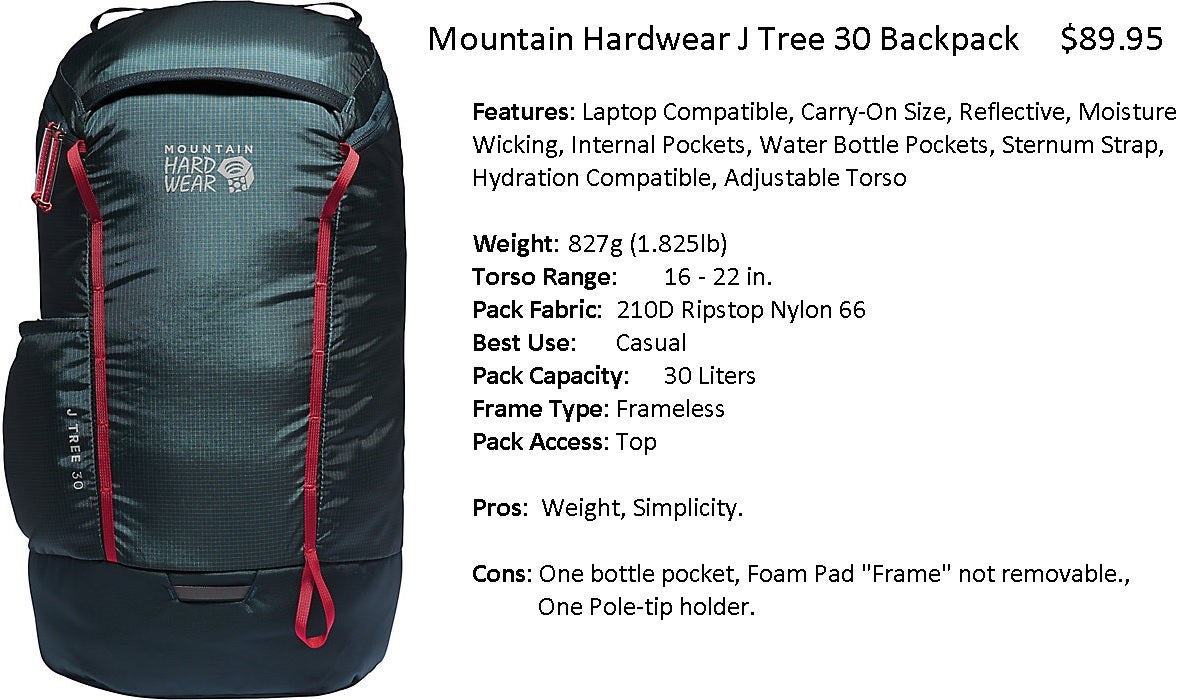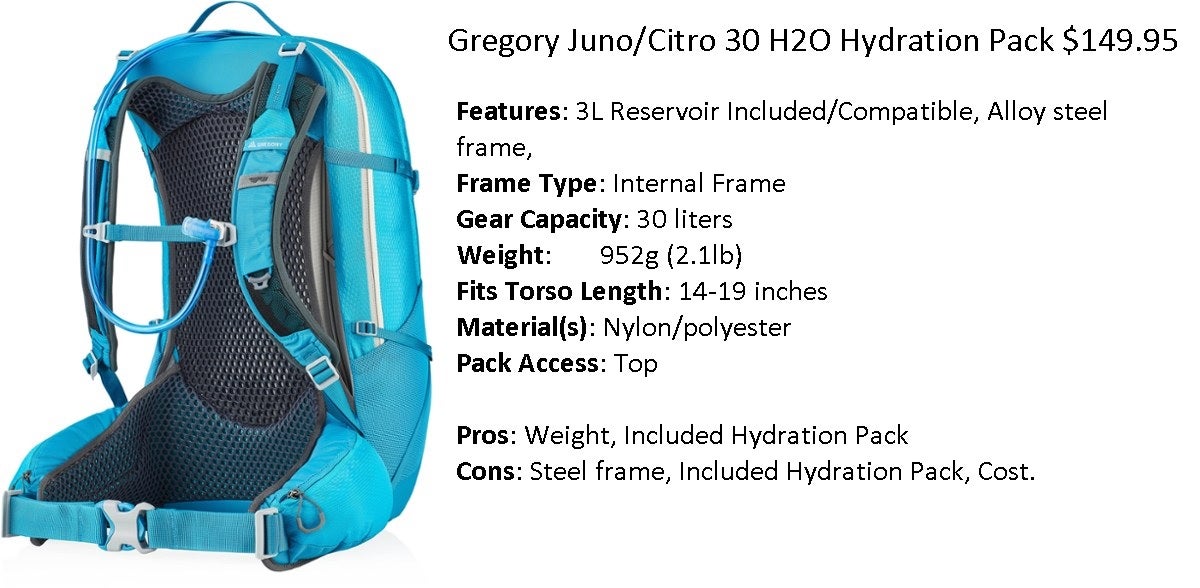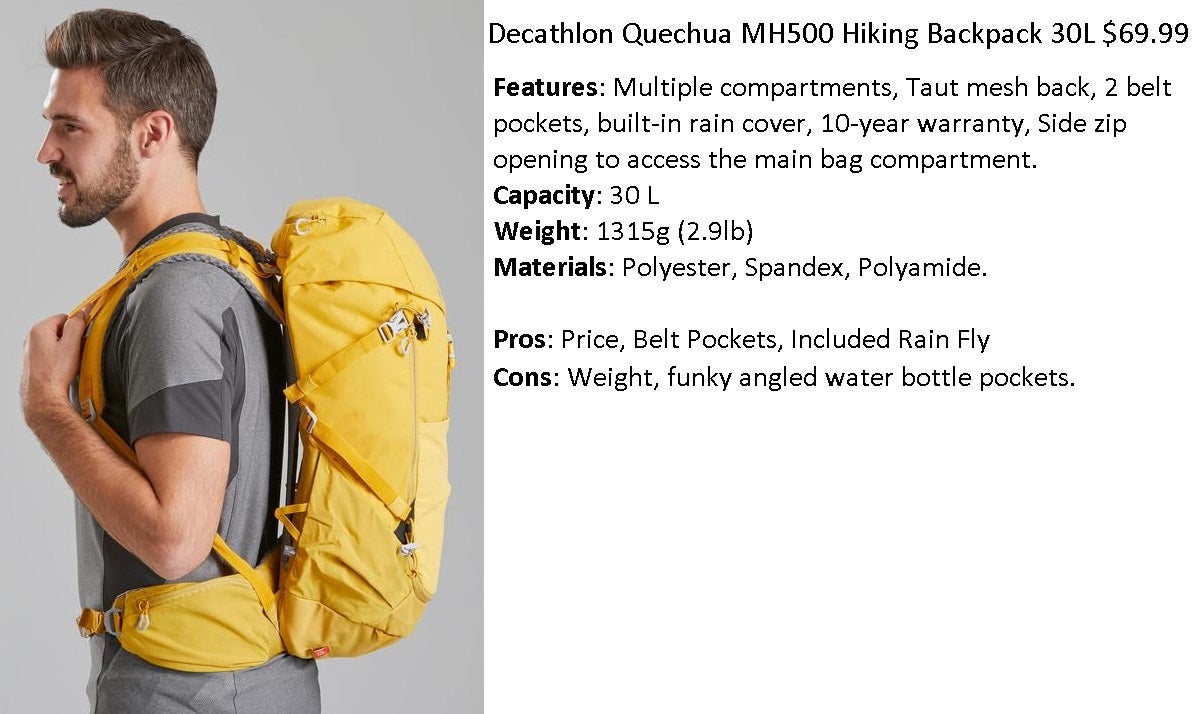 PRICE: 
FEATURES:

"The Ozark Trail 30 L Lightweight Hiking Backpack is the perfect choice for your next outdoor adventure. It's made with lightweight nylon fabric and has a large U-shape zippered main compartment for easy packing and storage. Its padded shoulder straps and waist belt will provide you with a comfortable fit during hiking, and the X-3 suspension mesh back panel adds support and breathability. It's also compatible with a hydration bladder (not included). Whether you're taking the family on an extended camping trip in the mountains or just taking a day trip to a local hiking trail, Ozark Trail has everything you need to enjoy the great outdoors. Browse all our gear like spacious tents, durable backpacks, warm sleeping bags, outdoor cooking supplies, and more. The Ozark Trail 30 L Lightweight Hiking Backpack is the perfect gear for your hikes in the wilderness."

SPECIFICATIONS

One large main compartment with interior zippered mesh pockets
Hydration compatible
Front shove pocket
Two side water bottle pockets
Included rain cover in dedicated bottom pocket
Aluminum framed suspension mesh back panel
Zippered top lid with interior mesh pocket
Adjustable sternum strap to ease pressure on shoulders
Padded waist belt with adjustable straps
Trekking pole attachments
Main fabric: Gray lightweight 200D nylon fabric with orange trim accents
Size: 13 inch W x 7.9 inch D x 24.8 inch H/33 x 20 x 63cm
Color: grey
Capacity: 30 Liters


PRODUCT NUMBER: 5122750 | ITEM NUMBER: 

Mystique 1.5 Gray/Navy