NEW Double Down Box Blind From Hawk Hunting
Luke Cuenco 05.05.21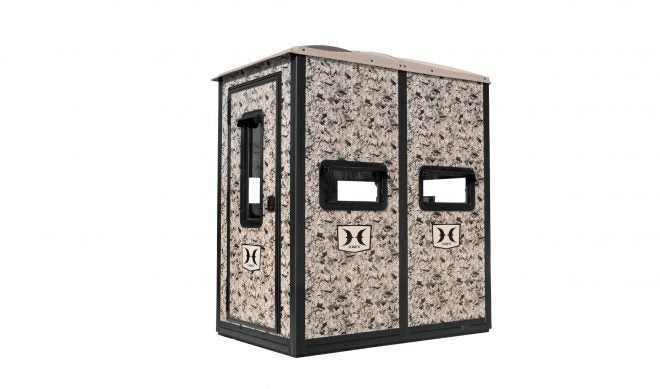 Deer and turkey blinds are a popular way for hunters to keep themselves concealed and comfortable when they're out in the field in the early hours waiting for prey to come their way. Hawk Hunting has just released their Double Down pre-made box blind that is loaded with features that will keep you hidden from deer and turkeys, and comfortable through almost any weather conditions. The Double Down is made with an insulated interior and a 1″ thick rubber matted floor to keep you and your hunting partner from making any noise that might scare your targets off.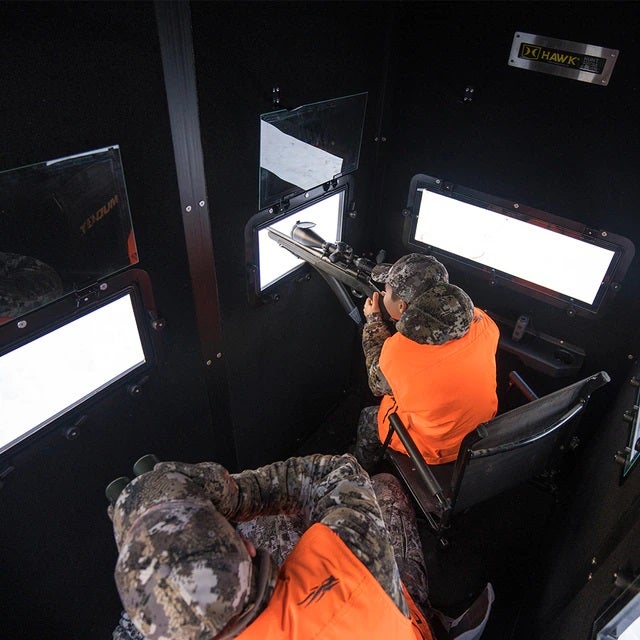 NEW Double Down Box Blind From Hawk Hunting
Irving, TX – Hawk is excited to introduce the new 'Double Down' Box Blind! The unit provides hunters of all ages with superior scent, thermal, and noise control in a premium Box Blind. The Double Down is built to last with insulated interior and exterior steel surfaces, as well as an insulated powder coated steel floor. The steel floor is topped with a 1'' high-density rubber mat which will dampen even the loudest noises so that hunters won't be detected or spook their target species.

The Hawk 'Double Down' is ideal for two hunters – like father and son or daughter, the guide and the hunter, or even lifelong friends – whoever your favorite hunting buddy is, you're sure to find comfort in the new Hawk Double Down box blind! With Hawk's limited lifetime warranty, this unit can be as timeless as the memories forged inside.

This new unit has an ultra-dark black interior, preventing shadows and allowing for undetected movements to help you make the perfect shot. One-piece roto-molded window frames will keep hunters dry no matter the conditions and the unit is built with a one hand operable silent windows made of residential glass. The door is a full-frame "RV" style door equipped with a handle and secure lock.

The spacious Hawk 'Double Down' unit measures 5' W x 6' D x 6.5' T and ships fully assembled so it's field ready. Multiple tower combo options can also be purchased, including a 5ft and 10ft tower base, plus every Hawk box blind comes with a limited lifetime warranty!

For more details about the 'Double Down' Box Blind and all of Hawk's new products for 2021, please visit www.hawkhunting.com.
The few times I have used deer blinds I have always found them to be quite small and uncomfortable. Now I'm not saying that each deer blind needs to be a penthouse-sized shooting box, but with the advances in lightweight and durable materials, I feel like more companies could come out with blinds like the Double Down. The Double Down appears to have more than enough room for two grown hunters and their gear and also appears to have great features along with it.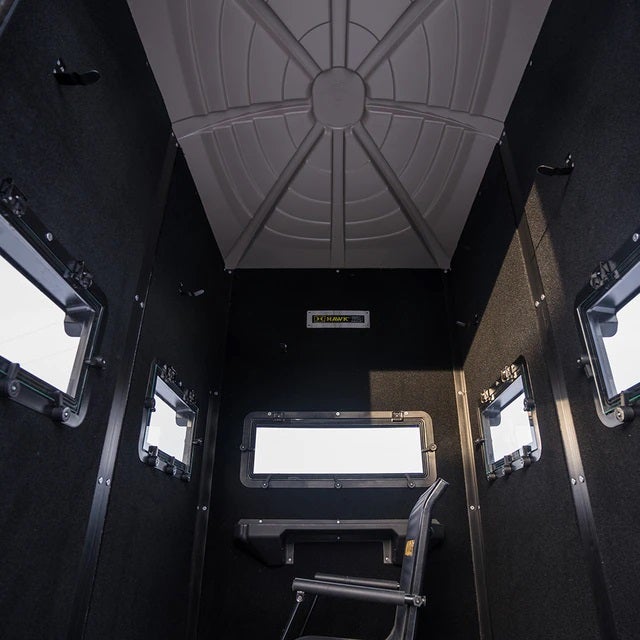 If you're looking to invest in a new, high-quality double deer blind then you can take a look at the Double Down or some of Hawk Hunting's other options on their website. The Double Down is available for $2,524.99 at its base price with the option to add stands in either 10 Ft or 5 Ft heights.