New Premium Bully Arrow Vanes from Easton & Bohning
Luke Cuenco 05.12.21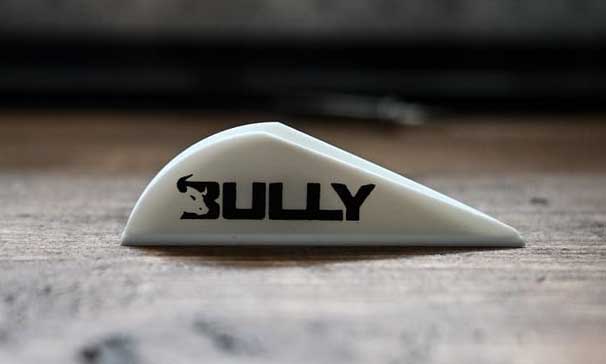 Arrow vanes or fletching are a very consumable part of an arrow – especially ones that are used to practice with a lot. Having to replace vanes on your arrows can become a chore if they aren't very durable so the folks at Easton have partnered with the arrow vane experts at Bohning to produce their new Bully Vane – a premium arrow vane that claims to resist curling and stabilize all types of arrows.
New Premium Bully Arrow Vanes from Easton & Bohning
Easton, a premier archery brand since 1922, partnered with Bohning, the world's leader in archery vanes to create the new BULLY™ VANE for 2021. Bully Vanes combine the proven shape of the leading Blazer™ Vane with a new, rigid material to provide even quieter flight, superior broadhead control, and exceptional durability with easy tuning. This tough material resists curling and will stabilize all types of arrows for improved target accuracy. The specifically engineered profile provides quiet, aerodynamic flight and more arrow control than regular vanes. Available factory fletched on select Easton arrows and sold separately in 36-count and 100-count packages.

Ultra-stiff design for quiet, high-speed stability
Rigid, more durable material
High profile for desired control in hunting, 3D, and target shooting
Ideal for broadhead control and tighter, more accurate arrow grouping
Activated base for stronger, quick adhesion
Made in USA
MSRP: $14.99/36-count 2-inch

Colors: Green, Yellow, Orange, Red, White

MSRP: $29.99/100-count 2-inch

Colors: Green, Yellow, Orange, Red, White

For more information on Easton's complete line of world-class competition arrows, shooting gear, and accessories, visit www.eastonarchery.com

I think these new vanes would be perfect for those who plan on doing a lot of high-volume practice. If 36 vanes aren't enough for you, or if you run an archery club or range, Easton also offers a 100 pack of the new bully vanes in a 2″ configuration for an affordable replacement to keep you shooting.