AllOutdoor Review: Pietta Great Western II DLX Grande Californian
Sam.S 05.14.21

Anyone who knows me knows that I am a sucker for all that is old-school. Single-action revolvers have a corner in my heart and for a good reason. When you get a good one where cocking the hammer is effortless and everything is smooth it gives you a boost of confidence. Comfort is confidence and you usually shoot better when you have those two boxes checked. This time around I had the opportunity to get to know Pietta's Great Western II DLX Grande Californian which was released in 2019. This is a slicked-up version of the normal Californian and DLX Californian. Do you want to know if this had that comforting confidence kind of feel? Let's dive right into the Pietta Great Western II DLX Grande Californian!
Specifications: Pietta Great Western II DLX Grande Californian
Usually, this is the part where I take a deeper dive into what comes in the box, and I have to admit to you that there was a small mix up with our T&E (Testing and Evaluation) samples so the box given to me was not the correct one. No big deal there because the core components are there. The Great Western II DLX Grande Californian will come in a styrofoam box shrouded in a cardboard sheath with a western illustration displayed. Inside you have the revolver, some lube, and a manual for the revolver (applicable to other similar models). Check out the specifications below:
SKU: GW45CHE434NMCF

 45 Long Colt

Frame Finish: Color Casehardened
Engraving: Victorian Scroll-Work and Sunbursts

 Floating Firing Pin (non-transfer bar style)

 Fixed Top Strap Groove

Trigger Pull Weight: Roughly 2lbs (This Sample)

One Piece Diamond Checkered Wood

 Blued
4.75″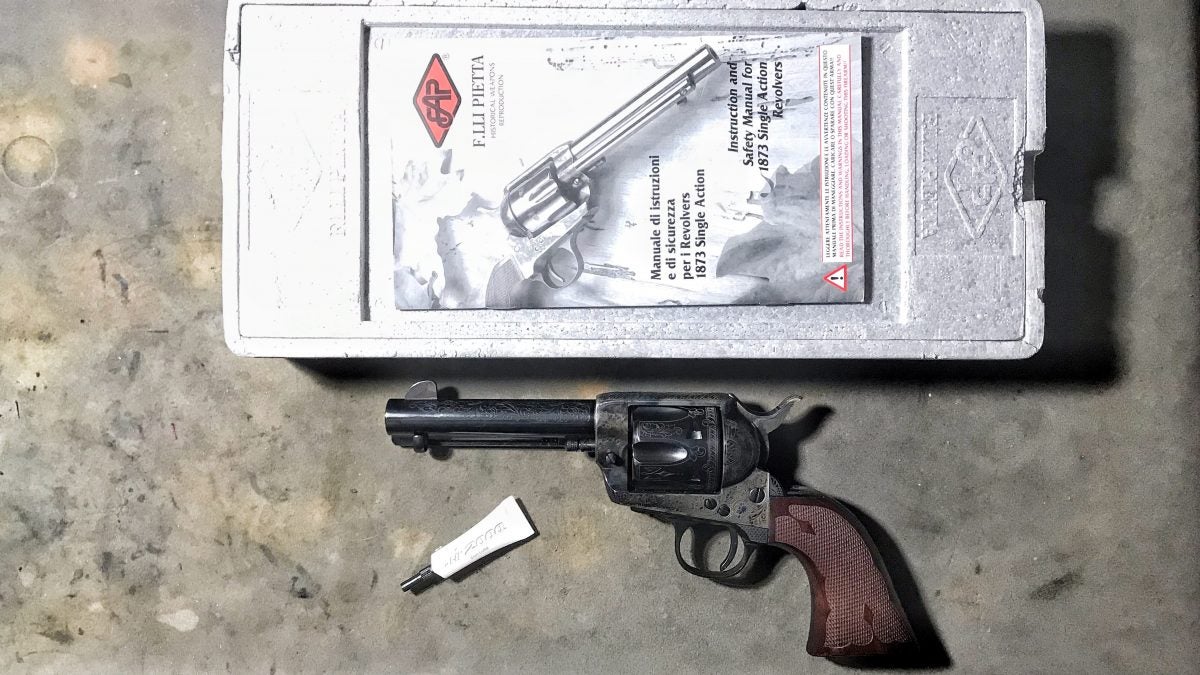 The MSRP of the Great Western II DLX Grande Californian sits at $690. As far as single-action revolvers created to be a faithful embellished reproduction of a Colt 1873, this really is not that bad and I believe it is a fair price for what you get. If you are someone who enjoys these types of firearms or is in some sort of cowboy action league, I would take this over any actual 1873 just going off of what I see and feel on my first impressions. More impressions are to come in the range section, but for now, let us hear what Pietta says on their Great Western II DLX Grande Californian:
"New for 2019, Pietta is proud to introduce this new addition to our Great Western II (GWII) line of single action revolvers! This beautiful piece adds a "touch of class" to our most popular model, the GWII "Californian". One look at this beauty and you cannot help but be taken back to the Wild West, a time where gamblers, outlaws, and lawmen ruled the west. Dapper men and elegant women would have proudly carried and displayed this pistol, especially in the Golden State of California. "
Range Time: Pietta Great Western II DLX Grande Californian
Contrary to a belief I am sure many hold, range time is not always the best time. Fortunately, when it comes to the Great Western II DLX Grande Californian it was all the joy I hoped it to be. The action is extremely smooth and the trigger pull was fantastic. I have had the chance to play with quite a few 1873 copies out there by various manufacturers/importers and some can be really hit-or-miss, but this one is something I am confident in saying is a safe bet.
The sights on any 1873 are always very basic and take a little getting used to. I myself own a couple of different ones and can attest that they each have their own sweet spot in which the shooter will learn with experience and practice. Shooting any 1873 action is definitely a feel kind of thing. This Great Western II DLX Grande Californian felt no different, but that is not a bad thing – it is an authentic one!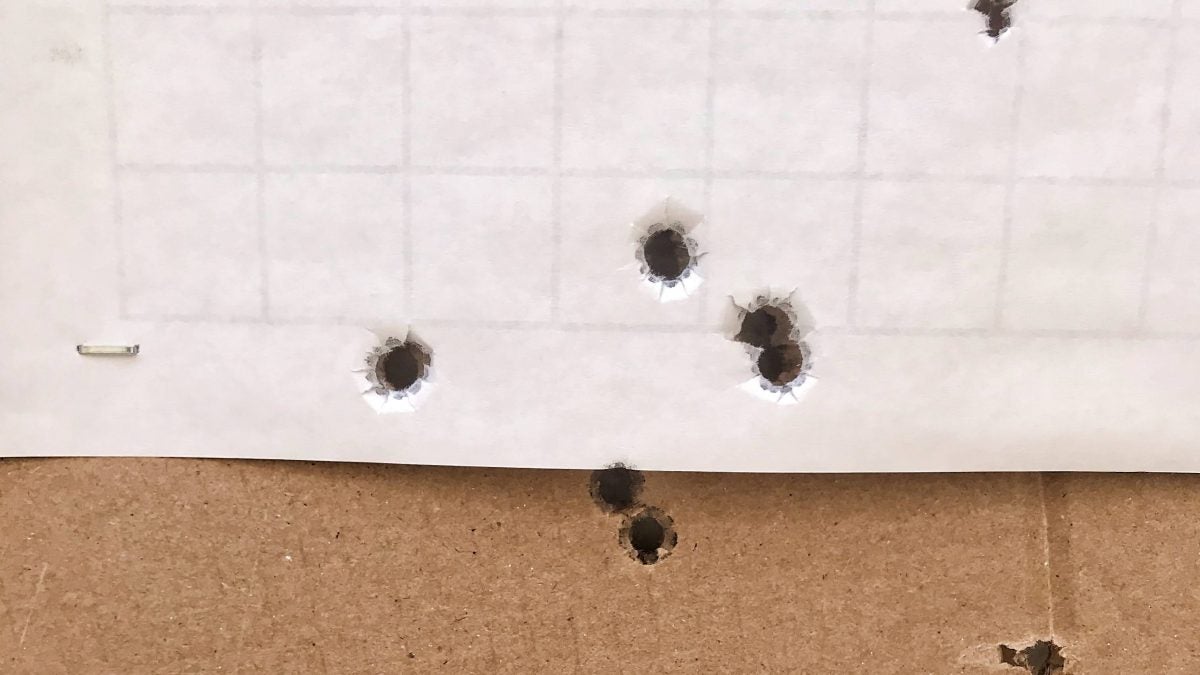 As I said, the sights take some feeling out cause it is a top frame groove and half-moon. I did not try to hit any bullseye shooting per se, I more or less was hoping to see what kind of groups a held, off-hand position would produce. This six-shot group at 15 yards is about the same size as a baseball, and that being said, I was very happy with it.
Loading and unloading are very basic, and if you are not familiar with this style of firearm, I can explain. Loading begins with placing the hammer in half-cock (cock the hammer to the very first "click" about halfway), opening the loading gate, and indexing the cylinder while loading shells in one-by-one. Unloading once again begins with placing the hammer in the half-cock position, opening the loading gate, and then using the spring-loaded ejector rod to push empty shells out one-by-one while indexing the cylinder.
Note: Sometimes the empty casings can fall free from the cylinder when the gate is opened and the gun tilted vertically and indexed. This usually is a combination of brass condition and cylinder bore smoothness.
Final Thoughts: Pietta Great Western II DLX Grande Californian
All and all, it is easy to just chalk the Great Western II DLX Grande Californian up as another 1873 copy. It is, but it is one that I would recommend if anyone out there is looking for this type of aesthetic and better yet wants verified word on how it feels and performs. As someone who lives for these kinds of firearms, I give it my blessing on appearance (it is gorgeous), fit and finish (everything looks masterfully done), and smoothness of operation (the hammer feels like its almost weightless to pull back and the trigger pull is just right). I feel the Great Western II DLX Grande Californian is worth it whether you are getting into the cowboy action shooting game or just want a beautifully embellished version of history.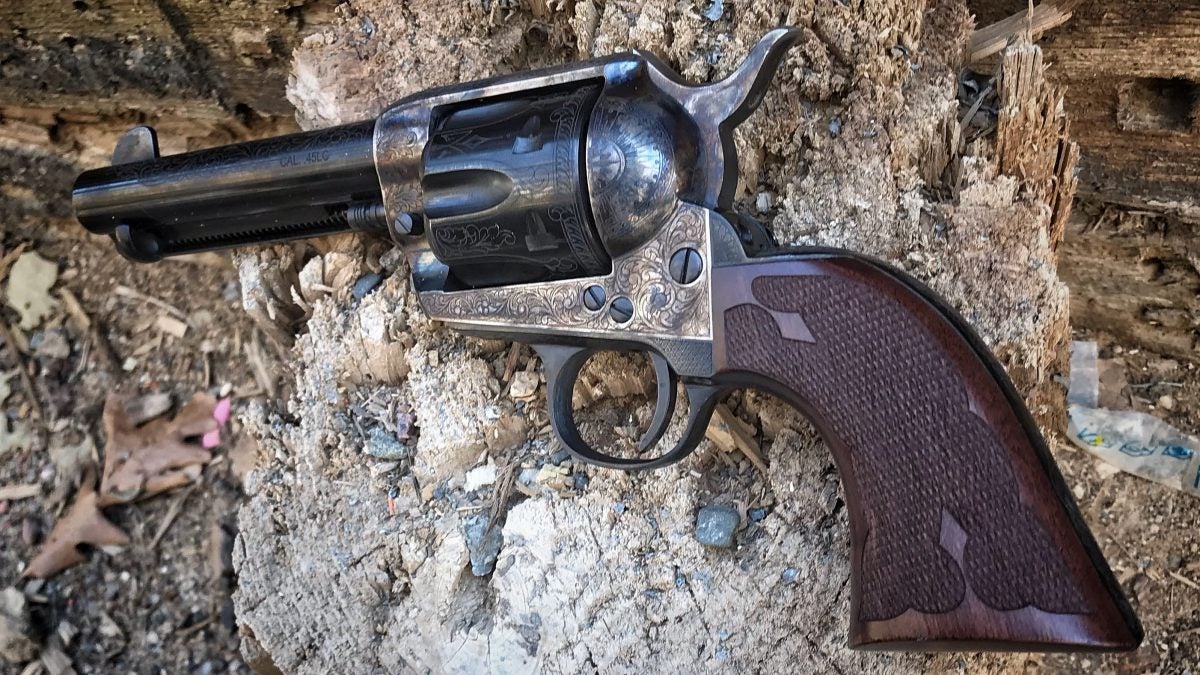 In closing, I want to say thank you to Pietta for allowing AllOutdoor and myself the opportunity to try out their Great Western II DLX Grande Californian. That is greatly appreciated. Also, we would like to know what all of you guys and gals think? Do you believe that this charming cowboy gun is worth spending your money on? Would you take this out to the range? Would this be your go-to western revolver? Let us know all of your thoughts in the Comments below! We always appreciate your feedback.