Free Training Resources with Smith & Wesson's GUNSMARTS Series 2
Luke Cuenco 06.03.21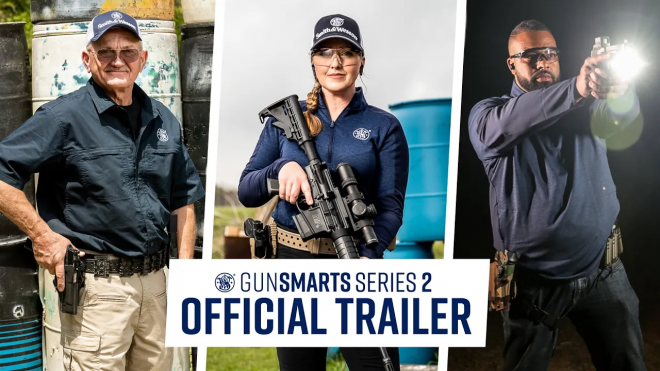 If you or someone you know has recently become a gun owner and has some burning questions about how the gun community operates or how you should go about your firearms training, then Smith & Wesson is back with GUNSMARTS Series 2. Series 1 of GUNSMARTS went over some pretty basic firearms training concepts and Series 2 is aimed at filling in a few more gaps you might have about how the firearms world works. Don't know what to expect when going into a gun store for the first time? There's a video exactly for that! Each of the hosts for GUNSMARTS Series 2 has a slightly different specialty so there is sure to be something in there for everyone even if you're an experienced gun owner.
Free Training Resources with Smith & Wesson's GUNSMARTS Series 2
SPRINGFIELD, Mass., (June 1, 2021) – Smith & Wesson today announced that it has expanded its GUNSMARTS video series with over thirty new educational videos for both new and experienced firearms owners. Hosted by industry experts Ken Scott, Julie Golob, and Jerry Miculek, Smith & Wesson's GUNSMARTS Series 2 covers a comprehensive set of topics that include firearms education, shooting tips, gear recommendations, and more – all in a simple, inviting manner.

Matt Spafford, Senior Marketing Manager, said, "We received an overwhelming amount of positive feedback after the launch of GUNSMARTS in 2020, and as such, we've developed GUNSMARTS Series 2. This new content series provides new, exciting videos to help both new and experienced gun owners improve their firearm knowledge and skillset. We hope that GUNSMARTS Series 2 encourages firearms owners to get outside, enjoy the shooting sports, and brush up on their skills."

New GUNSMARTS Series 2 content is hosted on YouTube and will be released weekly throughout the summer, starting on June 1st. To watch Smith & Wesson's GUNSMARTS Series 2, click here.
Knowing Ken Scott personally, I think you're getting a lot of great value from free videos with the content he's developed for Smith & Wesson. Ken is a retired and experienced law enforcement officer who also runs his own personal firearms training company for more advanced firearms owners. You should check out his channel here.