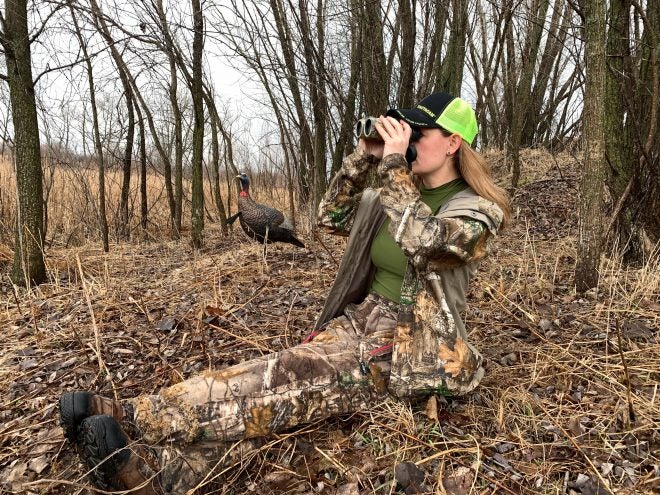 A recent study published in The Journal of Wildlife Management found that the persona of hunting may be evolving. The results showed that although the majority of current hunters fit the traditional demographic of white and male, those that reported that they were interested in hunting were much more diverse. Researchers from North Carolina State University partnered with state wildlife agencies and universities across 22 states, reaching over 17,000 students. They sought to explore college students' interests, impressions, and participation in hunting.
"College campuses provide a unique social atmosphere and contain millions of diverse students who are primed to try new activities (and not to mention they are the key decision makers of the future)," Victoria Vayer, lead author on the study and a former graduate student in parks, recreation and tourism management at NC State, said. "This study is about exploring college students' hunting related beliefs and behaviors because recruiting and retaining new hunters that better reflect the diversity of our country should be a top priority. It should help make the conservation landscape more equitable and productive."
The researchers grouped participants into categories of active, potential, lapsed, or non-hunters. The sample of active hunters broke down as 74 percent men, 84 percent white, and most came from rural hometown backgrounds. Students who had never hunted, yet might be willing to, were categorized as potential hunters. This mix of potential hunters proved to be more diverse than the active hunters surveyed. Nearly half were women, 38 percent identified as either Black or African-American, Hispanic or Latinx, Asian, American Indian or other, and 43 percent came from urban area backgrounds. These results mirror the general population of the United States.
What this means is that if those that are interested in hunting (potential hunters) pursue hunting, the outdoor industry may look different a generation from now, or sooner.
"There are a lot of potential hunters out there who look nothing like current hunters, suggesting there are many different pathways into hunting," said study co-author Lincoln Larson, associate professor of parks, recreation and tourism management at NC State. "For nearly 100 years, hunting and angling have combined to provide a majority of wildlife conservation funding in the United States. Without people participating in these activities, our current conservation model won't work. By helping college students connect with public lands and wildlife, we can create a more sustainable source of funding into the future."
This is good news for conservation dollars. As the ethnic mix of America trends towards more diverse, it makes logical sense that activities like hunting will, too. And since conservation is funded by fees garnered from hunting and fishing licenses, the more demographics that actively engage in hunting and fishing, the better.
"Declines in hunting spell bad news for conservation," Vayer said. "We need to find ways to broaden the base of support for conservation by engaging more diverse populations, particularly when it comes to hunting."
The takeaway from the results of the study is that conservation agencies may have an untapped demographic of potential hunters. They can work towards engaging these potential participants (and then keeping them) through thoughtful recruitment, retention, and reactivation (R3) program messaging. R3 activities are those that seek to create new participants or increase participation of current or lapsed outdoor recreationists, such as hunters.
"I think the biggest direct action that hunters can take to welcome others into the community is by mentoring a potential hunter, taking them out into the field and showing them the ropes, and then sharing the products of the hunt, even if the products are intangible things like stories," Vayer said.
Vayer believes that a great place to start with increased R3 programming aimed at potential hunters is on college campuses. She suggested that, as a starting point, conservation agencies should consider what messages resonate with young adult hunters, how to foster social support for hunting in young adult communities, and how to provide cheap and easy access to hunting opportunities for college students.
Another element for consideration is the language and messaging used to talk about hunting. Recruiting potential hunters could be a simple shift from talking about hunting as a leisure/sport activity to talking about hunting as a means to fill the freezer.
An additional gleaning of the study focused on motivation. The data revealed that potential hunters (students who have not hunted in the past, but may hunt in the future) were most interested in hunting for altruistic related reasons, such as conservation and helping keep ecosystems healthy, and for meat related motivations, such as access to local, ethical, free-range meat.
"I think there's a lot more common ground between hunters and potential hunters than we give credit for," Vayer said. "At the end of the day, most of us are here because we care about conservation, leveraging that common ground could be beneficial to creating genuine relationships between hunters and potential hunters and not only recruit new hunters, but also retain them."