NEW Cold Steel Click-N-Cut Folding Knife added to EDC Lineup
Luke Cuenco 06.10.21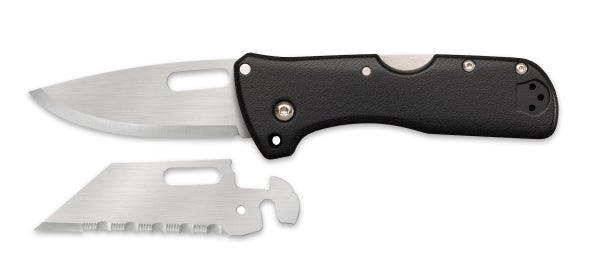 Cold Steel has a new unique offering in their extensive lineup of EDC folding knives that has been born from another popular line of their fixed blade knives: the Click-N-Cut Series. The New Folding Click-N-Cut knife will include a lot of the same features as their original Click-N-Cut knife, but with the added benefit of being able to be folded for convenient pocket carry.
New Cold Steel Click-N-Cut Folding Knife Added to EDC Lineup
Irving, TX – Cold Steel, manufacturer and innovator of purpose-built knives and blade tools for everyday carry, tactical, and hunting applications, ups the ante with introduction of the newest model in its replaceable-blade knife series, the Click-N-Cut Folder.

The Click-N-Cut series knives set a new standard in replaceable-blade hunting knife technology by addressing the core drawbacks of most replaceable-blade knives on the market today—namely weak blades and equally weak locking mechanisms. The Click-N-Cut system was designed to employ thicker blades for added strength and to ensure the locking mechanism could withstand the pressures often applied when field dressing and quartering big game animals. Now, that same proven technology is incorporated into the all-new Click-N-Cut Folder.

A fresh lock bar and blade locking engagement design delivers the same easy-to-remove/easy-to-install replacement blade system as the original Click-N-Cut fixed-length knives but with the convenience and compact storage of a folding lockback knife. Replacing a blade is as simple as partially folding the blade with the lock bar depressed, removing and replacing the blade, and allowing the lock bar to secure the blade in the closed or open position.

The Click-N-Cut system makes blade replacement faster and safer than other systems on the market and is strong enough to handle the toughest jobs. This exceptional strength is credited not only to the rugged 1.5mm thick blades but also the use of Cold Steel's heralded Tri-Ad® locking system, which offers safe and secure lockup and responds well with both positive and negative pressure.

The Click-N-Cut Folder comes with two 2.75-inch blades— a drop point and a serrated utility. An ambidextrous pocket clip secures the knife conveniently in pants, over a belt, or in a hunting pack pocket.
Folding pocket knives have always been really useful to me and I have a giant collection of them that seems to grow bigger and bigger by the day. One of the biggest problems I have is having a blade that really does it all. While I'm not partial to serrations for an EDC pocket knife, there are sometimes that I wish I had one with me. Perhaps the new folding knife will have the blade variety I need in a convenient every day carry package.