AllOutdoor Review: Maven Optics B.3 10x30mm Binocular
Adam Scepaniak 06.11.21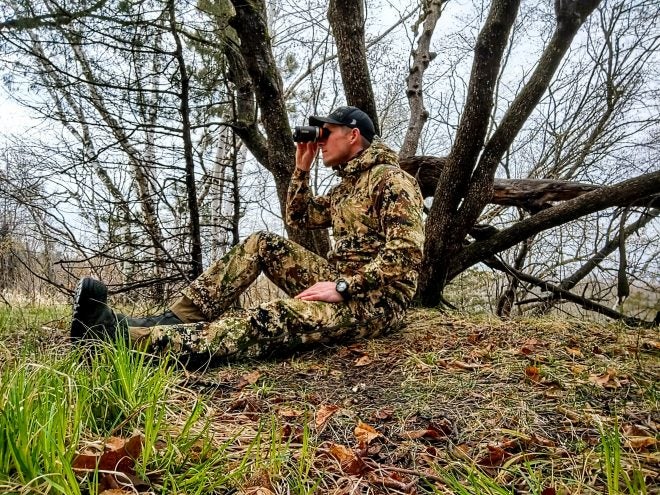 When it comes to hunting and fully taking in all that the outdoors has to offer from glassing wildlife, identifying game, and drinking in those sweet low-light moments near dusk and dawn it only gets better with quality optics. Depending on your adventure this could be a riflescope, spotting scope, or even binoculars hinging on the task that is at hand.
One of the most versatile of the three would be a reliable set of binoculars because of their lightweight, compact, and powerful design. One such example would be the Maven Optics B.3 10x30mm Binocular.
This past spring turkey season in Minnesota I was blessed with an abundance of varying weather – snow, sleet, rain, fog, and sunshine all in a 2 week period – which made for a great proving ground for the Maven Optics B.3 10x30mm Binocular. In this AllOutdoor Review, we will take a look at how the Maven Optics B.3 10x30mm Binocular performed while hunting Eastern turkey in MN. Let's dive in!
Specifications – Maven Optics B.3 10x30mm Binocular
Maven Optics is known for Award-Winning optics with a unique business model of selling them direct to consumers (so no middle man), and as a result, there is no additional retail markup. So, you get a higher quality product with a more affordable price tag. The Maven Optics B.3 10x30mm Binocular we are reviewing here today sells for $550 on Maven's website. All of the specifications for this binocular can be read below as presented by Maven Optics:
Magnification: 10x
Objective Lens Diameter: 30mm
Exit Pupil: 3mm
Field of View (FOV): 6.5°
Apparent FOV (FOV x Power): 65°
Field of View (Ft/1,000 yds): 341
Brightness: 9
Light Transmission (%): 94.60%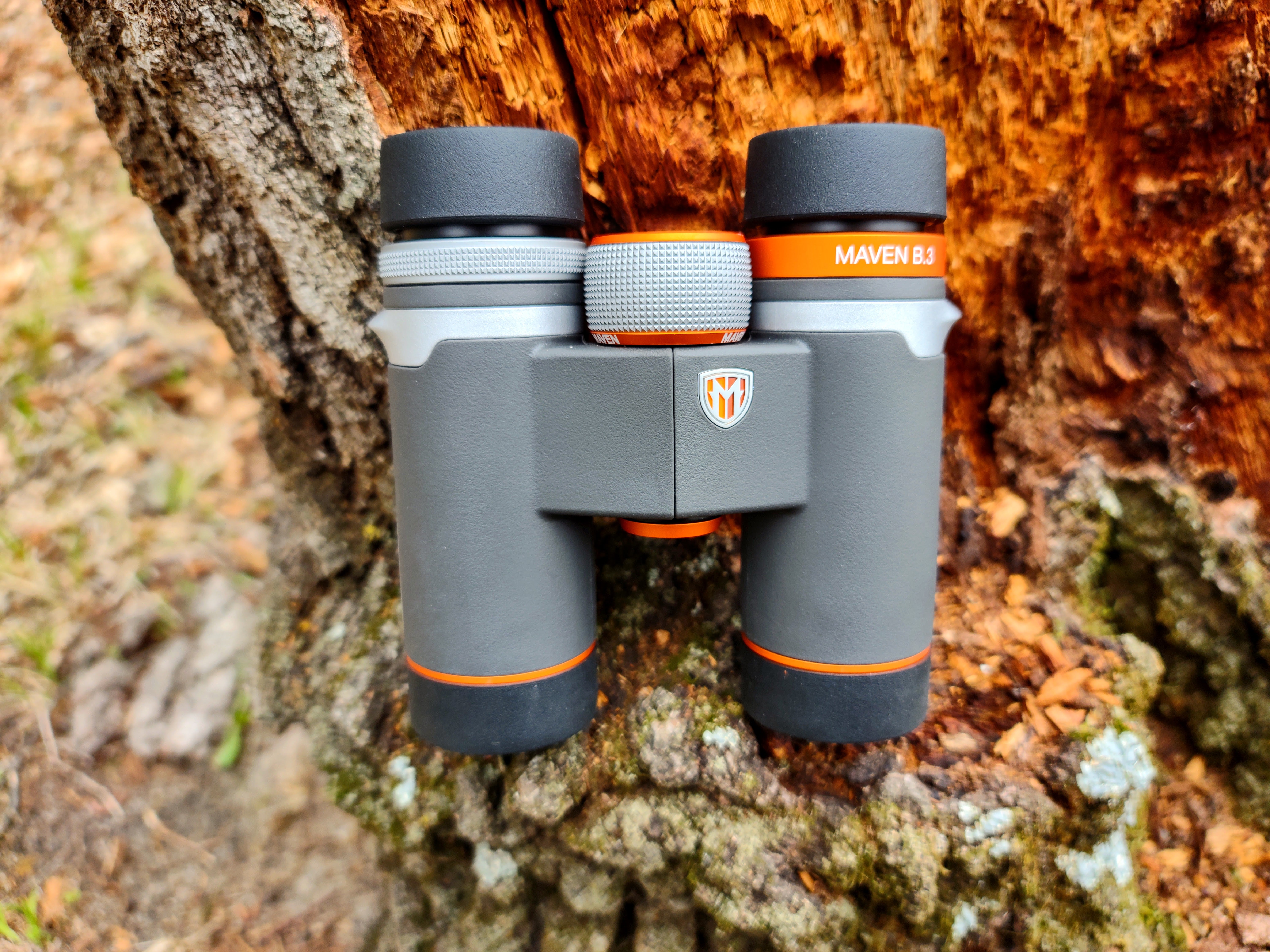 Twilight Factor: 17.3
Multi Position Eyecups (Y/N): Yes
Eye Relief: 15.3mm
Near Focus: 8.2ft
Eye Width Adjustment: 56~73mm
Dimension (W x H x D): 4.7″ x 4.6″ x 1.6″
Weight: 16.5 oz
Lens Constr. Objective: 3 Groups 4 Elements (ED)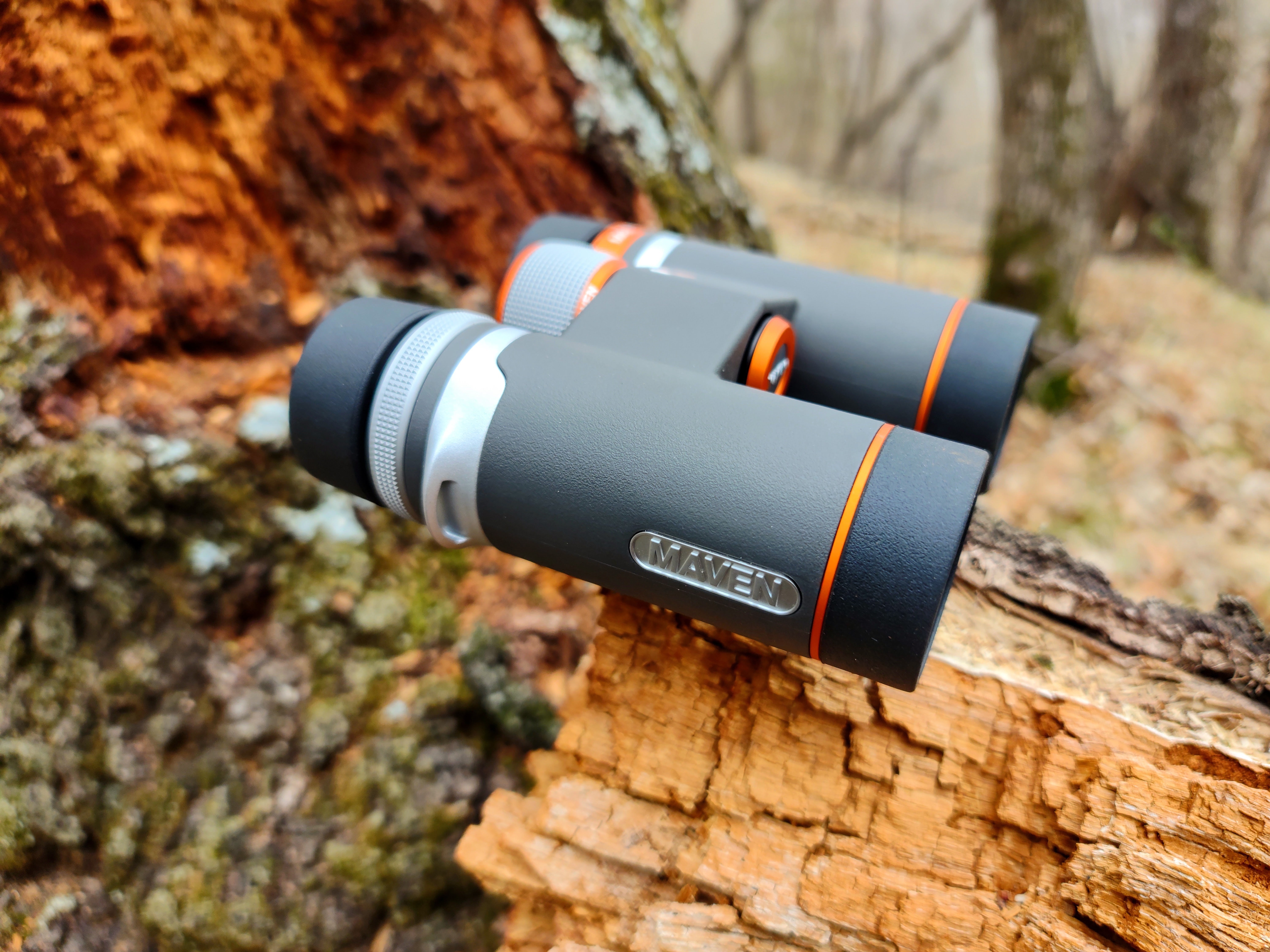 Lens Constr. Ocular: 4 Groups 5 Elements
Prisms Type: Schmidt-Pechan
Prism Reflective Coating Type: Dielectric Coating
ED Glass: Yes
Lens Coating: Scratch and Oil Resistant
Diopter Correction (dpt): +/-4
Pressure Tested to What Pressure: 1m for 30 min. (IPX7)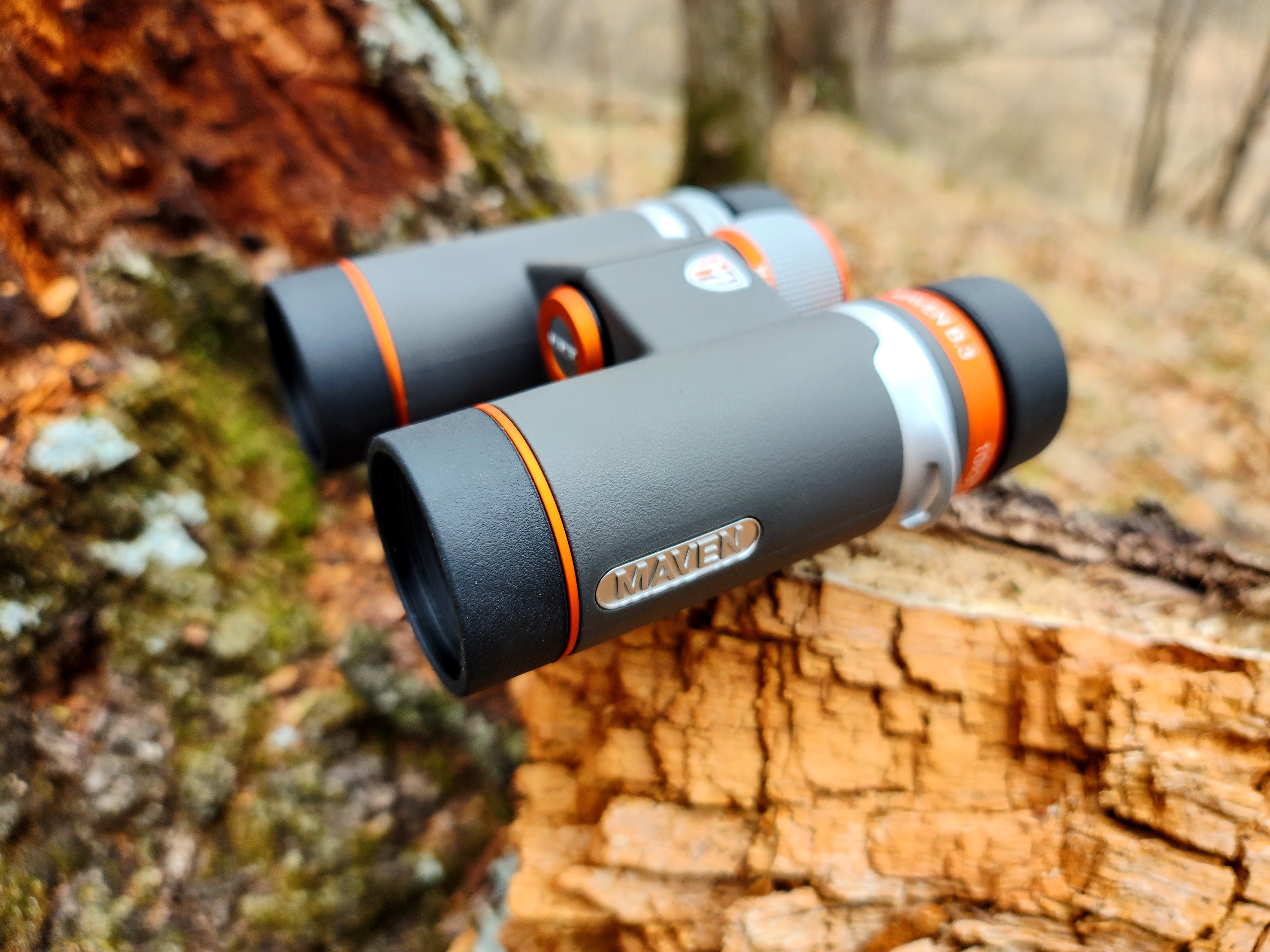 Storage Temperature: -40°~158°F
Functional Temperature: -13°~140°F
Frame Material: Polymer
Internal Gas Purged: Nitrogen
Tripod Adaptable (Y/N): Yes
Origin: Japanese Components Assembled in the U.S.A.
Maven Optics touts the B.3 Binocular as having exceptionally clear, bright, and high contrast images when looking through them in an assortment of lighting conditions. They are also waterproof and fog proof for the more temperamental days out in Mother Nature like I experienced.  Also, you can expect excellent color fidelity. Finally, these binoculars are tripod adaptable and feature a Lifetime Warranty. Maven Optics goes on to explain more about them in their Press Release statement below:
The Maven B.3 Binocular is our premium compact optic and is designed for those who demand superior optics housed in a small package. Though it's compact, it is not to be underestimated – the B.3 covers a wide variety of uses and is a regular go-to for big game, waterfowl, and turkey hunters, as well as birders, naturalists, and travelers who strive to maintain minimalism.

The B.3 also features tack-sharp edge-to-edge clarity, generous depth of field, a wide field of view, and a silky focus mechanism.

The Maven B Series represents our elite line of optics, designed to fit your specific needs, delivered for a fraction of comparable binoculars' costs and stacks up with the most celebrated and expensive binoculars in the world. Whether you choose a stock color unit or configure your own custom-built optic, our modern sportsman-inspired designs are paired with the best available materials and state of the art technology to create an uncompromising optic.

Includes neoprene neck strap, lens caps and double-layered microfiber storage bag.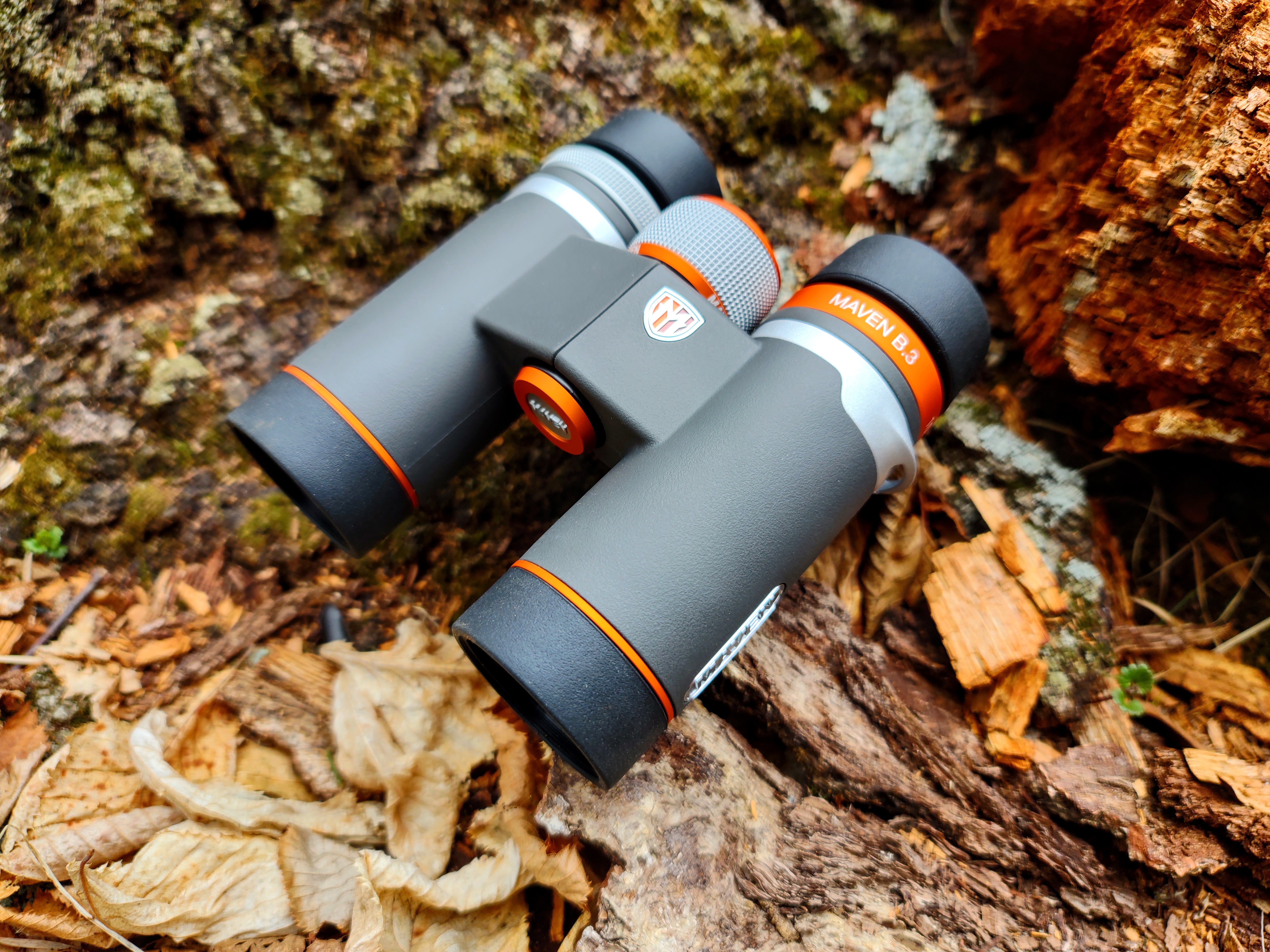 Field Use – Maven Optics B.3 10x30mm Binocular
As mentioned earlier, I had plenty of opportunities to put this pair of binoculars to the test with the bi-polar conditions Mother Nature presented me this spring. On some of my 1st early mornings, I was waking up to 35 degrees with forecasts of sleet or bone-chilling rain. In moments like those where I was bundled up to the hilt just to stay warm it was invaluable to have a set of binoculars where I could cut through the haze of that weather and see 100 yards across a woods for any sneaky, equally-cold turkeys headed my way.
It would eventually warm up to 50 degrees and as that rain lifted it would be replaced by a dense fog. It was invaluable to have a wide field-of-view with the Maven Optics B.3 as the fog settled in because I could adjust my diopter to see large swaths of forest in good clarity. Pulling the binoculars down to my side, then the world would be a haze once again.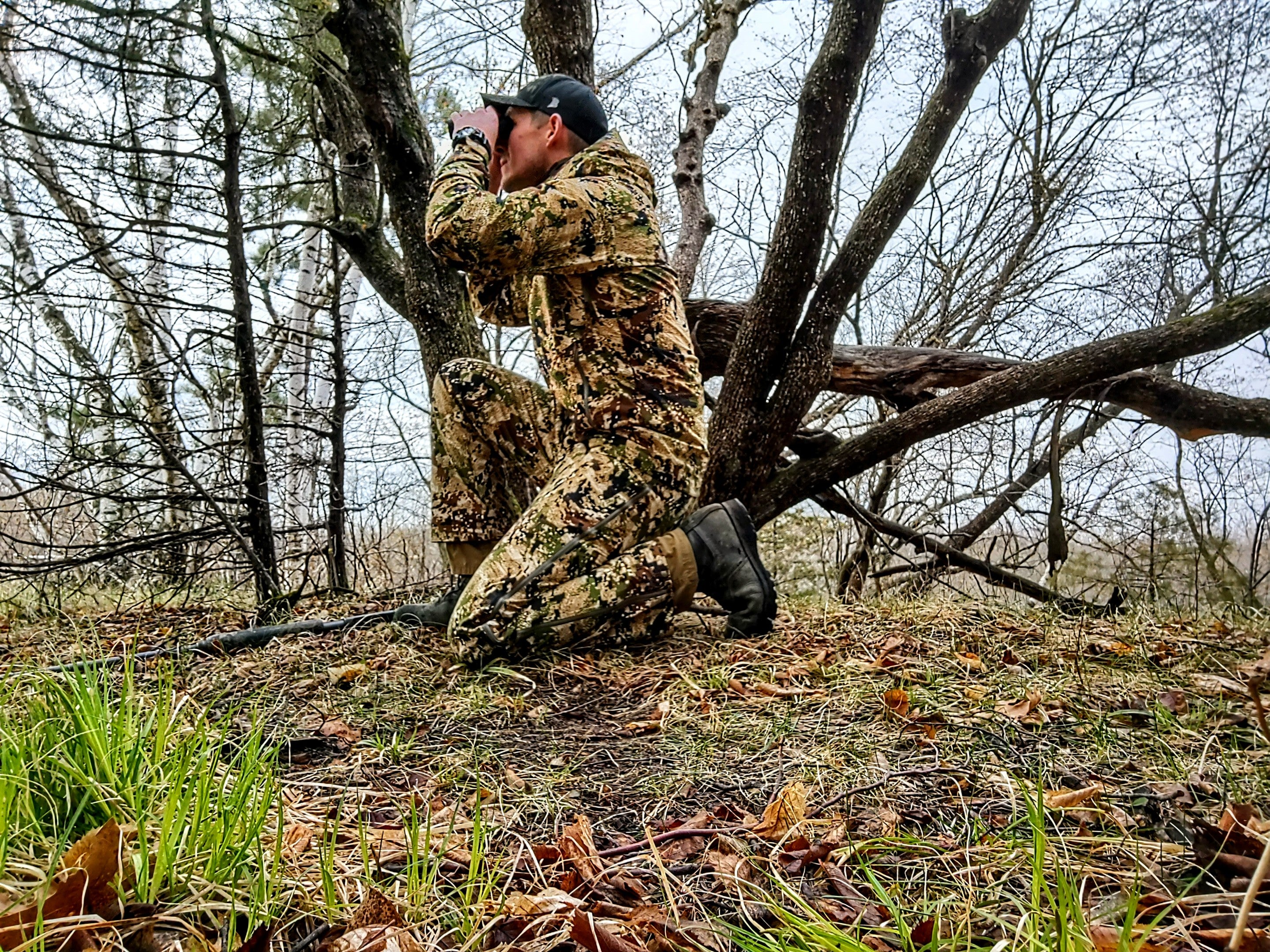 I especially appreciated the knurling/texturing on the diopter ring and focus wheel because many mornings my hands were numb and wet so being able to have that positive tactile feel was important. We all know the feeling of hunting for so long and staring at things far away so much that our minds play tricks on us. We begin to believe that a bush is definitely a turkey. I'd quickly dial in the focus on my Maven Optics B.3 and dispel those hunting hallucinations.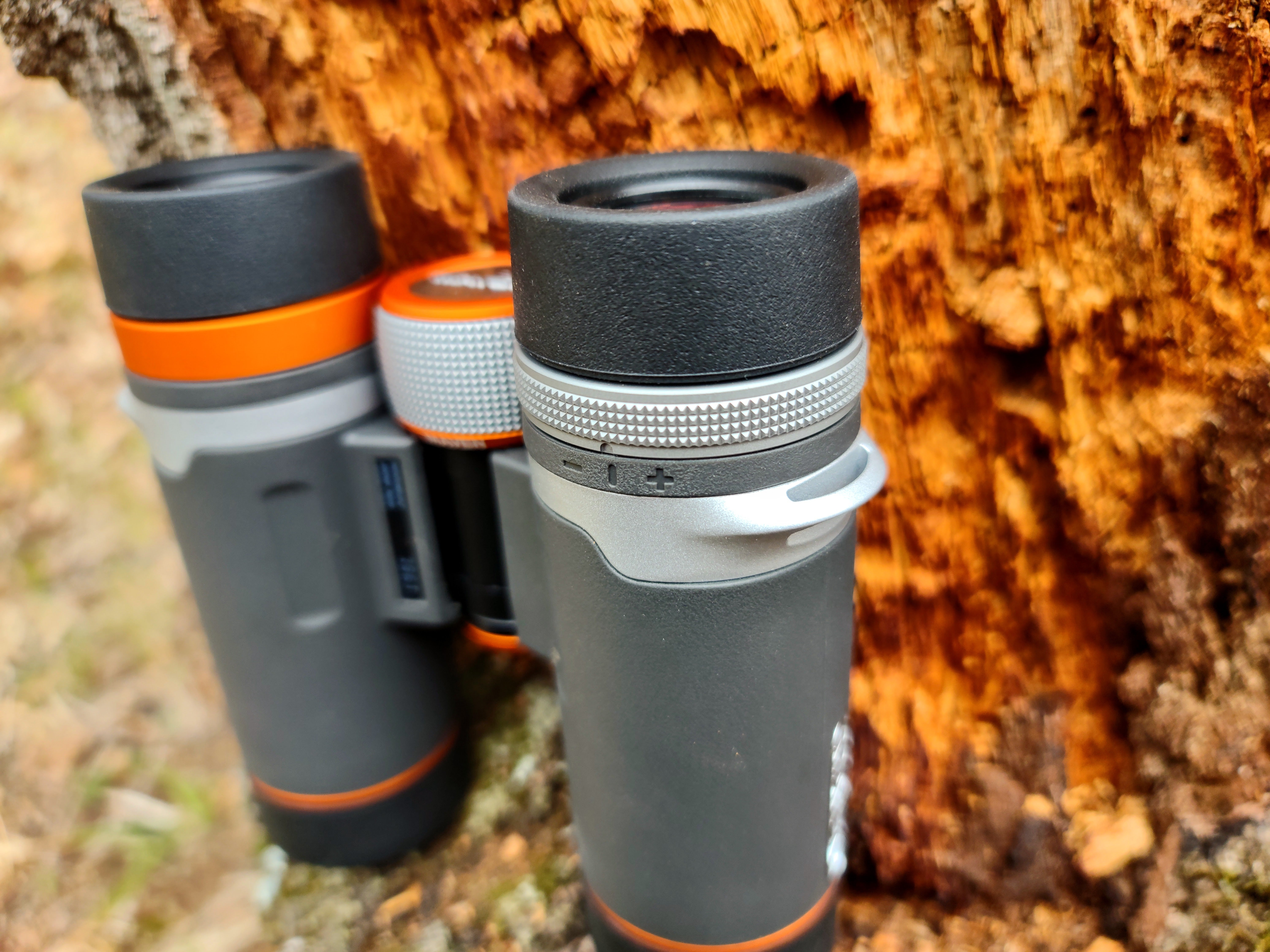 What finally sold me on the Maven Optics B.3 binoculars – and eventually lead to me punching my tag for turkey season – was a hunt later in the spring turkey calendar. I switched spots from a swampy Mississippi river bottom to some higher ground with lush foliage and oak trees. A gentle breeze was pushing all the undergrowth back-and-forth making it hard to discern subtle movements in the distance (like a turkey potentially approaching).
After an hour of sitting with no turkeys coming in, my mind once again started to believe all bushes were, in fact, turkeys sneaking up on me. As I squinted into the distance I thought I saw a flash of red? I swiftly lifted my binoculars and sure enough 3 healthy Toms were headed my way.
There was so much undergrowth and brush precluding them from my vision that the only way I could see them was with the increased magnification and clarity of the binoculars. They all stepped out into an opening at once, looked around for 1 phantom second, and disappeared… but I already had my shotgun raised and was waiting.
A welcomed cloud of smoke puffed from my shotgun as the biggest Tom laid before me. Thank you Maven Optics and your B.3 Binoculars for ensuring another successful year turkey hunting in some of the worst conditions I have hunted in yet.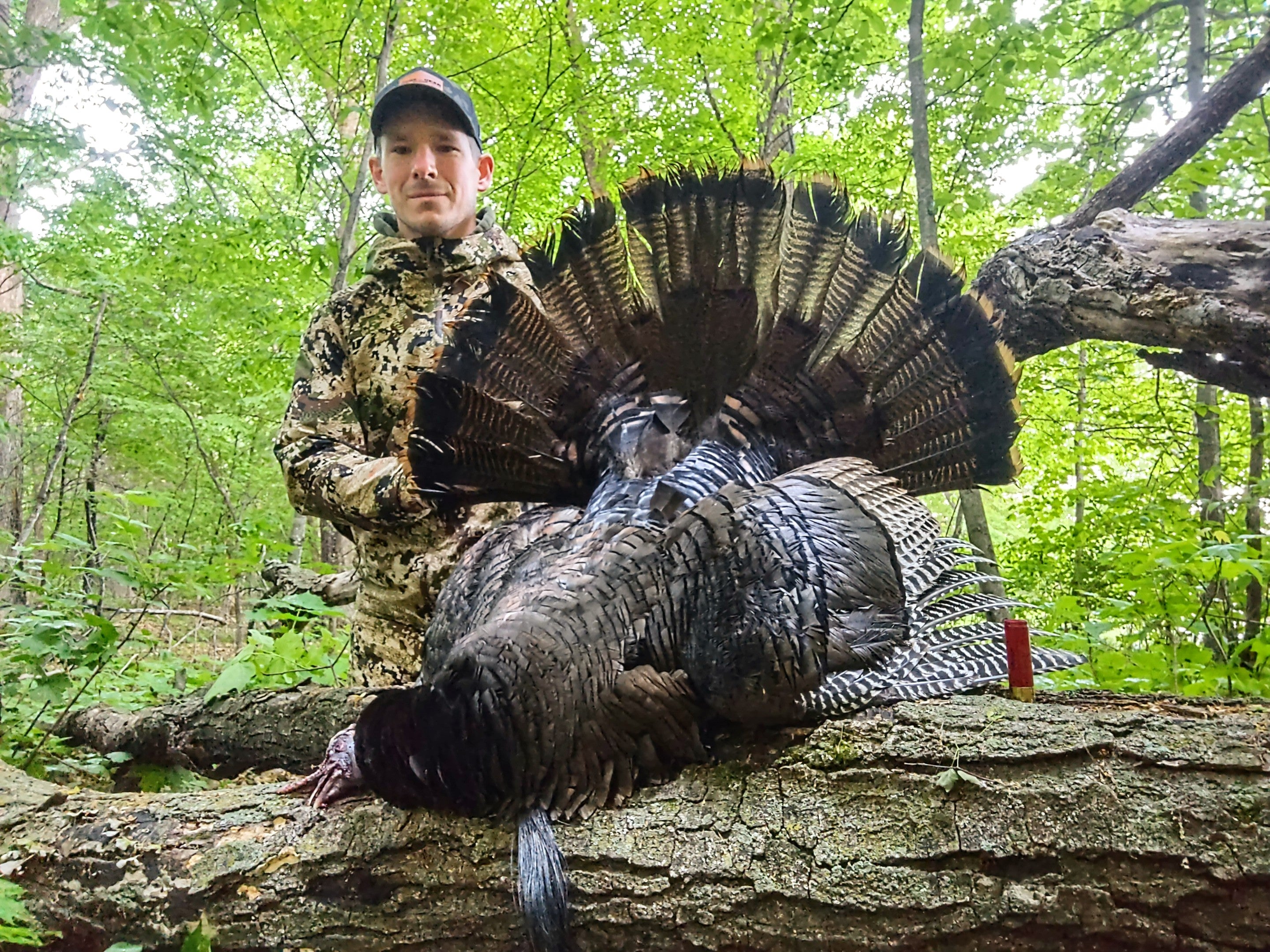 Final Thoughts – Maven Optics B.3 10x30mm Binocular
I had some great field use with the Maven Optics B.3 Binoculars for the better part of 6 weeks in some of the most maddening turkey weather I have ever experienced. I got to experienced the highs and lows of 70 degrees with sunshine and 30 degrees paired with sleeting rain plus everything in between. It makes for difficult sighting conditions to see a turkey, but the B.3 binoculars powered through.
It can be hard sometimes to put a price on a good set of binoculars, but knowing that I would have not filled my turkey tag this spring without them tells me everything. The quality and clarity of the B.3 is worth the $550 asking price and then some.
In closing, I want to say thank you to Maven Optics for allowing AllOutdoor and myself the opportunity to try out their Maven Optics B.3 Binoculars. That is greatly appreciated. Also, we would like to know what all of you guys and gals think? Do you believe that the Maven Optics B.3 Binoculars are something worth spending your money on? Would you take a pair with you turkey hunting? As always, let us know all of your thoughts in the Comments below! We always appreciate your feedback.