New SPRO Fat Papa Walker Brings New Life to the Topwater Game
Terry Nelson 06.11.21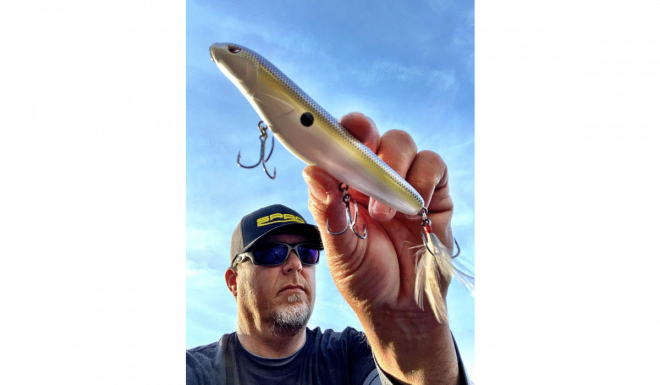 For bass anglers, summer means hotter temperatures and, in some cases, tougher fishing conditions. Often called the "dog days of summer;" however, many times there is still a bass catching method during those hot summer months that is pure excitement: topwater action.
When the fish are up in the shallows feeding, especially during early morning and late evening hours, topwater baits are one of the most explosive and heart stopping methods for catching bass. Now comes a new offering, SPRO's Fat Papa Walker brings new life to the topwater game with this age-old lure. In the following press release SPRO (Sports Professionals) give all the details of this new topwater bait.
Major League Fishing pro Russ "Big Daddy" Lane is a big man with a big appetite for big bass. So, when he needed a do-everything topwater walker for lunker bass from Florida to California, he enlisted the SPRO engineers to build the Fat Papa Walker. This 130mm (5.1 inches) beast calls the meanest predators on your local lake to strike out of pure aggression.

Not only is the Fat Papa Walker slightly bigger than standard walk-the-dog topwater's, but unlike its cigar-shaped predecessors, it features a distinctly distended belly that pushes massive amounts of water. It enables anyone to create a wide "glide" without much effort. As a result, expert topwater anglers will be able to make it perform all sorts of fish-tempting tricks, while even rank beginners will get this baitfish imitator to work properly with minimal effort.

If the wide walking action was not enough to draw fish from a distance, the dual rattle chambers create an aggravating clacking noise that inspires vicious strikes. In addition to the unique body shape, the Fat Papa Walker also has a shallow cupped mouth, thus adding to the varied ways you can fish this big surface lure. You can chug it, twitch it or walk it violently, everything from the most aggressive action possible to the most subtle – the only thing that won't be subtle is when a big bass inhales it. It's equally effective on largemouth, smallmouth and spotted bass, and don't be surprised if a giant striper or muskie comes up to take a bite out of it. Combined with SPRO's other purpose-driven topwater tools, this will complete your tournament-winning topwater arsenal.
SPRO Fat Papa Walker 130 Features
Size: 130mm (5.1 inches)
Weight: 7/8 ounce
Depth: Topwater
Action: Walk-the-Dog
8 Color Patterns
MSRP: $15.50
The Fat Papa Walker is perfectly matched to different forage bases and water conditions, so you'll always have the right tool for the job. Looking to spice up your summer fishing game and perhaps have the strike and big bass of a lifetime? Check out this new bait at spro.com!