NEW Daiwa Ever Green Showerblow SB-77.7 for Topwater Action
Terry Nelson 06.15.21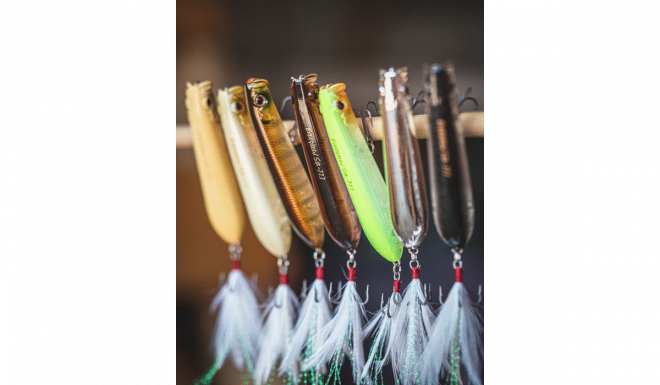 As we have recently mentioned, the hot days of summer can make your trips to the lake a bit more challenging when it comes to catching bass. An almost certain tactic for landing a few bucketmouths or bronzebacks is early-morning and late-evening topwater action. Having used a variety of popper type baits over the years, I am always looking to find a new popper with a different twist.
A new bait from Daiwa is the Ever Green Showerblow SB-77.7 for topwater action. This new bait offers a smaller profile that is sure to draw strikes and is offered in eight new colors. The following Press Release gives all the latest on this new finesse topwater action bait.
It walks, it chugs, it rattles, it spits, and it catches bass like crazy. Ever Green's Showerblow (SB) line of pencil poppers are renowned for its ability to draw smashing topwater strikes from lunker largemouth bass. Now, Ever Green and Daiwa have added a new downsized version that's ideal whenever you need more finesse or want to invite bronzebacks to the brawl.

Measuring just 3.5 inches (77.7 mm) and available in eight sharp colors to match any type of forage or water conditions, the new Showerblow SB-77.7 features the same built-in tungsten weight transfer system as the larger sizes to both increase casting distance and provide a loud, fish calling knock on the retrieve. Showerblow's unique aerodynamic shape and weight transfer system allow you to reach out to surface breaking fish or the back of coves with pinpoint accuracy. Its pencil-popper shape makes it perfect for walk-the-dog retrieves while a scooped face adds extra splash with every twitch of the rod.

"These new, smaller Showerblows are absolutely awesome," says Daiwa's Field Marketing Manager, Marc Mills. "Their shorter length makes them ideal for targeting smallmouth bass or matching the hatch for bigmouths when smaller forage predominates. Like its larger brothers, the SB-77.7 features premium-quality split rings, super-sharp hooks, plus a hand-tied feather tail on the back treble for extra predatory attraction. Extremely versatile, you can fish them with any kind of surface retrieve and at any speed from a quick-paced walk-the-dog motion to a pop-and-stop presentation. With a pencil-popper body shape and cupped face, these lures move easily across the surface while kicking up plenty of splash. They really have a way of provoking explosive surface strikes."
The Ever Green Showerblow SB-77.7 retails for $15.99 and is available in eight proven patterns. With water temperatures on the climb across the country, give these "finesse" poppers a try as quickly as possible to take full advantage of that summer surface bite. Check out Daiwa's fishing tackle at daiwa.us.