Fusion Firearms Custom 10mm 1911 with Gadsden Themed Slide
Luke Cuenco 06.18.21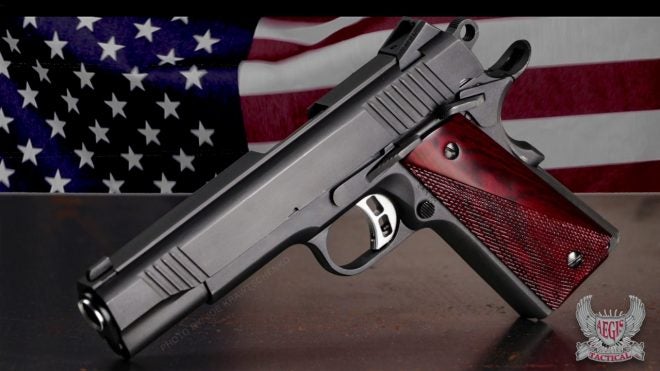 The venerated 1911 pistol is no longer a go-to combat weapon for a vast majority of nations across the world. However, its historical significance, effectiveness, and lineage as a sidearm for the American Military cannot be ignored. I think this is why the 1911 still finds itself in the hands of gun enthusiasts and collectors all over the world and sometimes in new configurations. Kinsey's Distributors has teamed up with a high-quality 1911 maker to create the Fusion Firearms Custom 10mm 1911 pistol with a Gadsden themed slide paying homage to the 2nd Amendment.
New Custom 10mm 1911 Offered from Kinsey's Distributors and Fusion Firearms
The new 10mm 1911 pistol design will feature a modernized rendition of the popular phrase "Don't Tread On Me" as seen on the Gadsden flag. In addition, an engraved rattlesnake will adorn the right side of the slide while an American flag will be engraved on the left-hand side. The grip of the 1911 is similarly stylized with the grips being checkered and colors to have the snake design within the grips.
"We're excited to offer a unique piece that pays tribute to our shooting heritage and support of the 2A. The quality of Fusion Firearms paired with the unique artwork of Kinsey's own design team will provide dealers a must-have 1911 pistol that surely stands-out in their shops, all for an exceptional value.

-Alex Cameron, Director of Purchasing Operations at Kinsey's"
This firearm will only be made available from Kinsey's through their select FFLs. For more information or to see more custom firearms distributed by Kinsey's you can visit kinseysinc.com
While the mating of the 1911 platform and the 10mm cartridge has been done before, I don't think we'll stop seeing custom variations of the 1911 and further excuses to keep 10mm alive despite its relatively obscure nature. I think Fusion Firearms does some pretty tasteful work as well and you should check out their Facebook page if you're into custom 1911 work. I've posted a few examples of their custom work below.