The New RS.5 Second Focal Plane 4-24x50mm Scope from Maven
Luke Cuenco 06.23.21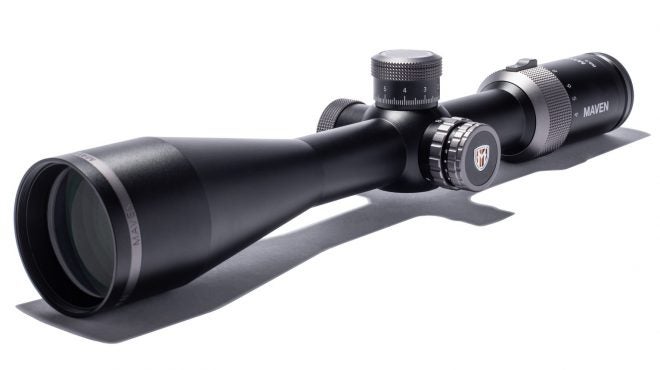 A lot of hunters can attest to the benefits of the second focal plane scope for short- to mid-range hunting. Not only is your reticle perfectly sized no matter the magnification level, calculating ballistic drop at longer ranges is going to require you to work your brain a little bit which I think makes for a more challenging and more sporting hunt. The new Maven RS.5 second focal plane riflescope is just the optic for this type of job. So, if you're looking for a new second focal plane scope for this year's hunting season, perhaps you might consider the new RS.5 SFP scope.
The New RS.5 Second Focal Plane 4-24x50mm Scope from Maven
HIGHLIGHTS

Premium Model
Size:  14.4 in.
Weight:  25.5 oz.
Second Focal Plane
0.25 MOA/click or 0.1 MRAD/click
No-Shim Reset-able Zero Stop
2 reticle options: SHR-W (MOA), SHR-W (MIL)
10 Level Red Reticle Illumination
30mm Tube
Extra-Low Dispersion ED Glass
Exceptionally Clear, Bright, High Contrast Image
Excellent Color Fidelity
Waterproof and Fog Proof
Lifetime Warranty
Direct to Consumer / No Retail Markup

The Maven RS.5 will retail for $1,400 and as you read above this is direct-to-consumer sales so you aren't paying a bunch of extra money to have it passed from Maven to a big box store or local gun shop only for them to mark it up even more and then sell it to you. I think this is an incredibly smart business model that allows for the consumer and producer to both benefit from the streamlined exchange.
Some of the features I most like about this scope are its 10 levels of illumination, the no-shim rest-able zero stop as well as its included neoprene cover. I never thought illumination was very important till I started shooting multiple targets at various ranges without setting up first. In a hunting situation, this could mean something like cloud cover or perhaps an unexpected target color meaning the illumination would help your reticle stand out better when put up against your target – it's an incredibly useful feature even if you don't use it all the time.