New Vudu 8-32x50mm SFP Long-Range Riflescope from EOTech
Luke Cuenco 06.25.21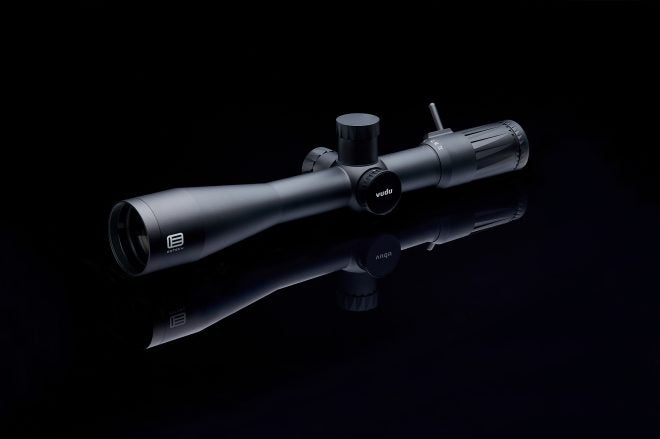 If you're on the hunt for that extra bit of precision at long ranges then EOTech has a new offering for you. Their new Vudu 8-32×50 SFP riflescope offers a clear image, impressive magnification, and tons of options for dialing in your targets at extended ranges. The new EOTech Vudu 8-32x50mm SFP riflescope was developed for dedicated long-range shooters in mind and features their HC2 MOA-based reticle for precise holdovers at extended ranges.
New Vudu 8-32×50 SFP Long-Range Riflescope from EOTech
"The Vudu 8-32×50 SFP riflescope delivers features F-Class, benchrest and varmint shooters love. And like all EOTECH optics, the Vudu 8-32×50 SFP will endure the rigors of everyday professional use."
Vudu® 8-32×50 SFP Scope Specifications
Magnification: 8x – 32x
Objective Lens: 50mm
Focal Plane:  Second Focal Plane
Eye Relief 8x: 86-98 mm; (3.39-3.86 in.); 32x: 89-98 mm (3.50-3.86 in.)
Exit Pupil 8x: 5.3 mm (.21 in.); 32x: 1.6 mm (.06 in.)
Field-Of-View (Degrees) 8x: 2.53 degrees; 32x: 0.63 degree
Field-Of-View (@100 Yards) 8x: 4.0 m (13.2 ft.); 32x: 1.0 m (3.3 ft.)
Elevation Travel: 100 MOA
Windage Travel: 80 MOA
Exterior Finish: Flat Black; Type III anodized
Overall Length: 392mm (15.4 in)
Weight: 930 g (32.8 oz)
Tube Diameter: 34mm
Price: $1,799

The EOTech 8-32x50mm riflescope is aimed squarely at the precision shooting competitor crowd. Like all other Vudu scopes, the 8-32x50mm is made from an aircraft-grade aluminum main tube with a hard-anodized finish. The combination creates a durable yet lightweight and waterproof package. Each Vudu scope is environmentally tested to ensure durability in all conditions.
The 8-32x version of the Vudu features an HC2, MOA-based hashmark reticle that was designed specifically for the long-range shooter. The non-illuminated crosshairs allow for windage and elevation correction and the ultra-small center aiming dot provides both a clear view of the target and pinpoint accuracy even when magnified fully. Finally, each click of the turrets yields a 1/8″ drift @ 100 yards (.125 MOA) for precise adjustments. This adjustment rate produces a full 10 MOA of adjustment per rotation of the turret. The 34mm main tube allows shooters to adjust up to 100 MOA in elevation and 80 MOA in windage meaning you can use this scope out to extreme ranges.
This scope could work easily in the hands of a skilled hunter who has their rifle dialed in, but is probably best suited for those shooting in a competition setting. However, having known some pretty ballsy hunters using some pretty common calibers (6.5 Creedmoor and the like) to take down their game at well over 1,000 yards! If this seems like something you would do then you'd ideally want all the magnification you can get to make sure you've got the right holdover for the distance of your target.