AllOutdoor Review: Vasque Satoru Trail LT Low Shoes – Wildland Test
Eve Flanigan 06.29.21

Well-known adventure footwear company Vasque recently announced their lightest hiking shoe ever, called the Satoru LT Low. I was lucky to get a sample, and gave it an unexpectedly rigorous test in the Guadalupe Mountains of southeast New Mexico. The shoes are available in nearly identical men's and women's models. I chose the women's olive color. Women's are also available in black or purple. Men's are offered in two editions of black, plus a dark greenish gold called "dried tobacco."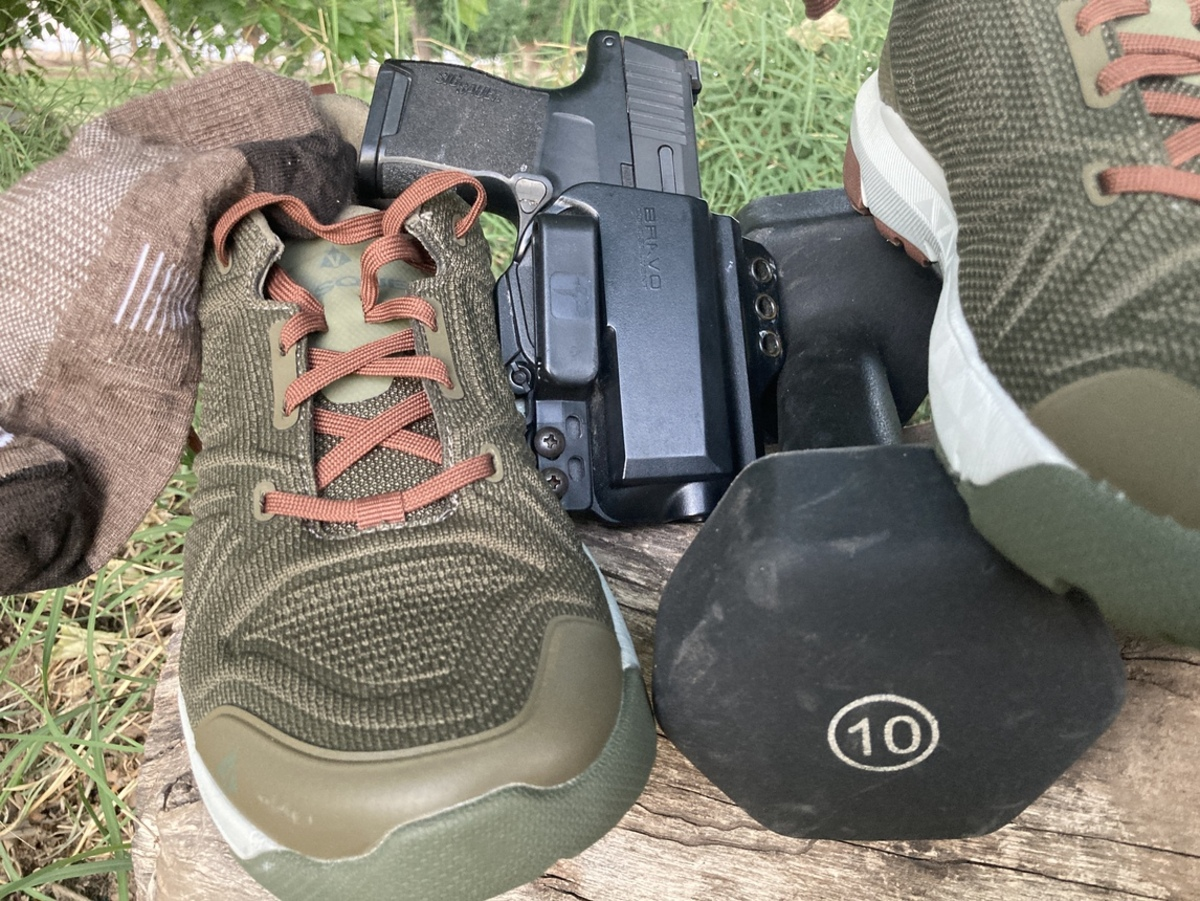 Appearance-wise, these are attractive and unique shoes. The bas relief-style pattern of the fabric makes them different, and the material both feels and performs better than the fine mesh that is common on athletic shoes. Yes, they're called "low," but come up all the way to below the ankle and offer good heel coverage. The collar is well-padded for comfort.
I like subdued colors for outdoor work/play and was at first a bit turned off at the sole sides being off-white. After a day on the trail, they took on a pleasant bit of wear that took off their bright visual edge.
This test entailed a rigorous hike on rocky, moderate to difficult trails of the Guadalupe Mountains in the Lincoln National Forest. It was about six miles and included very rough terrain, not to mention that even on the gentlest of trails in this area, there is scarcely any plant life that doesn't attempt to pierce or snag whatever passes over it.
Donning the shoes, many helpful traits were immediately obvious. The wide toe box is conducive to healthy feet. I've learned the hard way that most shoes in the western world are foot-deforming, and am pleased to say that the Satoru LTs left me with zero forefoot or sole pain; a rarity in the years since my feet began to painfully protest narrow toe box construction.
The shoes are well-padded throughout, especially under the laces which is a friction point for some hikers. They're also remarkably breathable. It was 103F on test day, and the hike was conducted in Mountain Heritage merino wool socks by Minus33. These are a great pairing for the Vasque Satoru LTs. Despite truly hot temps and a blazing sun, my feet never felt overheated. (That said, I am adapted to the climate and stayed hydrated).
In terms of traction, the Vasque Satoru LTs have probably spoiled me for life. The trail was often steeply slanted up, down, or sideways, and usually strewn with rocks that could dislodge with slight errors in hiker balance. These shoes have significant flexibility, which is good for foot health and traction, but there's more.
The soles have raised, cloverleaf shapes rather than continuous, car tire-like rubber. It seemed appropriate to do a tire test on the tread depth. They're just a little deeper than Abe's head, passing the test for a car – and for me. It is no exaggeration to say I've never felt more confident in my trail traction. These strike a great balance between flexibility and grip.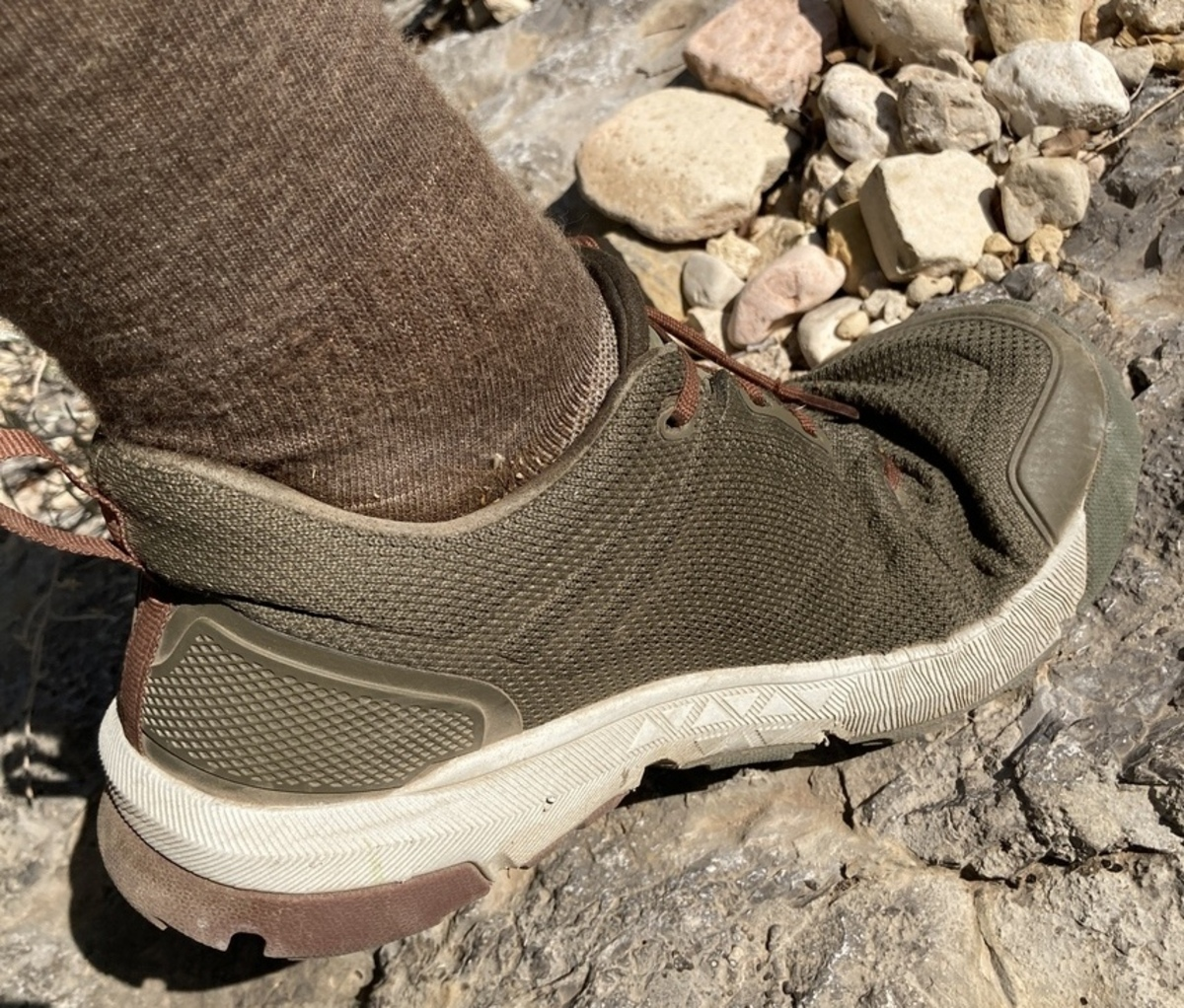 The flexible, soft rubber panels interspersed in the Vibram soles are placed intelligently at the toe base and midfoot. While the resultant flexibility is really wonderful for comfort, these panels are also vulnerable to wear. They had deeply-embedded grass burrs upon my arrival home, not to mention one significant tear, maybe from a sharp rock but more likely from a short cactus I never saw. I'd expect to get a year of solid use out of the Vasque Satoru LTs under hard desert wear, but not a lot more due to this vulnerability. Keep in mind, most people are probably not walking in such extreme conditions on the regular.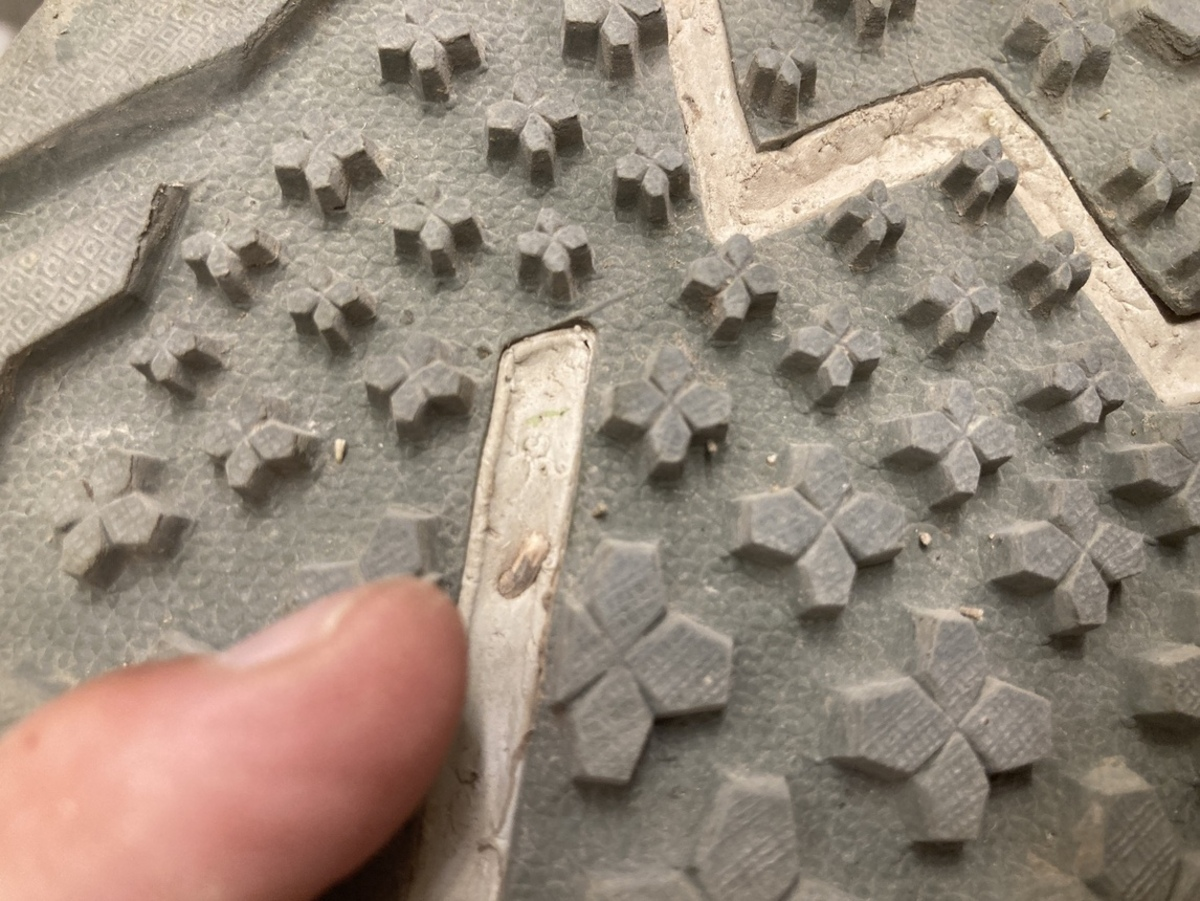 Laces are an important aspect of hiking footwear, and I breathed a sigh of relief to see that these shoes have flat laces, which means they stay tied. There probably is a trick to keeping round laces tied, but I've never figured it out. The laces match the olive shoes and will be impossible to match on replacement, though. They did snag quite a lot on the many prickly pear and catclaw encountered when exploring off-trail. The now-ragged appearance doesn't bother me, but it might bother others. Remarkably, the shoe material did not snag despite exposure to some wicked-jaggy plants.
Speaking of lacing, there is a fairly large gap between the top eyelets when lacing these up. One should make a conscious effort to tie the knot in the middle of the foot or risk the shoe pulling to one side. The tongue is thickly padded so there's no lace pressure on the foot.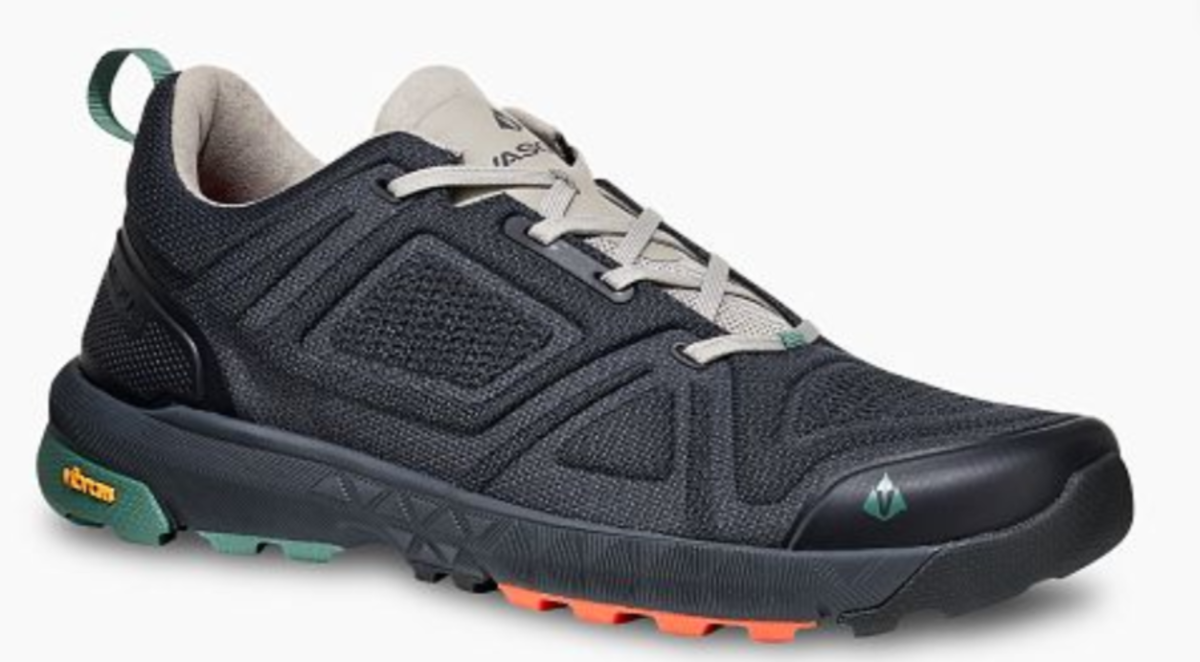 At the outset of this test, I was skeptical about finding shoes that would be comfortable on my bunion feet. I often wear men's shoes to find a wide-enough toe box. My faith in footwear is bolstered after trying the Vasque Satoru LT Lows. Not only do they leave me pain-free, I am safer and more confident on rough terrain with their unique traction design. I really cannot recommend them highly enough. I'm no sizing expert, but they seem to run true to size. They're offered in men's sizes 7 to 14 and in women's 6-11; both in regular width for $149.99.