AllOutdoor Review: Pietta 1851 Navy London Old Silver
Sam.S 07.02.21

I have always been a huge supporter of anyone expressing interest in the items of old or items that emulate the old. Black powder has always been something I've known well enough about to be helpful to anyone asking, but this was my first real-deal event of working with a black powder revolver. This time around I had the fantastic opportunity of working with a beautifully embellished reproduction of a Colt 1851 Navy black powder revolver. Pietta plans on offering this excellent-looking 1851 Navy London Old Silver model later this year or early next year, but let's get into the nitty-gritty and see how the review went!
Specifications: Pietta 1851 Navy London Old Silver
The manual says for .36 Caliber Colt style revolvers using a .380 round ball are to use a target load of 16 grains of 3F or a maximum charge of 25 grains of 3F. I used round balls and around 12-15 grains of Pyrodex P powder since my powder measure was a bit flimsy. I started out by using grease to seal the chambers, but eventually decided that the lead ring being shaved was enough for just plinking and I no longer had to deal with the mess as much. To my inexperienced surprise, this really was a messy slow process until I got the hang of it.
 Black Powder, Muzzleloader
Percussion Caps: Number 10

 36 Caliber

Frame Finish: Polished Steel
Frame/Barrel Material: Steel
Engraving: Floral Frame & Barrel, Naval Cylinder

 Fixed Hammer Groove

Trigger Pull Weight: Roughly 1.5lbs (This Sample)

 Polished Steel
 7.5″
Twist Rate: 1:30″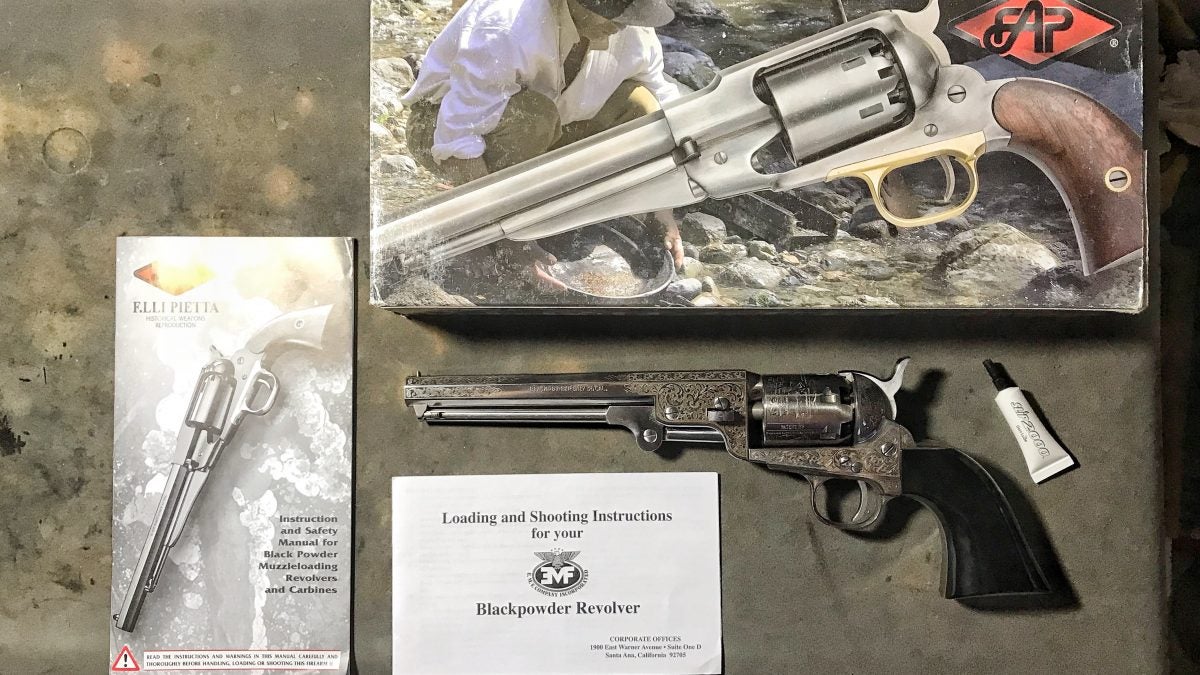 As I mentioned in the intro this particular Pietta is one that is yet to be released. I was told that it is planned to hit the market later this year or early next year and will be available through EMF which is a subsidiary of Pietta. The rough estimate of the MSRP is $330 which is super fair given the sheer beauty of it. On Pietta's websites they have this to say of the 1851 Navy:
"A very popular revolver for its time, the model 1851 Navy revolver was adopted by both the U.S. and British military.

-Pietta USA

The 1851 Navy model was probably Col. Samuel Colt's favortie. It was he who called it Navy, thus indicating its use for the navy thanks to its small caliber, the 36. However, it was sold in greater quantities to the army and became the inseparable companion of the Northerners throughout the Civil War.

The Model 1851 Navy Yank was considered among the brightest single action revolvers, thanks to its rapid draw and light recoil. Available in the versions "SHERIFF'S Model" with reduced barrel (the favorite weapon of the legendary Sheriff of Abilene, Will Bill Hickok), "CIVILIAN Model" with silver plated brass underguard and clamp, and "LONDON Model" with steel underguard and clamp as those produced precisely in the city from which they took their name from 1853 to 1856.

After the war, the Southern government found itself appealing to the sense of patriotism of anyone who could contribute to the production of weapons. The patriot M. Griswold replied to this request for help. The production of arms of Griswold & Grier was immediately stopped due to the lack of steel; Church bells, sword handles and cannon parts were then used. Thus was born the Reb Confederate, with round barrel, red / yellow brass receiver, brass bands and underguard like the slide, the Reb Nord Navy with the only difference being the octagonal barrel.

To complete the range we have introduced the SHERIFF'S and CARABINE versions.

-Pietta Italy"
First Look: Pietta 1851 Navy London Old Silver
Upon first receiving this T&E (Test and Evaluate) sample from Pietta things were a little confusing, but were thankfully cleared up by the kind people I was working with. I did not know that this revolver was an upcoming offering initially so I was scouring the web for a SKU number to share or an official MSRP. Luckily that was all cleared up and I can dive into the first impressions out of the box.
The Pietta 1851 Navy London Old Silver comes in the normal Pietta cardboard-sleeved foam box. The cardboard depicts a western-style setting. The foam box is divided nicely and houses a gun, tube of lube, and the manual. The Manual was the first thing I really dove into because when working with black powder you want to cover all your bases before you start loading anything.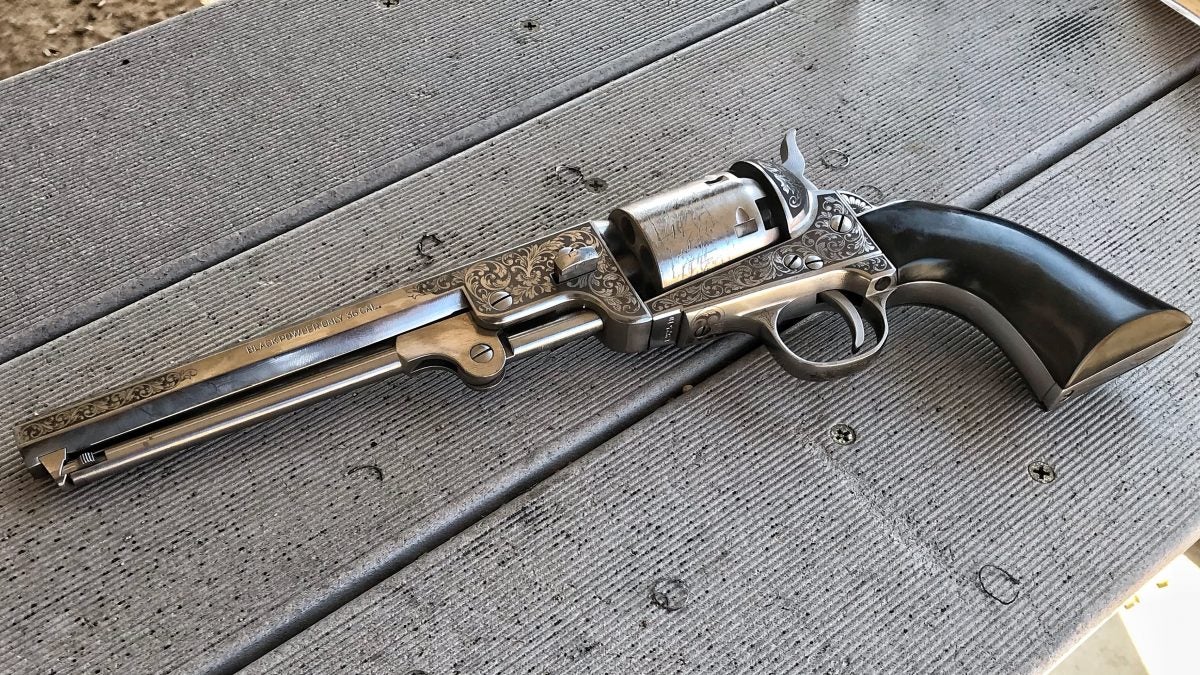 Range Time: Pietta 1851 Navy London Old Silver
I have had several range trips with this beauty because it is genuinely so much fun, but more on that later. The first time loading the cylinder was my very first time loading one like this. I knew how to do it and that it is a messy process, but I had no idea how difficult it could actually be. It was a windy day, my powder measure was a flimsy one, the grease was messy, and it took me probably around 5-10 minutes to load one full cylinder. I started by firing just the caps to clear the nipples of any debris and then loaded. After loading I aimed at the target and my first shots are in the picture below. It was a six-shot group spanning about 5 inches at 15 yards.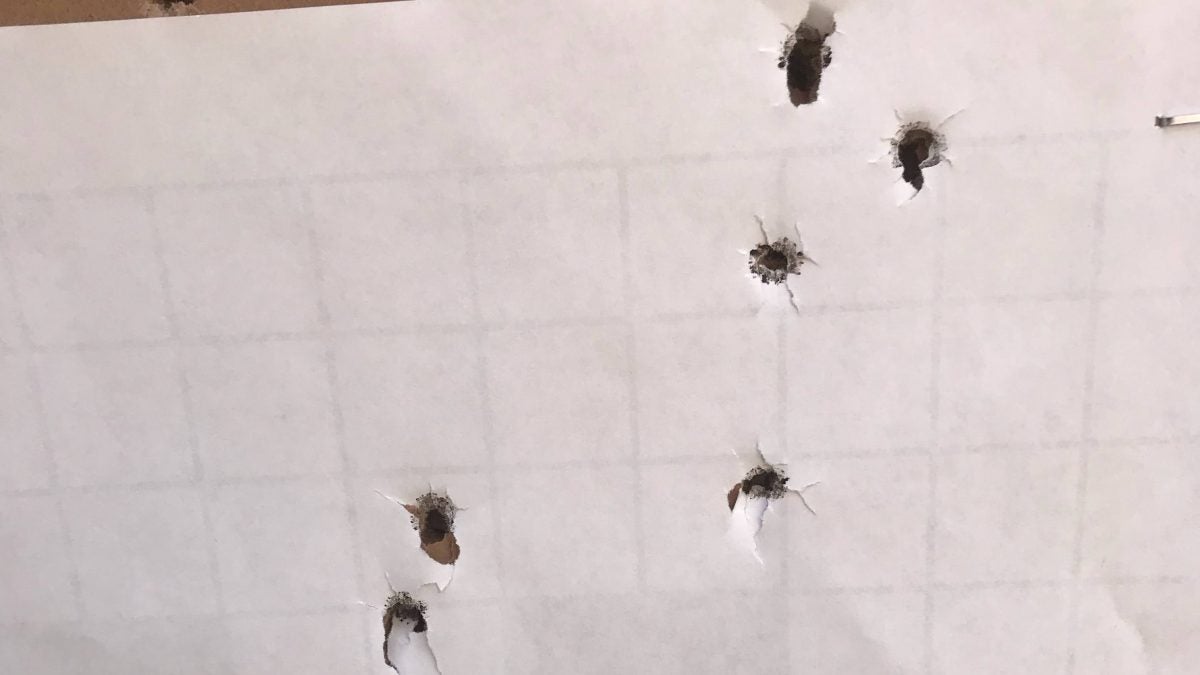 Shooting it was interesting because as I said it was my first extensive experience with a black powder revolver. Depending on how well I packed powder there would be a very slight delay between the hammer dropping and setting the gun off and that was so interesting to feel. The accuracy was actually super surprising. On the most recent range trip with it, I shot at a metal target 25-30 yards away and was hitting right where I intended. The spent caps tended to jam if I did not operate the gun in a certain rhythm which I already know is normal of the colt style revolvers.
Now back to the fun! This gun was an absolute blast to work with. It made me feel even more like an old soul than I already am. I think it says a lot about the quality and ease of use in general if an experience that is normally messy and cumbersome was positive. I thoroughly enjoyed my time with this revolver and would not hesitate to work with another!
Final Thoughts: Pietta 1851 Navy London Old Silver
My final thoughts on the upcoming Pietta 1851 Navy London Old Silver are quite simple. Thanks to Pietta and their excellent craftsmanship my first real experience with a black powder revolver was a positive one. This particular example is absolutely beautiful and it stays that way after a range session. Like all black power guns, it got gummed up and dirty and needed proper cleaning, but man did it still look attractive. If I had the opportunity to find this one on a shelf and I had the money I would buy it in a heartbeat. I am spoiled because I am not hard to please and I have wonderful chances to work with items I think I will like, this one definitely did not disappoint!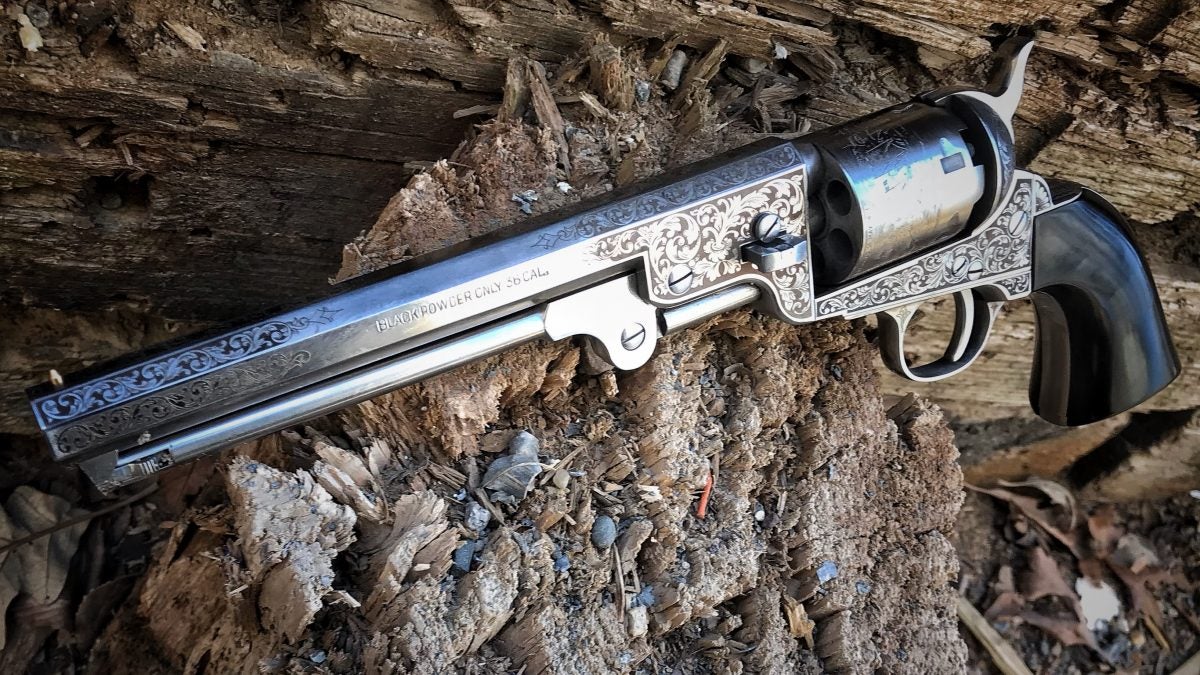 In closing, I want to say thank you to Pietta for allowing AllOutdoor and myself the opportunity to try out their upcoming 1851 Navy London Old Silver. That is greatly appreciated. Also, we would like to know what all of you guys and gals think? Do you believe that this charming cowboy gun is worth spending your money on? Would you take this out to the range? Would this be your go-to western revolver? Let us know all of your thoughts in the Comments below! We always appreciate your feedback.