AllOutdoor Review: Franklin Armory BFSIII AR-C1 Binary Trigger
Sam.S 07.07.21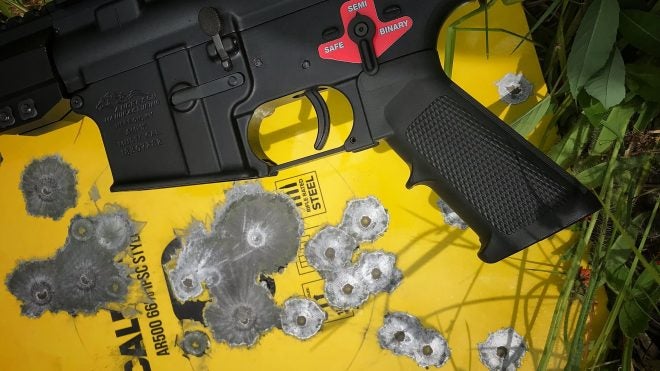 Having the experience I have had so far in the firearm world things have a way of getting somewhat mundane and the extraordinary tends to blur into the ordinary. That is when you really start looking for those things to put a real big smile back on your face. This is why I sought out the opportunity to review the Franklin Armory BFSIII AR-C1 Binary Trigger.
For those of you who do not know what a binary trigger exactly is, I am happy to explain. To put it simply, if you pull the trigger the gun goes bang once and when you release the trigger the gun goes bang once. Now before you start scouring the internet make sure to check your local laws on binary triggers.
Specifications: Franklin Armory BFSIII AR-C1
The Franklin Armory BFSIII AR-C1 specifically is a replacement trigger for any mil-spec AR15 style rifle, including rimfire models (not the M&P15-22 though since it would necessitate the modification of the receiver of a firearm). The BFSIII AR-C1 has a similar counterpart to the BFSIII AR-S1 which is also meant for AR15 style rifles, but it has a flat-faced trigger instead of a standard curve. The BFSIII AR-C1 comes in a nice little package with all the parts you need to install this in your firearm (besides the tools and know-how required to disassemble an AR lower). They give you the following:
Includes: An Assembled Trigger/Disconnector/Slave Pin, Ambidextrous Safety Selector, Firing Mode Sticker, Slave Pin (and extra), Extra Disconnector Spring, Two Buffer Springs (One is Stronger), Manual, Franklin Armory Safe-Semi-Binary Red Sticker
Intended Platform: AR Style Rifles (Ones That Take Milspec Triggers)

Fits: AR-15s, AR-10s

Trigger Shape: 

Curved (They do make a straight one found here)
Trigger Color: Black

Trigger Settings: Fire, Safe, Binary

Fitting: No hand fitting is needed, but an experienced armorer should install it.
Trigger Pull: 4.5 lbs, +-.5 lbs
Trigger Pin Size: .154″
Not for Civilian Sales In: CA, CT, DC, FL, HI, IA, MD, NJ, NY, RI, and WA
Not Meant For: 80% lowers, Polymer lowers or Carbon lowers.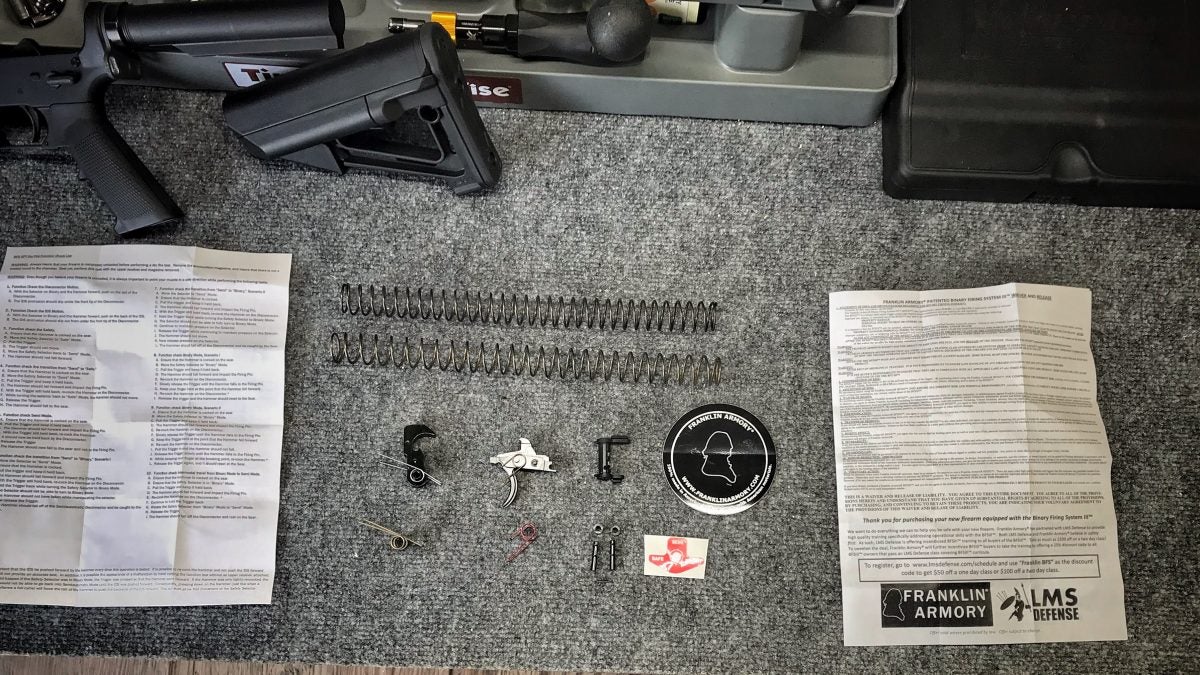 The MSRP of the BFSIII AR-C1 is $429.99 and as of the time of me writing this, it is on sale for less. I have seen Franklin Armory do many sales in the past so if the understandably expensive upgrade to your firearm is daunting fret not there will always be sales ahead! When I say I find the expensive nature understandable it is mainly because of the nature of the world we live in. Uneducated people have the potential to deem a binary trigger to be something other than what it actually is since in a sense it helps decrease the time between follow-up shots. This trigger does not make your gun into a machine gun! Pull = Bang. Release = Bang. More on the BFSIII below:
"The Binary Firing System® GEN 3 (BFSIII®) is a 3-position trigger. In position 3 it fires one round on pull and one round on release, making this trigger ideal for both tactical and competition use. The BFSIII® provides greatly reduced split times between rounds, allowing for tighter groups…

Franklin armory® is a Nevada corporation that specializes in manufacturing quality firearms for sporting, military, and law enforcement applications. We are well known for our creative products such as the binary firing system™, reformation™, providence™, the f17™ series of rimfire rifles in 17 WSM, and our finely machined ars. We are very adept at creating products for restrictive jurisdictions such as our home state of California, and every firearm we make uses 100% American made parts and materials."
Installation Impressions: Franklin Armory BFSIII AR-C1
First and foremost I highly recommend you take this to someone who knows what they are doing. On the outside, disassembly of an AR lower may look easy to a newbie, but they have their quirks and it will save you plenty of headaches if you prepare beforehand. After your lower receiver is stripped to the necessary extent for installation the install is fairly straightforward and easy, especially with the included slave pin! I will have a separate article on the installation of the trigger.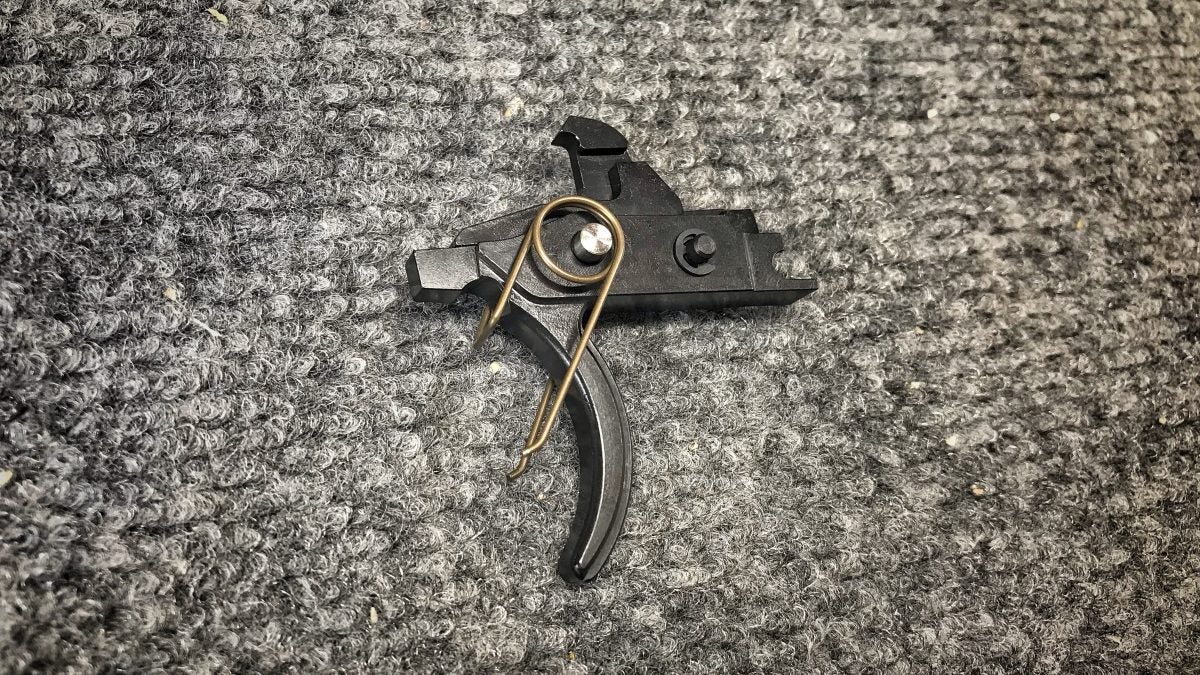 As of right now, I have installed this trigger into three separate AR platform firearms. One my standard AR15 build that I have had forever, another was my co-workers Springfield Armory Saint Edge PDW for some backpacking, and then lastly an AR-15 chambered in 22 Long Rifle. In the process of swapping out from gun to gun, I have learned some things and more importantly constructive critiques. The BFSIII was extremely easy and simple to transfer from firearm to firearm with the help of the included slave pin.
One thing I noticed upon my first installation is the manual is very cut and dry and simple. That sounds great, but it leaves more to be desired. I ran into only one thing that made me scour the manual and it led me to this conclusion: there is not much in the way of troubleshooting. Your instructions in the safety checks explain how to do safety checks, but fail to help you if the trigger does not pass. That being said if anyone out there has any questions Franklin Armory's customer service can be found here.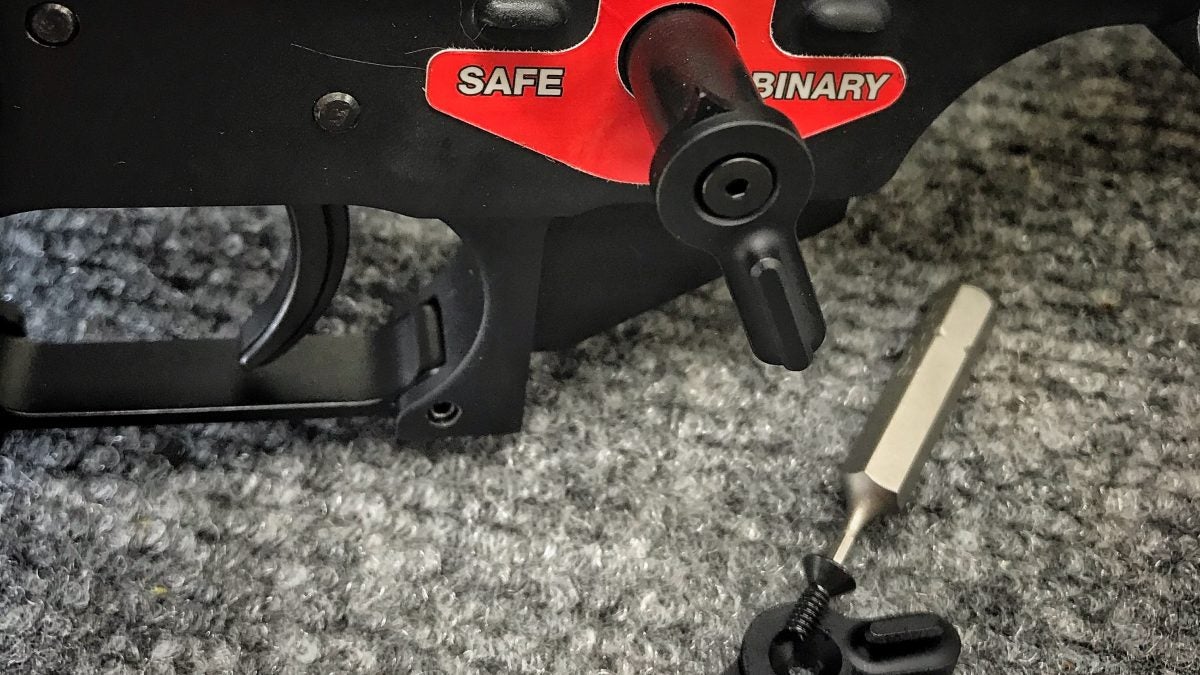 My only other critique is a very minor one, but I bring it up because I do not like feeling like things are left incomplete. Upon transferring the trigger system from one gun to the next I attempted to remove the sticker from the first firearm to put it on the next to properly show it has a binary trigger.
Unfortunately, the way the stickers are constructed they are definitely a one-time use. It basically fell apart into two layers and was not able to be remedied. It would be really handy if Franklin Armory included multiple stickers, but it only comes with just one. You can get spares but they only are available with some spare springs and a slave pin as well, those are available here.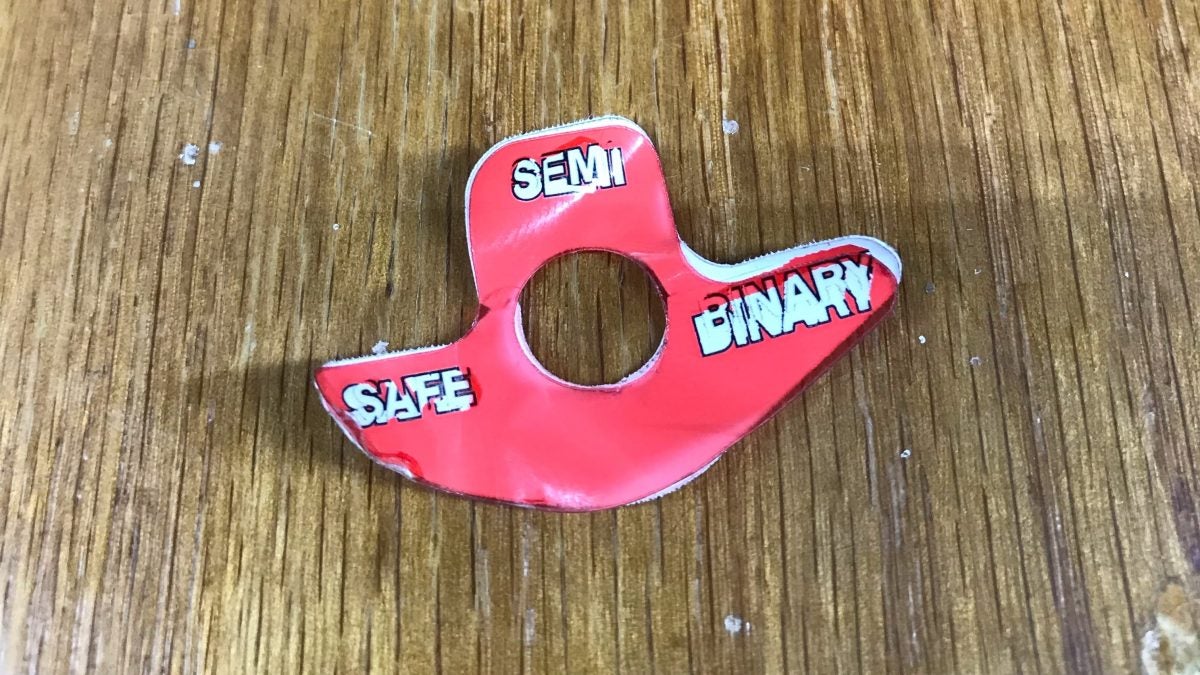 Range Time: Franklin Armory BFSIII AR-C1
Range time with the BFSIII AR-C1 was exhilarating, to say the least! It was fantastic amounts of fun especially with the 22 Long Rifle I had it in. Besides playing with the rapidity of the system I wanted to see how well it would shoot in a hunting scenario. A co-worker of mine had a binary trigger on a pig hunt when they were up in a helicopter and that struck me as odd initially, but then it made sense. It would be nice to have close behind follow-up shots. So, I set up a target and got the results seen below.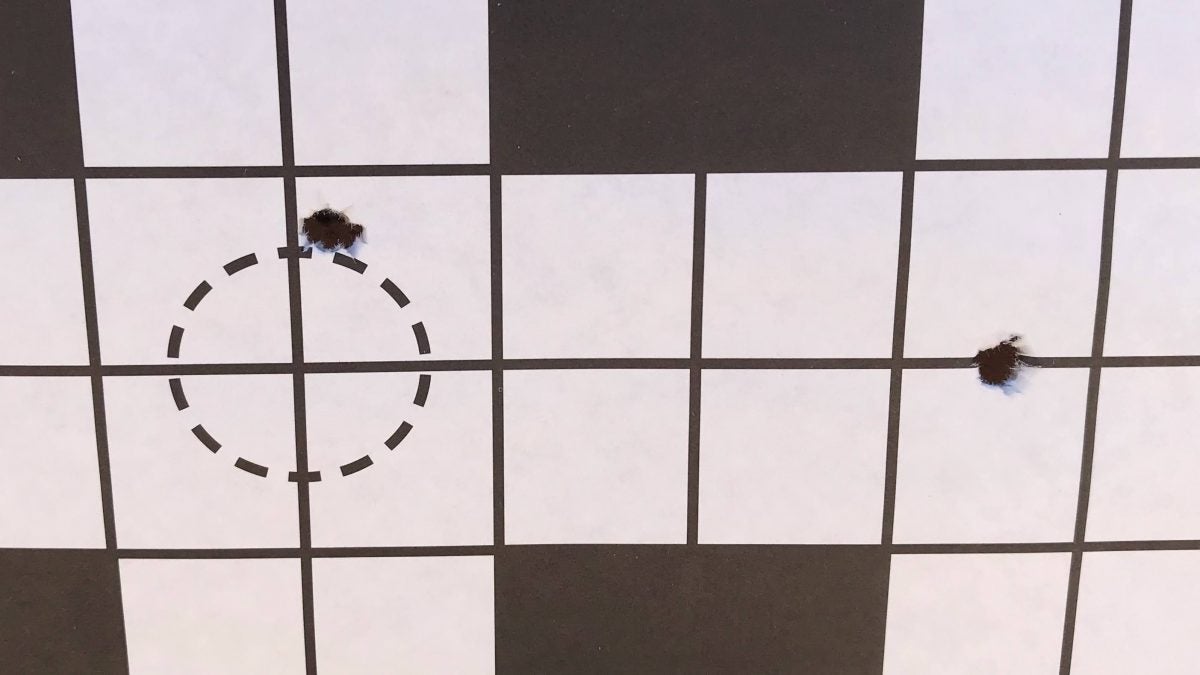 It should be stated that this quick test was at 50 yards using my AR-15 build paired with a Vortex Sparc AR Red Dot, Athlon 3x Magnifier, standard 55-grain ball ammo, and Silencer Central Banish 30. The photo directly above is two shots in regular semi-auto mode as fast as I could pull the trigger. My point of aim was the circle in the middle and as you can see my first shot was a pass and the follow-up shot skewed to the right by about 4.5 inches. The picture below was two shots in binary mode. My point of aim was at the top left corner square and obviously, you can see I hit my spot and my shots were much closer together. A whole 1.5 inch spread by the looks of it.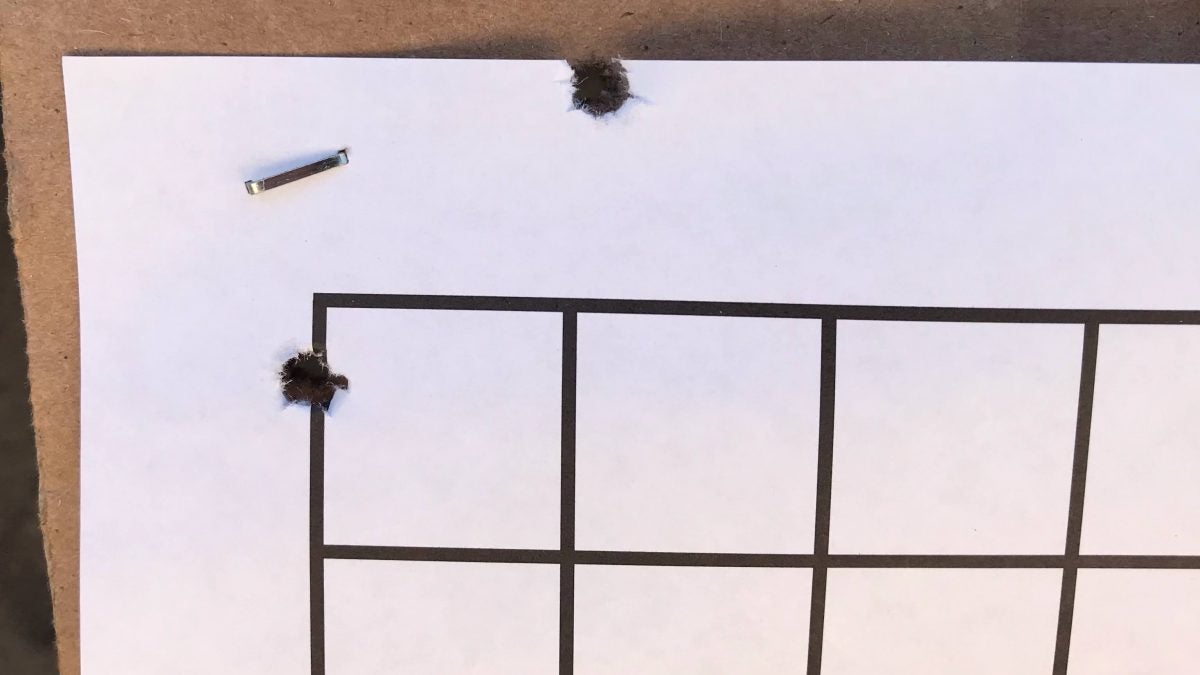 The BFSIII AR-C1 always worked perfectly. I felt very comfortable with its safety features. It is reassuring to know that if I pull the trigger in binary mode I can flip the switch to semi or safe and releasing the trigger will not fire a round. Everything about the trigger was reliable and highly enjoyable.
Final Thoughts: Franklin Armory BFSIII AR-C1
I do not want it to sound bland, but I got what I was expecting for the most part with the BFSIII AR-C1. When I say that I mean it was kick butt! This trigger was a ton of fun and a definite upgrade to any firearm out there. The biggest downside is the price tag which I get, but cannot say I like. It was stupendously easy to install even with the lack of proper troubleshooting. It proved itself to me at the range with its reliability and surprising results with the change in accurate follow-up shots. All and all, I would definitely recommend this to anyone!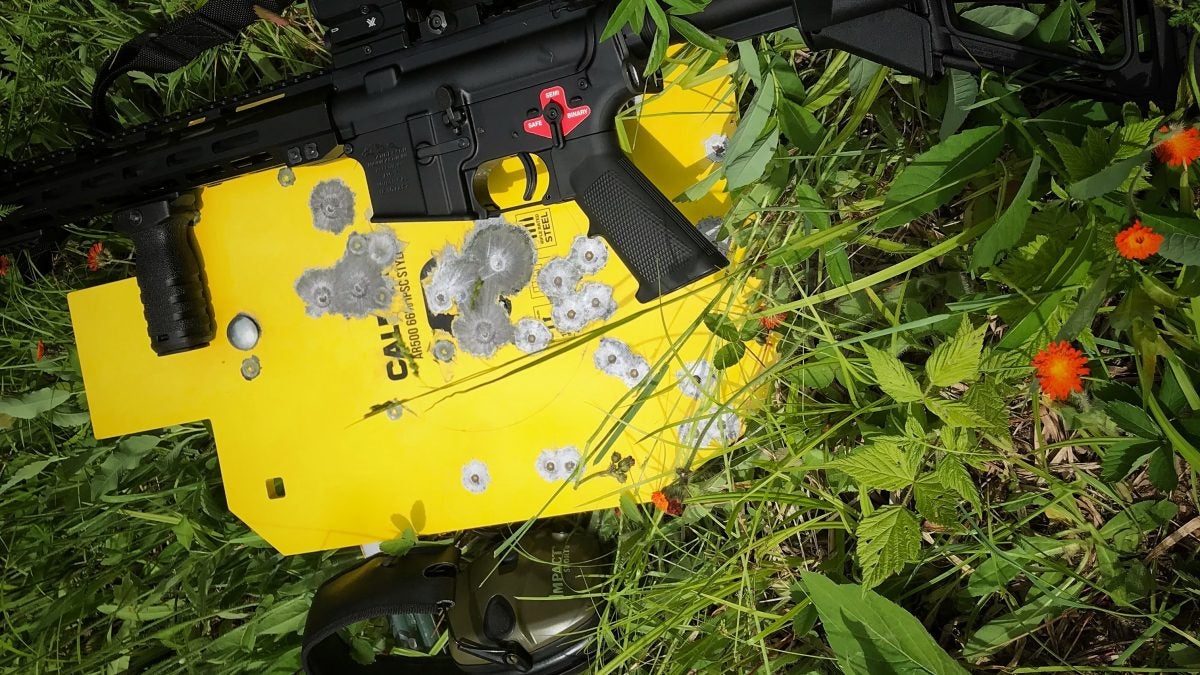 In closing, I want to say thank you to Franklin Armory for allowing AllOutdoor and myself the opportunity to try out their BFSIII AR-C1. That is greatly appreciated. Also, we would like to know what all of you guys and gals think? Do you believe that this uplifting upgrade is worth spending your money on? Would you take this out to the range? Would this be your go-to competition accessory? Let us know all of your thoughts in the Comments below! We always appreciate your feedback.