Curious Relics #018: The Everyman's Luger – The Stoeger Luger Part I
Sam.S 07.28.21

Welcome, if you are a newcomer to this fun bi-weekly segment of AllOutdoor.com! The last time around I covered the background information and history of the Hugo Hensel gun factory along with some further specifications and range time on our mystery revolver. I had also previously covered that revolver over at our sister site TFB. Today we are back with a variation of a firearm icon, the Stoeger Luger. Let's dive right into the rabbit hole!
---
Welcome to our recurring series of "Curious Relics." Here, we want to share all of our experiences, knowledge, misadventures, and passion for older firearms that one might categorize as a Curio & Relic  – any firearm that is at least 50 years old according to the ATF. Hopefully along the way you can garner a greater appreciation for older firearms like we do, and simultaneously you can teach us things as well through sharing your own expertise and thoughts in the Comments. Understanding the firearms of old, their importance, and their development which lead to many of the arms we now cherish today is incredibly fascinating and we hope you enjoy what we have to share, too!
---
History Abridged: Stoeger Luger .22 L.R. CAL. Automatic Pistol
Starting as early as the late 1950s the US lost its admiration and fanaticism for the western genre and developed a new interest in World War II. For all the sportsman and firearm lovers out there, this included an elevated interest in the surplus firearms coming into the country. There were all sorts of companies making 22 conversions for guns like the Colt 1911 and the Luger P08 pistol, but why not make a cheaper American-made option of the latter?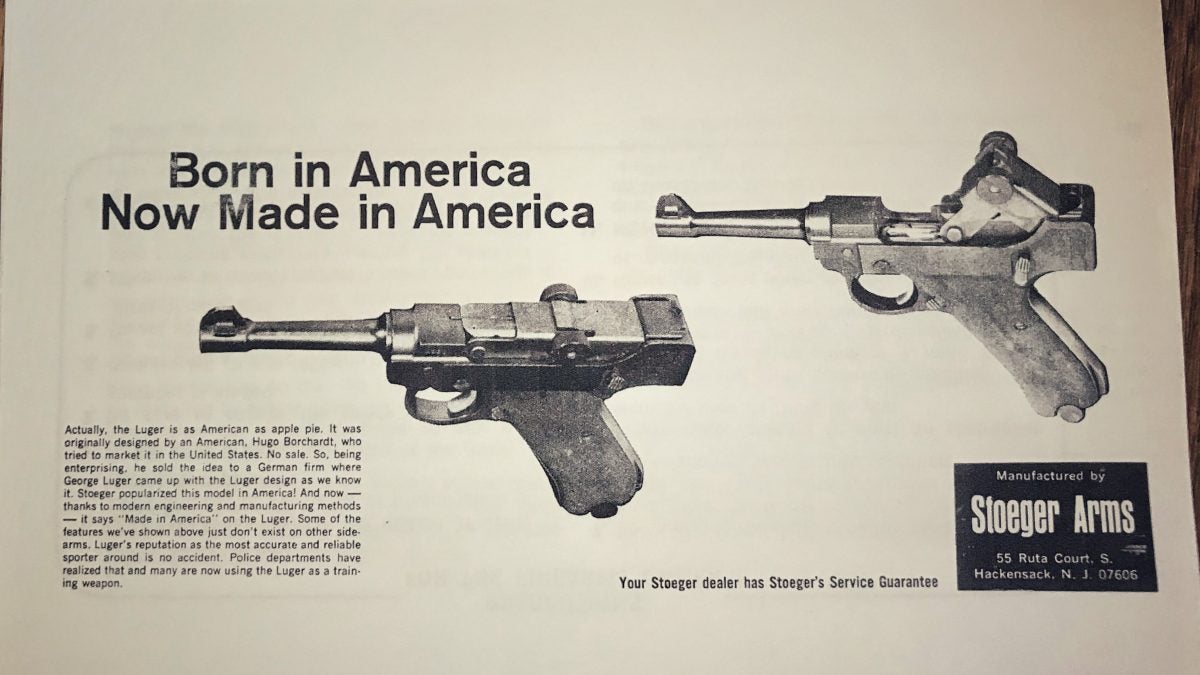 Prior to our gun today, Stoeger Arms Corporation (later Stoeger Industries after it was acquired by Benelli/Beretta Group) commissioned, imported, and sold a 22 long rifle version of the Luger P08 pistol. Enter the Stoeger Luger .22 L.R. CAL. Automatic Pistol in 1969 by the Stoeger Arms Corporation (we can just refer to it as the Stoeger Luger).  This pistol was touted as an American-made pistol and boasted about how the original Luger was designed by an American. This is a bit of marketing magic since the truth is slightly different.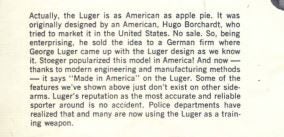 The "designer" that they refer to is Hugo Borchardt of the C93 toggle locked pistol. Hugo Borchardt was born in Germany and later emigrated to the US and became a citizen before moving back to Europe with his pistol design that became the first commercially successful auto-loading pistol. Hugo Borchardt was not super interested in perfecting his design further so when he turned the German government down his apprentice Georg Luger made the design a little more ergonomic and normal looking by today's standards. Hugo did not approve of this and there was even legal action filed, but mostly to no avail.
Our Stoeger Luger today was released to the world in 1969. It had an aluminum frame and was offered in a 4.5-inch barrel or a 5.5-inch barrel. The longer barreled versions are much less common. That aluminum frame was cleverly put as a "forged lightweight alloy that has a tensile strength of 82,000 psi. This is entirely machined after forging and joined to a solid steel barrel that is hammer rifled" in the manual of the pistol. These aluminum framed pistols were made until either late 1979 or early 1980 when the material was switched to steel. The operating system is only made to look like a toggle-operated action and is actually a standard blowback mechanism attached to some toggle links.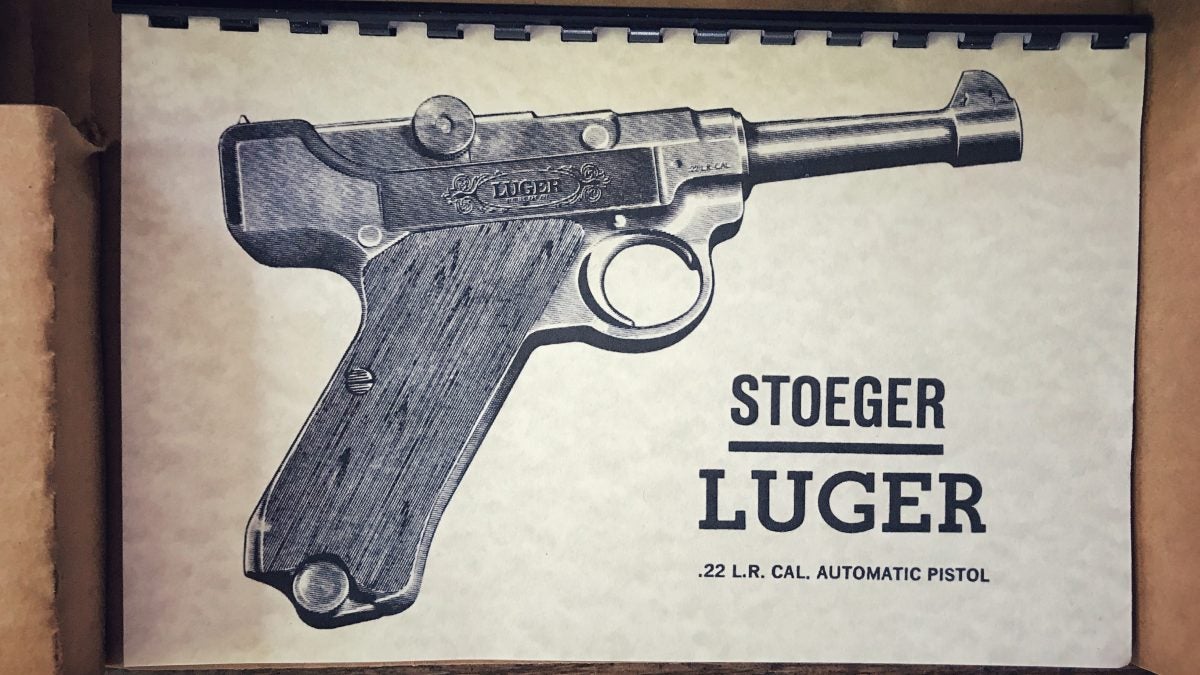 The reign of the Stoeger Luger ended in 1985 due to a lack of worthwhile sales. A lot of this pistol's fall from grace has to do with its reliability issues. When it became well known that these pistols needed expensive high-velocity ammunition to function the Stoeger Luger fell off the map. The Stoeger Luger manual mentions that "The Stoeger Luger will handle all makes of .22 Long Rifle cartridges, both standard and high-velocity. It should not be used with B-B Caps, C-B Caps, shorts, longs or shot cartridges, however, it can be made to fire these shells when they are singly loaded into the chamber." 
This reads like the gun will shoot anything above 1100 fps which really is not the case. Rumor has it that the reason for the Stoeger Luger's lack of reliability had to do with a tighter chamber dimension suited for European 22 rimfire cartridges and that some chamber polishing would make a difference.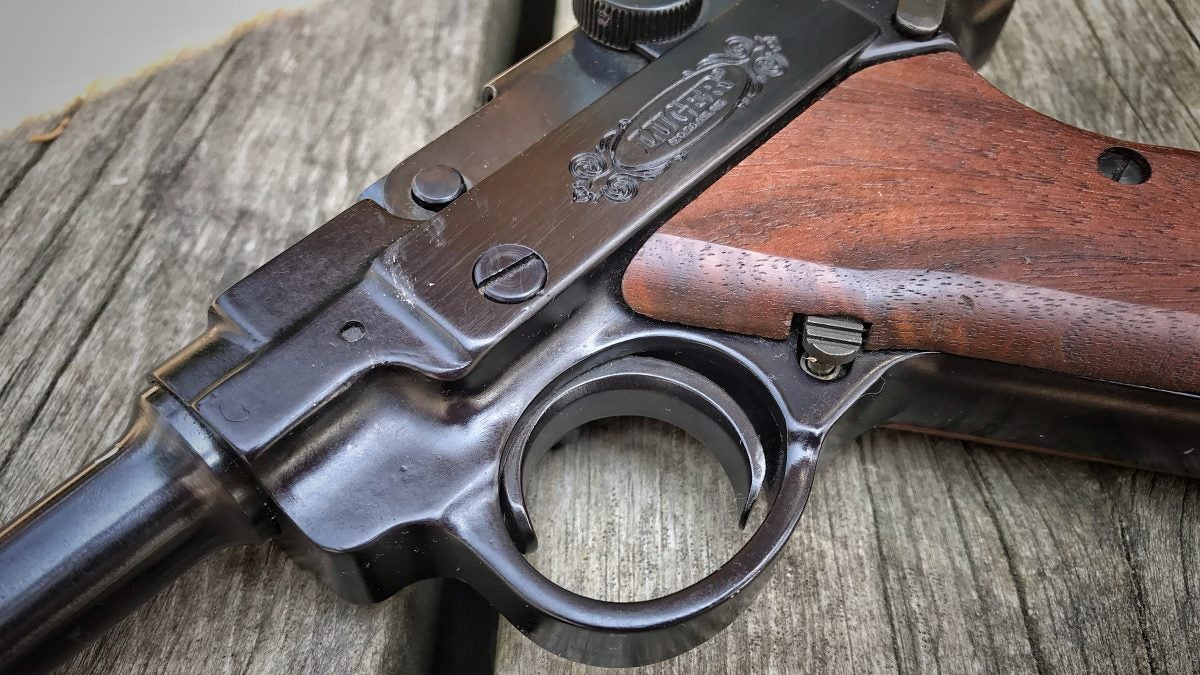 Later on, Stoeger would make their own 9mm Luger in the 1990s, but even that was a short-lived effort. Today, the Stoeger Luger .22 L.R. CAL. Automatic Pistol is looked at as an unreliable novelty. The Blue Book of Gun Values gives them a value of $295 at 100% condition which would basically be new in an unopened box. Street price is more like $250 to $450 for any old Stoeger Luger.
Variations: Stoeger Luger .22 L.R. CAL. Automatic Pistol
As I mentioned earlier the Stoeger Luger was made with a 4.5 Inch barrel and 5.5 Inch barrel. There is some information on a longer barreled "target model" with adjustable rear sights; however, I could not find any photographic proof of this, and the advertisements that I have seen do not mention this. This possible inaccuracy could be confused with some of Stoeger's earlier imports of actual 22 Luger pistols. In an advertisement from the early 1970s, the Stoeger Luger 22 is offered in four variations with two different prices.
STLR-4: This was a 4.5-inch barrel with the safety selector set up for right-handed shooting.
STLL-4: This was a 4.5-inch barrel with the safety selector set up for left-handed shooting.
STLR-5: This was a 5.5-inch barrel with the safety selector set up for right-handed shooting.
STLL-5: This was a 5.5-inch barrel with the safety selector set up for left-handed shooting.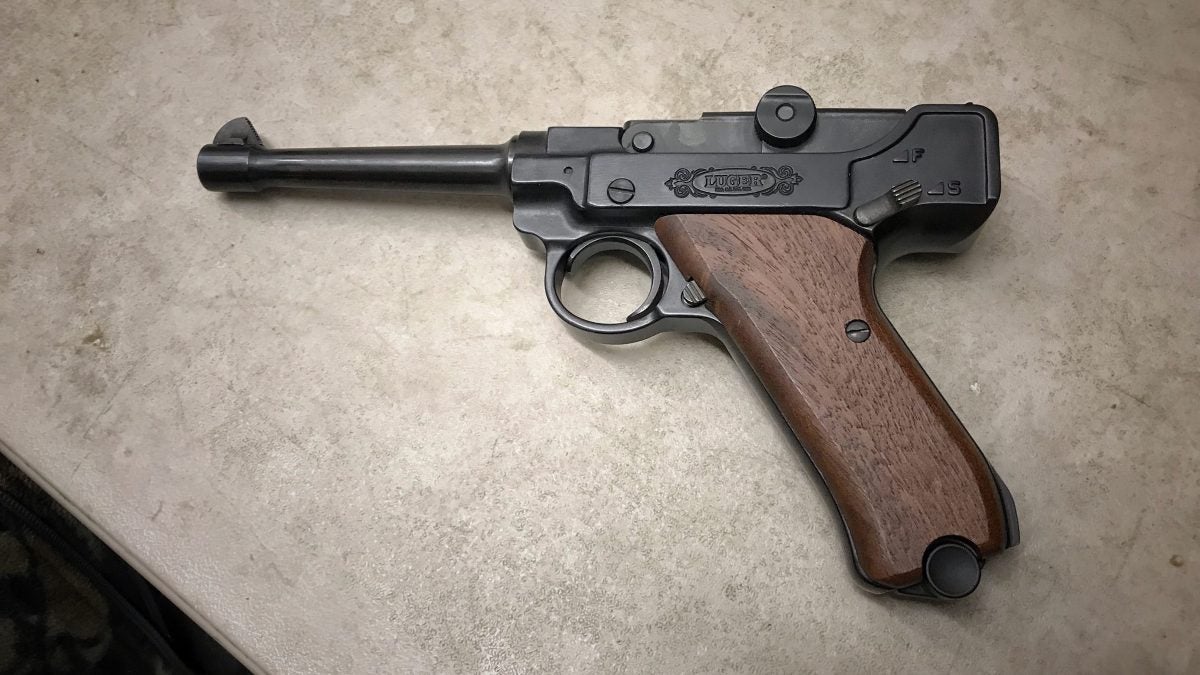 The prices are from an advertisement that I found from 1972. It is probable that the prices stayed close to the same throughout the 1970s. The 4.5-inch barreled models were priced at $69.95 (roughly $454.67 today). The 5.5-inch barreled models were priced at $72.95 (roughly $474.17 today).
End of Part One: Stoeger Luger .22 L.R. CAL. Automatic Pistol
I always feel bad cutting things off in the middle, but I do it as a kindness. The next time this segment comes around we will conclude the Stoeger Luger. I will go over Dating, Specifications, Aftermarket Information, Range Time, and My Final Thoughts. I am eager to share all of that with you! Till next time.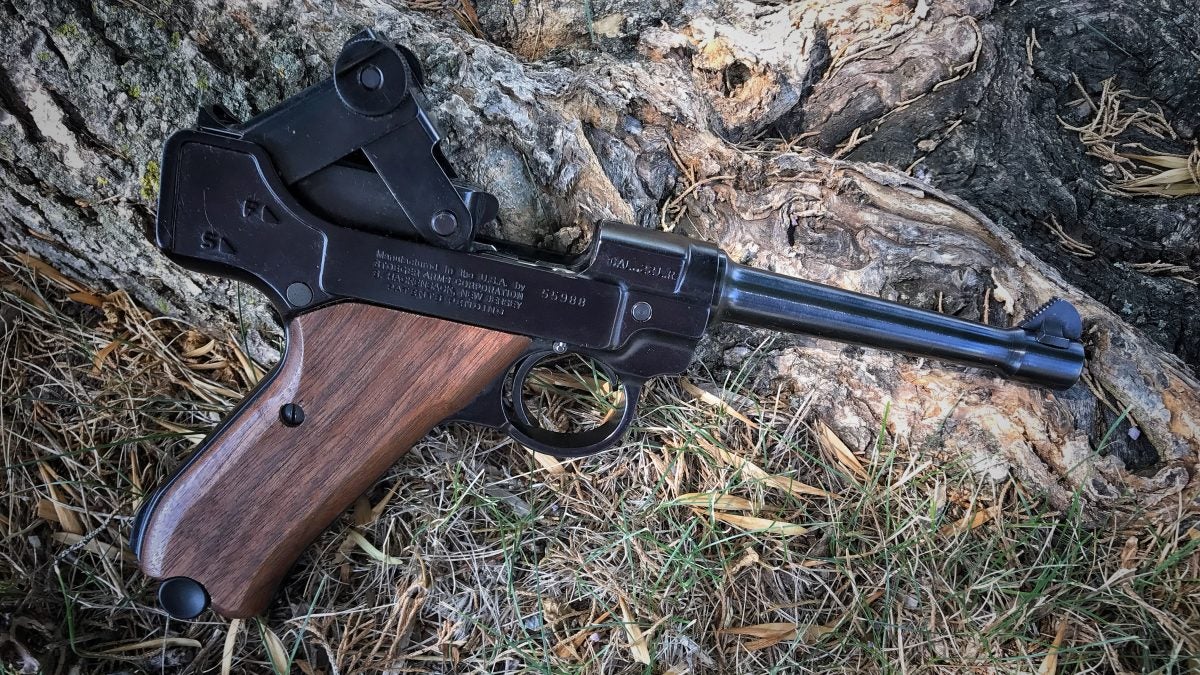 In closing, I hope our Curious Relics segment informed as well as entertained. This all was written in hopes of continued firearm appreciation and preservation. We did not just realize how guns were supposed to look and function. It was a long and tedious process that has shaped the world we live in. So, I put it to you! Is there a firearm out there that you feel does not get much notoriety?  What should our next Curious Relics topic cover? As always, let us know all of your thoughts in the Comments below! We always appreciate your feedback.