Federal Ammunition Offers FireStick in 80-, 100-, and 120-Grain Charges
Nicolas Lenze 08.05.21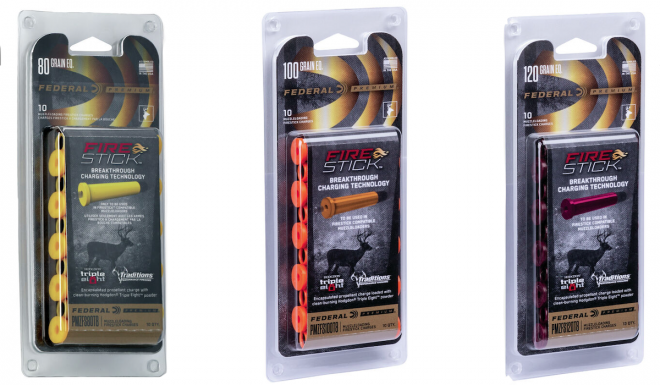 Hunting with muzzleloaders has some great pros. Not only are the rifles legal in all 50 states, but they increase the stakes. You have one shot to make it happen, and that's a thrill all on its own; however, they have a few drawbacks. Inconsistencies in powder charge can affect how reliable that one shot is. Thankfully, Federal Ammunition has a solution. FireStick is their self-contained charge that is consistent and impervious to moisture. Now, Federal offers them in 80-, 100-, and 120-grain charges.

Federal engineers opened a whole new chapter in muzzleloading technology with FireStick, the critical component of an all-new ignition system that charges from the breech, loads from the muzzle and shoots like nothing before.
Federal Offers FireStick in 80-, 100-, and 120-Grain Charges
Federal's FireStick is an ignition system that loads from the breech of your muzzleloader while the bullet is loaded from the muzzle. The charge is encased in polymer making it impenetrable by environmental moisture. Each capsule is loaded with Hodgdon Triple Seven powder. The tight tolerances put in place by Federal make sure that each unit is consistently charged, ensuring reliability.
Due to this design, there is no need to fire your rifle to unload it. Just open the breech and pull the capsule out. All the shooter needs to supply is a 209 shotgun primer, and you're ready to rock.
Federal offers FireStick in three sizes now. Each package contains 10 charges, regardless of which version you get. With 80-grain, 100-grain, and 120-grain options, you can tailor your equipment to a wider variety of hunts.
If you want to pick some of these up for your next hunt, head over to Federal Premium's website. Obviously, Federal produces far more ammunition and components than just these, so take a look at what else they offer while you're there. Follow along on social media for more news and updates from the company. They can be found on Instagram, Twitter, Facebook, and YouTube. Happy hunting! Fill those freezers.