AllOutdoor Lightning Review – Shwood CAMP Sunglasses: Topo/Trail
Megan Plete Postol 08.09.21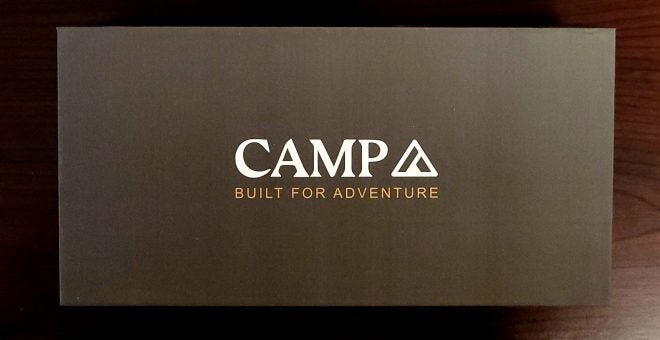 The polarized sunglasses market is flooded with options – ranging from embarrassingly cheap versions with flimsy frames and cruddy lens to the super fancy versions that cost so much they ought to see not only through water, but to the earth's volcanic core as well. Shwood Eyewear's new CAMP Collection is a good balance of a sharp, high quality lens set in nice frames for a reasonable price. I was sent two versions to try: the CAMP Topo frame sunglasses with brown polarized lenses and the CAMP Trail frame sunglasses with polarized blue lenses.
Shwood CAMP Sunglasses: Topo/Trail – Features & Specifications
TAC Polarized lens
100% UVA/UVB protection
Custom sleeping bag travel pouch
Microfiber cleaning cloth included
Durable cellulose acetate material
Genuine wood inlays
Stainless steel spring hinges
Comes with carrying cord
Comes with a one-year warranty
Retail between $79 – $99
Shwood CAMP Sunglasses: Topo/Trail – Packaging
Both of the CAMP sunglasses came in premium packaging. They were snuggled into miniature sleeping bags which is a nod to camping and the outdoor lifestyle that inspired the line. They also each came with a color-coordinated carrying cord and a cleaning cloth. Even the actual box they were packaged in was durable and high-quality. A+ for packaging.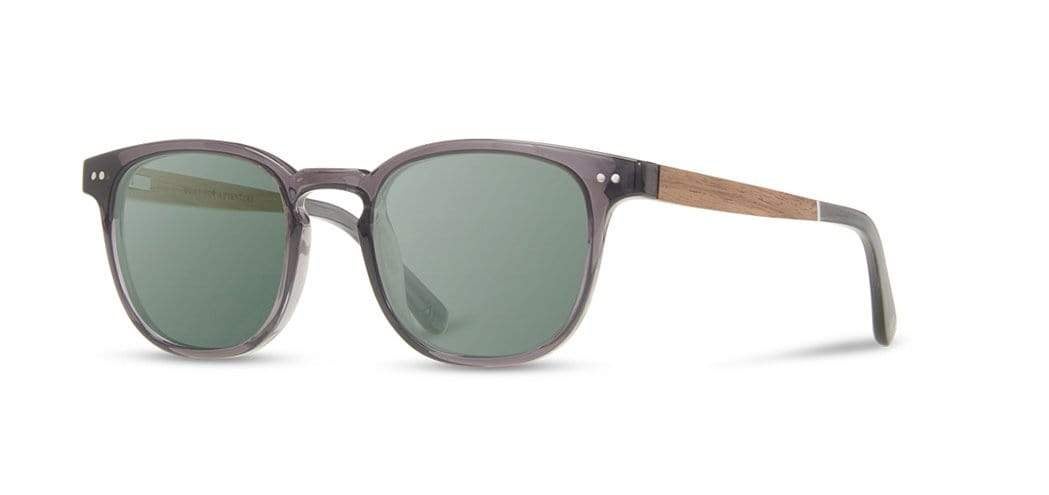 CAMP Topo
I tried the CAMP Topo sunglasses with tortoise colored frames. Those frames with the brown polarized lens was a fun combination. The design was cute with retro vibes. The quality of the polarized lens was remarkable. They were exceptionally clear and vibrant. I wore them fishing on the Delta Reservoir in upstate New York, a shallow body of water that gets a lot of traffic, making it murky almost always.
I had no trouble seeing through the water into the grassy bass habitat below. The lens measures 49mm across, the bridge 21mm, and the temple (meaning the arm and front/side of the frame) measured 145mm. The bridge fit a bit loosely on my nose, but all faces are shaped differently. I found myself pushing the frames back up frequently as they slide down the arch of my nose.
I was thankful for the included carrying cord because it offered not only the convenience of not having to put the glasses away every time I took them off, but offered a safety net if they happened to slip off my face. The CAMP Topo frames also come in matte tortoise, fog, and black.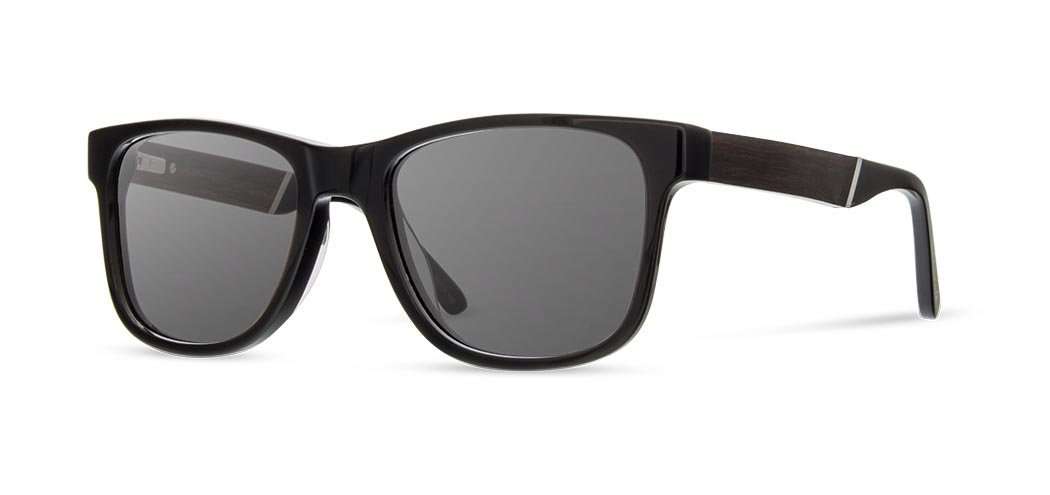 CAMP Trail
I tried the CAMP Trail sunglasses with black frames and the blue polarized lens. The style of these was a bit more rugged and sturdy. They seemed to fit my face well and felt snug (in a good way) to the sides of my head. I felt like I could hike up a mountain and they would stay in place. The included carrying cord again came in handy because it allowed me to take the sunglasses off and keep them readily accessible. These glasses came kayaking with me on a bright, sunny day and kept my eyes comfortable and unstrained. The CAMP Trail frames also come in fog, tortoise, and matte tortoise.
Shwood Eyewear was founded in 2009, and is based in Portland, Oregon. The mission of the brand is to create unique eyewear from naturally-sourced materials in a sustainable way. The prototype wooden glasses were made using madrone tree wood, a pair of rusty cabinet hinges and salvaged lenses from a local thrift store. The company began its operations in a 7 x 15-ft. workspace, then moved into a 30 x 50-ft. shop space, until settling into a 6,000 square-foot facility in 2010. The Shwood CAMP sunglasses line is the company's latest offering, marketed towards those who live an active lifestyle.