NEW AA19 Striker-Fired Handguns announced by Adams Arms
Luke Cuenco 08.25.21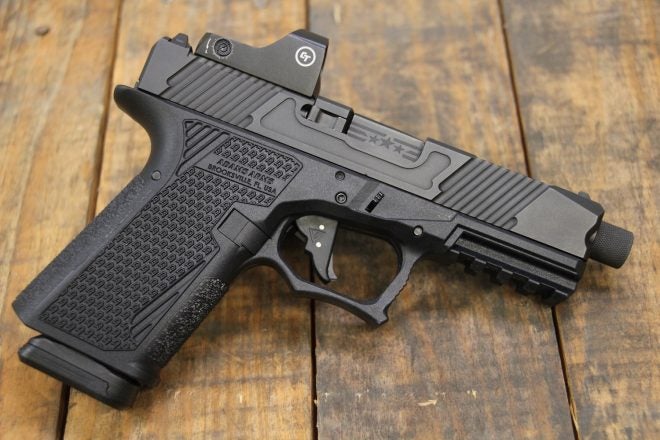 Adams Arms is well known for putting together some good piston AR rifles and they've recently come out with an exciting new firearm as we slide into late summer and early fall. The AA19 handgun from Adams Arms combines the expertise that the company brings from the AR building world into the handgun world and "elevates" firearm reliability and performance. The new magazine will be made in the USA and will be available through Adams Arms' network of US-based dealers.
New AA19 Striker-Fired Handguns Announced by Adams Arms
To start things right off the bat, yes, it does take Glock mags. The pistol will be compatible with Glock magazines but will come complete with two Magpul G19 magazines, a hard case, as well as a cable lock. The Slide of the AA19 comes pre-cut to accept a bunch of different red dot optics including the Leupold Delta Point, Shield RMS, Burris Fastfire 3, Vortex Venom/Viper, Vortex Razor, C-More STS, and of course the Trijicon RMR.
The pistol may look pretty familiar to a lot of you but aside from its familiar appearance it has a load of enhancements made to its base design to bring it into the 21st century including enhanced forward and rear cocking serrations, a double undercut trigger guard for a higher grip, a Vickers Tactical carry trigger, Ameriglo Defoor EDC sights, a threaded 1:16″ twist barrel, and aggressive grip texturing along the frames sides, rear and front strap.
"Adams Arms is known for its slides and barrels for custom handguns, and now we've brought all of our expertise into one complete pistol, Our customers have been asking for an Adams Arms handgun for years, and now it is ready. The new AA19 incorporates design elements that refine its ergonomics and performance. Every detail on the new AA19 adds upgrades that maximize its potentialfor both EDC and competition.

-Steve Green, Adams Arms Vice President of Sales and Marketing"

SPECS
• Polymer Frame with Enhanced Grip Texture
• Picatinny Accessory Rail
• 15+1 Capacity (2 Magazines Included)
• Complete Machined Billet 9x19mm 416 Stainless Steel Slide
• Black Nitride Coating
• Hard, Corrosion-Resistant, Smooth, Long-Wearing Finish
• 9mm Luger
• Match Grade Rifling for Enhanced Accuracy
• Threaded ½ x 28 TPI with Protector for Suppressor Use
• 1:16 Twist
• Pre-Captured Guide Rod
• Tango Down Vickers Tactical Carry Trigger
• Mounting Plates Compatible with the Following Optics:
Trijicon RMR, Leupold Deltapoint Pro, Burris Fastfire 3, Vortex
Venom, Viper, and Razor, C-More STS, Shield RMS, Holosun 407
& Holosun 507
The Adams Arms AA19 striker-fired pistol is available now through their network of dealers and will have an MSRP of $999.99. What are your thoughts on this new handgun offering from Adams Arms? Comments are always welcome down below.