SAR USA Offering New Brand of 9mm Luger Ammo to US Consumers
Eve Flanigan 08.31.21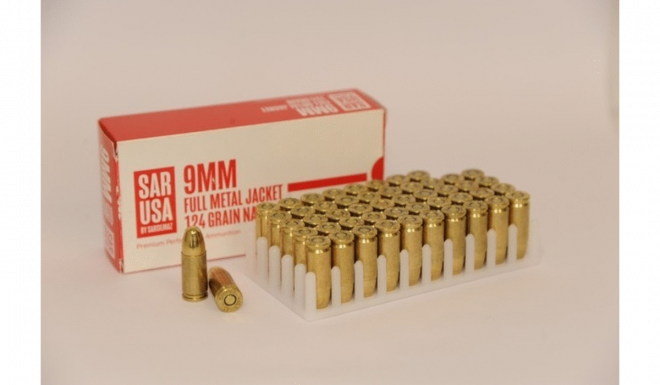 While the gun world is reeling from news of a federal ban on the importation of Russian-made ammunition, a little bright spot has appeared on the horizon, from the direction of Eurasia. SAR USA, the American arm of Sarsilmaz Arms, of Istanbul, Turkey, has a new brand of 9mm ammo that will soon be available on the US market.
The new ammo will be available in 9mm with choices of a 115 or 124 grain in a full metal jacket bullet. Cases will be brass, and primers are – according to SAR USA press release – military grade, sealed, boxer type. For now, the ammo will be offered only in 50-round boxes. Distributed via the SAR USA base in Auburn, Alabama, this new ammunition is manufactured in SAR's state-of-the-art factory in Istanbul. This is not the company's first foray into the ammo business; it's been producing ammunition as well as handguns, shotguns, and pistols for military, police, and civilian uses by 78 countries. Shotgun ammo is also featured on the company's US website. Founded in 1880, the company has a long track record of manufacturing reliable goods. In the US, SAR is best known for the reliable SAR 9 pistol and its variants.
"This is an incredible opportunity to bring high-quality ammunition to new SAR firearm owners and a market desperate for it," said Todd Pearson, COO for SAR USA. "SAR ammunition is designed, engineered and manufactured to perform to the highest standards. This ammunition is the perfect complement to the rigorously tested and award-winning SAR pistol lines. This is another high-quality product offed by SAR USA."
In an ammo market that's experienced shortages caused by COVID shutdowns, a flood of new gun owners, a measure of panic buying, and now a ban on Russian ammo, American gun stores and 9mm pistol owners will surely welcome this new brand to their shelves and range bags.