FN America Unveils New and Improved SCAR NRCH Series
Eve Flanigan 09.02.21

FN America just announced major upgrades to the semi-auto rendition of its popular SCAR rifle, as well as new variants within the semiauto category. The new changes significantly modernize the SCAR while being true to its original design.
The biggest change is to what was once a left-side, reciprocating charging handle. It's now ambidextrous, and doesn't reciprocate. Gone is the concern of impeding charging handle travel when the gun is in action. "Non-reciprocating charging handle" gives rise to the acronym NRCH, the moniker FN has given to the updated SCAR charging assembly.
A stationary/ambidextrous charging handle offers greater applicability in tactical situations that make use of cover or shooting positions that are close to the ground or other obstacles. When solving that aspect of criticism of the original design, FN addressed another one: the sometimes knuckle-skinning experience of charging a SCAR with a low-mounted optic. The NRCH system includes a choice of two charging handles. One has a 30-degree cant designed to save knuckles while providing for efficient charging. The other is a low-profile handle, keeping the rifle easy to use in close quarters. Users can easily swap handles to customize their SCAR for whatever application needed.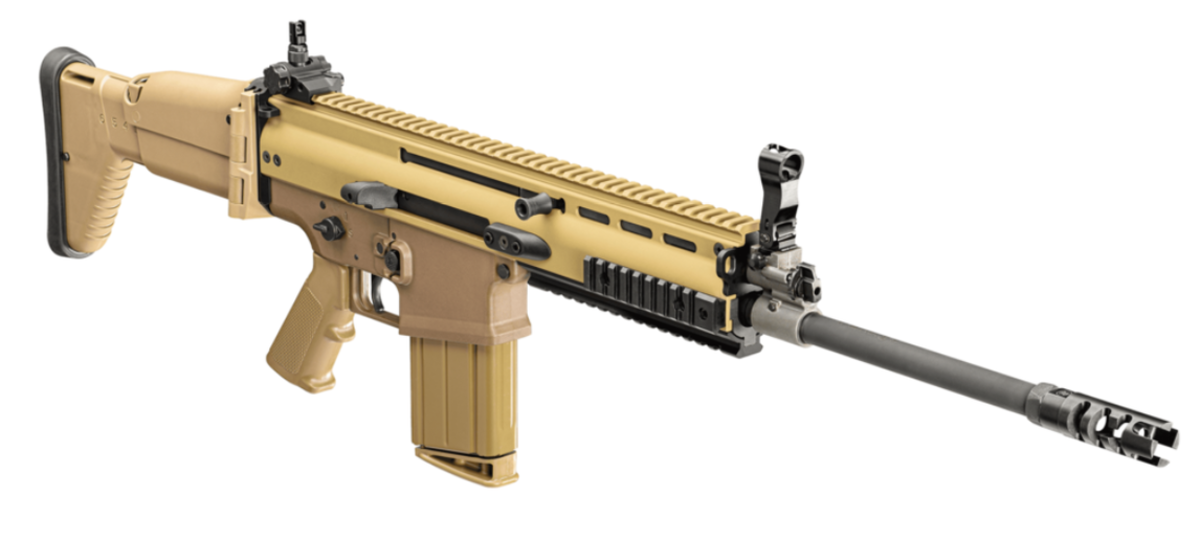 From a distance, the profile is still SCAR, with a foldable, telescoping stock that uses marked increments, and an integral adjustable cheek riser. Other standard features include a monolithic aluminum upper receiver, ambi controls, a two-stage Geissle trigger, and free-floating, hammer-forged, chrome-lined barrel. FN gives the barrel, at all its available lengths, a sub-MOA guarantee and encouragement to give the SCAR a workout as far as 1,000 yards. Flip-up, adjustable iron sights that will be familiar to existing SCAR owners are included with the 16.25-inch barrel models.
There are currently three versions of the NRCH-equipped SCAR. The classic, based on the MK 16, has a 16.25-inch barrel and is chambered in 5.56 NATO. It's called the 16S NRCH. Also with a 16.25-inch barrel is the 17S NRCH, with 7.62 x 51mm chambering. The largest is the 20S NRCH, with a 20-inch barrel, chambered in 7.72x51mm or 6.5 Creedmoor.
Pricing for the SCAR has always placed it in the luxury category, and the new models continue that tradition. The suggested range from the 16S to the 20S is $3,669 to $4,799. Color choices are tan and black.
The SCA has enjoyed popularity in both military and civilian sectors. With the NRCH assembly adding to the user-friendliness of the platform, it will surely be rewarded with continued longevity in the market.