NEW Hogue Legion K320 Folding Knife from SIG Sauer
Luke Cuenco 09.03.21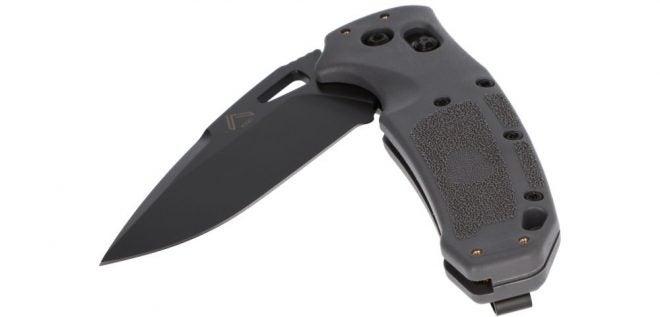 If you like perfect pairings (like a good bourbon with a nice cut of meat) then you'll like what SIG and Hogue have teamed up to do this time around. The two companies have combined forces to bring owners of the SIG's LEGION series a new knife – the HOGUE LEGION K320. The new folding knife has features and aesthetics that perfectly match the SIG XFIVE LEGION pistol and even carries the same LEGION branding to match. The new knife features all sorts of neat little features that make it a great EDC carry knife including 4 different mounting points for carrying the knife in your pocket left or right-handed, as well as tip-up or tip down.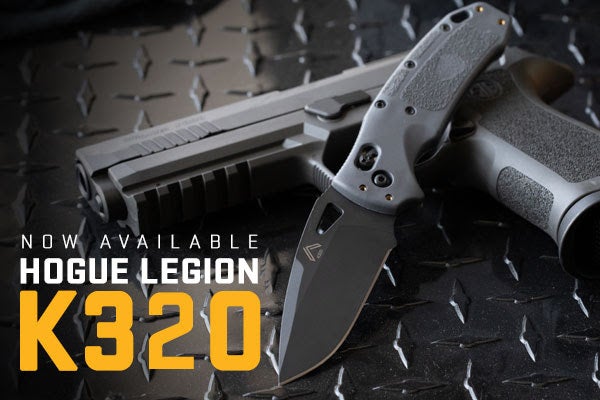 The New HOUGE LEGION K320 Folding Knife from SIG
BLADE

Style: Drop Point with ambidextrous access hole
Thickness: 0.125″
Material: CPM S30V stainless steel
Hardness: 58-61 HRC
Treatment: Cryogenically heat treated
Finish: Black cerakote


FEATURES

SIG SAUER Firearm Match: P320 X-FIVE LEGION
LEGION emblem on blade
Frame: Grey polyamide-nylon 12 (glass fiber reinforced polymer) with P320 texture
Louvred Pocket Clip: Stainless steel ambidextrous – right or left-handed, tip-up or down deep-carry
Asymmetrical lanyard hole
The new blade as stated in the specifications above is meant to pair seamlessly and mimic the look and feel of the XFIVE LEGION pistol. The knife appears to be made from the same grey glass-reinforced polymer as the P320 XFIVE and also features the same grip texturing, but optimized in a way that makes more sense for a knife. The blade itself is a 3.5-inch blade and when opened has an overall length of eight inches and weighs a total of 4.18 ounces.
The blade is made from CPM S30V stainless and has been cryogenically heat treated and then had its edge hand-honed. The blade will also feature both SIG and Hogue branding on the blade with SIG featuring its iconic Legion markings on the left-hand side of the blade.
The HOGUE LEGION K320 pocket knife is available now through SIG's website for legion members only. You can become a Legion member if you own any of SIG's Legion pistols and registering on the website through the following link. After registration, you can then log on to SIG's website and shop their list of LEGION products which include the new K320 knife. The K320 will be sold for $149.99.