POTD: Pinfire, Rimfire, Cupfire, Teatfire – What About Lipfire?
Sam.S 09.06.21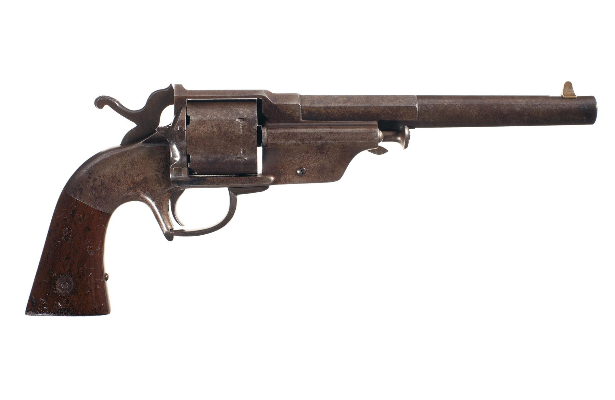 Welcome to today's Photo of the Day! Without having a convenient picture of the cartridge itself I thought I would use this Allen & Wheelock Center Hammer Lipfire Army Revolver as an excuse to once again bring up a type of obsolete cartridge. Lipfire is very similar to modern rimfire. Instead of the entire circumference of the rim is the source of ignition it has a raised portion of the circumference. In a way, it would be as if rimfire and pinfire had a baby. Similar to pinfire the hammer is intended to fall straight down on the "lip" of the cartridge.
Also known as the 2nd Model Lipfire, this revolver was manufactured in the early 1860's with a total production of only about 250. The left side barrel flat is marked "ALLEN & WHEELOCK, WORCESTER, MS. U.S. / ALLEN' S PAT'S SEP. 7, NOV. 9, 1858" and the serial (batch) "107" is marked on the left side of the frame under the grip, on the loading gate, the inside of each grip panel and on the rear face of the cylinder. The rear cylinder wall has notches for cartridge lips. The lipfire is sometimes confused as a conversion from percussion, but was actually manufactured before the percussion model. Pinched brass blade front and frame notch rear sights, loading gate hinged at the bottom, narrow grip frame and fitted with two piece varnished walnut grips. Although no government contracts were given for this model it is considered a martial piece by collectors. This model was discontinued due to a successful patent infringement suit by Smith & Wesson.