Duck, Duck, Goose! Mossberg's New Line Extension is Waterfowl-Specific
Eve Flanigan 09.07.21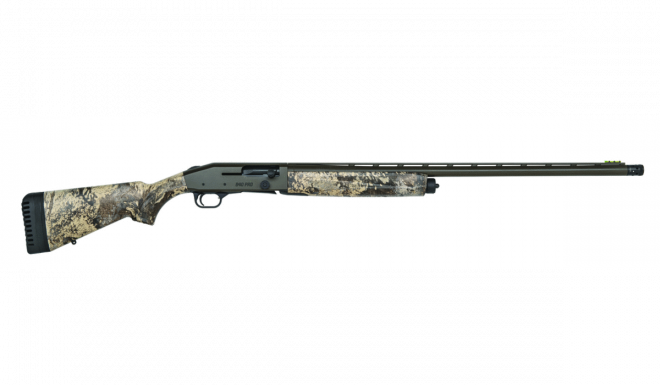 Last week, Mossberg announced the availability of two new 12 gauge, autoloading shotguns. The 940 Pro Waterfowl and 940 Pro Snow Goose are the new, stylish additions to a shotgun line that started with a match-oriented model. Both models feature HIVIZ TriComp fiber optic front sights. They sport cerakoted steel surfaces that complement their synthetic, camouflage-finish stocks and forends. Resistance to damage from exposure to the elements is built in, starting with 28-inch, chrome-lined barrels and self-draining stocks. The gas piston/rings, magazine tube, hammer sear, return spring plunger, and return spring tube are boron-coated. The return spring plunger is hard-anodized aluminum.
The 940 line is also built for reliable function under hard use. It's designed to cycle at least 1,500 shells between cleanings. It'll run any factory-load 2.75- or 3-inch ammunition. The 940's pinchless loading design has an oversized, beveled loading port with a re-configured elevator and shell catch.
User-pleasing features also include a well-padded stock with adjustable length of pull (13 to 14.5 inches), oversized charging handle and bolt release, and a slimmed-down forend. Mossberg also promises its new barrel design improves upon the point of aim equals point of impact philosophy.
The 940 Pro Waterfowl's HIVIZ TriComp fiber optic front sight has interchangeable triangular and round LitePipes) and AccuChoke ™ -compatible with X-Factor ™ ported choke tube. Metal surfaces on the receiver and barrel are finished in Patriot Brown, with a TrueTimber ® Prairie-camouflaged stock and forend. Aggressive Mossberg signature texturing is featured on the forend and stock. It has sling swivel studs, 5-round capacity, a drilled and tapped receiver, and ambidextrous safety. MSRP: $1,050
The 940 Snow Goose has an extended magazine tube that will take up to 12 rounds (2.75-inch shells) into the mag tube plus one in the chamber for a total capacity of 13. The vent-rib barrel is topped with a HIVIZ TriComp fiber optic front sight and is equipped with an extended X-Factor ported choke tube that's fully compatible with other AccuChoke tubes (sold separately). For concealment, the 940 Snow Goose has a Battleship Gray Cerakote finish on the receiver and barrel. The stock and forend feature TrueTimber Viper ™ Snow camouflage. Like the Pro Waterfowl, it also has aggressive Mossberg signature texturing on the stock and forend, sling swivel studs, a drilled and tapped receiver, and a top-mounted safety for ease of use by right or left-handed shooters. The MSRP is $1,120 and these attractive, field-ready new shotguns are shipping now.