NEW Pack9 Compact Rifle from Trailblazer Firearms
Luke Cuenco 09.09.21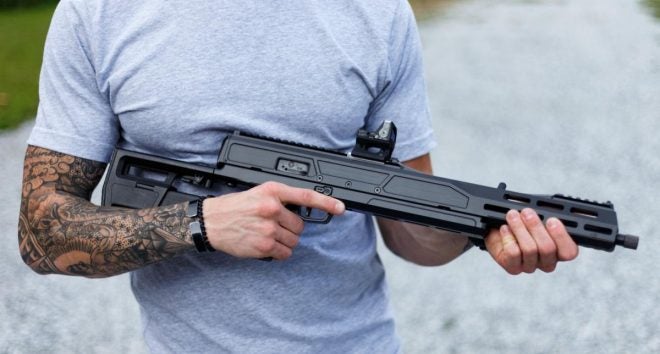 Before anyone asks, yes, it takes Glock mags. It also happens to be the newest product offering from the people that brought you the ultra-discreet 22LR pistol the LifeCard. Trailblazer Firearms has just unveiled their new Pack9 9mm rifle (pistol caliber carbine) that collapses into a short, thin, and quick to deploy 9mm rifle. The new rifle was unveiled on September 7th and teased on the company's social media pages in the days following the official cancellation of NRAAM. The new rifle is lightweight, compact, and convenient while evoking feelings of retro 90's Sci-Fi TV show gun props.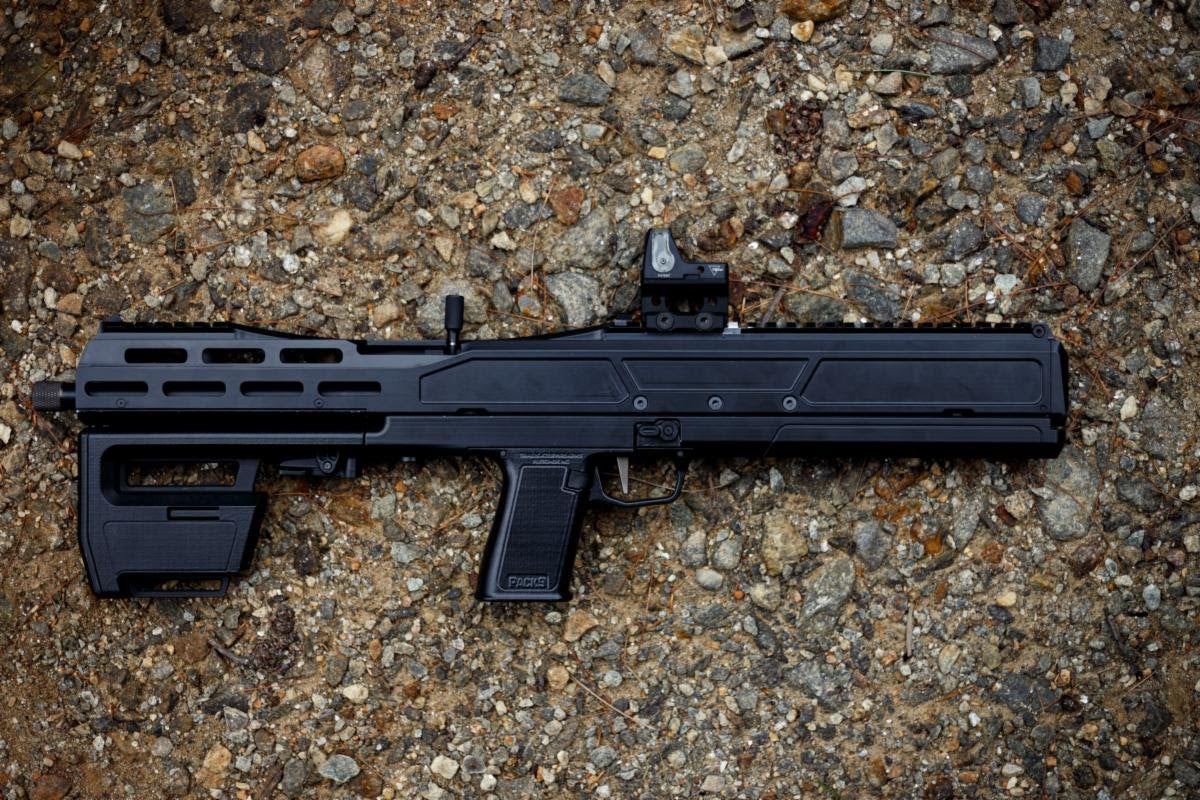 Trailblazer Firearms Unveils the New Pack9 Compact Rifle
The Pack9 is made right here in the United States with a combination of steel, polymer, and aluminum and as mentioned earlier features 9mm Glock magazine compatibility. By far the most striking thing about the Pack9 is the way in which it collapses down for transport (seen in the videos down below). The pistol caliber carbine pivots the top portion around the grip module and snaps into place 180 degrees into its firing position. The rifle features integrated iron sights as well as a generous amount of both top-mounted Picatinny rail space and side-mounted M-Lok rails. The barrel is also threaded meaning you can mount a suppressor or other muzzle device if you wish.
The rifle is only about as wide as some of your more modern compact 9mm handguns at just 1.15-inches wide and also weighs less than 5-pounds making it very easy to transport with its included custom backpack that can also hold spare magazines and other important equipment like a suppressor.
Trailblazer Firearms makes specific mention that the rifle is incapable of being fired when it is in its folded/collapsed position which adds a layer of safety to the design that would be important for storing it in a backpack. During the company's keynote address during the Pack9, they were very specific to mention that they will also be offering a customized Pack9 backpack to pair with the Pack9 rifle. The pack doubles as a portable and somewhat discreet range bag that looks like it would be just as good to take with you out on a hike or walk around your ranch. Personally, I think this would be a great rifle for carrying around with you on the farm or range for use against coyotes, groundhogs, prairie dogs, or other sorts of pests you might find trespassing on your property. At the time of writing, Trailblazer Firearms has not given us a solid release date or pricing for the Pack9 rifle.
CALIBER: 9×19
ACTION: Semi-Automatic, Magazine Fed, Direct Blowback
LENGTH (FOLDED): 20.9″
MIN. FIRING LENGTH (STOCK COLLAPSED): 26.7″
MAX. FIRING LENGTH (STOCK EXTENDED): 29.7″
HEIGHT: 5.9″
THICKNESS: 1.15″
WEIGHT: 5 lbs.
MATERIALS: Aluminum / Steel / Polymer
FINISH: Corrosion Resistant
SAFETY: Will not fire when closed / Manual Safety