AllOutdoor Review: Bushnell's New Harrier Eye Protection
Luke Cuenco 09.10.21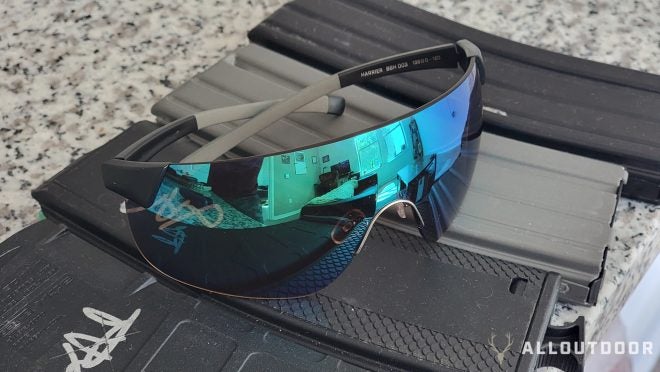 Eye protection is a core part of every shooter's experience and it's something that no one should ever go to the range without. When it comes to eye protection there are already a lot of options out there but recently, the folks over at Bushnell have released a whole new lineup of performance eyewear. At an event out in Wyoming, I was able to attend, Bushnell showcased all of their eyewear and each of the participants got to choose a pair to test out during the duration of the event. I was instantly drawn to what I thought looked the coolest – the aptly named Harrier Shield Sunglasses. The name obviously comes from the resemblance they have to fighter pilots' helmet visors and being a pilot myself I couldn't pass up an opportunity to try them out for myself. Today in the review we'll take a look at the construction of the glasses, how they hold up to some minor abuse as well as how they perform out on the range.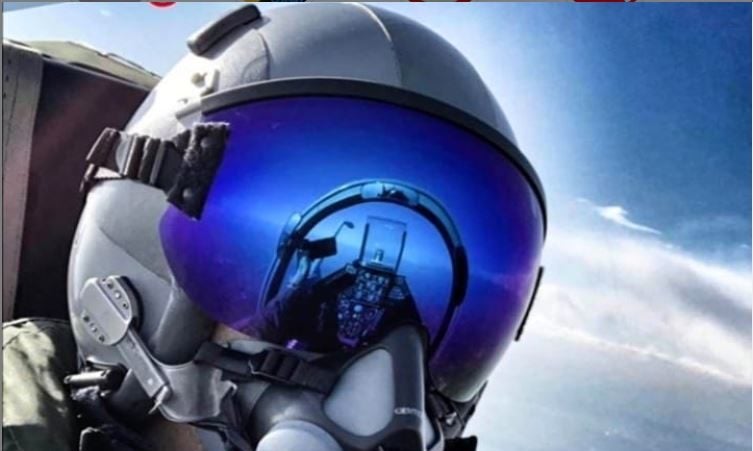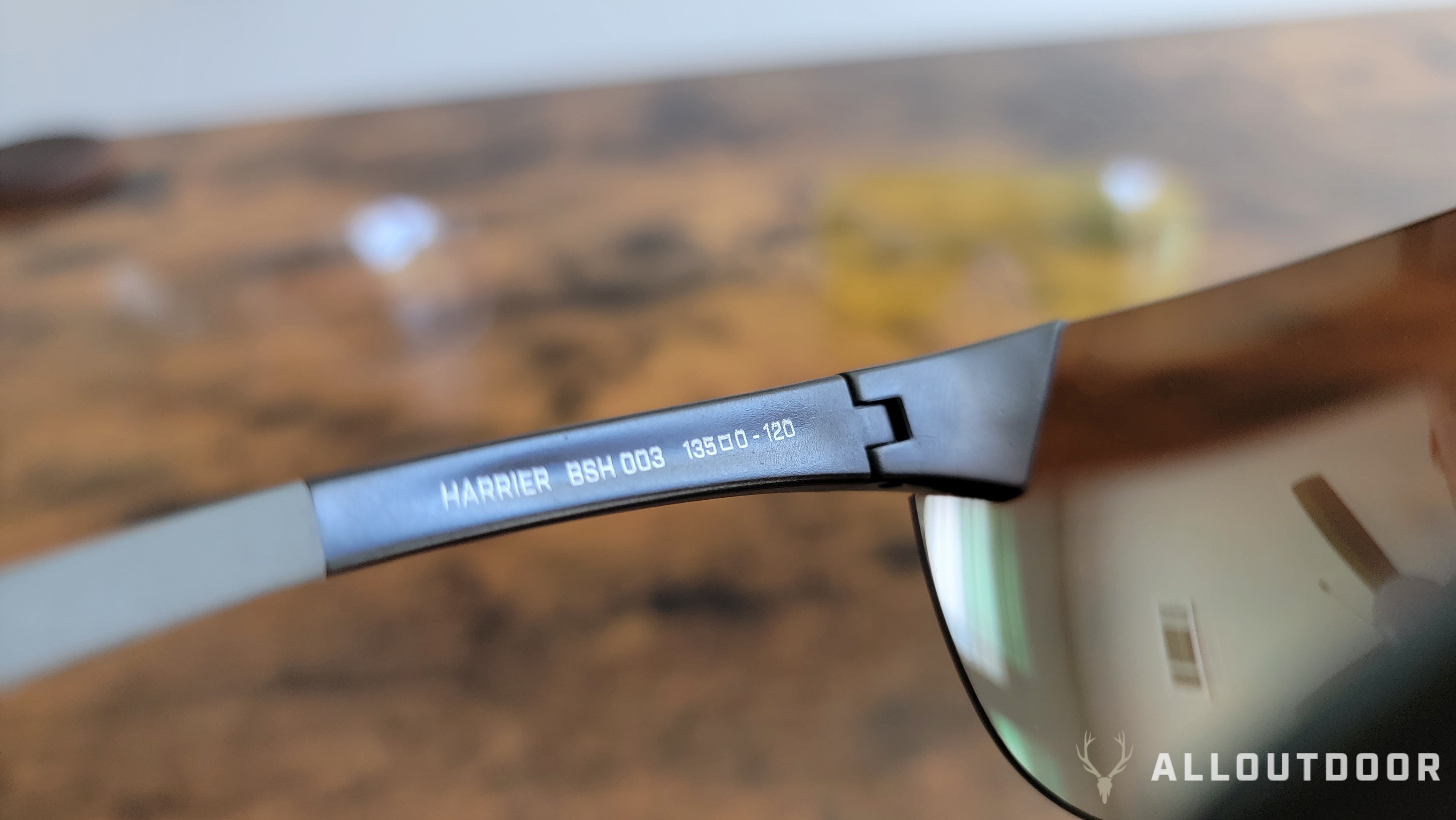 AllOutdoor Review: Bushnell's New Harrier Eye Protection
Harrier Features
The new lineup of performance pro eyewear was put out in collaboration with the Italian sunglasses company Mirage Occhiali. So what you're getting with every pair of Bushnell's new Performance eyewear is not only going to protect your eyes out on the range but it's also going to make you look good. The glasses themselves are made in Italy from solid components including polycarbonate lenses and durable plastic temples. The Harrier Shield eye protection comes in a nice semi-rigid carrying case and includes an additional soft case that doubles as a cleaning cloth.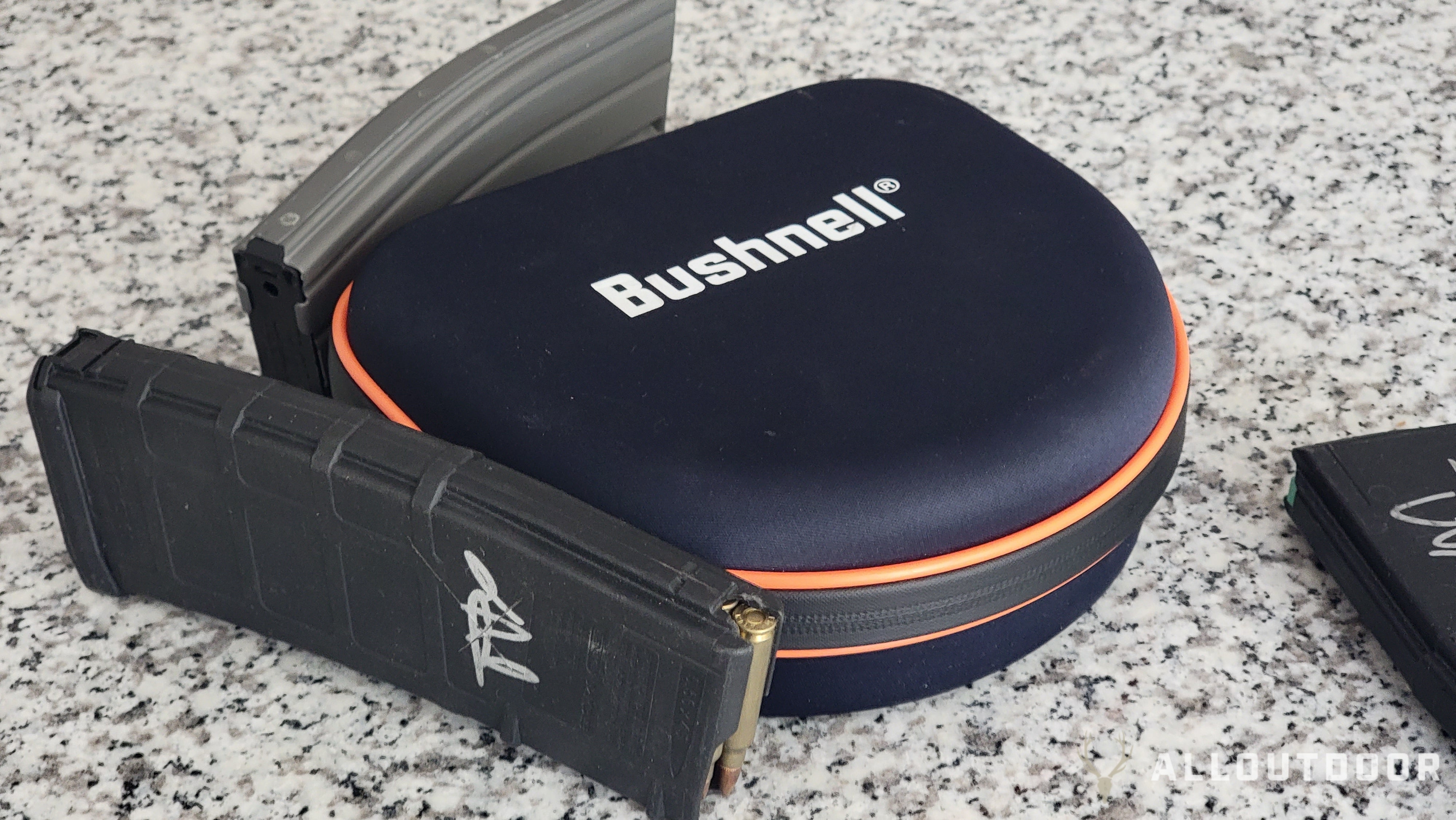 The glasses feature a hydro-oleophobic coating to help keep dust, dirt, grease, and oil off of the lenses and also helps keep the lenses from fogging up. The coating also helps with the cleaning process and prevents fingerprints from easily showing up on the lenses when putting on and removing them. The Harrier glasses along with the rest of Bushnell's premium eyewear lineup all carry an ANSI Z87.1 safety rating which will protect against impacts that you can expect to encounter on the range such as errant lead spall and blowback from handguns and rifles.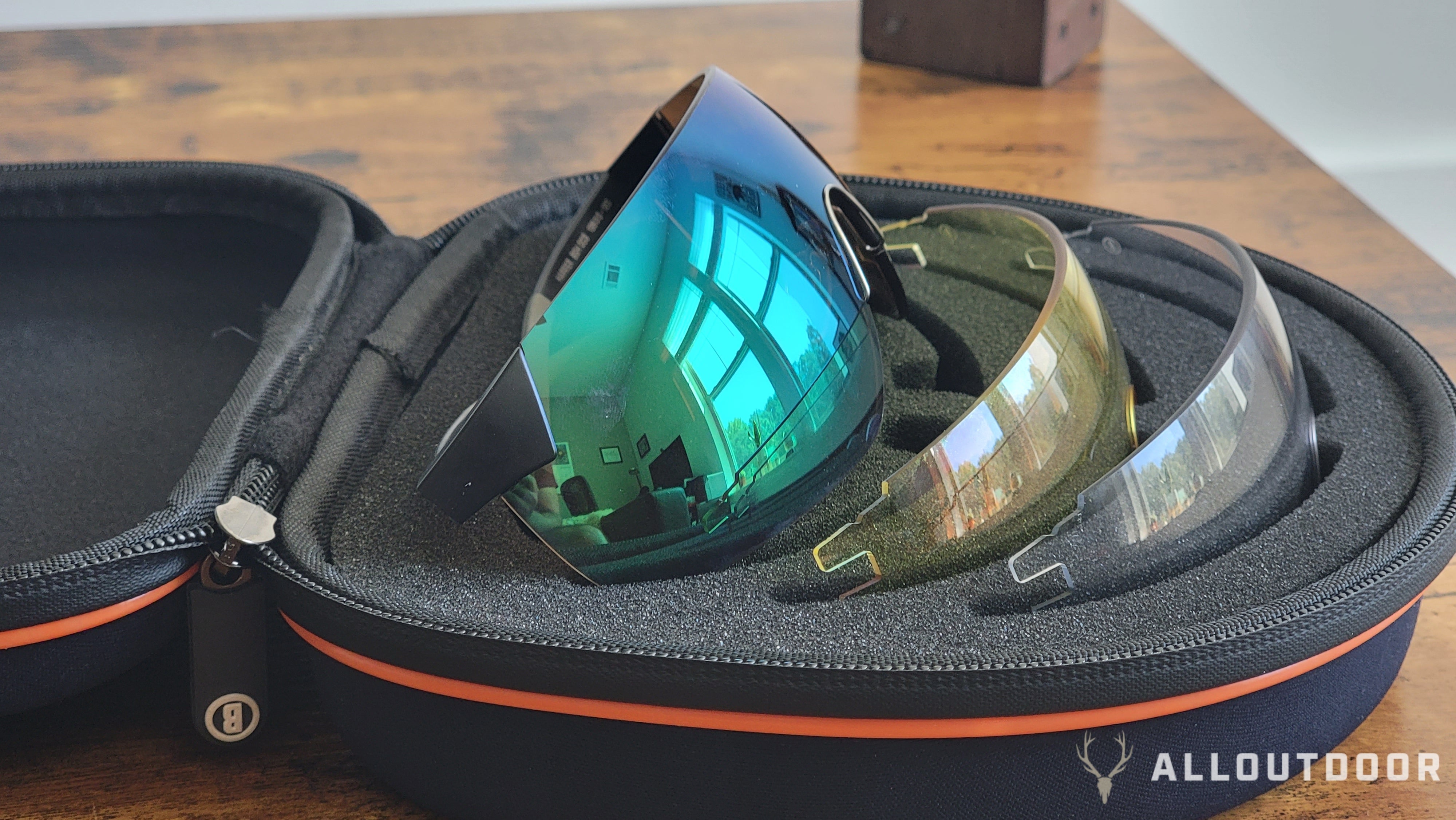 The kit also includes a total of 3 different interchangeable shields each with its own specific area in which they do well. The first lens is the traditional non-polarized sunglasses shield which still blocks 100% of harmful UVA and UVB rays and also filters out distracting HEV blue light which lessens eyestrain. The second shield is the very familiar amber (or yellow) hunting style lenses which help you pick up better contrast with targets and also filter out blue light.  The yellow lenses also do a great job of improving your depth perception on overcast days. Finally, and most importantly the Harrier's also come with a transition shield lens which appears clear under normal light conditions but will gradually darken as the light it takes on intensifies. This is a great all-around lens and is probably my second favorite right after the sunglasses shield.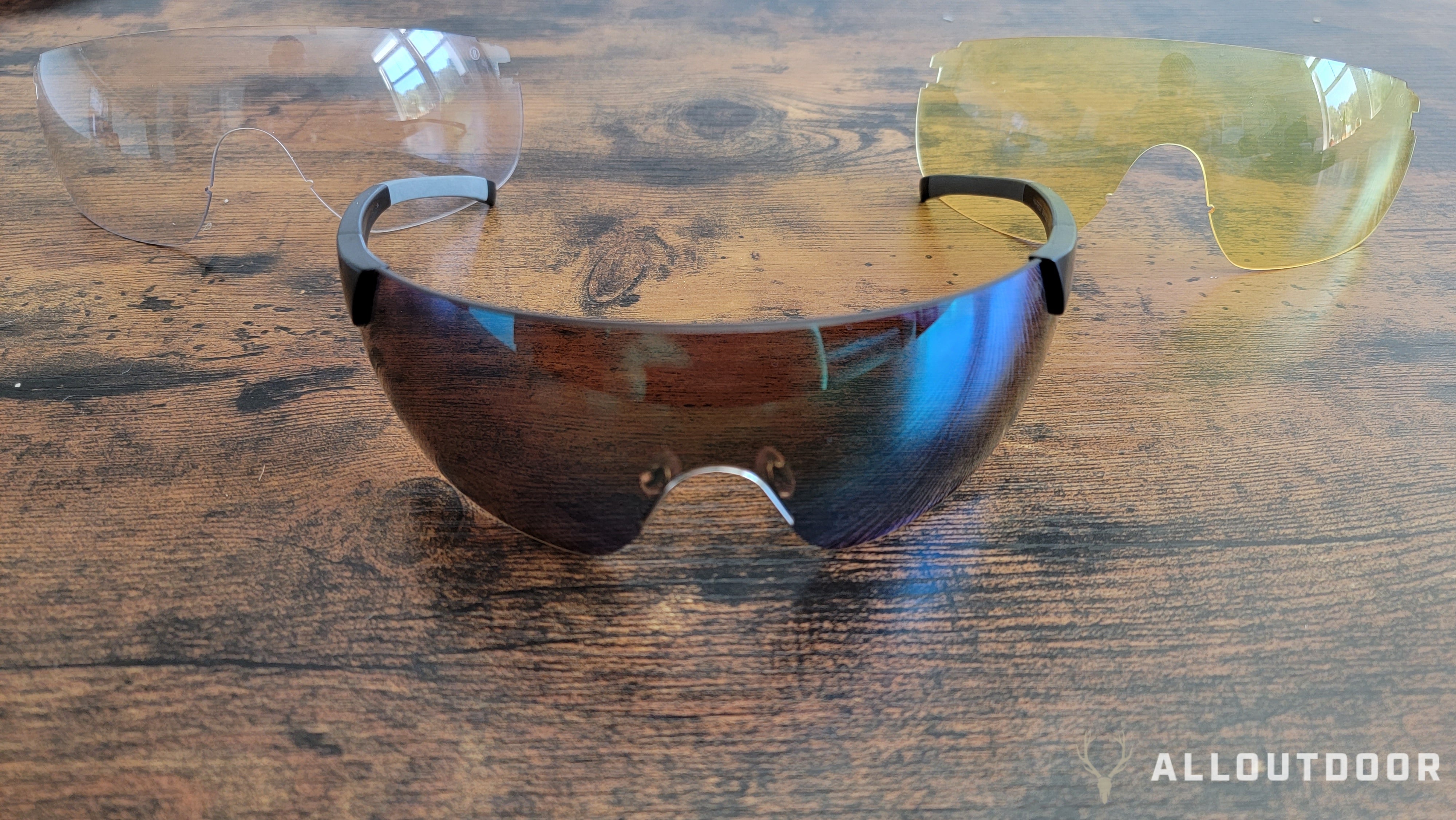 Range Performance
I had an opportunity to wear the harriers for an entire week out in Wyoming as part of the combined Vista Outdoors/Bushnell event and I was quite impressed with the overall performance of the glasses. One of the biggest things that annoy me about a lot of eyewear is that it fogs up on hot days as you continue to shoot. I didn't experience any fogging while wearing any of the three lenses and I think it had mostly to do with the way they are designed. The single-piece shield is slightly angled to allow air to flow freely out of the top which prevents moisture from building up as it does in concave lenses.
Swapping to and from different shields was a breeze and took minimal effort but also were secure enough not to fall off or come disconnected without a focused effort to remove them. I didn't feel at any point like the glasses or temples were going to break while removing or replacing lenses. All that is needed to remove the lenses is to firmly tug on the hinge and they pop right off. Replacing the lens is similarly easy with a simple firm push. Finally, you'll have to replace the nose pad but that is quite easy as well with a simple pinch of the pads to move them from one shield to the other.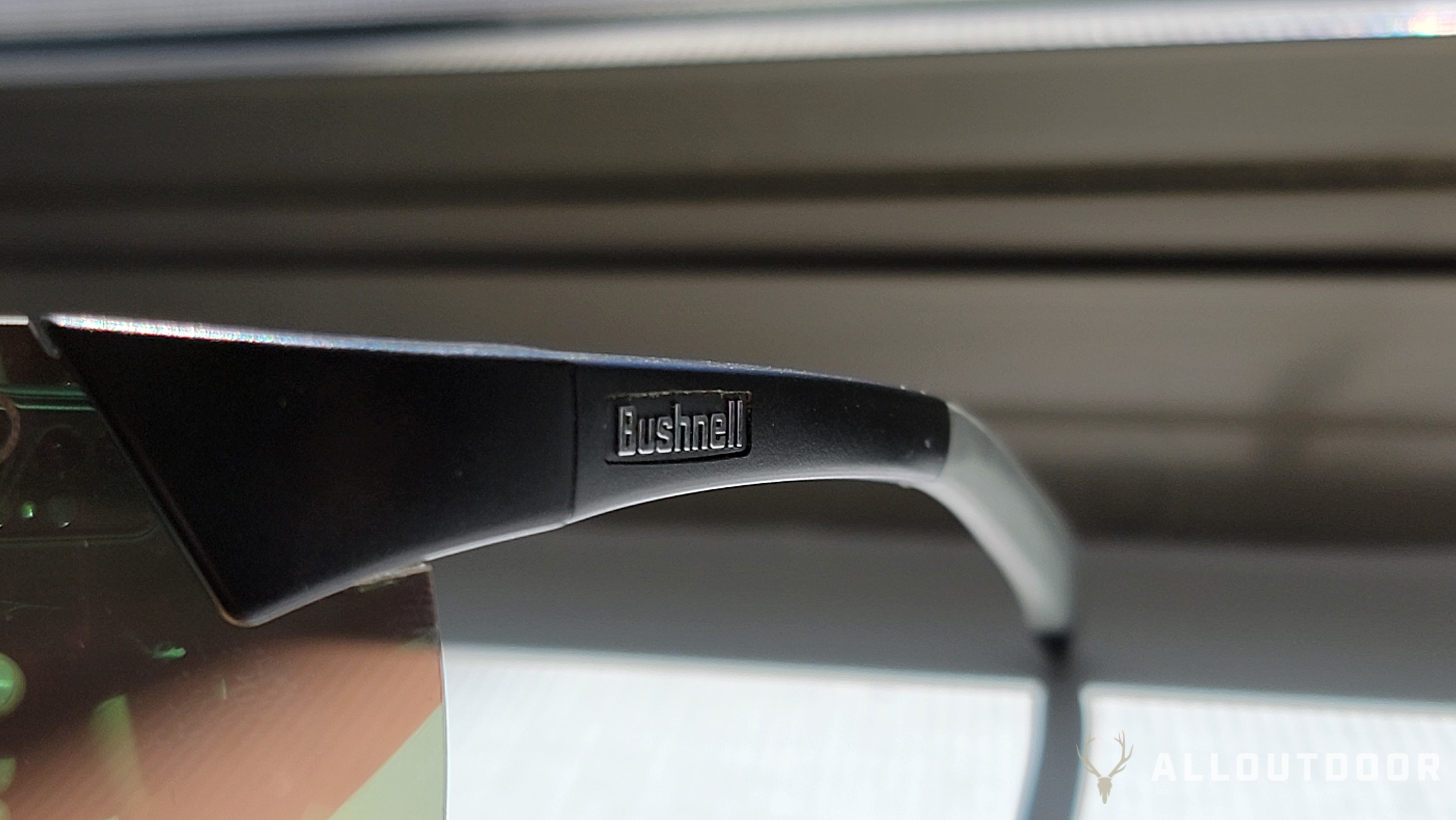 The only problem I encountered with any of the lenses is that the sunglasses version did seem to be slightly more susceptible to minor scratches. However, I don't really expect my polycarbonate lenses to remain in pristine condition as much as I use them and any scratches you see in these pictures come from frequent use over the last two months. If I could really have things my way I would have also liked the case to be slightly smaller as the generous size of the case takes up a lot of space in my range bag. If the bag were just 50% smaller and still was able to house all of the shields and the glasses then I think the whole package would be a perfect size.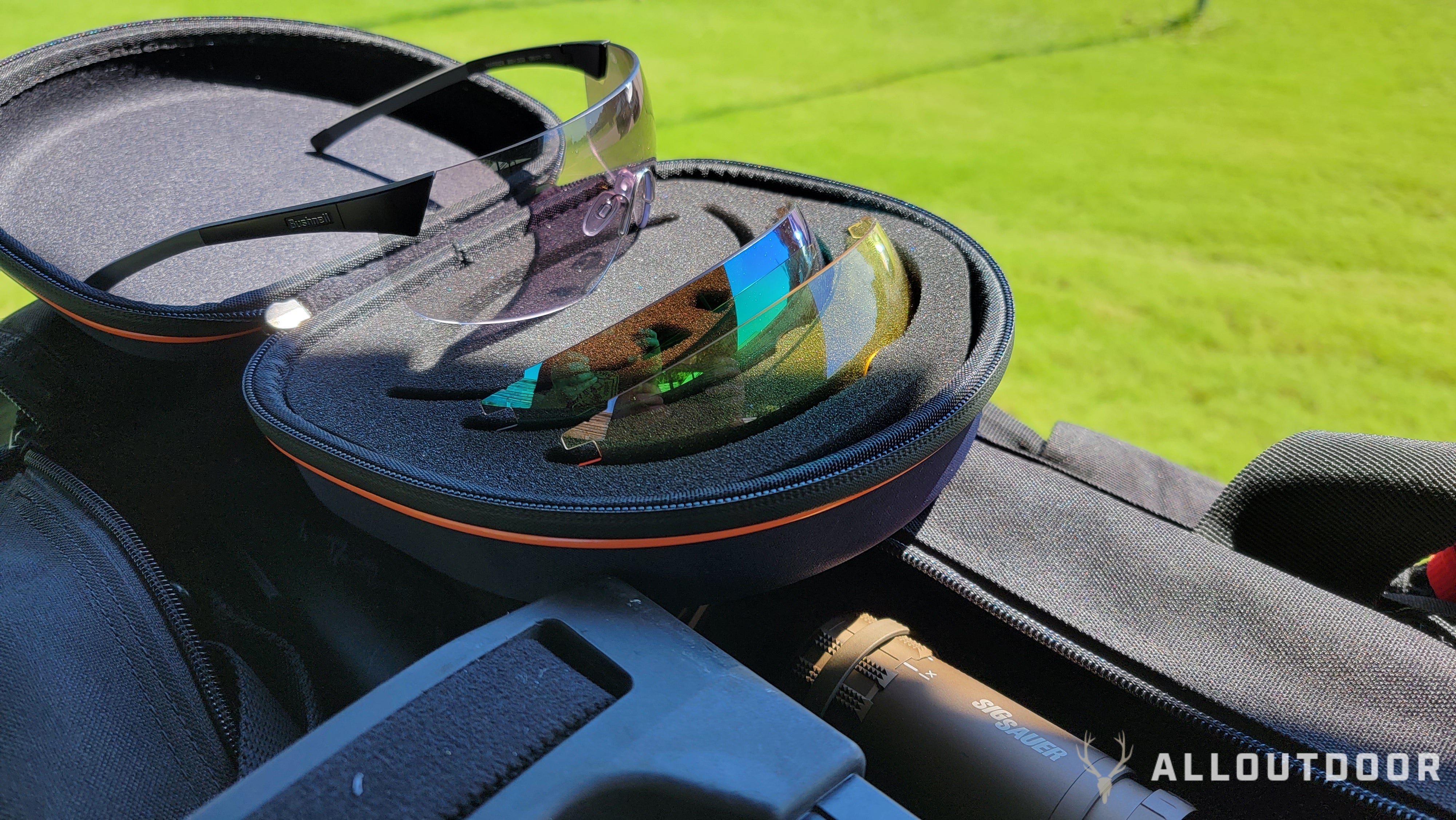 Final Thoughts
My experiences so far with Bushnell's new Performance eyewear Harriers have been great, to say the least, and I don't see myself stopping using them any time soon. PArt of the reason I like the Harrier model so much is that the lens provides me with a completely unobstructed view due to them featuring a "frameless" design. When compared to other performance eyewear lineups from competing companies, the Harriers come in at about the same price (list price for the Harrier glasses is $199) but I find that they do offer a lot more in terms of adaptability, lens selection, and build quality. I want to extend a personal thanks to the folks at Vistaoutdoors and in particular Bushnell for inviting me out to their event and for providing the glasses used in this review.